Elevate your weekend breakfast with a fabulous French Toast Board that the whole family will enjoy!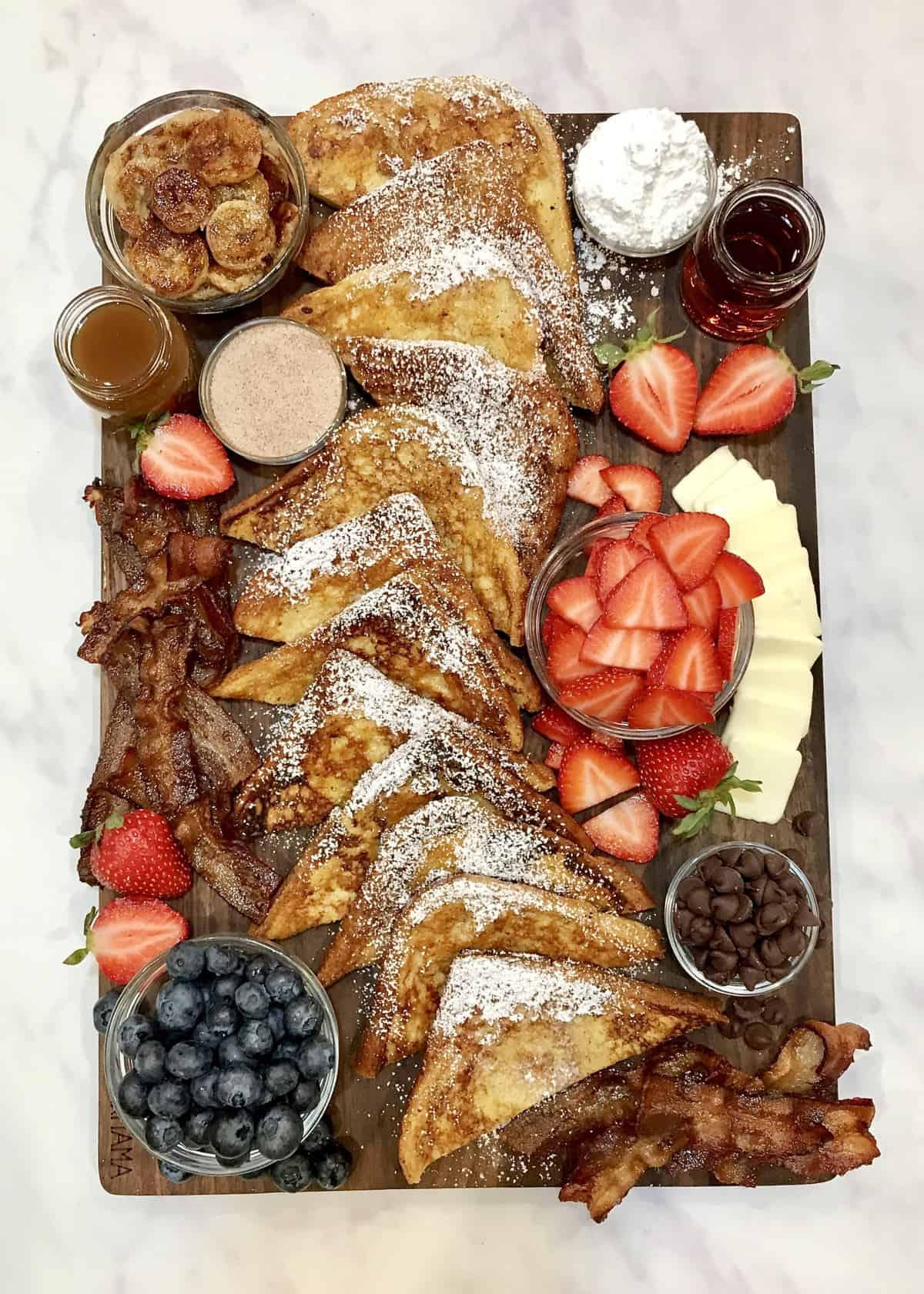 Board meals are an easy way to make a weekend breakfast with family or friends feel extra special! Complete with all of the toppings and extras, this French Toast Board is sure to satisfy all of your sweet breakfast cravings with some savory bacon to balance it all out. I mean, any day that starts with a breakfast board like this is sure to be a great one!
We've recently added this French Toast Board to our weekend breakfast board rotation and the kids have declared it their all-time favorite. They get so giddy with excitement and eagerness to enjoy it each time we make it.
French toast is so simple to make and has to be one of the most comforting breakfast carbs with its crispy, golden exterior and creamy, fluffy interior. Topped with powdered sugar, a drizzle of maple syrup and fresh fruit, it's breakfast at its very best!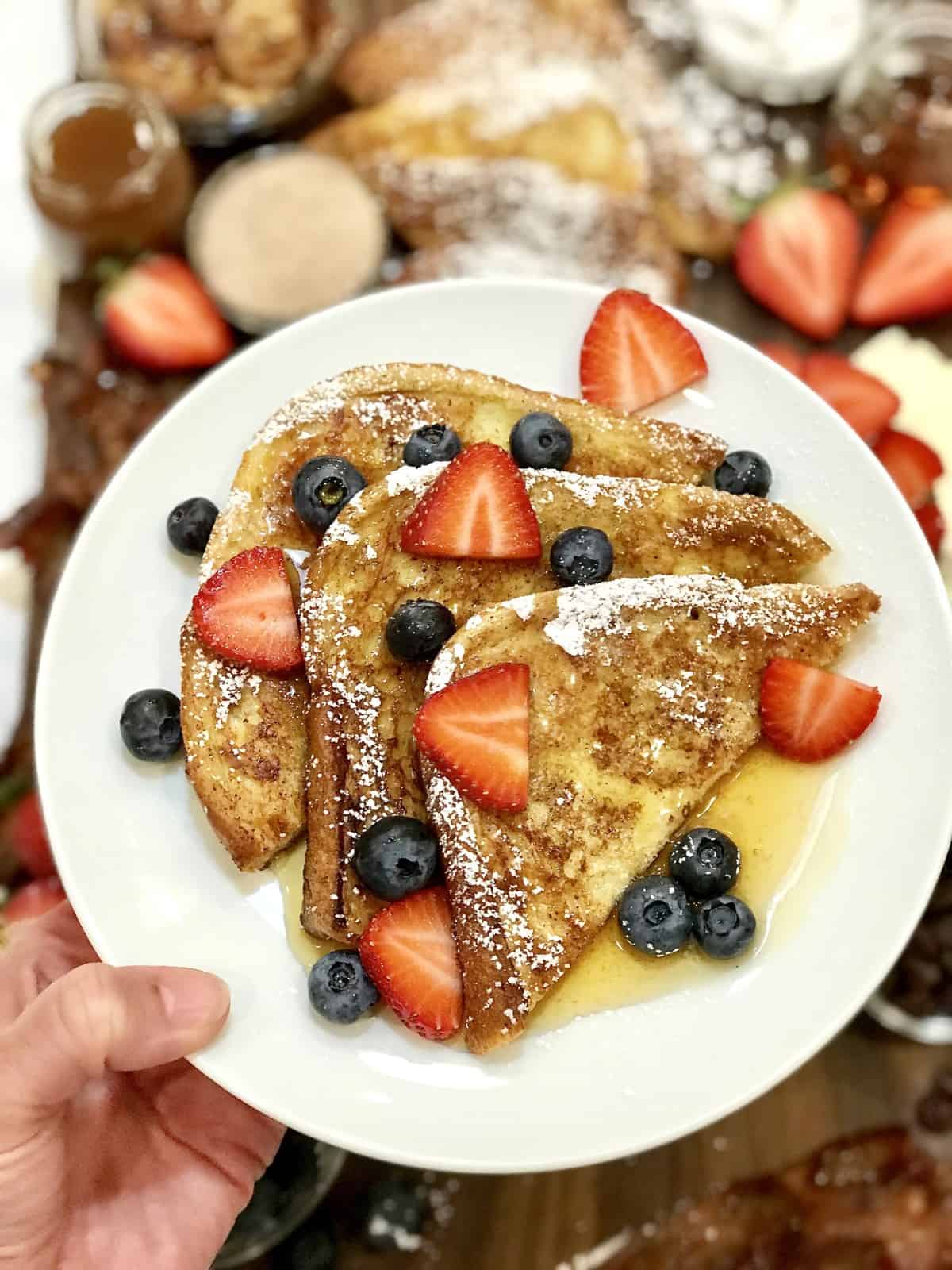 The key to great French Toast is using the right bread. If the bread is too thin, it will soak up all of the egg mixture and be too flimsy to transfer or even flip on the griddle. If the bread is too thick, it won't cook all the way through when the outside is perfectly crisp. The best thickness for French toast bread is 3/4″ to 1″. I love using a good challah or brioche loaf, but a soft, thick white bread works well too.
To make classic French toast beat 4 eggs, 1 teaspoon of vanilla, 1/2 teaspoon of cinnamon, 1/4 cup of sugar and a pinch of salt in a shallow dish until well combined and fluffy. Stir in 1-1/2 cups of milk. Dip the thick bread slices in the egg mixture and let soak on each side for a few minutes until well saturated but not too soggy. When transferring the soaked bread to the skillet for cooking, be sure to let any excess egg mixture drip back into the shallow dish. Cook the bread slices on a lightly buttered nonstick griddle or skillet over medium heat until golden brown on both sides, about 1-2 minutes per side. Transfer the cooked French toast to a baking sheet in a 200°F warming oven to keep warm while you cook the remaining soaked bread slices.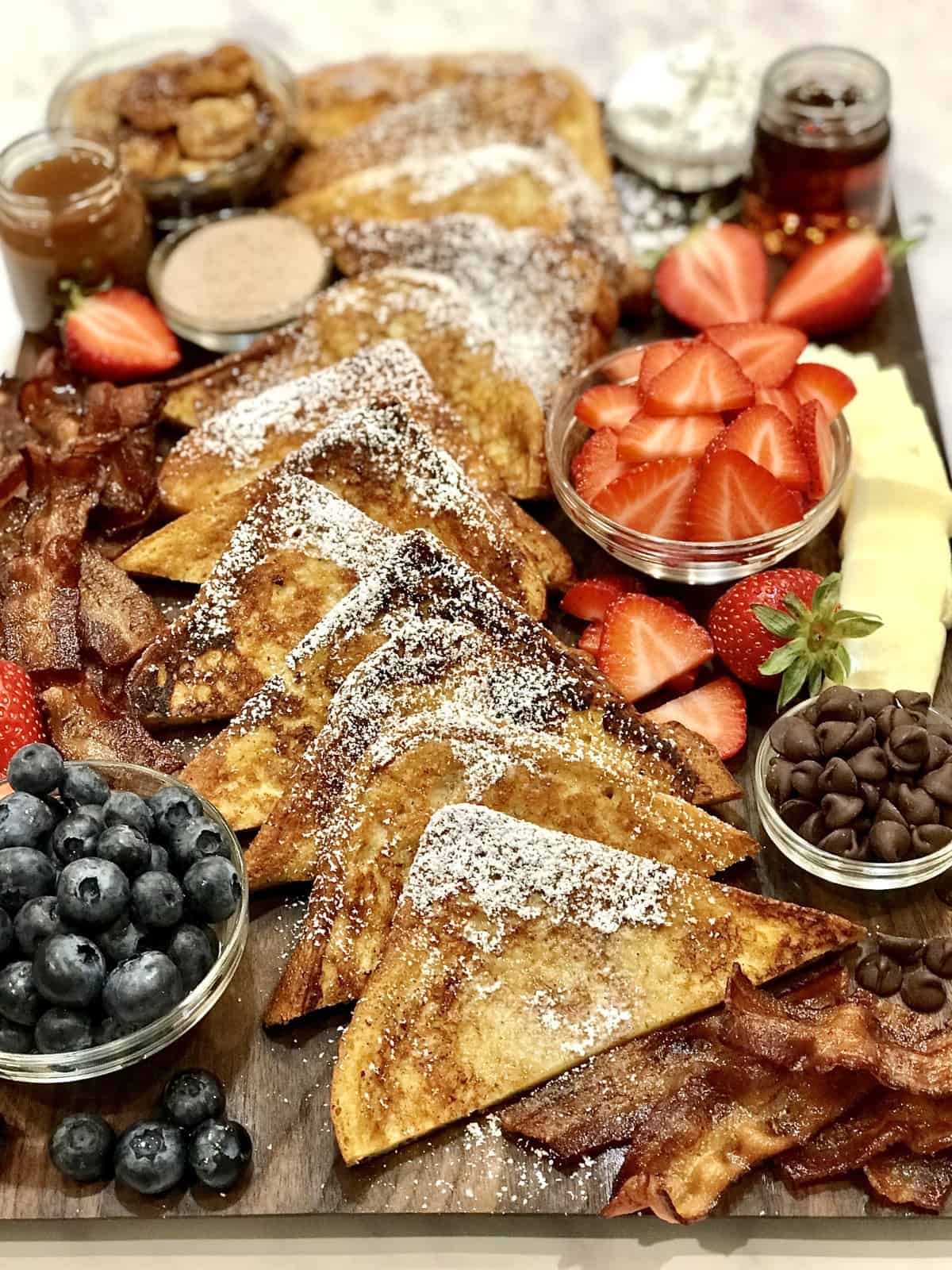 To build the French Toast Board, I use my favorite 18″ x 12″ walnut wood board. While the French toast is cooking, bake the bacon using this method for How to Bake Bacon. If you bake the bacon and cook the French toast ahead of time, be sure to keep them in a 200°F warming oven while you add the French toast toppings to the board.
One of my absolute favorite French toast toppings is caramelized bananas. They're a quick way to take your French toast creation to the next level of deliciousness!
To make caramelized bananas, slice a banana into coins. Spray a non-stick pan with cooking spray and heat over medium heat. Place banana slices in a single layer in the pan. Cook for 1-2 minutes per side until golden brown on each side, flipping the banana slices with a fork. The natural sugars in the banana will caramelize on the outside making them slightly crisp and with a soft inside. So yummy!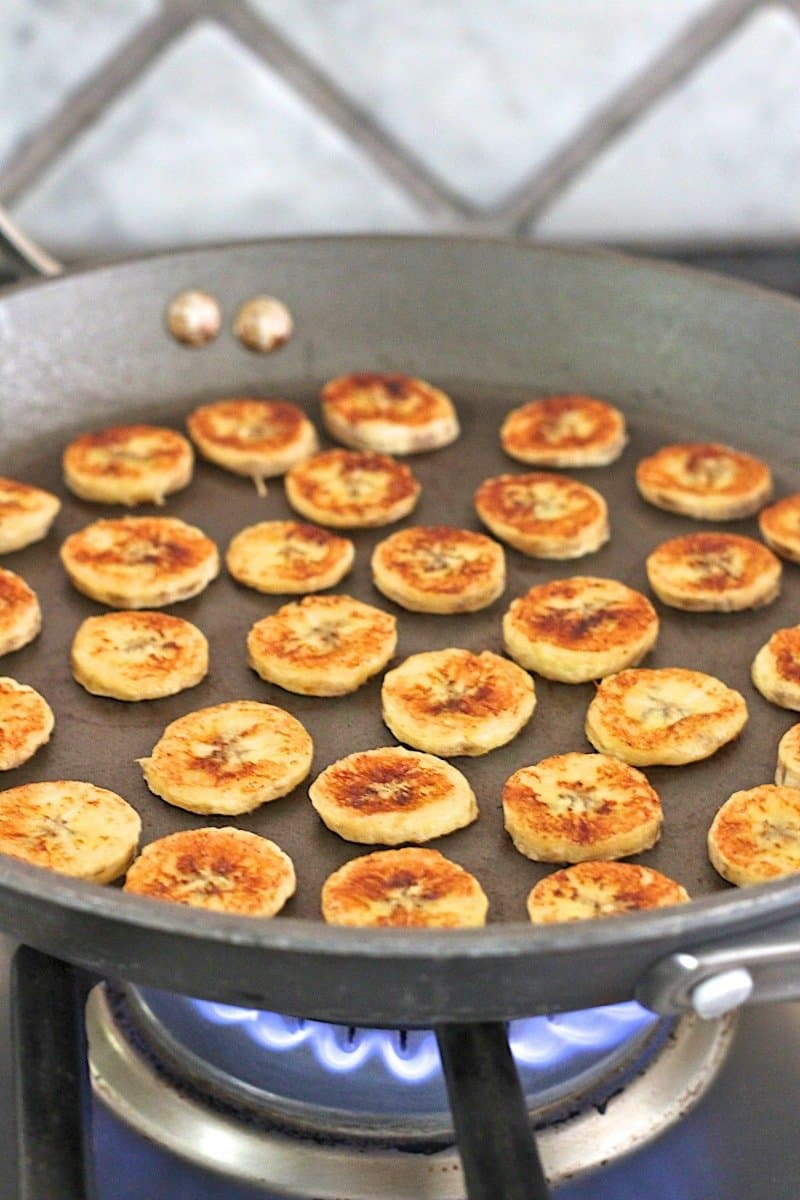 Perfectly cooked French toast with caramelized bananas, chopped pecans, a drizzle of caramel sauce and a sprinkling of powdered sugar is a sweet breakfast dream come true. So decadent and delicious!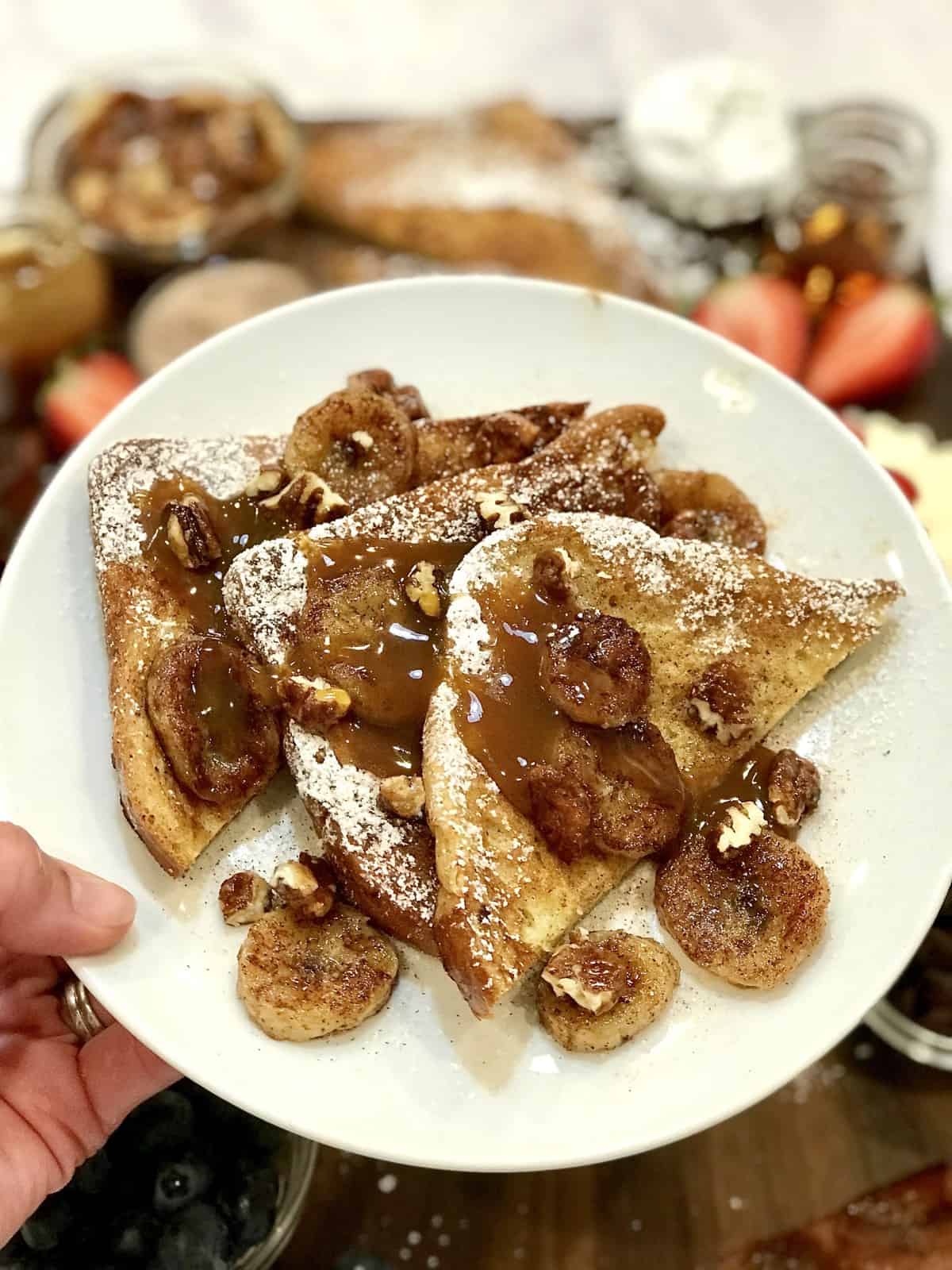 The toppings on this board are where you can get really creative and make breakfast extra yummy! Use what your family would enjoy most. In addition to caramelized bananas, other French toast toppings that our family enjoys are:
Fresh fruit, like strawberries and blueberries. Your best bet is to go with what's in season!
chocolate chips
pats of butter
maple syrup
caramel sauce
cinnamon-sugar
powdered sugar
candied pecans
There are also lots of ways to switch it up for variations of this French Toast Board. Some other ideas are to use Orange Pecan French Toast, French Toast Waffle Sticks or even French Toast Roll Ups. Nutella, peanut butter, other nuts, and whipped cream are also fun and yummy toppings.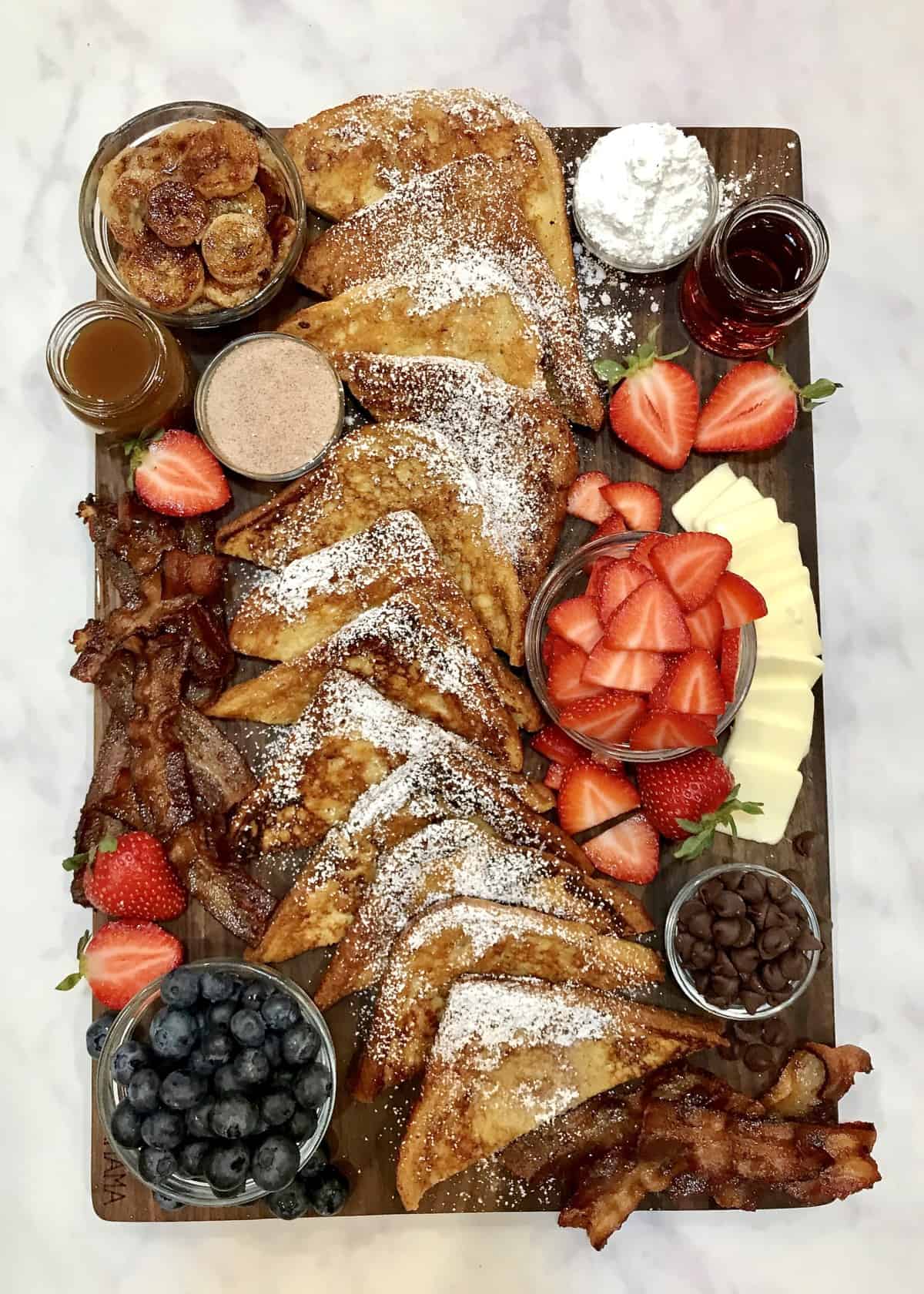 This board may look (and taste!) impressive, but it's pretty simple to assemble. Start by washing and prepping your fruit so that it's ready to go. Fill mini mason jars and small bowls like these with the toppings and fruit.
Once the bacon and French toast are ready, it's time to start building the board! Place the jars and bowls in various spots on the sides of the board. Line the yummy French toast down the middle of the board. Fill any space on the board with the baked bacon. Finish it off with a sprinkle of powdered sugar on the French toast and take the board to the table to enjoy!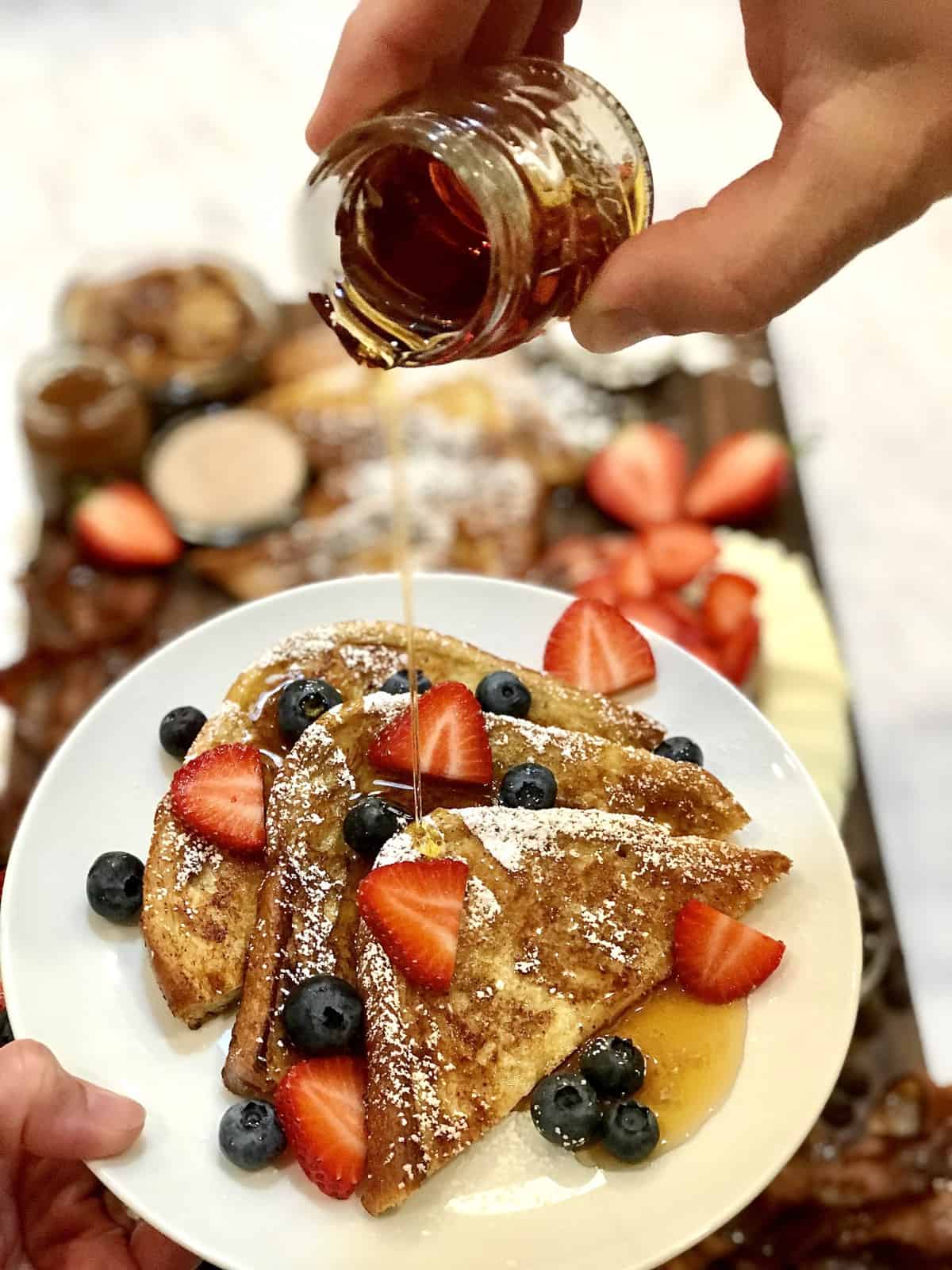 The fun thing about this French Toast Board is having everyone get involved and build their ultimate French toast plate just how they like it. Of course, the absolute best part is getting to eat your delicious creation!
I hope you and your loved ones enjoy this French Toast Board as much as we do! When you make one, be sure to snap a picture and share it with me on Instagram @thebakermama so I can see.
I just love seeing how inspired and creative y'all get with the recipes and ideas I share. Enjoy!
xoxo,