Fruit Salsa and Cinnamon Tortilla Chips are a hit for summer appetizers, snacks, or even dessert! Everyone at the table loves this colorful and sweet version of chips and salsa.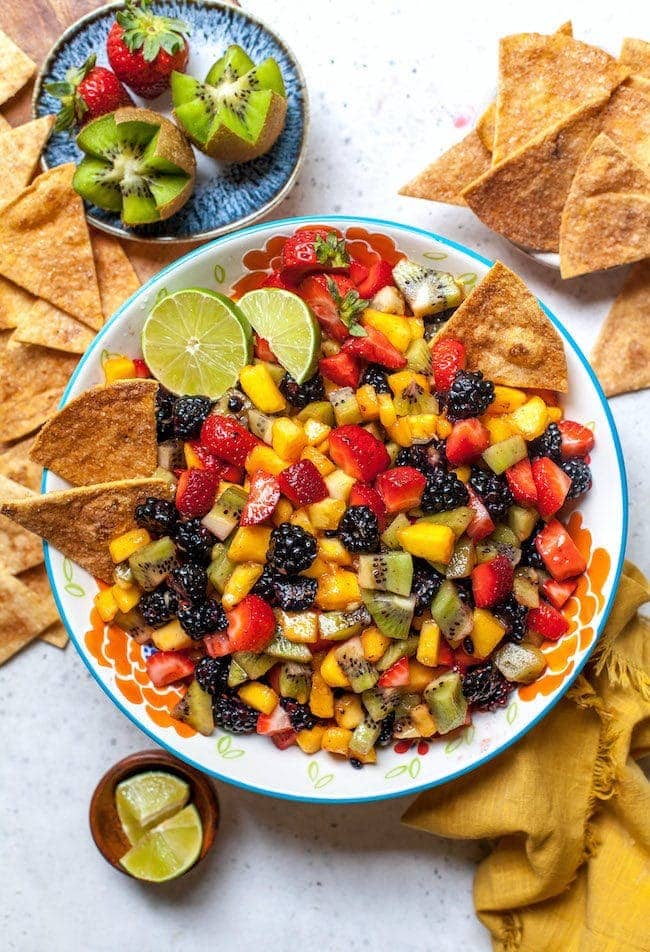 Fruit Salsa with Cinnamon Sugar Tortilla Chips
This fruit salsa recipe originally came from my good friend Rachel. She serves it at all of her summer BBQs and parties and everyone LOVES it. It's one of my favorites now, too, and everyone who tastes it falls in love immediately. These fruits are all great for summertime and I love how all of the bright, ripe flavors come together in this dish. This is a really simple one to make–the most time-consuming part is just cutting up the fruit, but it doesn't take that long.
What is Fruit Salsa?
Fruit salsa is very similar to fruit salad, except everything is cut up smaller and served alongside cinnamon sugar tortilla chips! It's a delicious and sweet summertime take on traditional chips and salsa. You can serve fruit salsa as an appetizer, snack, or even dessert. It is the perfect recipe for sharing with family and friends.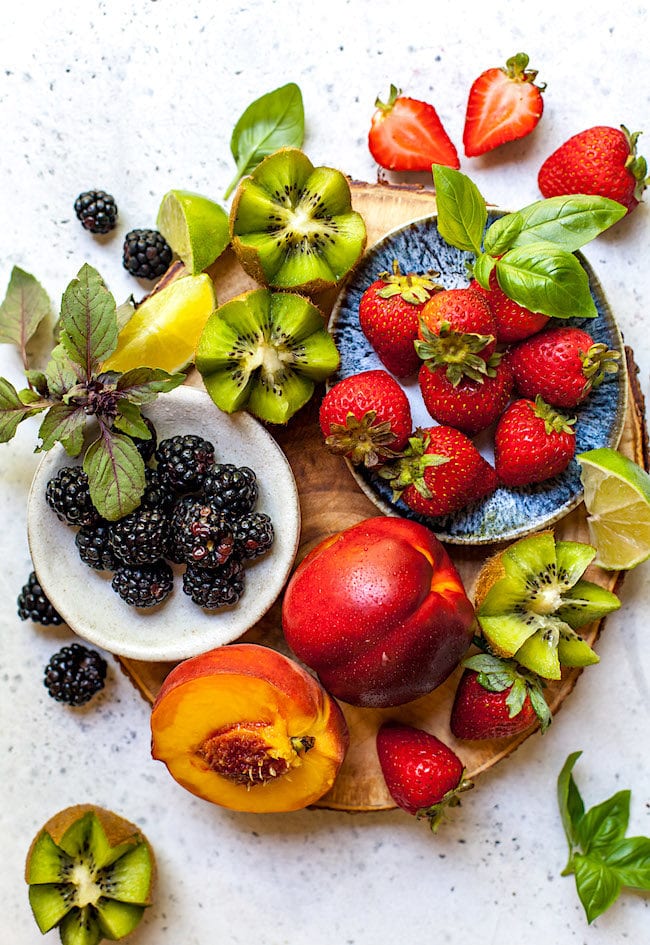 Fruit Salsa Ingredients
You can really include any of your favorite fruits in this salsa, but my personal favorite mix includes the following. All of the flavors are so good together. Make sure you dice up the fruit into small pieces so it is easy to dip!
Strawberries-I always check the bottom of strawberry containers to make sure the berries are still firm and bright, not mushy or molding since that can happen so fast with strawberries!
Blackberries-the darker the better with blackberries–skip any containers with green or white patches!
Nectarines or Peaches-Both fruits work well in this recipe. If you are using peaches, peel them first. I usually don't peel nectarines because the skin doesn't bug me, but you can.
Kiwi-I suggest buying kiwis that are slightly soft and give a little bit when squeezed. Firm kiwis aren't quite ready to be eaten! Peel the kiwi before dicing.
Lime Juice-fresh lime juice is best!
Honey-I add this at the end and only if I feel like the salsa needs a little extra sweetness. Depending on the ripeness of your fruit you could skip it altogether!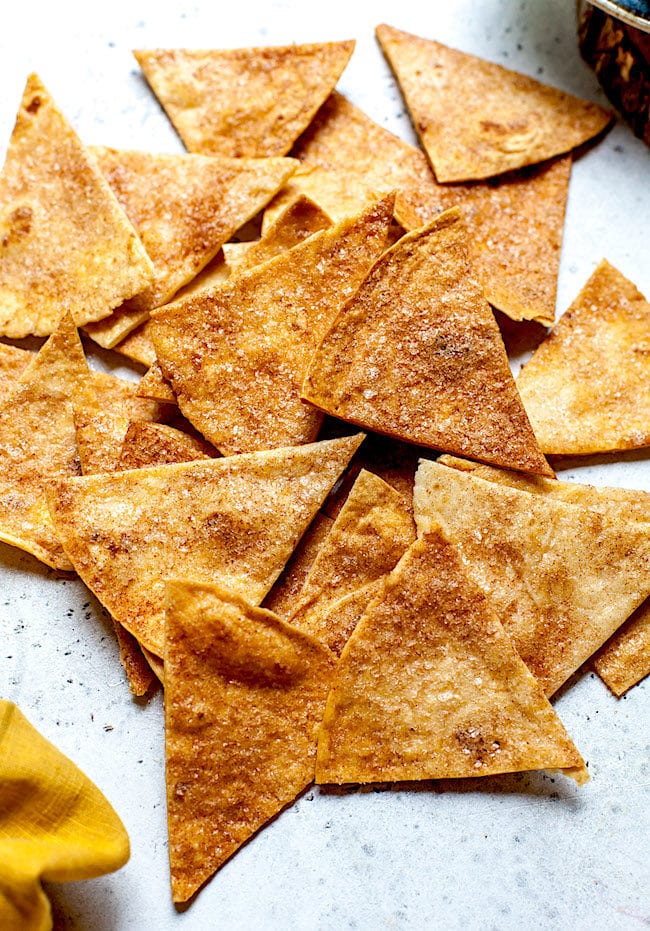 How to Make Cinnamon Sugar Tortilla Chips
The cinnamon sugar tortilla chips are a MUST! They are kind of the best part about the fruit salsa..ha! They're really simple to make at home, too!
Combine cinnamon sugar in a small bowl. Melt butter in another bowl. Brush flour tortillas with a thin layer of melted butter, then generously sprinkle cinnamon sugar on top. You want them to be well coated, no holding back on the cinnamon and sugar:)
Use a pizza cutter or sharp knife to cut each tortilla into triangles. I usually get 8 triangles out of each tortilla.
Place tortilla triangles evenly on the baking sheet, making sure they don't overlap. You'll have to do them in batches since they won't all fit at once!
Bake for 8-12 minutes. Keep a close eye on the chips while they bake. Once they start to brown a bit they're done quickly, and they're easy to burn! Remove from the oven and cool completely, then place in a bowl.
If you don't want to make your own cinnamon sugar tortilla chips, you can use Cinnamon Sugar Pita Chips, they are good too, but I prefer the homemade chips. They are the BEST!
How to Store
Your fruit salsa will store, covered, in the refrigerator up to 2 days. The tortilla chips can be kept in a Ziploc or airtight container up to 5 days on the counter. I doubt either will last that long because when you start dipping it is SO hard to stop:)
More Salsa Recipes: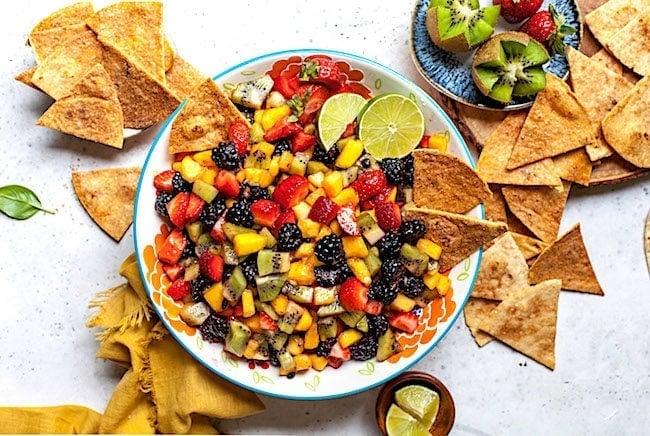 For the Cinnamon Sugar Tortilla Chips:
1




cup




granulated sugar

4




tablespoons




ground cinnamon

16




flour tortillas

1/2




cup




unsalted butter,




melted
For the Fruit Salsa:
16




oz




strawberries,




hulled and diced

18




oz




blackberries,




cut in half or quartered

6




nectarines or peaches,




peeled and diced

7




kiwi,




peeled and diced

Juice of 1 lime

Honey,




to taste
Store salsa in the fridge for up to 2 days. Tortilla chips will keep in a Ziploc bag or air tight container for up to 5 days on the counter.
Nutrition Facts
Fruit Salsa
Amount Per Serving
Calories 283
Calories from Fat 81
% Daily Value*
Total Fat 9g
14%
Saturated Fat 4g
20%
Cholesterol 16mg
5%
Sodium 223mg
9%
Potassium 406mg
12%
Total Carbohydrates 49g
16%
Dietary Fiber 7g
28%
Sugars 26g
Protein 4g
8%
Vitamin A
9.9%
Vitamin C
81.7%
Calcium
9%
Iron
10.4%
* Percent Daily Values are based on a 2000 calorie diet.
Keywords
summer, vegetarian
Photos by Dishing Out Health