These butterscotch PB monster cookie bars (easily gluten free) are crazy easy (one bowl!), super delicious, and the perfect way to change up your cookie bar game!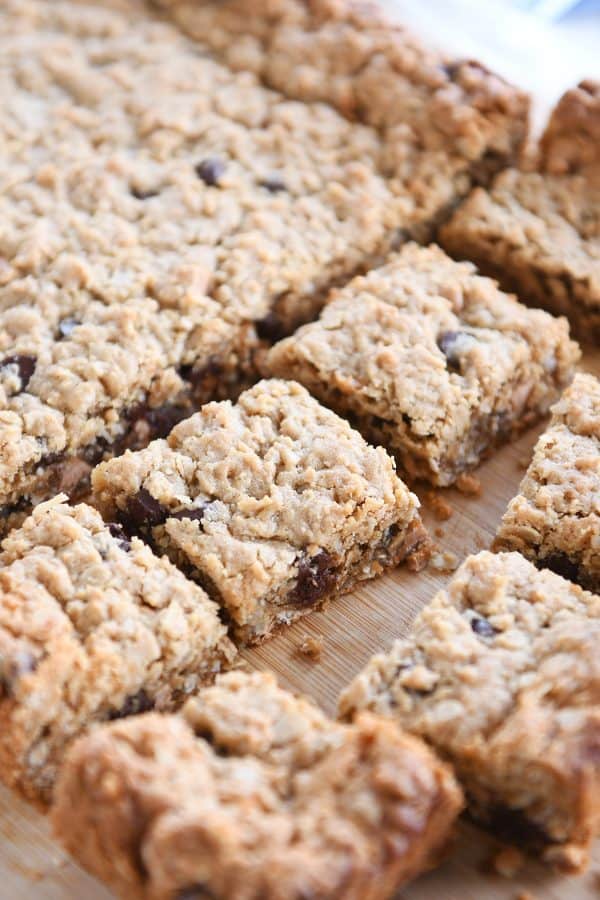 Wednesday needs a fantastic, easy cookie bar recipe like I need a nap. And since the likelihood of said nap coming to pass is basically nil, do me a favor. Make my nap sacrifice worth it and JUST MAKE THESE BARS. 
They can be yours, warm out of the oven (yum!), in less than an hour. And for that reason alone, I have a feeling you're going to either really love me or really hate me. 
If you haven't noticed the evidence of my love for cookie bars before, well, here you go (and this is just a start!):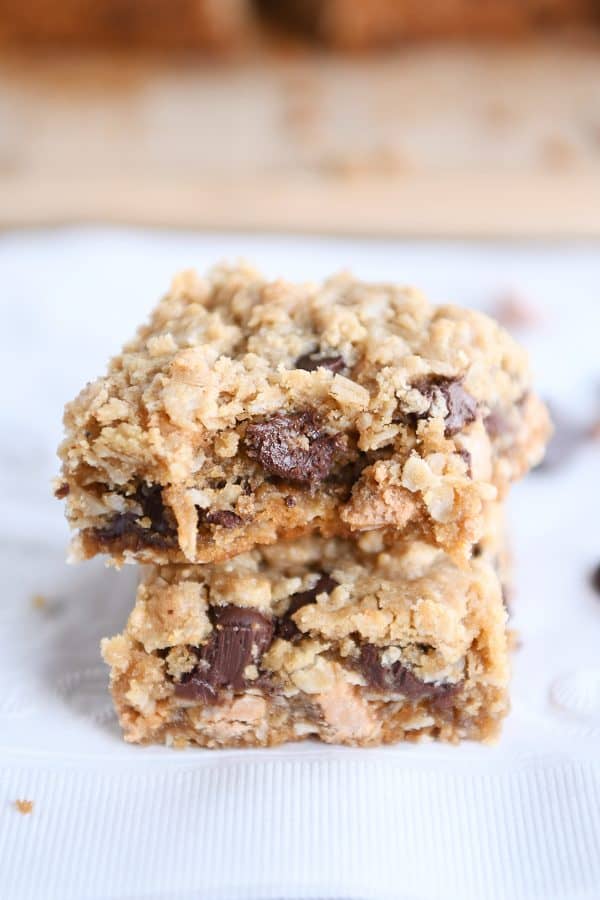 Modeled after an ancient monster cookie bar recipe from my archives, I fussed around with a few of the ingredients and the mixing method to make this new and improved butterscotch PB monster cookie bar recipe basically straight up amazing. 
Since I know this will come up, let me just answer it:
Future Anonymous MKC Reader: Do I really have to add the butterscotch chips? Cause I've just never had peanut butter and butterscotch together and I just don't think I can do it. 
Mel: You don't have to do anything you don't want to do. But you really should live a little. I promise it's worth it.
The creamy peanut butter in the cookie dough is a wondrous combination with the butterscotch and chocolate chips. However, you could totally add whatever kind of chips you want: extra chocolate chips, peanut butter chips, all butterscotch chips. Go crazy. 
Also, in the name of substituting, if you really want to live on the wild side, try subbing out some of the oats for shredded coconut (about 1 1/2 cups). Yep, you heard me right. Butterscotch PB Coconut Monster Cookie Bars. Whoa. If you are a coconut lover + you also have strong, happy feelings toward butterscotch, PB and chocolate, you'll have the ultimate cookie bar mashup. 
I've tried the coconut substitution, and I can say it's only made me a better person.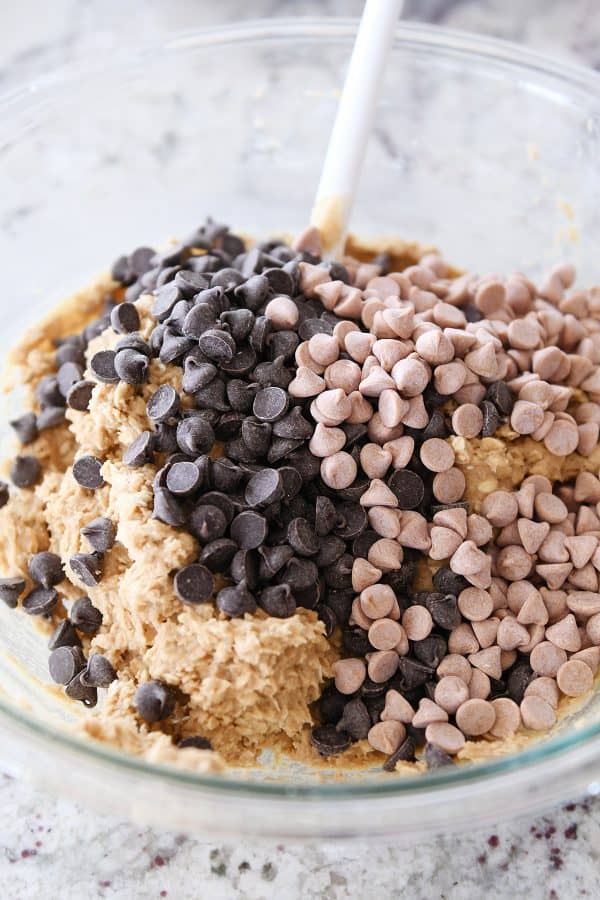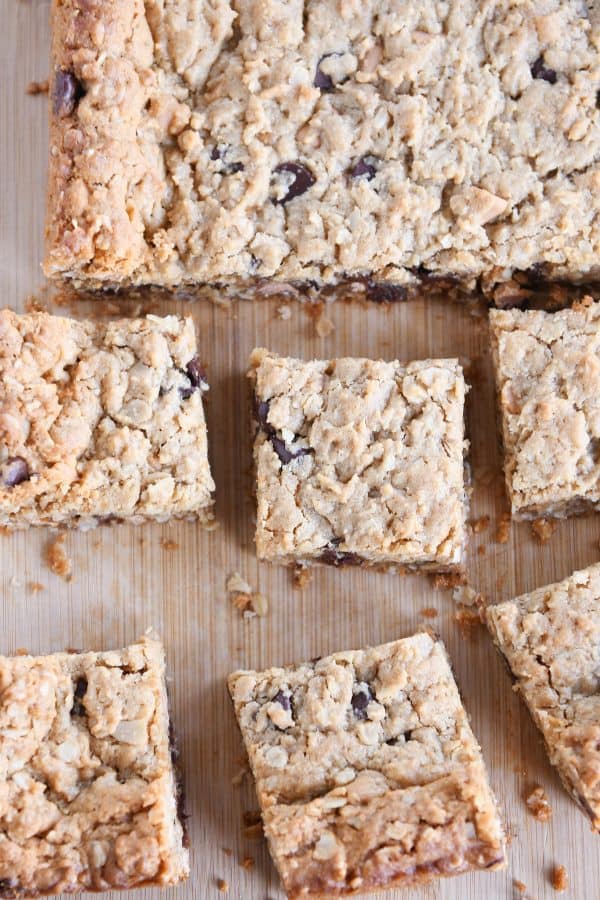 These monster cookie bars are so soft and peanut buttery due in part to my stern recommendation in the recipe not to over bake them. Can I say it again just to make myself feel better? 
Please don't over bake these bars! 
Thanks. 
If you do over bake, you'll be sad. I'll be sad. The bars will be sad for all of their missed soft and chewy potential. I'm kind of a classic under baker (intentionally) with almost everything, so I err on the side of under baking the bars just slightly.
You want to pull the bars out when the edges are lightly golden and the center is mostly set (but they'll still look pretty soft and will set up as they cool).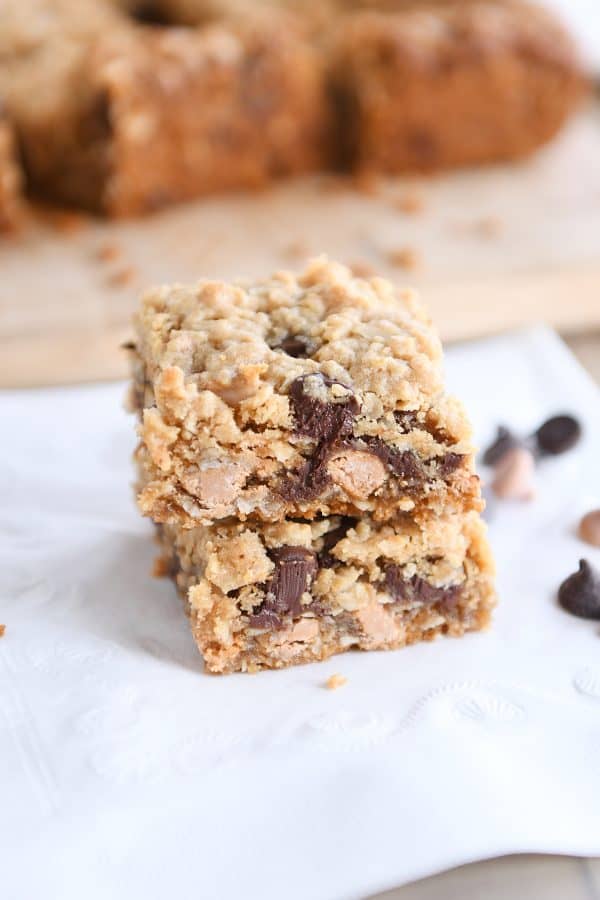 These baked and cooled bars freeze AMAZINGLY well. I made them along with these brown butter salted caramel cookie bars (and another marshmallow PB brownie I hopefully will get around to telling you about soon) a few weeks ago when family came to town. I made them weeks in advance and froze the whole lot of them in ziploc bags.
It's a singular form of rock star status to continuously pull frozen cookie bars from the freezer and place them lovingly in front of guests (although I'd encourage you to maybe plan ahead a little better than I and let them thaw a bit, you know, in the interest of all the visitors keeping their teeth and fillings intact). 
If you're looking for possibly one of the easiest cookie bar recipes in the world, these butterscotch PB monster cookie bars are right here waiting for you. 🙂
Yield:
9X13-inch pan of bars
Prep Time:
20 minutes
Cook Time:
25 minutes
Total Time:
45 minutes
Ingredients
1/2 cup (1 stick, 8 tablespoons, 4 ounces) butter, softened to room temperature (I use salted butter)
1 cup (9 ounces) creamy peanut butter
2/3 cup (5 ounces) light brown sugar
2/3 cup (5 ounces) granulated sugar
1 teaspoon baking soda
1/4 teaspoon salt
2 large eggs
1 teaspoon vanilla extract
1 1/4 cups (4.75 ounces) quick oats (use gluten-free oats if needed)
1 1/4 cups (4.75 ounces) old-fashioned oats (use gluten-free oats if needed)
1 cup (6 ounces) chocolate chips
1 cup (6 ounces) butterscotch chips (or peanut butter chips or more chocolate chips)
Instructions
Preheat the oven to 350 degrees F. Lightly grease a 9X13-inch pan or line with foil and lightly grease the foil (for easier cleanup). I use a metal pan; if using glass, you may want to decrease the oven temp to 325 degrees.
In the bowl of a stand mixer fitted with the paddle attachment or in a large bowl using a handheld electric mixer, beat the butter, peanut butter, brown sugar, granulated sugar, baking soda and salt together until light and fluffy, 1-2 minutes, scraping down the sides of the bowl as needed.
Add the eggs and vanilla and beat until well-combined. Add the quick oats, old-fashioned oats, chocolate chips and butterscotch chips and mix until evenly combined.
Spread the dough evenly in the bottom of the prepared pan. Bake for 20-25 minutes until the edges are lightly golden – don't overbake or the bars might be dry and crumbly. Cool the bars in the pan before cutting into squares. These bars freeze great!
Notes
I like the combo of the two different kinds of oats, but you can use either all quick oats or all old-fashioned oats (slightly different texture in the bars if doing so). I have not tried these bars with natural peanut butter or a different kind of nut butter like cashew or almond.
Recommended Products
As an Amazon Associate and member of other affiliate programs, I earn from qualifying purchases.
Recipe Source: from Mel's Kitchen Cafe (adapted from this monster cookie bar recipe)