Melt-in-your-mouth Chocolate Crinkle Cookies are like little bites of heaven! Rolled in a thick layer of powdered sugar, each snowy-white cookie crackles to reveal a dark, fudgy interior. Perfect for the holidays!
Looking for more Christmas cookie ideas? These classic sugar cookies can't be beat!
Festive Chocolate Crinkle Cookies from Scratch
I'm always so happy when cookie season rolls around, aren't you? I mean, cookies are crucial any time of year, but they're a special part of the holidays, too! Nothing says Christmas and Thanksgiving like little bite-sized confections, from gingerbread and spritz cookies to thumbprint cookies and shortbread.
But one of the stars of the cookie show has got to be the classic chocolate crinkle cookie. Crinkle cookies look like they would be crisp and crumbly—but in fact, they have a very soft, fudgy texture similar to a brownie, or even a piece of chocolate cake. The distinctive "crinkled" appearance of crinkle cookies is due to the contrast between that dark fudge cookie dough, and their coating of powdered sugar. As the cookies bake, they soften and split here and there, causing cracks and crinkles in the powdered sugar. So pretty!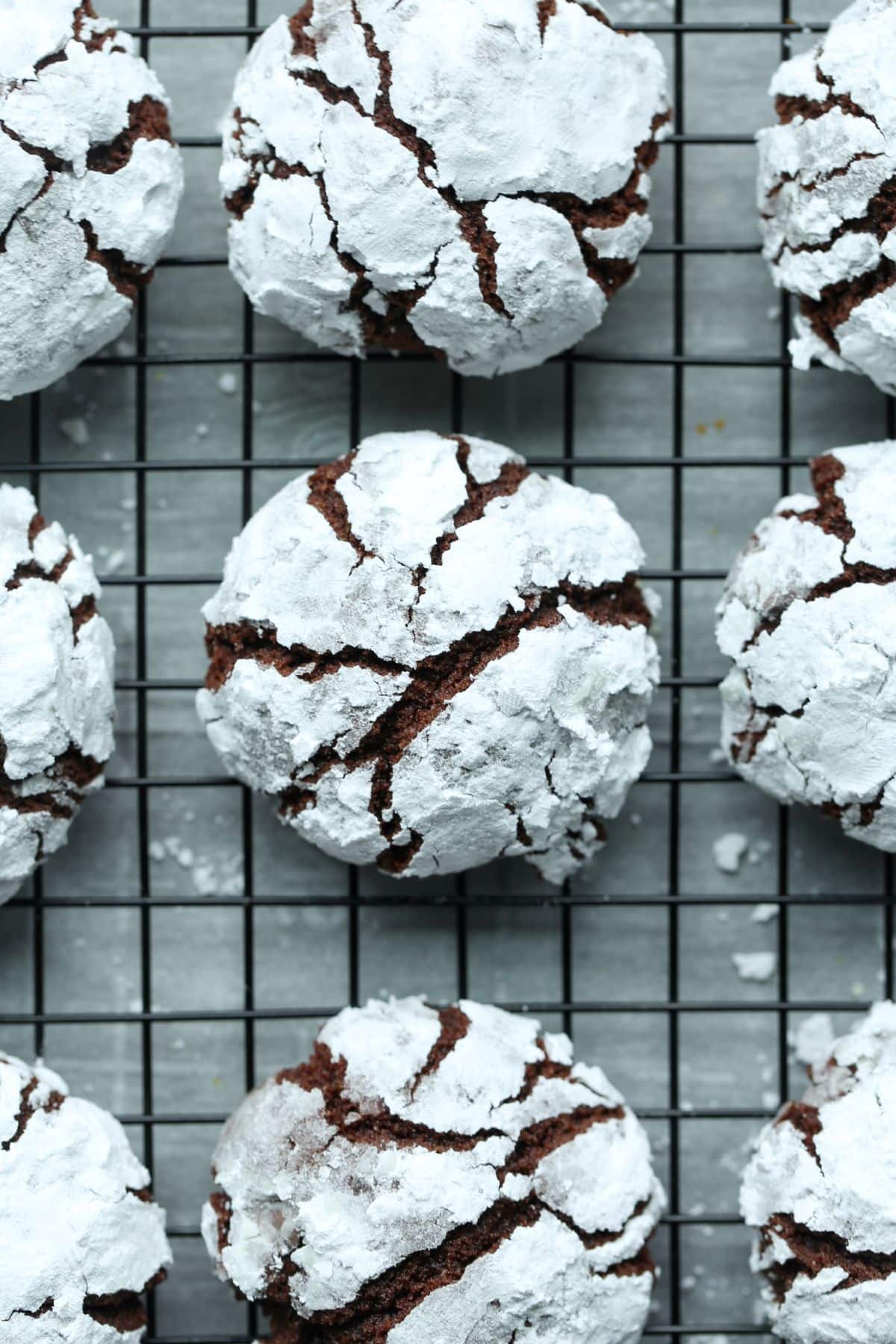 What You'll Need
To make the cookie dough, you'll need a few standard baking ingredients. Nothing fancy! That's one thing I love about making these. Even though they look and taste so festive, they are really easy to make.
Sugar: Regular granulated sugar is fine. You can get away with raw sugar here, and it would add a nice flavor, but it's really not necessary.
Cocoa Powder: I use half a cup of unsweetened cocoa powder, but you could play with that amount to make the cookies more "milk chocolate" or "dark chocolate."
Vegetable Oil: Using oil instead of butter helps the cookies crackle!
Eggs: I use a large egg plus one additional yolk. Discard the additional egg white, or save it for another use. 
Vanilla: Pure vanilla extract will give the best flavor.
Baking Powder: Be sure to use baking powder, and not baking soda. 
Salt
Flour: All-purpose flour is my go-to. You can substitute 1:1 gluten-free all-purpose flour, if preferred.
Chocolate Chips: Regular size chocolate chips are fine, but I have found that mini chocolate chips are even better! You can get them evenly dispersed in each cookie, and the result is absolutely perfect.
Powdered Sugar: For rolling the cookies in to make the crinkled exterior.