This garlic flatbread recipe is about to become a new family favorite.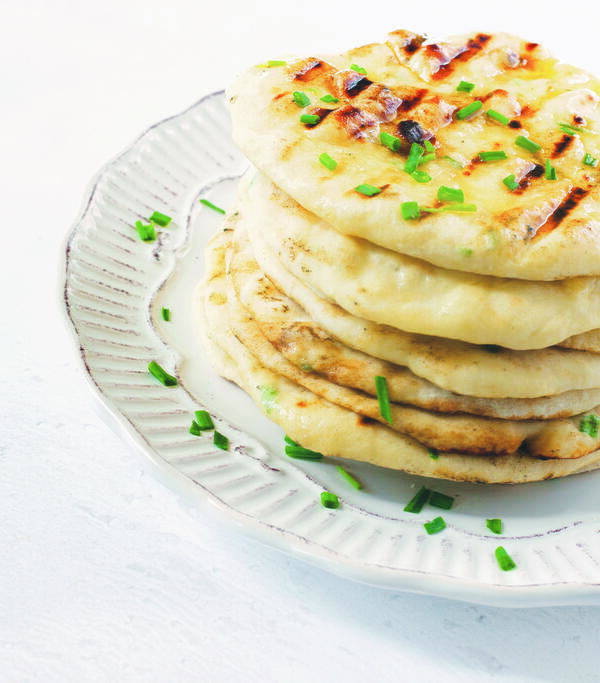 Homemade Garlic and Herb Flatbread
Editor's Note: "Homemade bread is one of those dishes that really elevates a meal. The flavors and textures are so lovely, and you can often manage the sublime experience of eating a piece when it's still warm from being cooked. This garlic herb flatbread recipe is absolutely perfect for making your homemade bread dreams come true. It's made with yeasted dough, so it's light and fluffy. And the warm garlic and herb flavors ensure that you don't need to top this bread with anything to enjoy it (although you're certainly welcome to)."
When I was in Greece, I couldn't get enough of the fresh, homemade flatbread they served at many restaurants. It was perfectly crisp on the outside and wonderfully tender and fluffy on the inside. After returning back home, I couldn't find anything similar, so I tried my hand at making it myself.
Turns out it's not difficult at all and the end result is the BEST flatbread ever. It's light, fluffy and made from real ingredients. The process does take a little time, but the end result is well worth the effort. My kids love helping me make this recipe, which also makes it a fun family activity that hopefully they'll pass on to their kids.
Free recipes, giveaways, exclusive partner offers, and more straight to your inbox!
Thank you for signing up!
We were unable to sign you up – please try again.
We are adding your Comments.

Thank you! Your comment has been added.
We are sorry. There was an error tyring to post your rating and review.
Your comment will appear after our editors have had a chance to review it.