These Garlic Herb Instant Pot Potatoes are so creamy inside, so easy to make and loaded with flavor! Just a couple minutes prep is all this delicious side dish requires!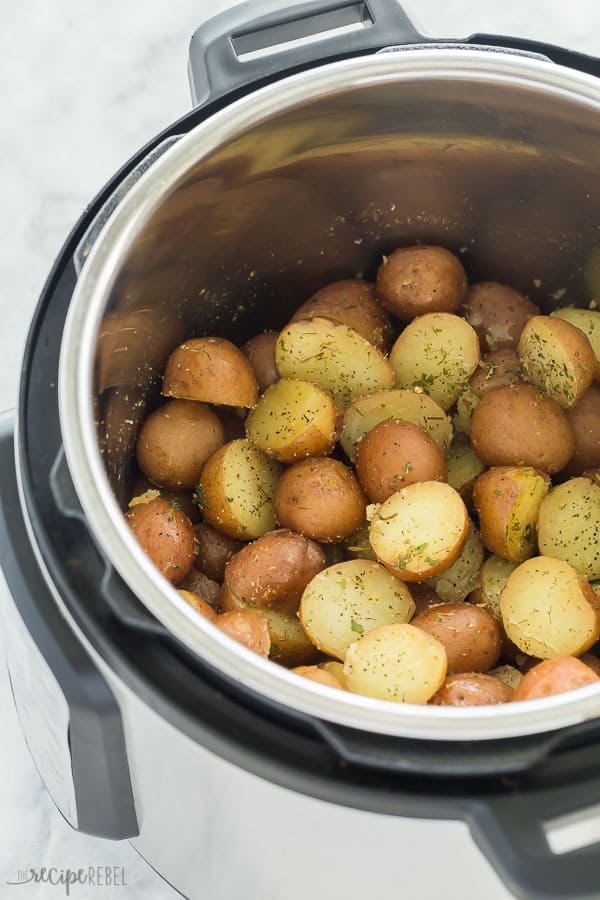 I never thought that Instant Pot potatoes would be the thing to win me over with pressure cooking, but what can I say?
They are so easy to cook, come out so fluffy inside, and the cook time is hands off. What could be better?
These Instant Pot Baked Potatoes were my first love, and these Instant Pot Mashed Potatoes were my second, but these garlic herb Instant Pot potatoes are right up there.
They might even have taken first place!
I like to use Creamer potatoes for this recipe — they're small, they cook quickly and they have a smooth skin that doesn't need to be peeled. (And let's face it, we all hate peeling potatoes!)
The garlic herb combo is one I never tire of.
It adds so much flavor, without a lot of ingredients, prep time or even calories, making this a healthy side dish recipe loaded with potassium and fiber, that compliments any meal!
How to cook Instant Pot potatoes:
All types and sizes of potatoes require different cook times in the Instant Pot.
For these small, Creamer potatoes, 3-4 minutes is plenty (don't overdo it! Mushy potatoes aren't that appetizing).
For larger, "baked" potatoes, 15-20 minutes is necessary, and sometimes longer if the potatoes are quite large.
For diced potatoes when mashing, 2-3 minutes is lots, as the pieces are so small to begin with.
When cooking potatoes in the pressure cooker, a quick release is recommended (especially with the smaller potatoes as they will become overcooked more quickly). With Instant Pot baked potatoes, a natural pressure release may be better.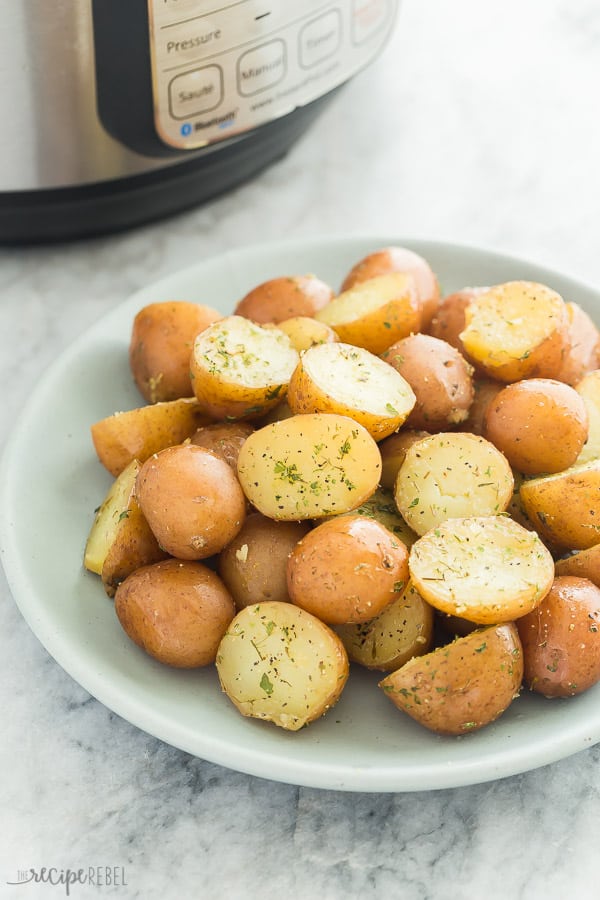 Variations on this pressure cooker potatoes recipe:
If you don't have Creamer potatoes, you can make this recipe with cubed red potatoes (about 1″ in size). The cook time won't change!
If you want to jazz up these Instant Pot potatoes, drain the broth and add a splash of cream and a teaspoon of basil pesto.
If you want a cheesy twist, drain the broth, add a drizzle of ranch and a sprinkling of shredded cheddar cheese.
What to serve with these Instant Pot potatoes: