This post may contain affiliate links. Please read my disclosure policy.
These green bean bundles are tossed with rosemary honey garlic butter, wrapped in prosciutto, roasted until crispy, and sprinkled with freshly-grated Parmesan. Super easy to prep in advance and only 10 minutes needed to bake!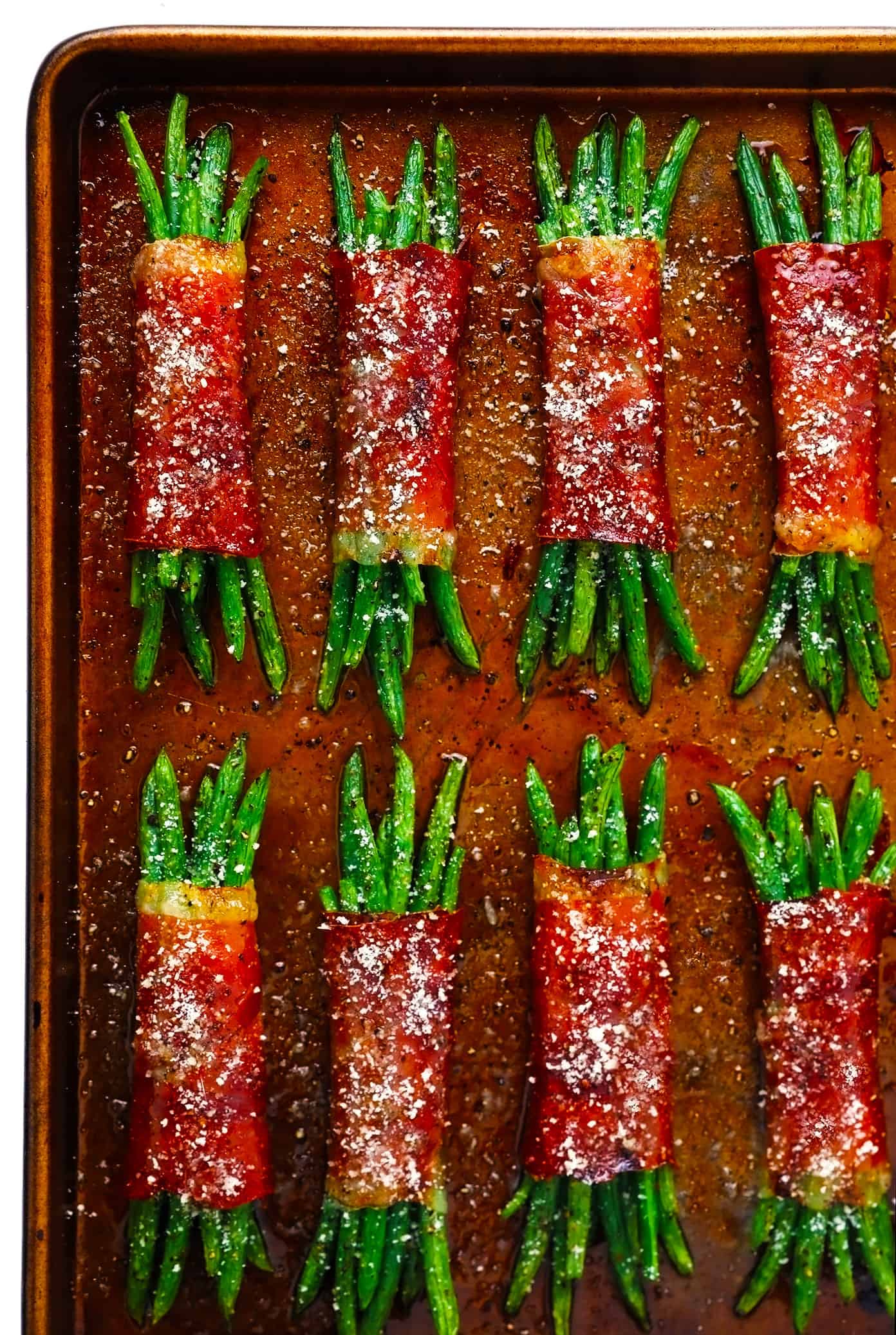 Hands-down the most fun way I know to serve green beans! ♡
These prosciutto-wrapped green bean bundles are sure to be a showstopper at any holiday gathering this season. But actually, the great news for all of us is that they're so simple to make that you could just as easily whip up a batch for dinner this week too!
Simply blanch and toss some fresh green beans with a quick rosemary honey garlic butter, roll them into little bundles with prosciutto (or bacon), roast them in a hot oven until crispy, and serve warm with a generous sprinkle of freshly grated Parmesan. They're savory and salty with a perfect little hint of sweetness from the honey. They're already pre-portioned for easy grabbing, which is always especially nice when serving a big crowd around the holidays. They're easy to prep up to 1 day in advance and also only require 10 minutes in the oven, also nice around the holidays. And best of all, they are just SO flavorful and delish!
Feel free, of course, to play around with the seasonings here. Or you're also welcome to add any extra drizzles (hello, balsamic) or sprinkles (maybe toasted pine nuts) on top that sound good. However you make these bundles, just have fun with them and enjoy!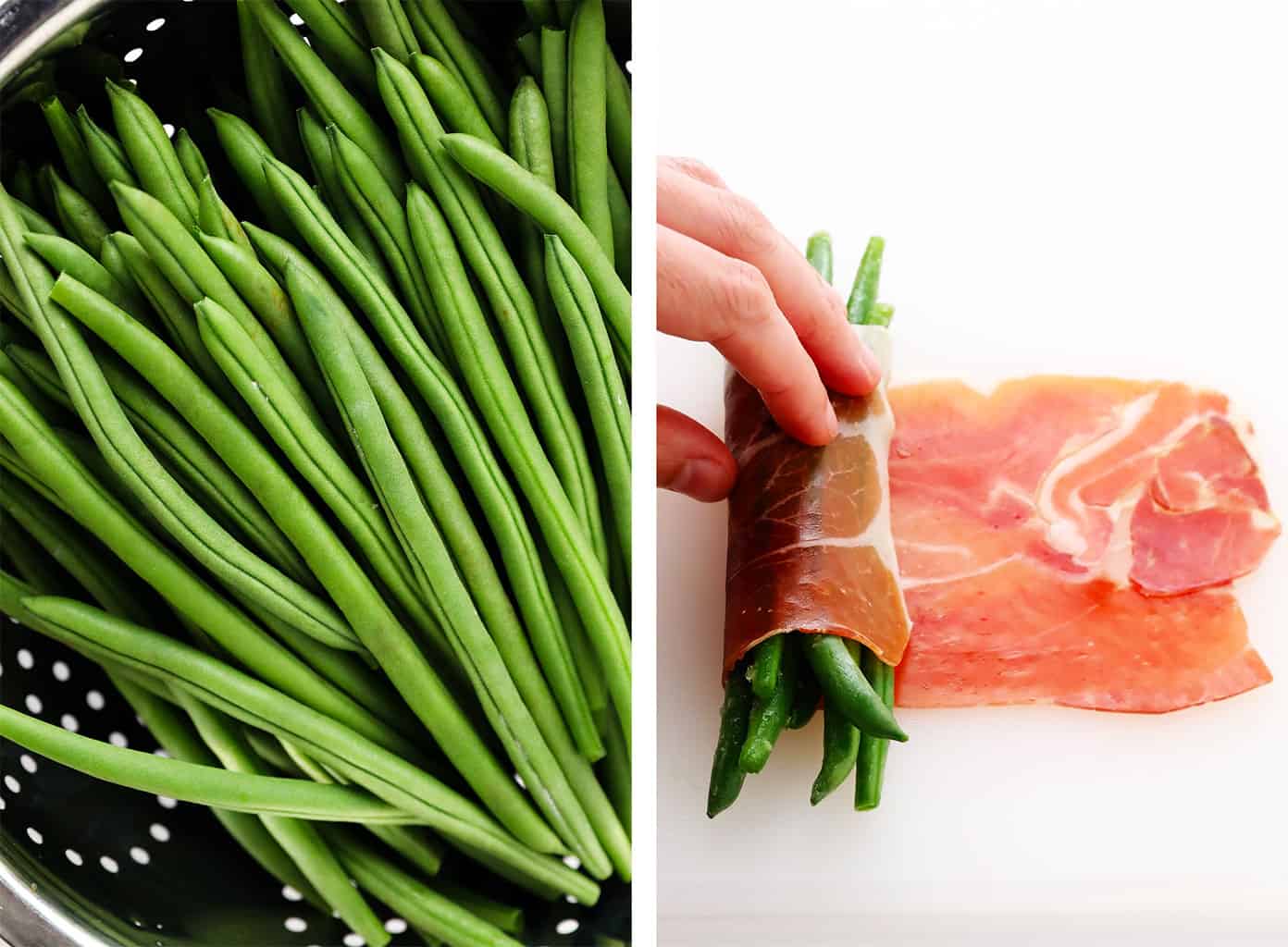 Green Bean Bundle Ingredients
Before we get to the full recipe below, here are a few notes about the ingredients you will need to make these green bean bundles:
Fresh green beans: I used slender haricot vert green beans for this recipe (whose ends you will likely need to trim), but feel free to use whatever variety of green beans you prefer. Just note that the thicker the beans, the longer they will need to cook.
Prosciutto or jamón serrano: While we're living here in Spain, it would be a crime if I didn't use some good-quality jamón serrano for this recipe. 😉 But prosciutto would also work just as well in this recipe if that's more easily available where you live. You will just need to purchase a package with at least 8 slices for this recipe.
Garlic honey butter: You will need a simple mix of butter, honey, fresh rosemary (or you whatever fresh or dried herbs you prefer) and a hint of garlic powder for this butter sauce. We also love adding in some crushed red pepper flakes for a hint of heat, but that's totally optional.
Salt and pepper: And of course, I recommend using fine sea salt and freshly-cracked black pepper to season these little bundles.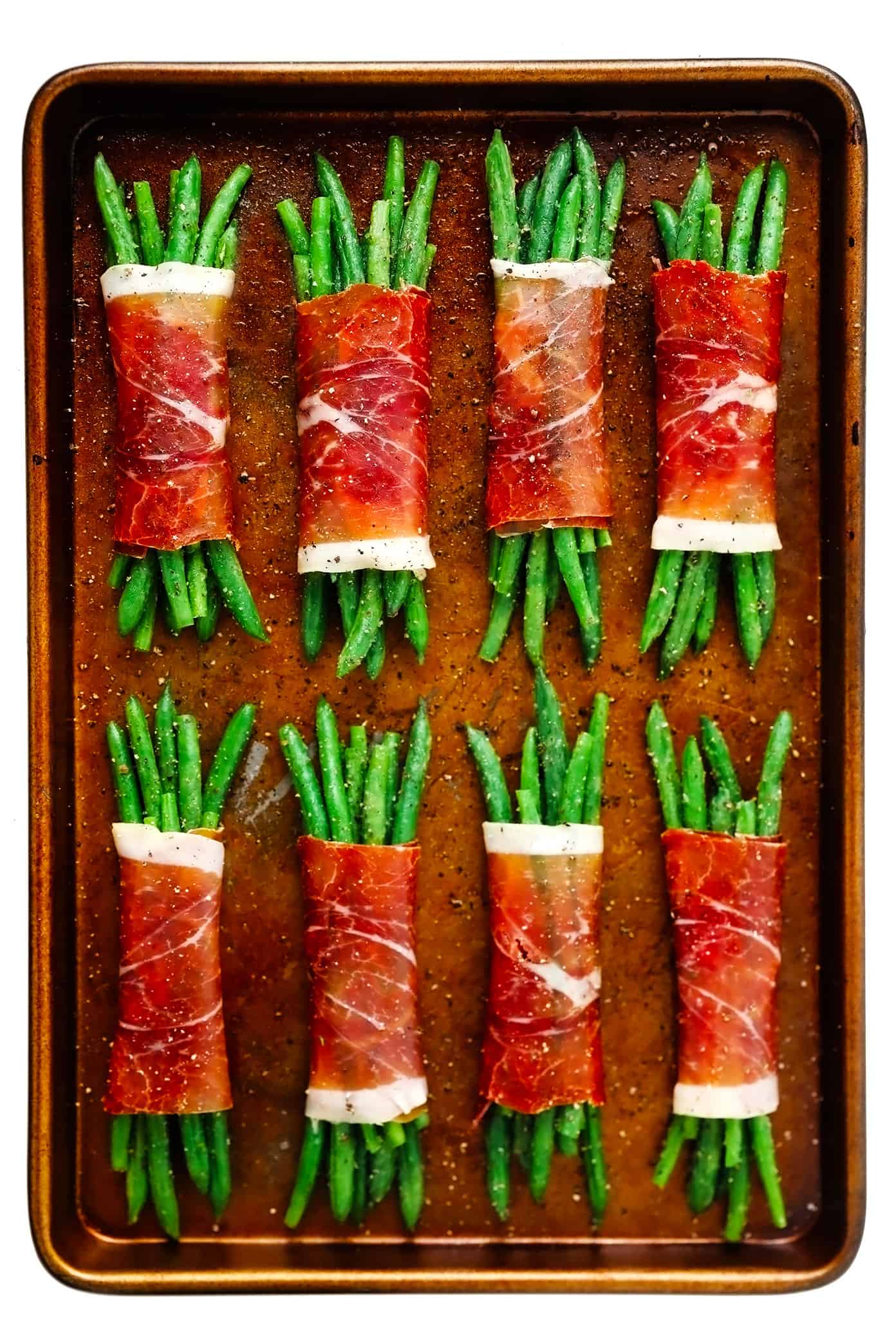 Optional Variations
This green bean bundles recipe is incredible flexible, so please have fun with it and customize the ingredients to your liking! For example, feel free to…
Use bacon: Feel free to use bacon in place of prosciutto. Just note that in order for the bacon to be thoroughly cooked, you will need to pre-cook the bacon before wrapping it around the green beans. You can either do this in the oven or on the stovetop. I recommend cooking the bacon until it is nearly crispy but can still easily bend. Then wrap it around the green beans and let it finish cooking in the oven.
Add different seasonings: There are any number of fresh herbs or dried seasonings that you can add to these green beans, so please feel free to experiment and season them to your liking. As I mentioned above, we also really love adding a few pinches of crushed red pepper flakes to these bundles to give them a kick.
Add a sauce or glaze: Feel free to also drizzle the finished bundles with an additional sauce or glaze if you would like. For example, a basil pesto, balsamic glaze, or hollandaise sauce would all be delicious options.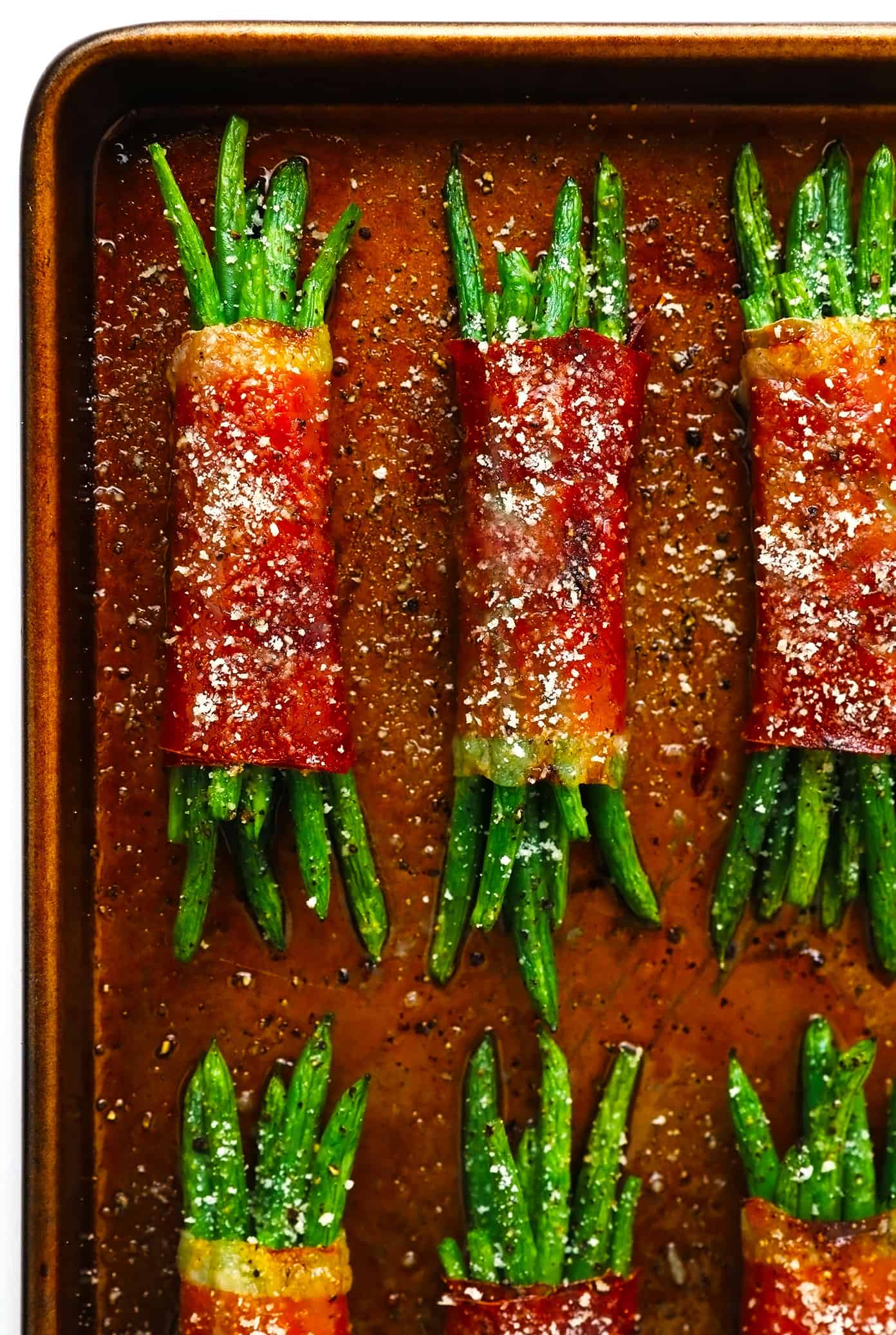 More Green Bean Recipes
Looking for some more green bean recipes to try? Here are a few of my faves!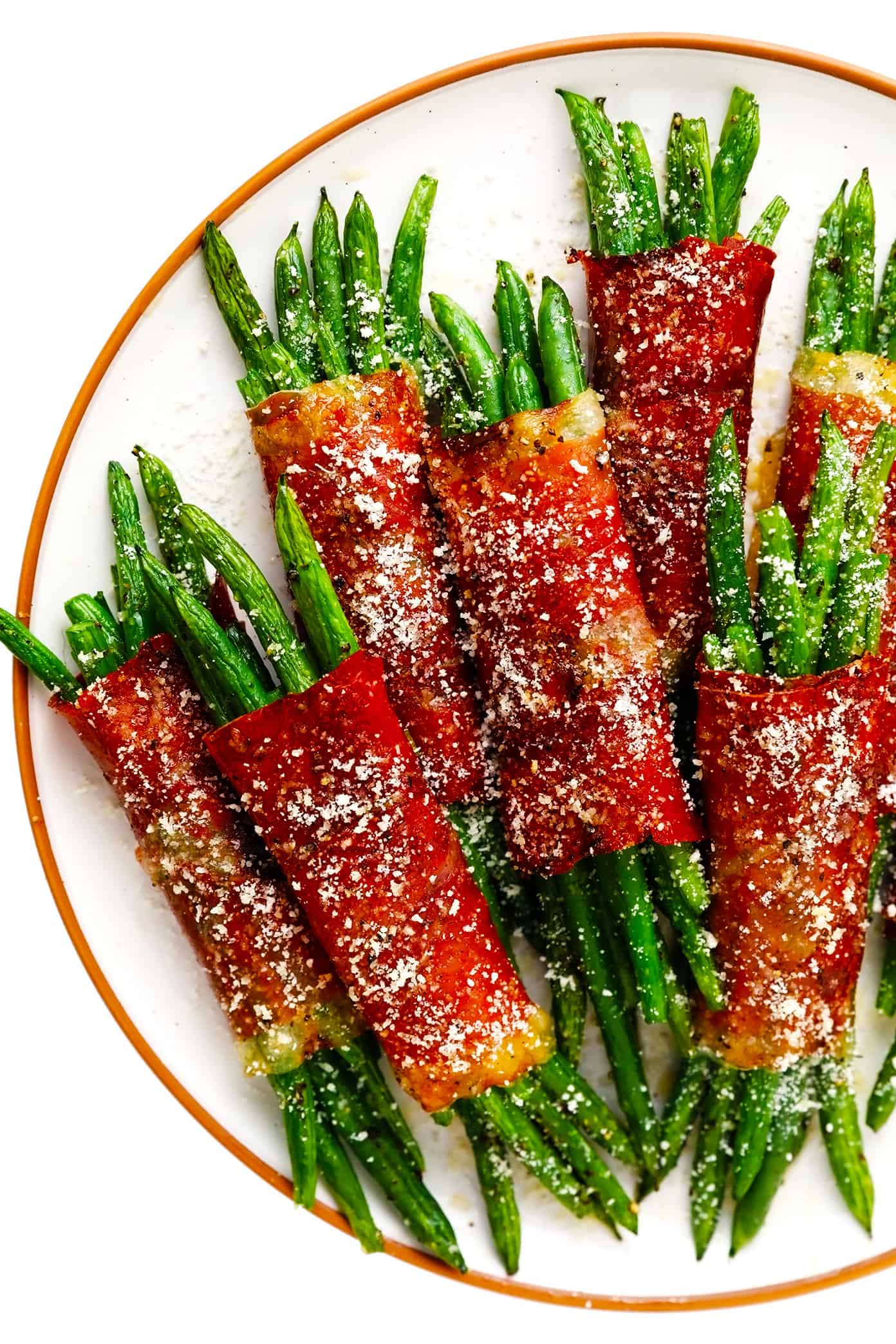 ---
Description
These green bean bundles are tossed with a rosemary honey garlic butter, wrapped in prosciutto, and sprinkled with freshly-grated Parmesan. See notes above for potential other ingredient variations to try!
---
Green Bean Bundle Ingredients:
1

pound fresh green beans (I used haricot vert), ends trimmed

5 ounces

prosciutto or jamón serrano (at least

8

slices)
fine sea salt and freshly-cracked black pepper
freshly-grated Parmesan cheese, for topping
Honey Garlic Butter Ingredients:
1/4 cup

salted butter

2 tablespoons

honey

1 teaspoon

finely-chopped fresh rosemary

1/2 teaspoon

garlic powder
---
Blanch the green beans. Bring a large stockpot of water to a boil. Add the green beans and boil for 2 minutes or until bright green. Use a strainer or tongs to quickly transfer the green beans to a large bowl of ice water and submerge the green beans until completely chilled. Drain the ice water completely, then use a clean towel to lightly dry off the green beans.
Prep the honey garlic butter. Combine the butter, honey, rosemary and garlic powder in a small saucepan. Heat over medium heat until the butter and honey are completely melted, stirring frequently. Remove from heat and set aside.
Prep the oven and baking sheet. Heat the oven to 450°F (230°C). Mist a baking sheet with cooking spray.
Assemble the bundles. Using the same large mixing bowl, toss the green beans with 1/4 cup of the butter mixture until evenly combined. Portion the green beans into 8 equal-ish sized bundles (about 9 or 10 green beans per bundle), then gently wrap each bundle in a slice of prosciutto. Place the bundles evenly on the baking sheet. Brush with the remaining butter, then season with salt and black pepper.
Bake. Bake for 8 to 11 minutes, or until the prosciutto and green beans reach your desired level of crispiness.
Serve. Serve immediately, garnished with freshly-grated Parmesan cheese. Enjoy!
---
---
Notes
Make-ahead instructions: To prep most of this recipe in advance, assemble the bundles through step 4. Refrigerate the bundles in a sealed container for up to 24 hours. Then bake just before serving as directed.