Garlic lovers unite with this easy, light, and spring-inspired recipe for Garlicky Pasta Primavera loaded with a bounty of green veggies.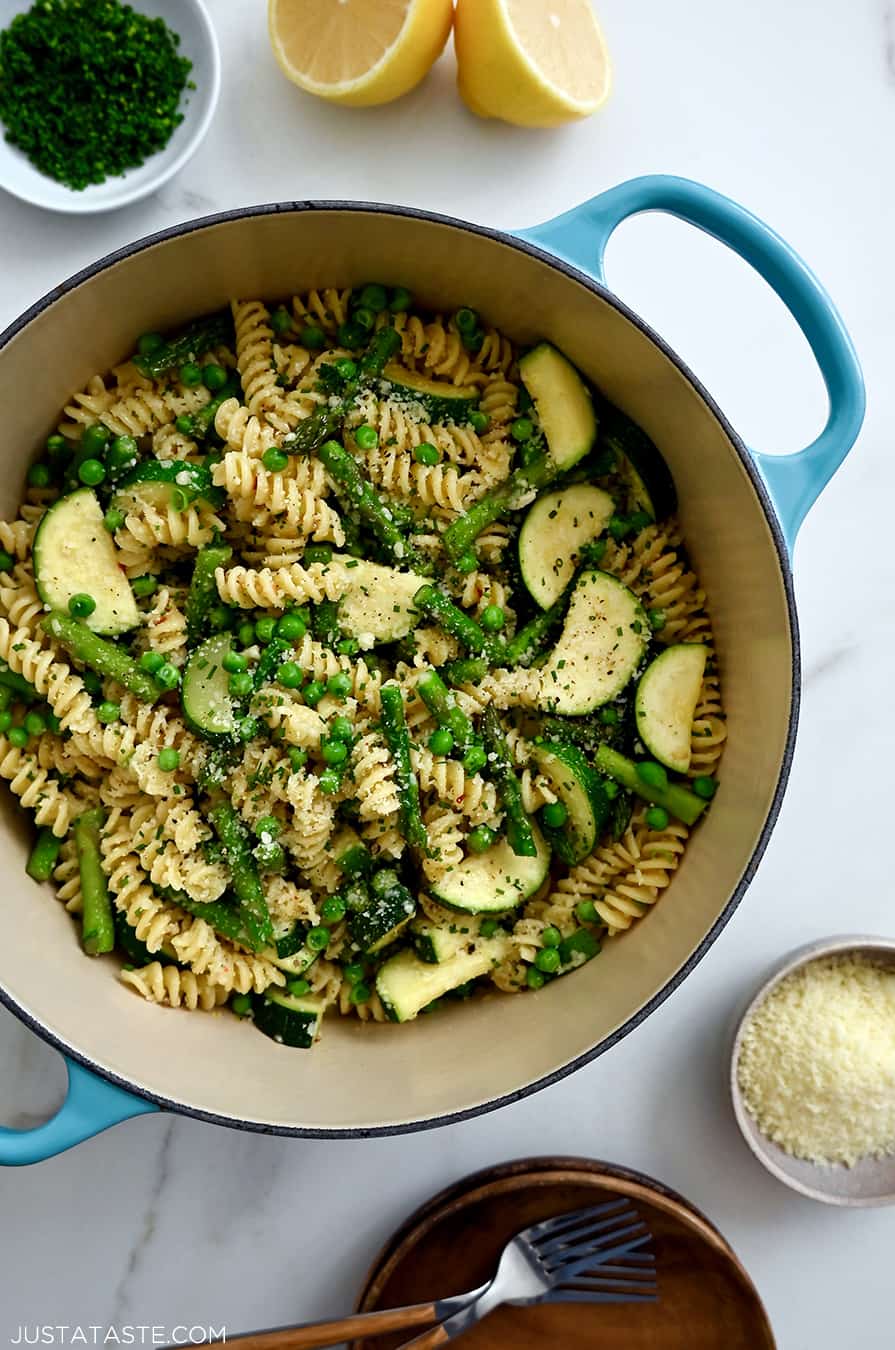 Nothing feels more like Spring to me than a bowl of Garlicky Pasta Primavera. It makes total sense: "Primavera" literally means "spring" in Italian! Lush and creamy, yet still brightly flavored and light, this no-fuss recipe is my go-to when I want to usher in the new season of fresh produce, sunnier days, and eating al fresco.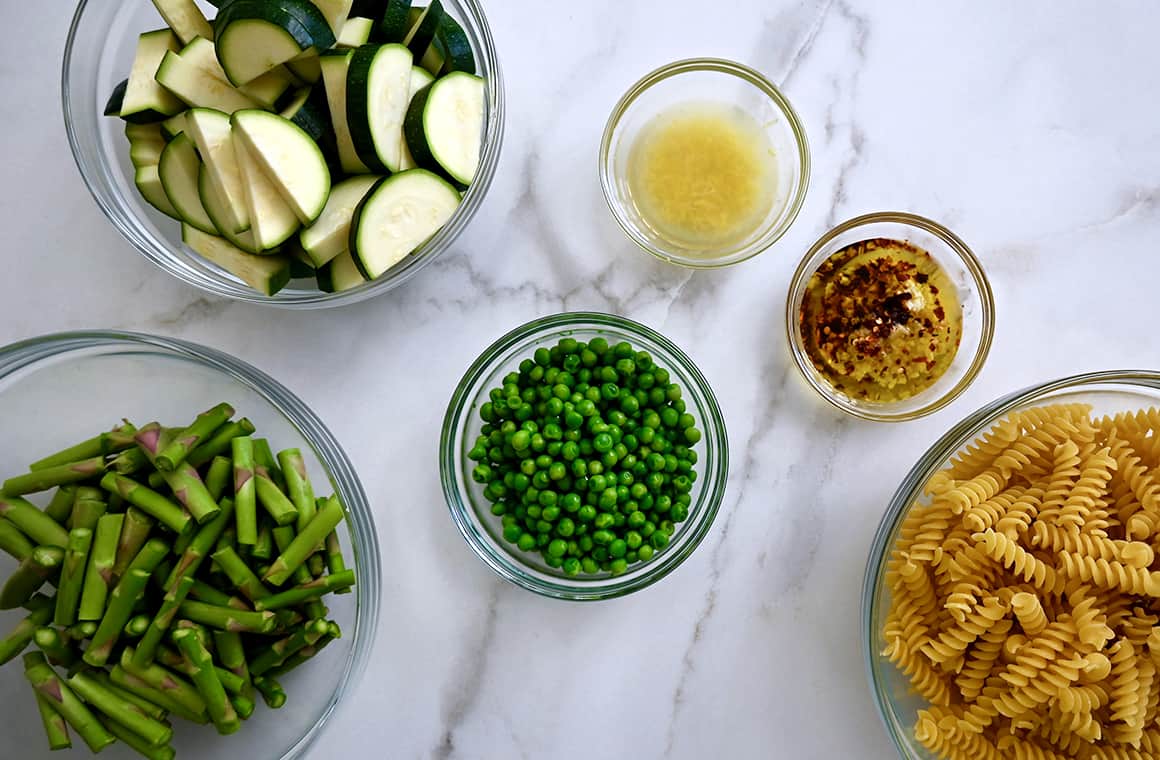 Pasta Primavera Ingredients
Asparagus, fresh peas and chopped zucchini come together to be a real green feast for the eyes here. For me, asparagus season might as well be a holiday. Fun fact: It is an annual holiday in Germany where the season is called "Spargelzeit." Cities host festivals where they even crown an "Asparagus Queen." Did I just discover my new moniker?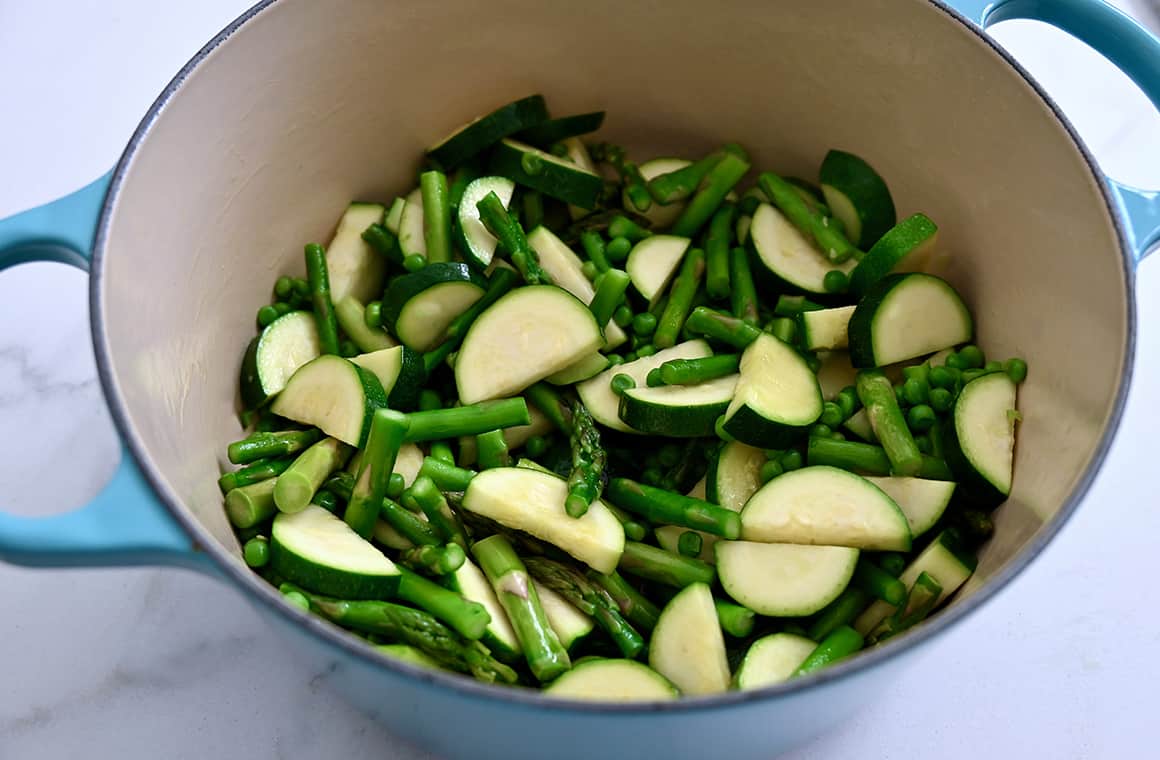 The Best Pasta Primavera Sauce
The secret to the best Pasta Primavera sauce is keeping it simple. Classically, Pasta Primavera sauce is a lemon-y cream sauce, tossed with angel hair pasta and a bounty of spring's finest vegetables. I've upped the freshness by subbing in olive oil for heavy cream, a hint of lemon zest, and a hearty helping of freshly grated Parmesan cheese.
What really makes this dish unique is the addition of minced fresh garlic. If you're anything like me, your favorite quantity of garlic is "all of the garlic."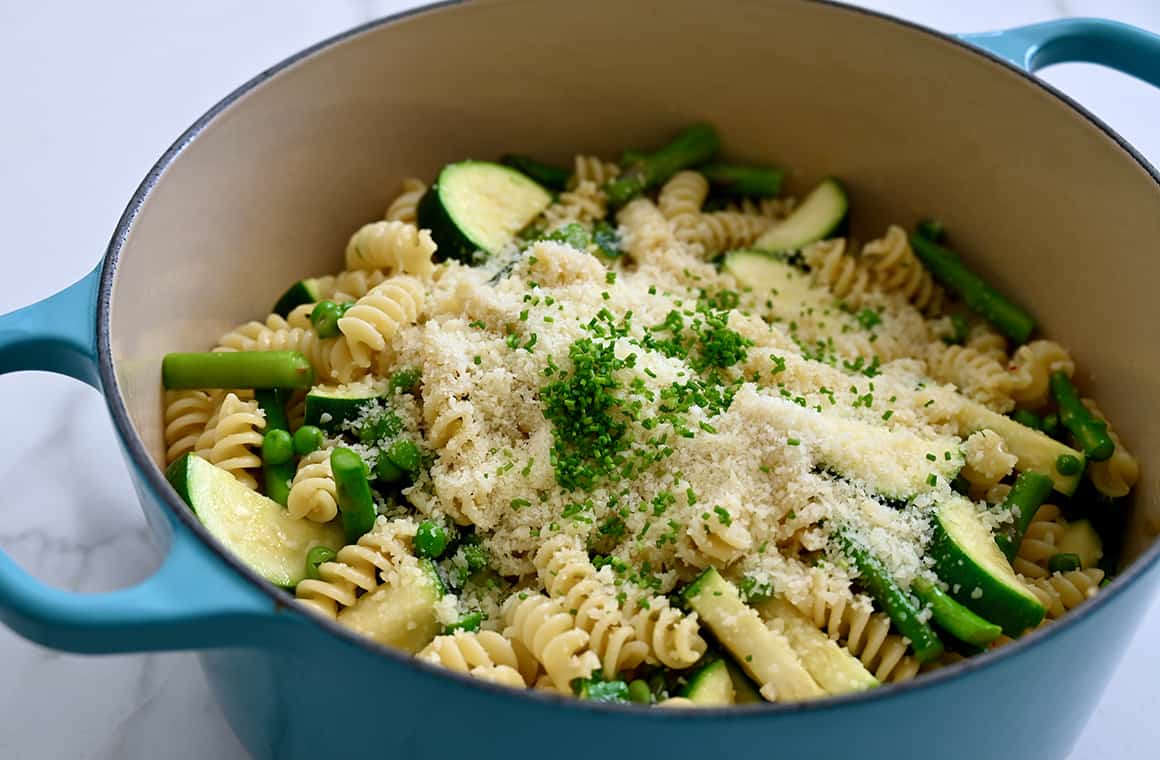 What Wine Goes with Pasta Primavera?
This bright pasta begs for an equally zippy white wine to bring out the lemon and garlic flavors. I love to pair this with a crisp Riesling, a citrusy Sauvignon Blanc, or even a light and breezy Pinot Grigio to cleanse the palate with each cheesy bite.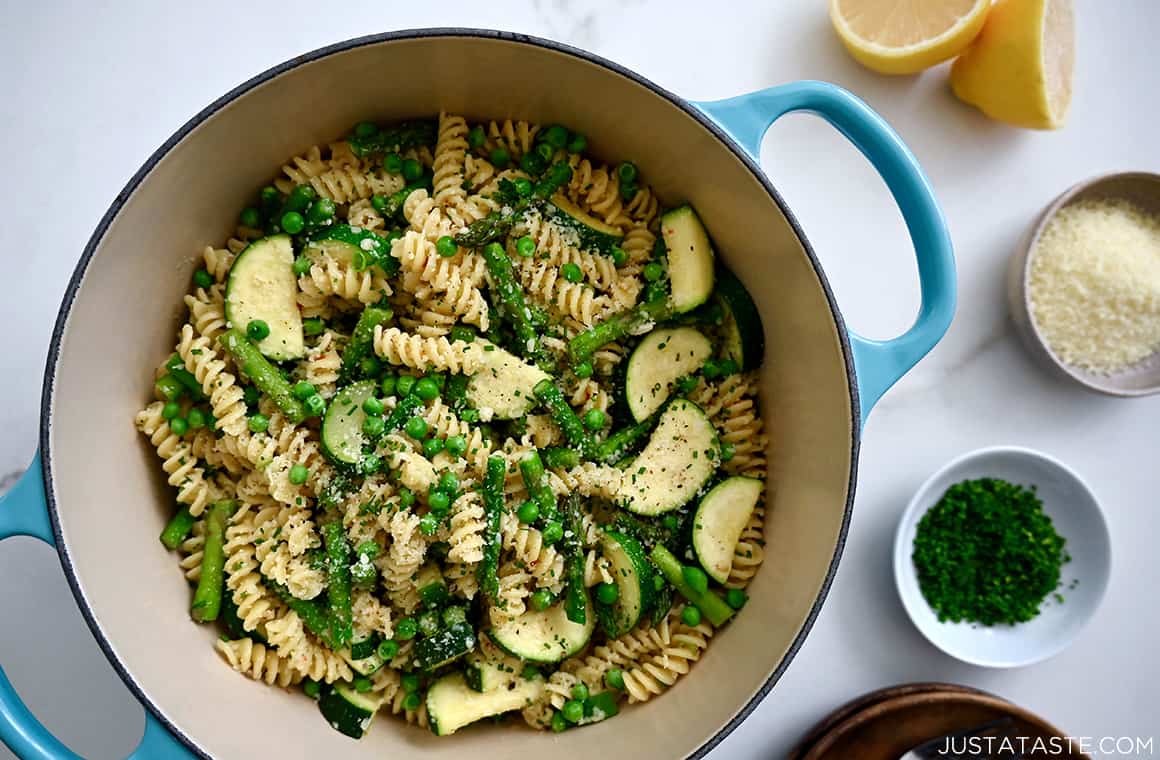 Craving more? Subscribe to Just a Taste to get new recipes, meal plans and a newsletter delivered straight to your inbox! And stay in touch on Facebook, Twitter, Pinterest and Instagram for all of the latest updates.
Bring a large pot of salted water to a boil. Add the pasta and cook until al dente. Drain the pasta and reserve ½ cup of the cooking liquid. 

Add 2 tablespoons olive oil to a large stockpot set over medium-low heat. Add the asparagus, peas and ½ teaspoon kosher salt and cook, stirring, until the asparagus are crisp-tender, about 3 minutes. Add the zucchini and cook, stirring, an additional 2 minutes. Transfer the vegetables to a bowl.

Return the stockpot to medium-low heat. Add the remaining 2 tablespoons olive oil, garlic and crushed red pepper flakes (optional). Cook, stirring, until golden brown, about 2 minutes. Add the lemon zest, lemon juice and the reserved pasta water. Simmer until reduced by half, 3 to 5 minutes. Remove the stockpot from the heat and stir in the Parmesan cheese.

Return the vegetables to the skillet along with the pasta and toss to combine. Taste and season with salt and pepper.

Garnish the pasta with chives, additional Parmesan cheese and a squeeze of fresh lemon juice. 

★ Did you make this recipe? Don't forget to give it a star rating below!