This post may contain affiliate links. Please read my disclosure policy.
This Greek Fava (Yellow Split Pea Dip) recipe tastes refreshingly light, lemony and zesty, and is perfect for serving with pita bread or any of your favorite dippers.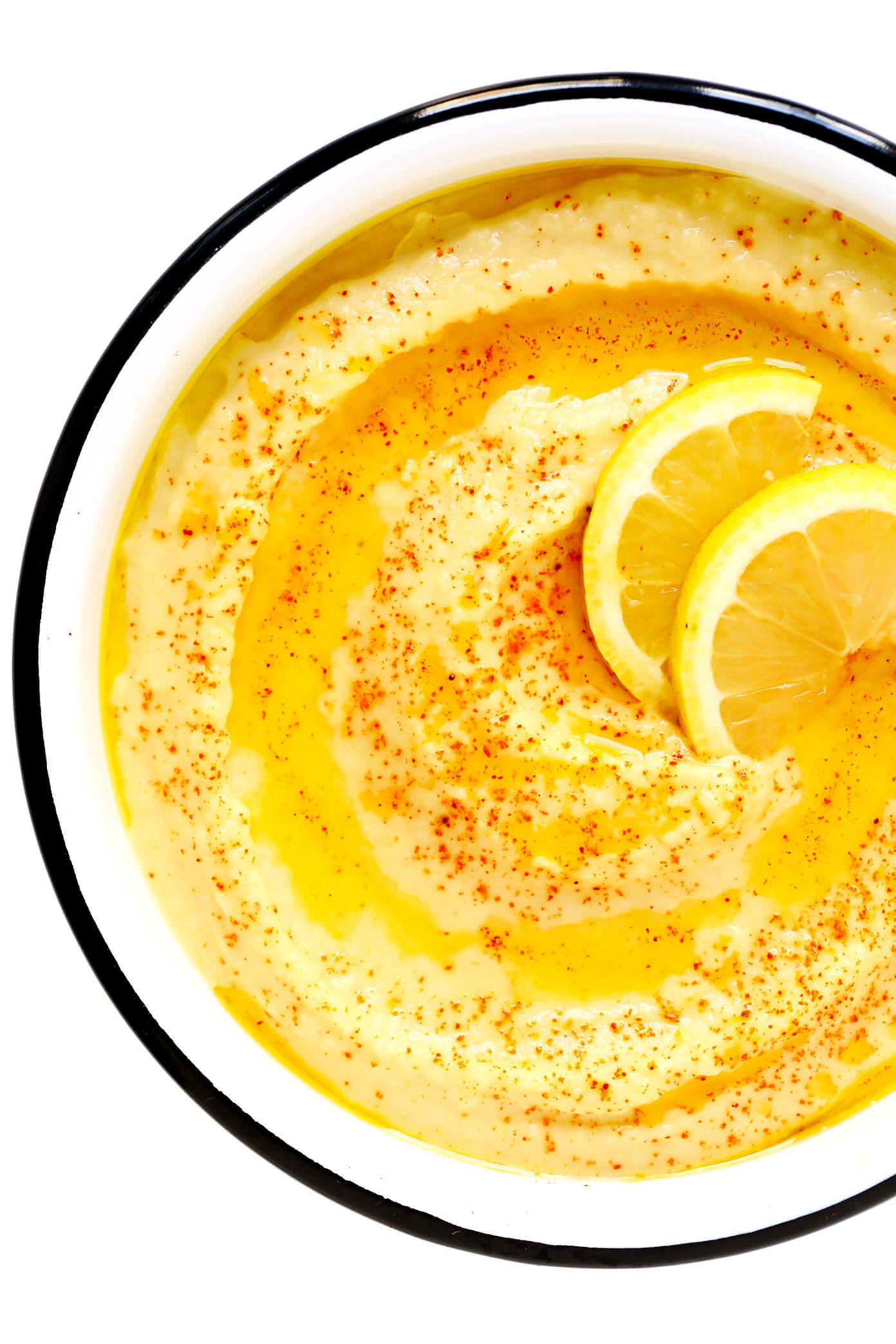 A few years ago when we visited Greece for the first time, Barclay and I fell hard for the country's delicious mezze.  But especially…all of those mezze dips.  From their famous tzatziki (creamy cucumber dip), to tirokafteri (spicy feta dip), to melizanosalata (eggplant dip), to skordalia (garlic dip), to hummus and beyond, we ordered as many dips as possible on that trip and literally enjoyed every single one.  But one of our faves was the famous Santorini specialty…
…fava. ♡
Contrary to what you might think from the name, Greek fava is not made from fava beans (broad beans).  Instead, the word fáva (φάβα) in Greek actually refers to yellow split peas, which are cultivated on the island of Santorini and are the starring ingredient in this yellow split pea dip.
The first time we tried Greek fava, I turned to Barclay and said, "It tastes like lemony lentil soup…but in a dip!"  Which I suppose basically sums up why I loved this dip so much.  Our servers explained that it was actually incredibly easy to make by simmering the yellow split peas with onion, garlic, and a few simple seasonings, then puréeing the mix with good quality olive oil and fresh lemon juice.  The result is an irresistibly light and lovely dip that tastes great with warm pita or any other dippers that sound good.  And as a bonus, it's also naturally gluten-free and vegan and a breeze to make!
So if you're a fellow dip-lover who also happens to be a major fan of lentil soup, I say it's definitely time to give fava a try.
Greek Fava Dip Ingredients:
After researching a bit more about the ingredients in Greek fava dip after our trip, it seems that the options here run the gamut from super-simple (just yellow split peas, onion and olive oil) to dips that are layered with all sorts of various herbs and seasonings.  After deep diving into a few Greek cookbooks and tinkering around with various combinations, the ingredients below ended up being our favorites.  They include:
Olive oil: Which we will use to sauté the onion and garlic, stir into the dip to make it extra silky and rich, and also drizzle on top if you would like.
Red onion: It seems that red onion is the most popular option in this dip, which I love because it adds a hint of sweetness, but yellow onion would work here too.
Garlic: Feel free to add more or less, to taste.
Yellow split peas: Which are traditionally simmered in water.  But if you wanted to amp up the flavor a bit here, you could use (non-traditional) vegetable stock.
Seasonings: I like a simple blend of bay leaf, ground cumin and fine sea salt, plus a sprinkle of smoked paprika on top.  But many recipes alternately use oregano, thyme and/or rosemary, which would also be delicious.
Lemon juice: I wrote this recipe using two tablespoons of fresh lemon juice (about 1 medium lemon), but please feel free to add more if you would like it to be extra lemony.
Topping ideas: A drizzle of olive oil, a sprinkle of smoked paprika or dried oregano, thinly sliced (or minced) red onion, Kalamata olives and/or capers are all good options here.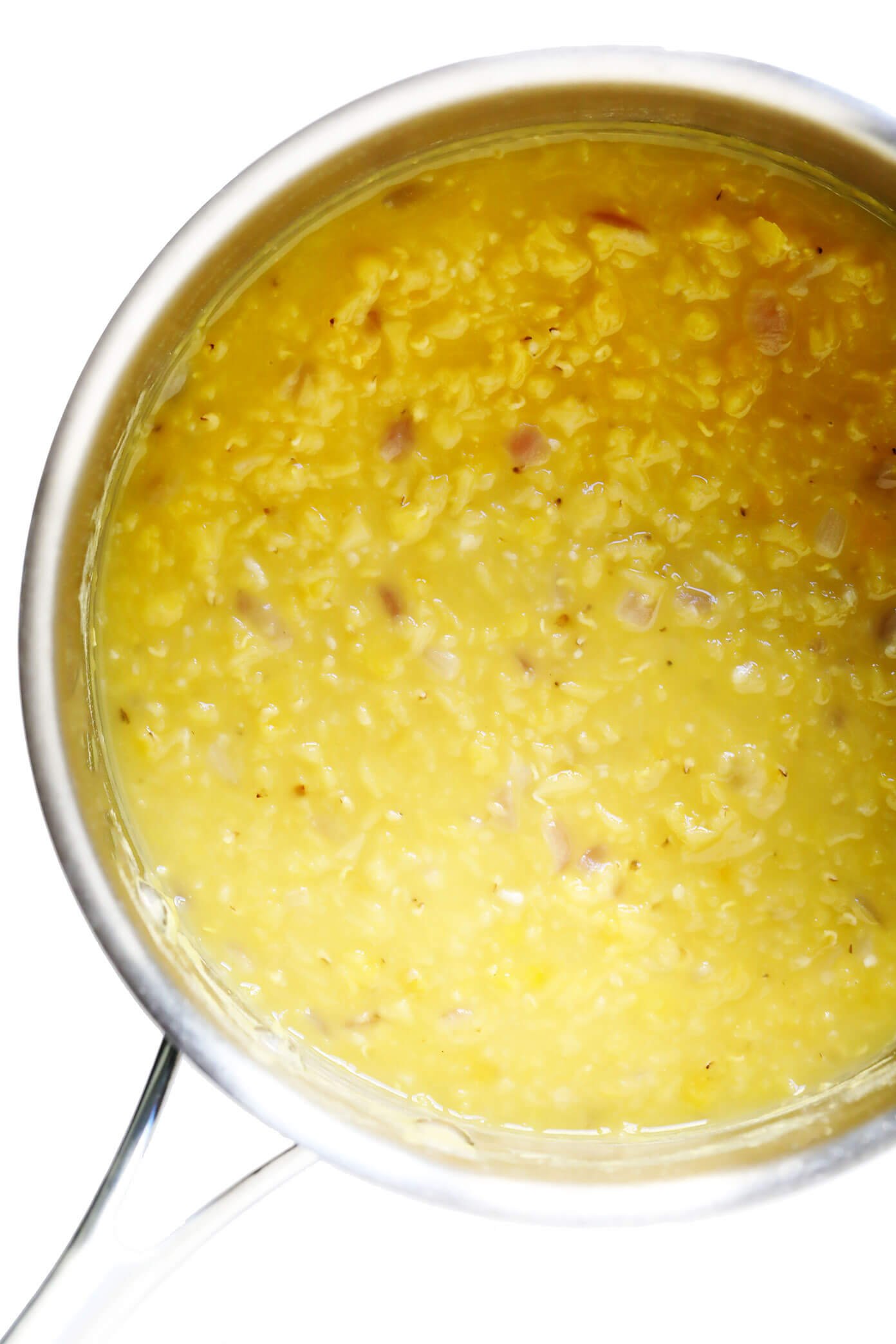 How To Make Fava Dip:
Here's a quick overview of how to make fava dip (full instructions in the recipe below)…
Sauté the onion and garlic. First, we will sauté the onion and garlic in olive oil until softened.
Simmer. Then we'll add in the water, yellow split peas, bay leaf, salt, cumin and simmer the mixture until the split peas are completely softened.
Purée. Discard the bay leaf.  Then, using an immersion blender (or see alternatives below), purée the mixture until smooth.
Season. Stir in the lemon juice and remaining olive oil until combined.  Then taste the dip, and season with extra salt and/or lemon juice if needed.  Note that the fava will thicken considerably as it cools!
Serve. Finally, transfer the dip to a serving bowl and garnish with a pinch of smoked paprika and any other preferred toppings, then serve and enjoy!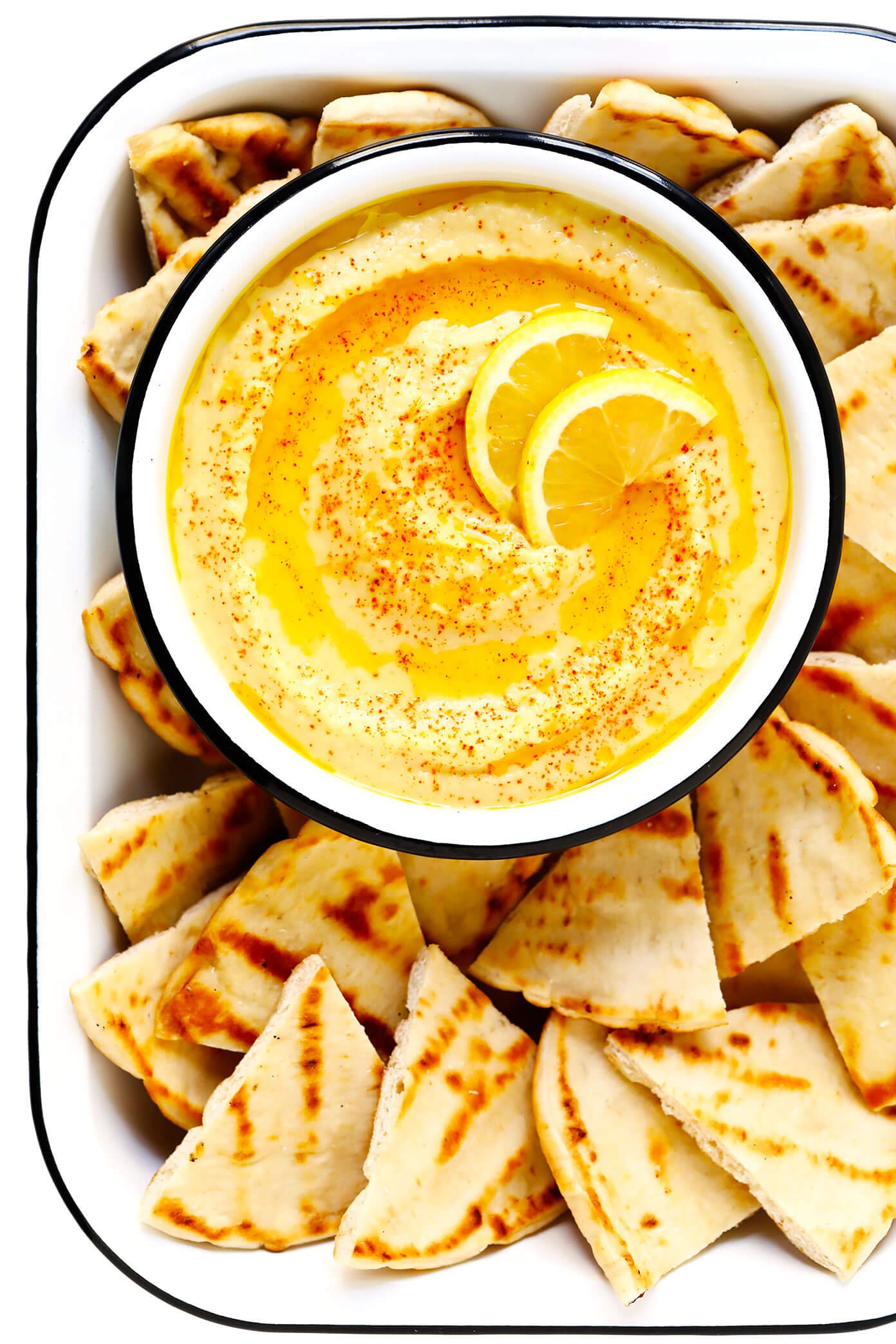 Possible Recipe Variations:
Feel free to tweak any of the ingredient amounts in this recipe to taste.  Or, you are also welcome to…
Add extra olive oil: Traditional fava often uses two or three times the amount of olive oil as is in this recipe, which definitely makes it rich and extra creamy if you would like to add more.
Use different herbs: As mentioned above, I really enjoy this recipe with a cumin/smoked paprika seasoning.  But we also enjoyed fava in Santorini that was seasoned with oregano and a sprinkle of fresh parsley on top, which was delicious.
Purée by hand: If you don't want to mess with using a blender or food processor, you can also just puree the mixture with a fork.  It won't be quite as smooth, but it will still be delicious.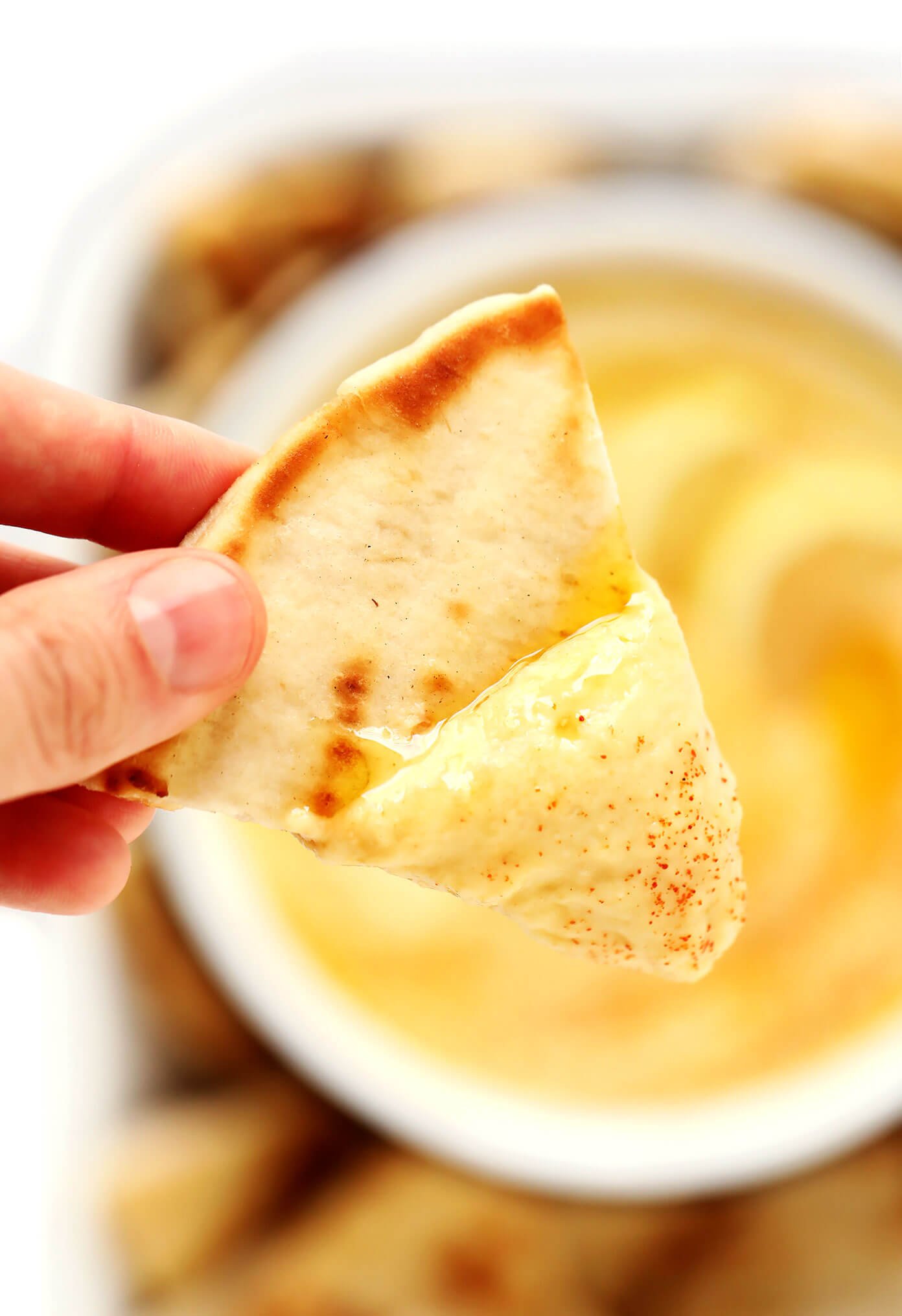 More Favorite Dip Recipes:
Looking for more amazing dip recipes? Here are a few of my faves: