Warm grilled avocado and tomato atop a fresh and filling salad with the most amazing chipotle cilantro lime vinaigrette. Unbelievable!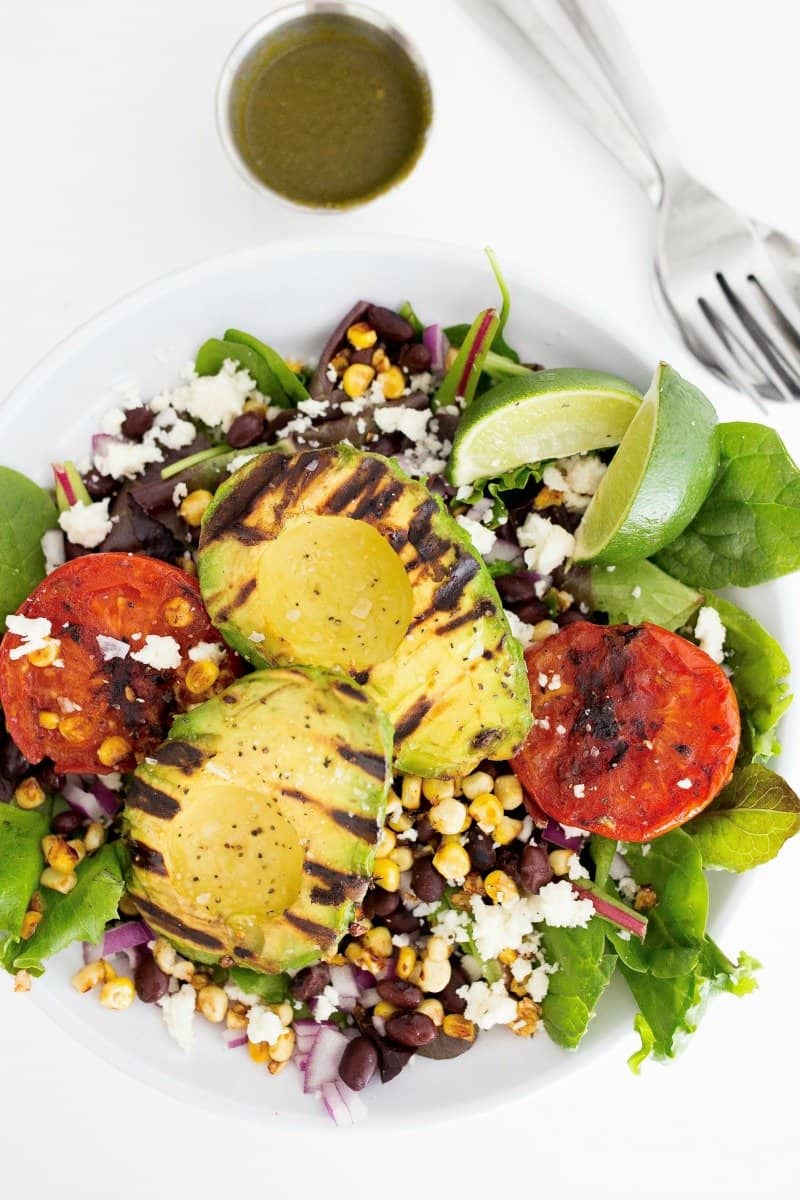 I get asked a lot where I draw inspiration for the recipes I create. I'd say more often than not, it's from something I've tried at a restaurant or bakery somewhere. I love falling in love with something and coming home to recreate it and make it my own in the comfort of our home.
Well, this grilled avocado and tomato salad is the perfect example. I'm a regular at a local fast-casual salad place called Snappy's. It's the type of place where you walk through a line and build your own salad or choose one of their featured salad and they make it for you as you move down the line.
I have three favorites that I rotate through depending on my mood…I'm always craving one of them. I've already shared my Chicken Quinoa Powerhouse Salad which was inspired by Snappy's Bam Bam salad and I'll be sharing my variation of the Asian Chicken Salad I create there (with all the wasabi peas!) soon, but today, I'm sharing my homemade version of their Grilled Avocado Salad.
It's surprisingly simple yet stunning. Fresh and filling. Meatless and you'll never miss it. AMAZING!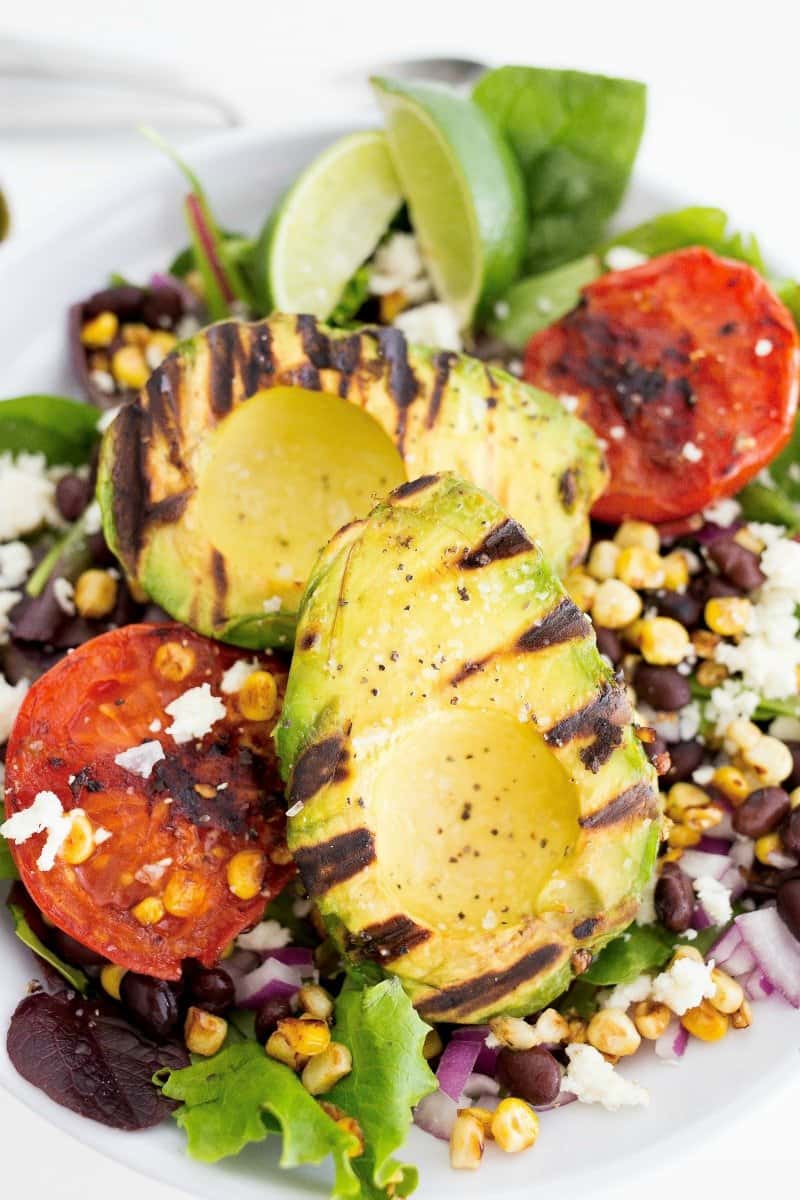 Mixed greens, chopped red onion, black beans, grilled corn, pepitas and cotija topped with warm grilled avocado and tomato halves all tossed in the most amazing chipotle cilantro lime vinaigrette. Seriously one of the most amazing salad experiences you could have!
You can grill the avocado, tomatoes and corn outside on the grill on a lovely summer night or inside using a grill pan on a colder spring day…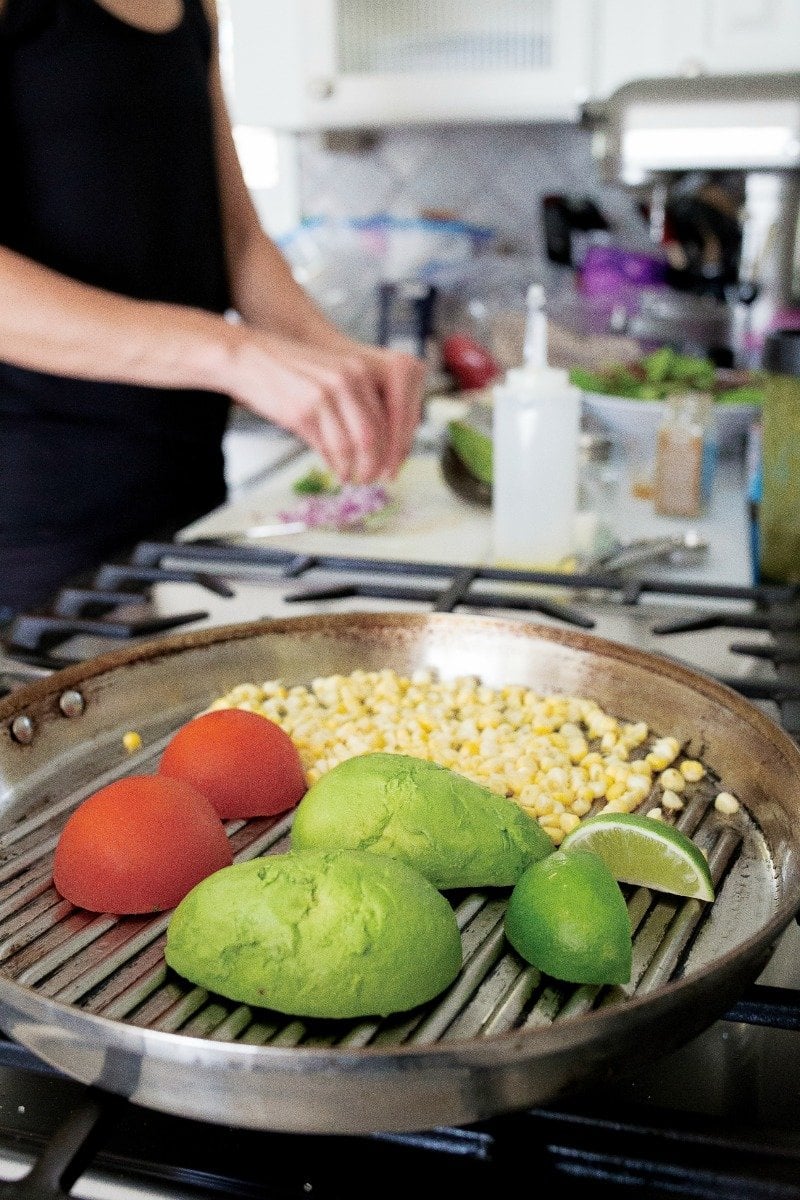 The warm avocado just melts in your mouth while the charred tomato juices and crunchy corn kernels lead you to the cool crispness of the mixed greens. The chipotle cilantro lime vinaigrette brings it all together with a little spice, citrus and sweetness…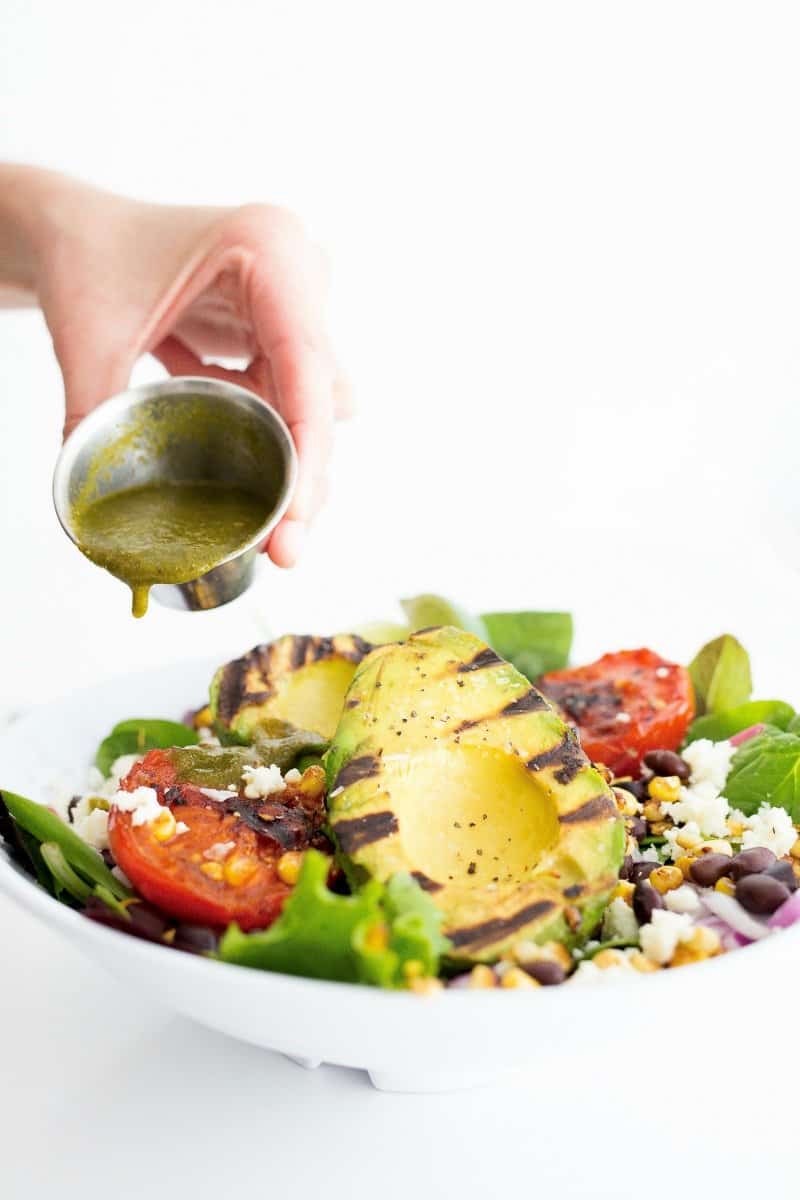 I make if for us for lunch or dinner all the time. The combination of textures and flavors is so unbelievable you won't want to put your fork down for fear it's just a delicious dream.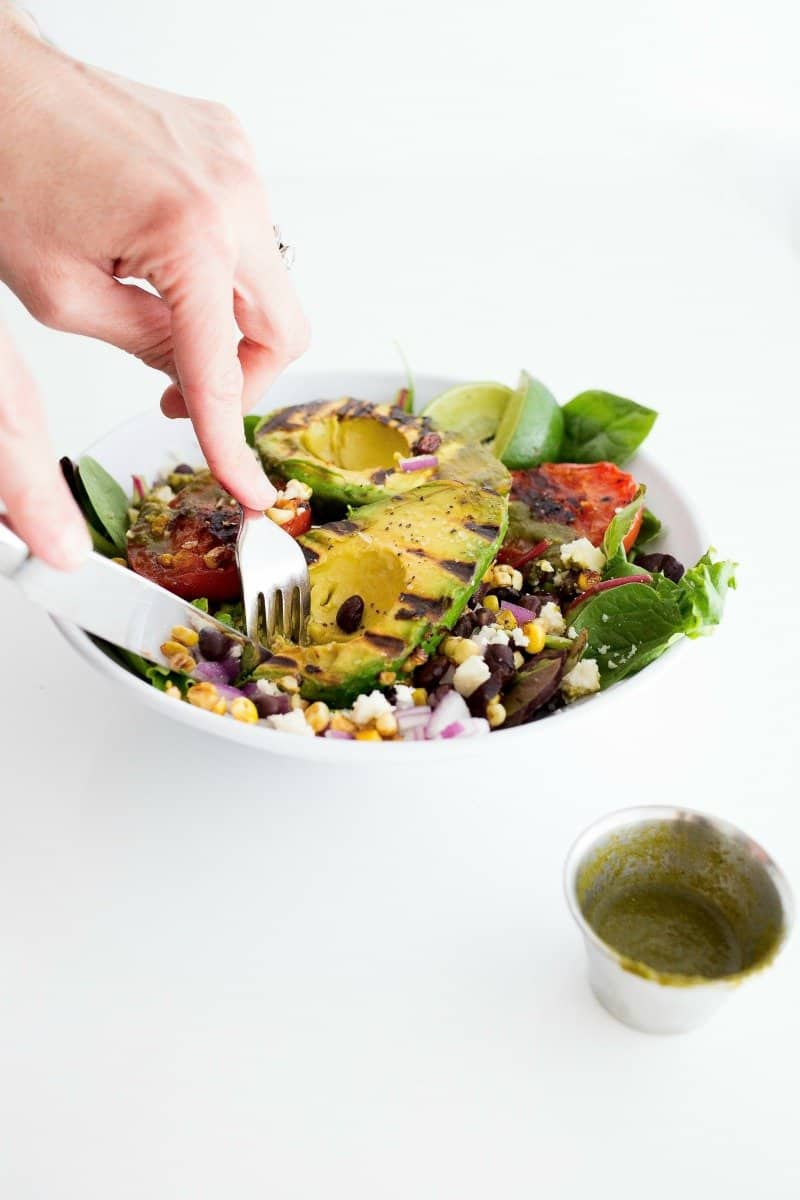 Enjoy!
xoxo,
Maegan
Grilled Avocado and Tomato Salad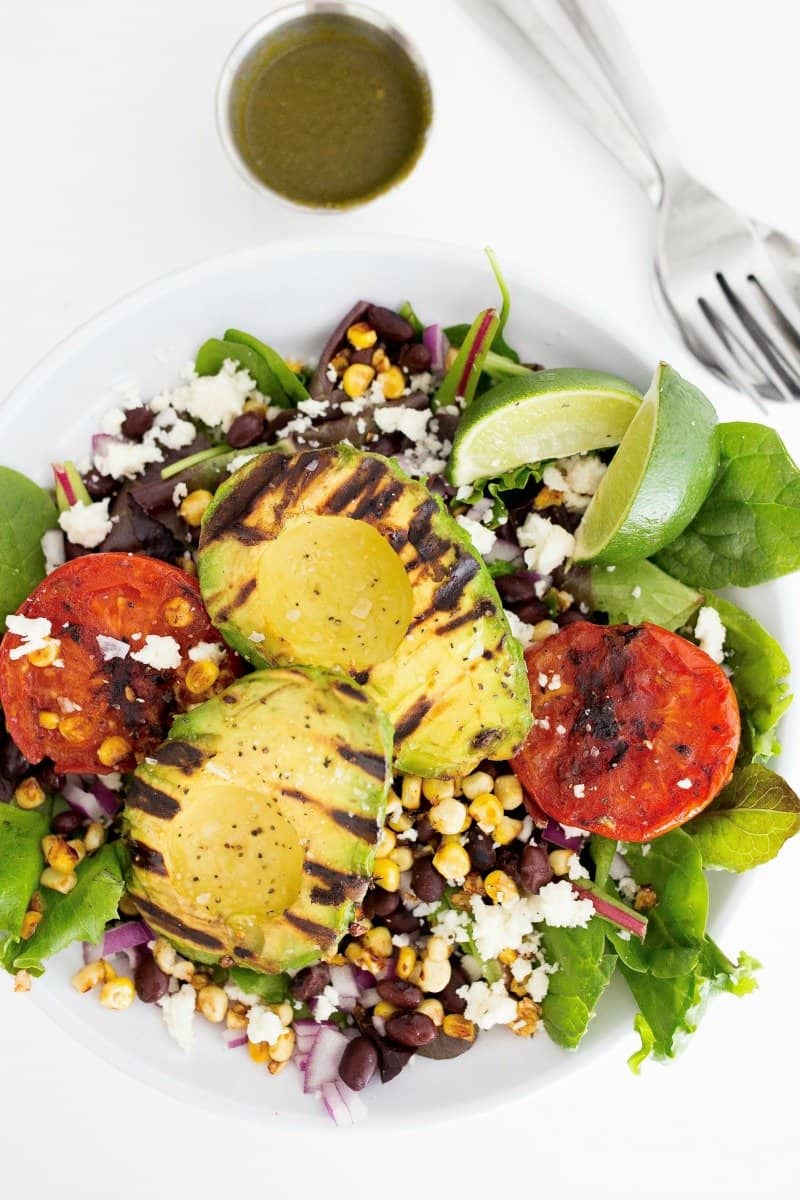 Author: Maegan – The BakerMama
Recipe type: Main
Salad:
1 avocado, halved with seed and skin removed
1 tomato, halved
1 ear of corn
canola oil, for grilling
2 cups mixed greens
¼ cup canned black beans, drained and rinsed
2 tablespoons chopped red onion
2 tablespoons pepitas
2 tablespoons crumbled cotija cheese
Chipotle Cilantro Lime Vinaigrette:
¼ cup fresh lime juice
1 tablespoon honey
2 tablespoons chipotle sauce, from a can of chipotle peppers
½ teaspoon cumin
1 cup cilantro leaves
salt & pepper, to taste
Heat grill or grill pan to medium-high heat. Brush grates or pan generously with canola oil.
If grilling the corn on a grill, leave the kernels on the cob. If using a grill pan, you can remove the kernels from the cob prior to grilling, if desired.
Brush avocado, tomato and corn lightly with some canola oil. Place them a few inches apart, cut side down, on the grill or in the grill pan. Grill 3-4 minutes on each side or until black grill marks start to appear. Season with salt and pepper before removing from the grill.
Meanwhile, make the dressing. Place lime juice, honey, chipotle sauce, cumin and cilantro in a blender and blend until smooth. Season with salt and pepper to taste. Set aside.
In a large salad bowl, add the mixed greens, black beans, red onion, pepitas and cotija cheese. Top with the grilled avocado, tomato and corn kernels (cut kernels from the cob after they are grilled if you haven't already).
Drizzle salad with desired amount of dressing. Toss and enjoy!
3.5.3226
Recipe by Maegan Brown/Photography by Madison Mentesana