We are obsessed with these HERB CRUSTED HONEY BOURBON PEAR PORK CHOPS! They are herb crusted and the perfect mix of savory and sweet. The best kind of Fall comfort food!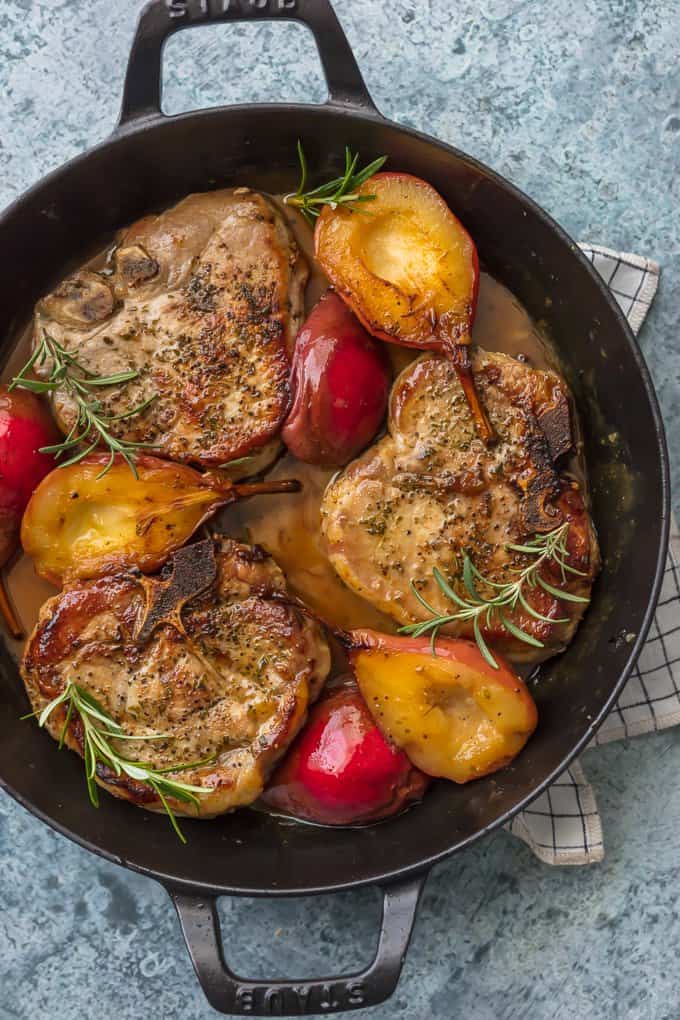 This HERB CRUSTED HONEY BOURBON PEAR PORK CHOPS is such a gorgeous dish first and foremost, but it also packs a huge flavor punch. It's festive, beautiful, and tastes like Fall in a skillet. Making a dish like this around the holidays will wow your guests, warm your bellies, and make your hearts happy. I love the way the herbs and pears combine to make things both sweet and salty, and the boubon adds just the right touch of something special. This is one of our very favorite recipes for this time of year!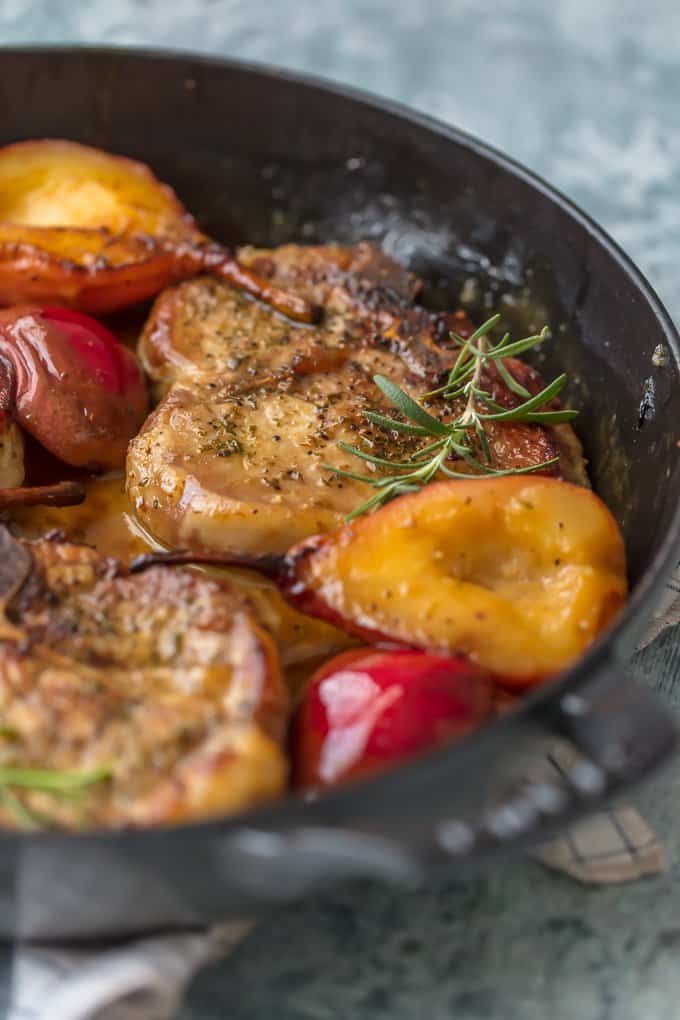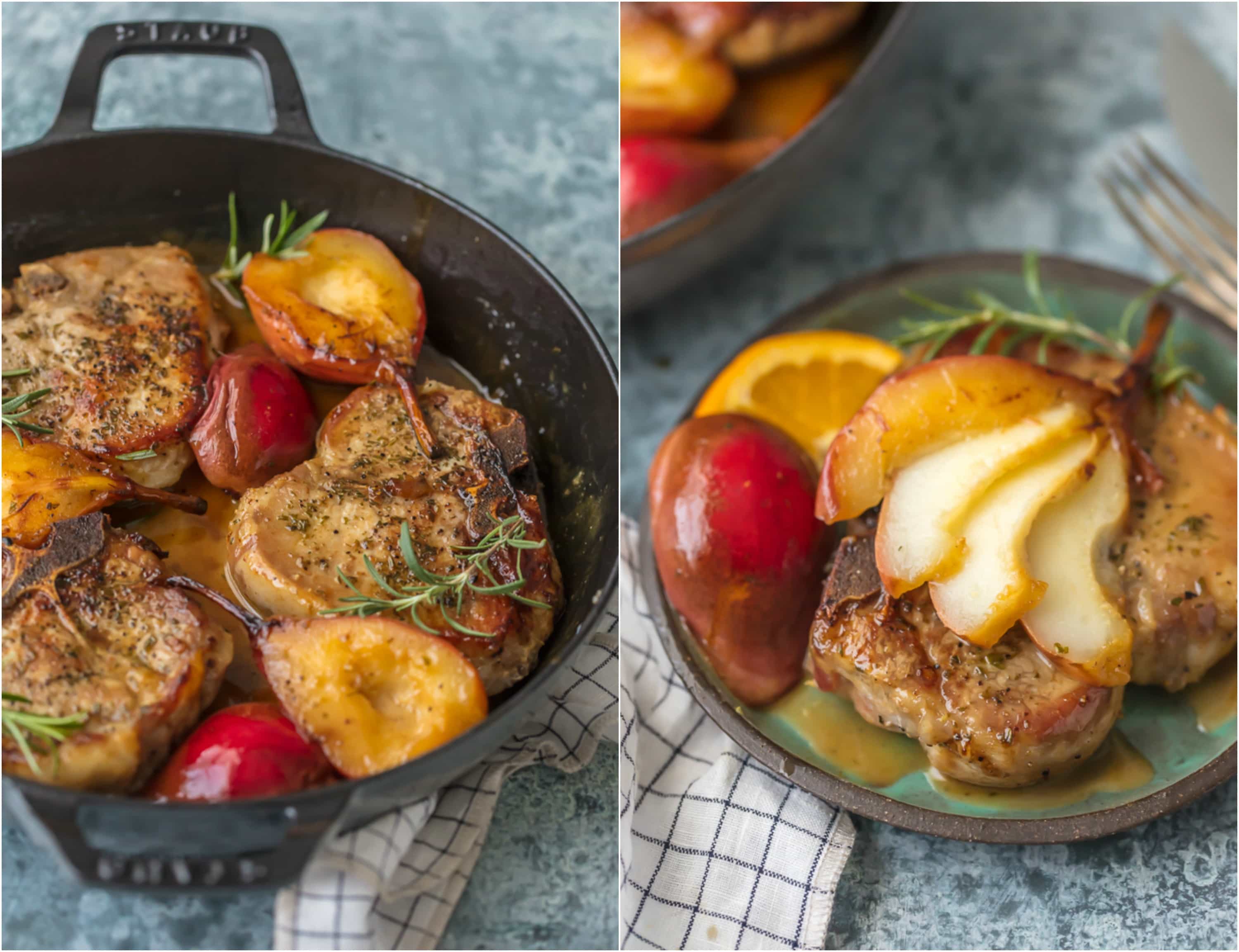 Ever since the success of the Apple Butter Pork Chops from a few years ago, I knew I wanted to try my hand at more pork recipes for Fall. Apple was great, but pear is elevated. This dish is more complex in flavor, but still super easy and sure to please. There's just something about pork and fruit that just works. If you tried and loved the Apple Butter Pork Chop Skillet you'll definitely love this Honey Bourbon Pear Pork Chop Version!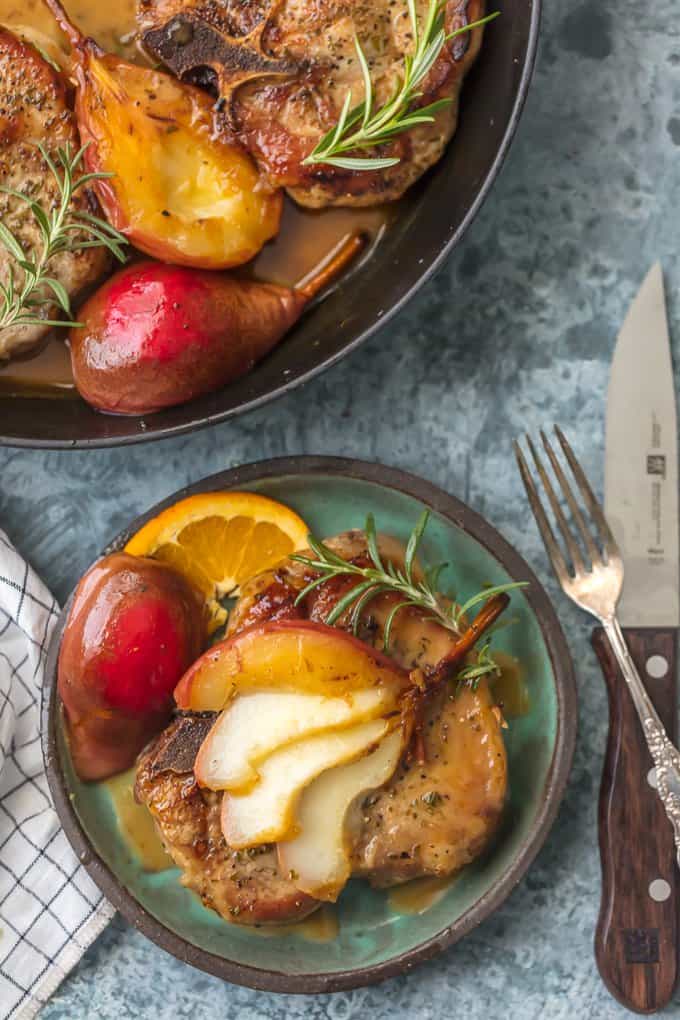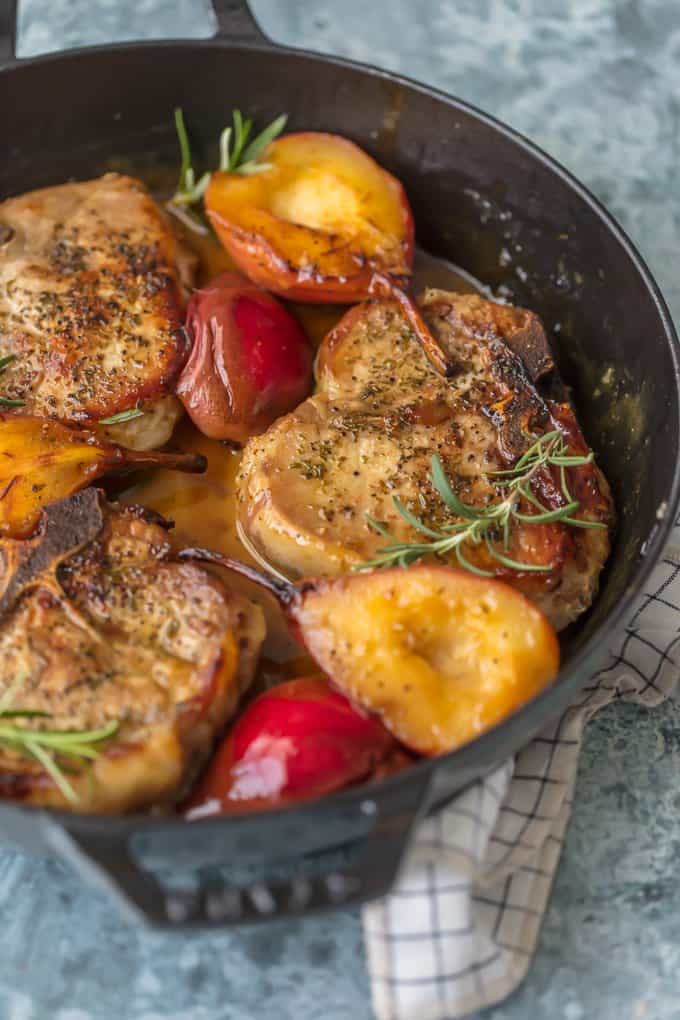 If this meal doesn't scream sweater weather, I really don't know what does. The red and green is more than perfect for the holidays. I think this might just make an amazing Christmas Eve meal! We chose bone in pork chops because of the extra flavor, but feel free to use boneless if you prefer. Get a good cut of meat either way…it's worth the extra cost 100%.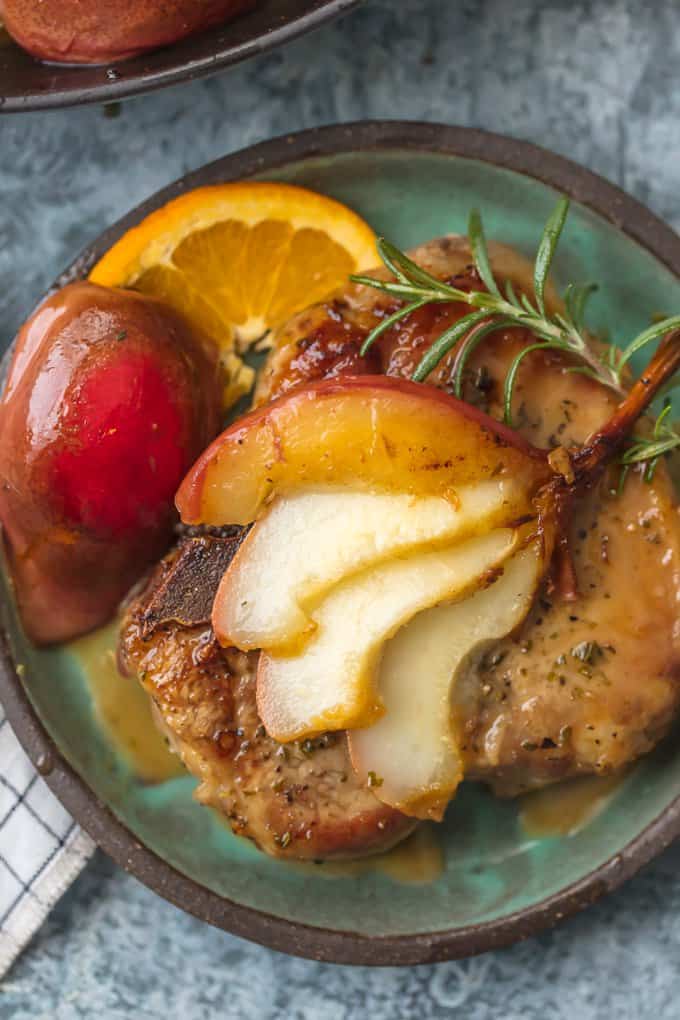 I hope the remainder of Fall is super flavorful at your house. I hope it involves this creative and delicious recipe. You won't be disappointed.
Enjoy!
Herb Crusted Honey Bourbon Pear Pork Chops
We are obsessed with these HERB CRUSTED HONEY BOURBON PEAR PORK CHOPS! They are herb crusted and the perfect mix of savory and sweet. The best kind of Fall comfort food!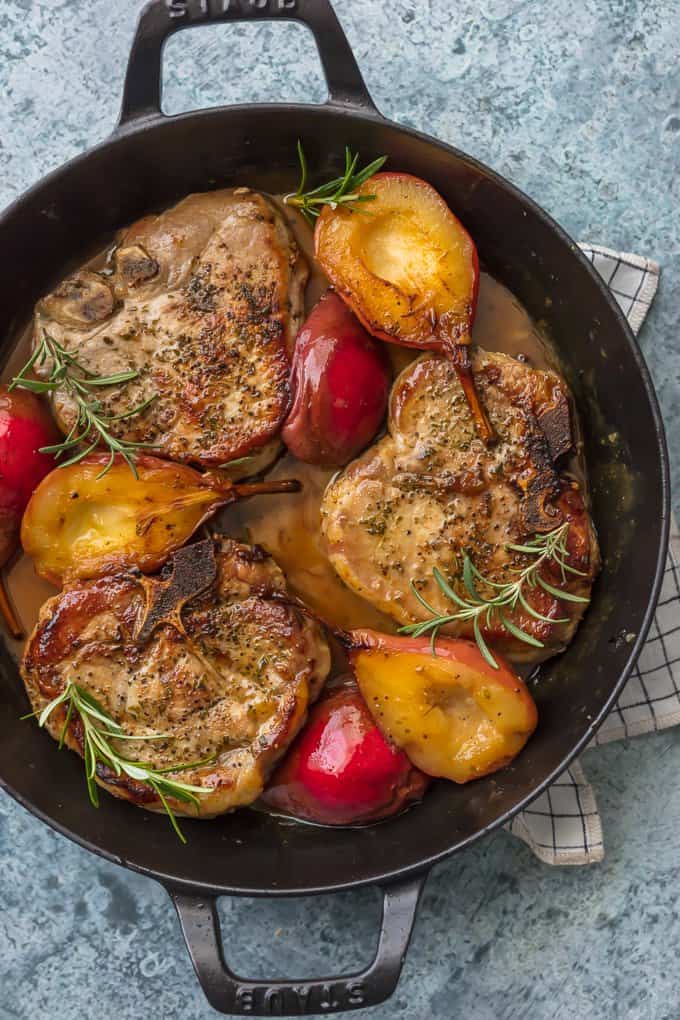 Ingredients
2 (1-inch) pork loin chops, bone-in
1 teaspoon kosher salt
1 teaspoon granulated sugar
2 teaspoons + 2 tablespoons olive oil
½ teaspoon freshly ground black pepper
2 teaspoons fresh minced rosemary
2 teaspoons fresh minced thyme
2 tablespoons unsalted butter
2 firm pears, pitted & halved, stems left on
¼ cup fresh orange juice
¼ cup honey or dark brown sugar
¼ cup bourbon
juice from lemon
1 tablespoon unsalted butter
Instructions
Pat the pork chops dry and sprinkle with granulated sugar and salt. Set aside for 30 minutes.
Brush 1 teaspoon olive oil over both sides of the pork chops and sprinkle with black pepper, rosemary and thyme. Rub the herbs into each side of each pork chop.
Heat 2 tablespoons olive oil and 2 tablespoons butter in a medium skillet (cast iron is best) until the oil/butter shimmers and a small piece of food sizzles when it hits the pan. Do NOT heat until you see wisps of smoke rising from the pan. (If you do, remove the pan from the heat to allow it to cool a bit.) Place the prepared pork chops across from each other, in the pan. Place the prepared pears, flesh side down, in-between the pork chops. Cook 5 minutes or until the pork chops have seared, and are golden brown, on the bottom side. Flip the pork chops over and cook another 5 minutes or until the other side is golden brown.
Check the pears to make sure they aren't burning – their color should be the color of dark honey. If they are overcooking, transfer them to a plate. Test the temperature of the pork chops with a meat thermometer. When the thickest part of the pork chops register 130°F, transfer the pork chops and pears to a plate.
Turn heat to low and add the orange juice, honey and bourbon to the pan juices. Whisk together and add 1-tablespoon butter. Whisk together until butter melts. Place the pork chops and pears back into the pan to cook until heated through. Serve with rice or roasted potatoes.
Enjoy!
7.6.5
2487
https://www.thecookierookie.com/honey-bourbon-pear-pork-chops/
Did you make this recipe?