How To Make Whipped Cream
Easy5 mins
Hey friends! I'm back with a quick little How-To Tuesday post (and new video!) to get you all ready for holiday pie-baking, hot-cocoa-topping, and cake-decorating this week. We're talking about how to make homemade whipped cream!
Because let's be real — while "non-dairy whipped topping" and "whipped cream in-a-can" were all the rage back in the 60s, those long ingredient lists on the labels (usually including a few too many processed un-pronouncables) aren't always the most appetizing options nowadays. But if you've never tried making homemade whipped cream before, it only requires an extra minute or two of steps vs. reaching for the pre-made stuff. And the good news is that it just calls for TWO main ingredients — cream and sugar. I always like to add in a little vanilla extract too. And if you feel like kickin' things up a notch, you can add in some extra flavors like cocoa or cinnamon or bourbon or whatever else sounds yummy.
And the best part?
If you have a stand mixer, it literally only takes a minute or two to make! SO quick and easy. Or if you don't have a stand mixer, you can also make homemade whipped cream with a food processor, blender, immersion blender, mason jar, or — the ol' fashioned way — by hand.
So many options. Let's discuss!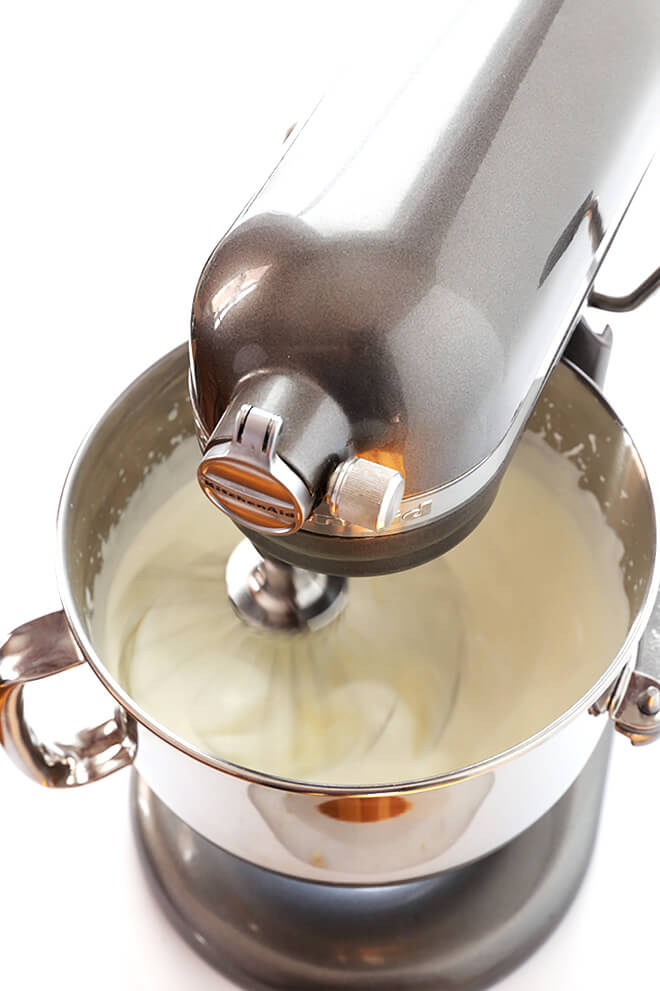 So, if you happen to own a stand mixer, I'd say that it's probably one of the easiest routes to go. Just make sure that your bowl and whisk attachment are nice and chilled, as well as your heavy whipping cream. That's the main thing to remember — you want everything nice and COLD for making whipped cream.
Then, add in your heavy whipping cream and some powdered sugar to the bowl of the mixer (or you can wait to add the sweetener at the end)…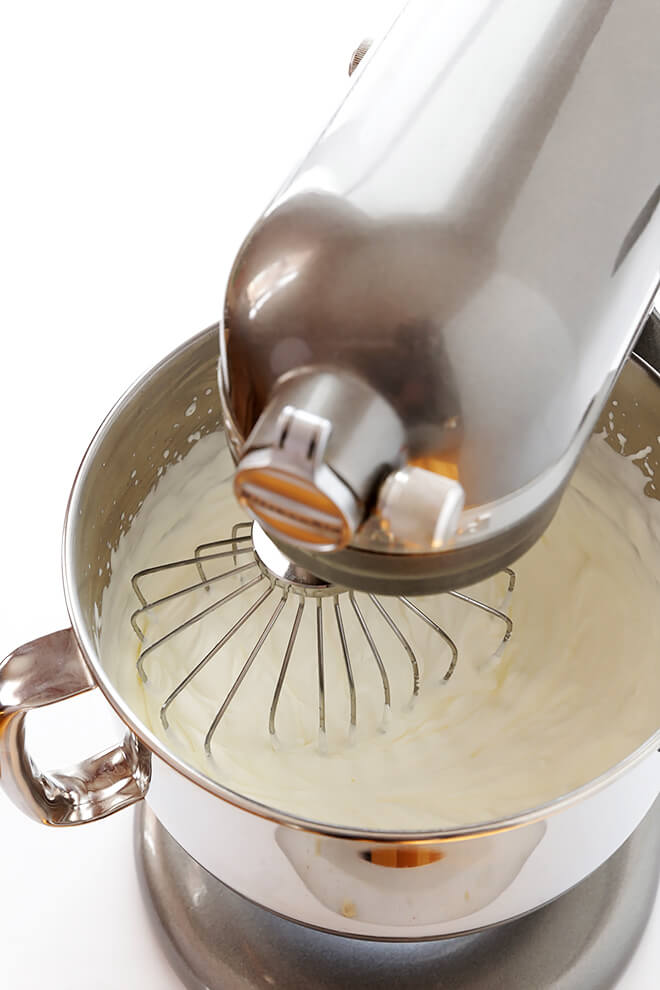 …and whisk it together on high speed until soft to stiff peaks form, your choice.
What are soft and stiff peaks?
Well, if you dip your whisk in the whipped cream and then flip it upside down, soft peaks occur when the whipped cream peaks on top are strong enough that they'll stand up and hold their shape, but the tips will probably fall over and sink a little bit back down into the whipped cream. Stiff peaks, by contrast, occur when the whipped cream is firm enough that the whipped cream will 100% hold it shape (including any "sharp" edges or peaks) and not melt back into itself at all. I generally err on the side of more stiff peaks with my whipped cream, but the choice is up to you.
Once your whipped cream reaches the soft of stiff peaks stage, you're welcome to add in any extra flavorings such as vanilla (my favorite), and/or cocoa (to make chocolate whipped cream), spirits (such as bourbon or brandy), spices (such as cinnamon or nutmeg), or whatever else sounds delicious. Whisk them in just for a few extra seconds until combined, and then serve immediately or refrigerate in a sealed container for up to 1-2 hours.
See, so simple. Here's our video of a mixer in motion:
Alternately, you can make homemade whipped cream with a…
Food Processor: Same steps, just pulse the cream and powdered sugar together until stiff peaks form, then mix in your add-ins if desired.
Blender: Same steps, just blend the cream and powdered sugar together until stiff peaks form, then mix in your add-ins if desired.
Immersion Blender: Same steps – I actually have an old tutorial on this one, and it's one of my favorite methods (minimal clean-up!).
Mason Jar: This one takes quite a bit more muscle. Place a mason jar (along with its lid) in the freezer for about 15 minutes. Then remove it, add the whipped cream and powdered sugar (you only want the jar about half full, since the whipped cream volume will expand), and then shake the heck out of it for about 5 minutes until stiff peaks have formed. Then mix in your add-ins if desired. It's a workout…but it works. 🙂
Bowl + Whisk: Or of course, you can make whipped cream the truly old-fashioned way. Just grab a mixing bowl (metal, preferably, or glass) and place it in the freezer until it's nice and chilled. Then remove it, add the whipped cream and powdered sugar, and use a large whisk to whisk the cream by hand until stiff peaks form. Then mix in your add-ins if desired.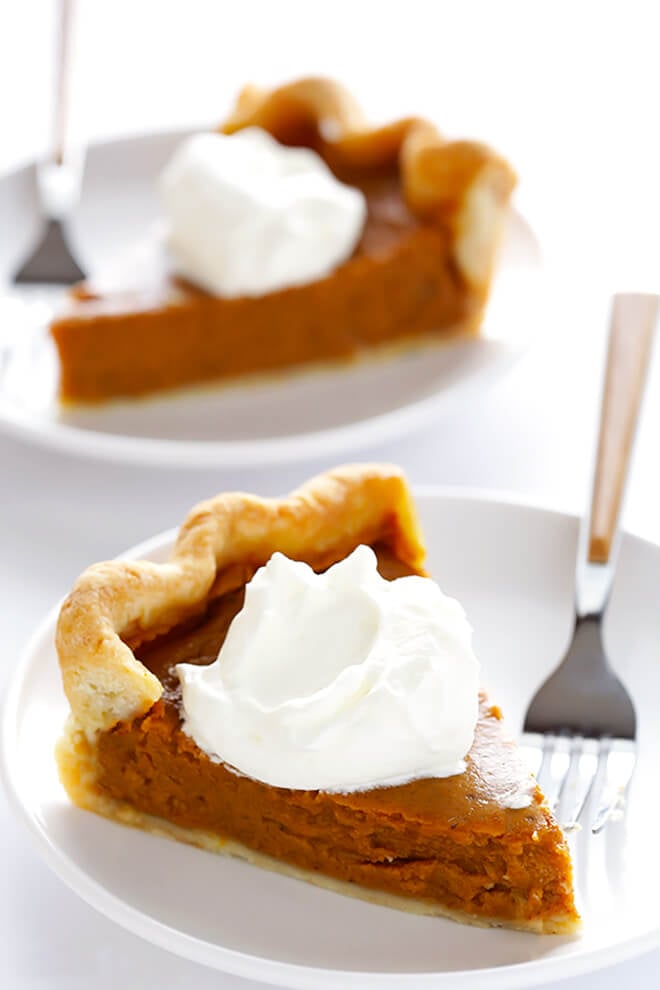 And then, of course, serve and enjoy. ? Alright, go whip some cream!

Yield: 2 cups
How To Make Whipped Cream
Grab your mixer, a carton of cream, a teaspoon of sugar and vanilla…and in 5 minutes, you can be enjoying this fresh, homemade whipped cream recipe.
Ingredients:
1 cup heavy cream, thoroughly chilled
1 tablespoon powdered sugar (add more/less to taste)
Optional mix-ins (choose one):
1 teaspoon vanilla extract
1 teaspoon almond extract
1-2 teaspoons bourbon
1/2 teaspoon ground cinnamon
Directions:
Chill your mixing bowl and beaters by placing them in the freezer for 10-15 minutes before using. (A whisk attachment is preferable, but normal beaters work well too.)
When you're ready to make the whipped cream, remove the bowl and beaters at attach them to the stand mixer. Pour in the cream and sugar. Then mix the cream on low speed for about 15 seconds (otherwise you'll get splashed!). Then increase speed to high, continuing to mix until soft peaks form.
Add in an optional mix-in to taste, either folding it in by hand with a rubber spatula or mixing it on low-speed for a few seconds until combined.
Serve immediately, or refrigerate in a sealed container for up to 1-2 hours.
If you make this recipe, be sure to snap a photo and hashtag it #gimmesomeoven. I'd love to see what you cook!