So simple to make, the flavor of these honey lime chicken enchiladas is out of this world. This recipe is delicious with pork, as well (and you can make enchiladas, burritos, salads – options are endless!)!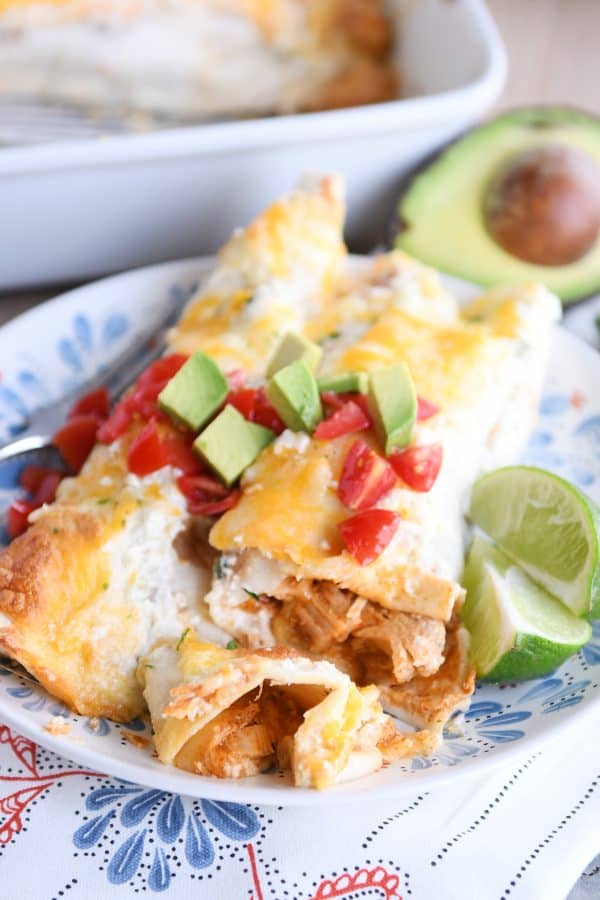 To say this honey lime chicken recipe has stood the test of time is a serious understatement! It has been a family favorite for over ten years and I don't see that changing any time soon. 
If your life has been without this delectable honey lime combo for enchiladas (or burritos, salads, etc), I hate to say it, but you've definitely been missing out. Not only are these probably some of the easiest enchiladas you'll ever make, there really isn't another enchilada recipe like them in terms of one-of-a-kind deliciousness.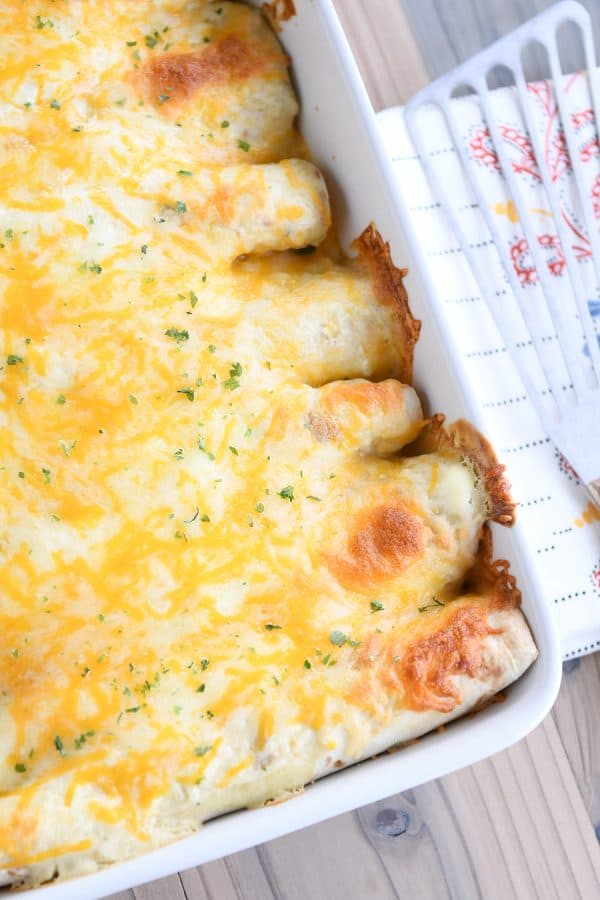 Over the years, I've barely adapted this recipe. The original is just too good! But I have included a few steps and notes below to highlight a few simple ingredient substitutions that can make it even easier.
Green enchilada sauce vs green salsa. What's the difference, really? Well, green enchilada sauce is often thicker than salsa with a deeper, roasted flavor. The good news, I've made this recipe countless times with either enchilada sauce OR salsa verde (green salsa). And both are delicious and amazing and life changing and wonderful. Basically, don't stress too much about interchanging the two.
Shredded chicken. This recipe is a bit unusual in the fact that the marinade actually starts with cooked, shredded chicken. You might be thinking "Mel, you've finally lost your marbles" but I promise it works! The chicken is infused with that amazing honey, lime, chili combo, and it only needs about 30 minutes marinating time (although it does taste even better if you can let the chicken hang out of several hours).
A rotisserie chicken is perfect for this recipe. Or, this is my go-to stovetop cooked, shredded chicken recipe. Often, I just throw chicken breasts in the Instant Pot with 1 cup broth, salt and pepper, and cook on high pressure for 8-12 minutes (discard extra cooking liquid).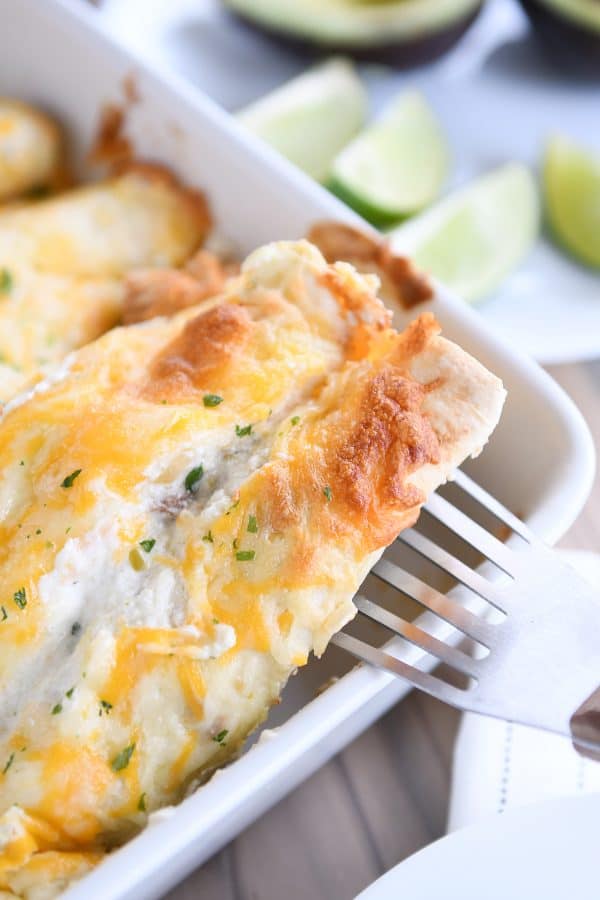 We like to add a few extra toppings to our honey lime chicken enchiladas for amped up yumminess. Chopped tomatoes, sour cream, avocado, cilantro, extra lime wedges. But you can leave them plain and simple, too.
Oh! Also, the creamy topping. I don't want to forget this note. After the enchiladas are assembled and in the pan, they get a smothering of sorts from the green enchilada sauce + leftover marinade (don't forget this! Flavor!) + cream, sour cream or half and half. This gives a creamy oomph to the enchiladas that is to-die for.
However! Again, after making this meal so.many.times over the last decade, there have been many instances where I've left out the creaminess in the topping altogether and just combined the green enchilada sauce with the leftover marinade to spread on top of the enchiladas. And then loaded on the cheese, of course. I'm not one to leave cheese out of anything.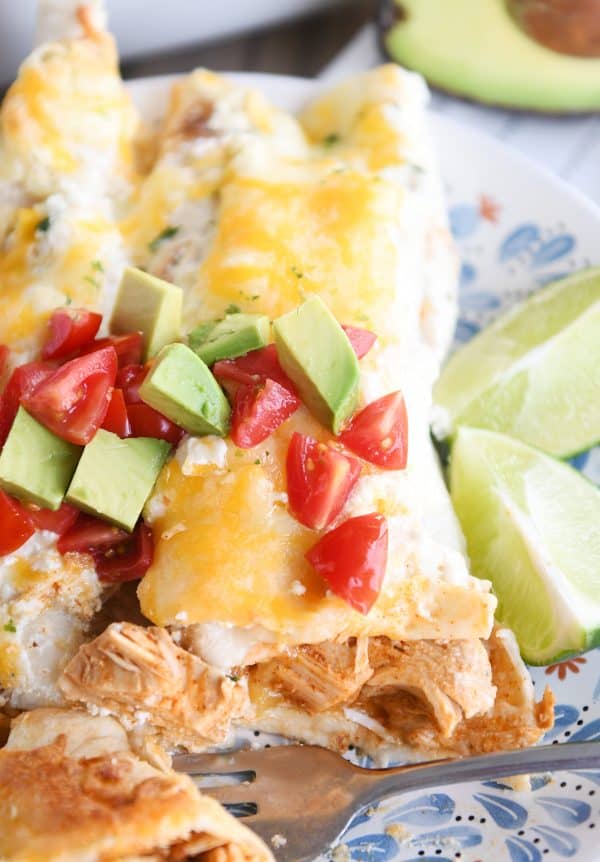 Basically this recipe is pretty adaptable…and so incredibly easy! It pains me to think that some of you newcomers to my blog may have been living without this tried-and-true honey lime chicken enchilada recipe. It took the world by storm when I shared it over ten years ago, but I think it's time for a comeback. 
Also, remember that the honey lime meat mixture (which is super delicious with shredded pork, too) is amazing as enchiladas – but also crazy good made into burritos (smothered – yum!) or as a topping for a salad.
With this creamy cilantro lime dressing? Holy cow, best salad ever.

Confetti Rice and Bean Salad, Grilled Corn Salad, or Guacamole Salad
Fresh fruit
Tortilla Chips/Salsa or Cornbread
Yield:
6 servings
Prep Time:
30 minutes
Cook Time:
30 minutes
Additional Time:
30 minutes
Total Time:
1 hour 30 minutes
Ingredients
6 tablespoons honey
5 to 6 tablespoons lime juice (2 to 3 large limes)
1 tablespoon chili powder
1/2 teaspoon garlic powder
1/4 teaspoon coarse, kosher salt
1/8 to 1/4 teaspoon black pepper (I use coarsely ground)
2 pounds chicken, cooked and shredded – about 4 cups total (see note)
8 to 10 flour or corn tortillas (about 6- to 8-inches)
4 cups (about 1 pound) shredded Monterey jack cheese (or a combo of cheddar and Monterey Jack)
16 ounces green enchilada sauce (see note)
1 cup heavy cream, sour cream, or half-and-half
Additional Toppings (optional): sour cream, chopped tomatoes, extra lime wedges, avocado, chopped cilantro
Instructions
In a small bowl, whisk together the honey, lime juice, chili powder, garlic powder, salt and pepper. Place the shredded chicken in a resealable bag or other covered container. Pour the marinade over the chicken and toss until the chicken is evenly coated. Refrigerate for 30 minutes or up to 8 hours.
Lightly grease a 9X13-inch pan with nonstick cooking spray and pour about 1/2 cup of the enchilada sauce on the bottom of the pan.
Fill flour tortillas with chicken (save the leftover marinade!) and shredded cheese, saving about 1 cup of cheese to sprinkle on top of enchiladas. Mix the remaining enchilada sauce with the leftover marinade and the the cream (or sour cream/half-and-half).
Spread sauce evenly on top of the enchiladas and sprinkle with cheese. Bake at 350 degrees for 30-35 minutes until brown and crispy on top. Serve with chopped tomatoes, salsa, sour cream, extra lime wedges, chopped cilantro, and/or avocado.
Notes
A rotisserie chicken works great in this recipe. Or, this is my go-to quick stovetop method for making cooked, shredded chicken at home. Otherwise, I often throw chicken breasts in the Instant Pot with 1 cup broth and some salt and pepper and cook for 8-12 minutes at high pressure and then shred (discarding liquid).
Here is an easy, delicious recipe for homemade green enchilada sauce. Green salsa also works for this dish (slightly different flavor profile and the consistency is a bit thinner than enchilada sauce). Also, if you want to skip the cream in the topping all together, you can mix the remaining green enchilada sauce or salsa with the leftover marinade and spread that over the top of the enchiladas and sprinkle with cheese.
Freezable Meal: Freeze prior to baking. To bake, preheat oven to 350 degrees and bake enchiladas, covered (without thawing first) for 1 hour. Uncover and bake 30 minutes longer, until brown and crispy on top. The tortillas may be a bit softer after freezing and baking.
Recipe originally published March 2008; updated April 2019 with new photos, recipe notes, etc.
Recipe Source: long ago adapted from The Sister's Cafe