This tasty and easy Instant Pot Indian butter chicken and potato curry recipe is amazing! All the flavors of a delicious and hearty Indian curry made start-to-finish in the Instant Pot!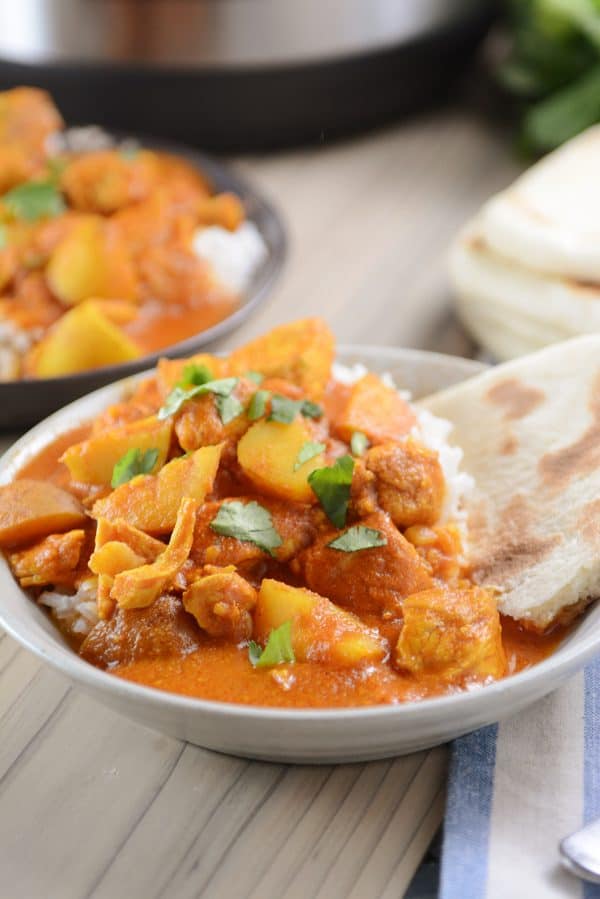 I have been working on an Instant Pot Indian-style curry recipe for a long time! And I'm so excited to share the perfected version with you today.
I love Indian food, and although I'm 100% certain I don't make it 100% authentically at home, it's still one of our favorite homemade cuisines to eat for dinner.
The flavors! The aroma!
The flatbread that must be present with each meal.
I mean, how can you resist such deliciousness?
Here's a quick look at a few favorite Indian-style dishes I've posted over the years:
Instant Pot Indian Vegetable Rice
Pressure Cooker OR Stovetop Coconut Chicken Curry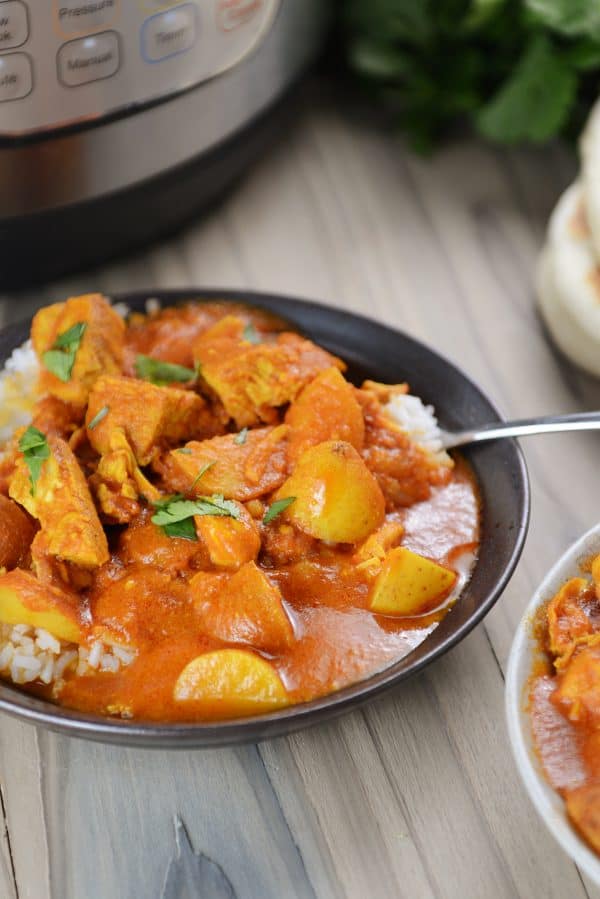 Turns out, Indian food transitions quite well to the ol' pressure cooker.
Thank goodness, since I love both of these things quite a bit.
This Indian Butter chicken recipe I've had on my site for a while is a huuuuge family favorite (and one of my personal favorites of all time).
And it is a very frequent go-to meal for busy weeknights.
Despite how it sounds, if you aren't familiar, Indian butter chicken isn't actually loaded with butter. I know, a bit misleading (and even slightly disappointing to some people – ha!).
Instead chicken is cooked in a flavorful tomato-based sauce with an aromatic selection of Indian spices, and often, cream and a few tablespoons of butter are added for a rich depth of flavor, hence the given name.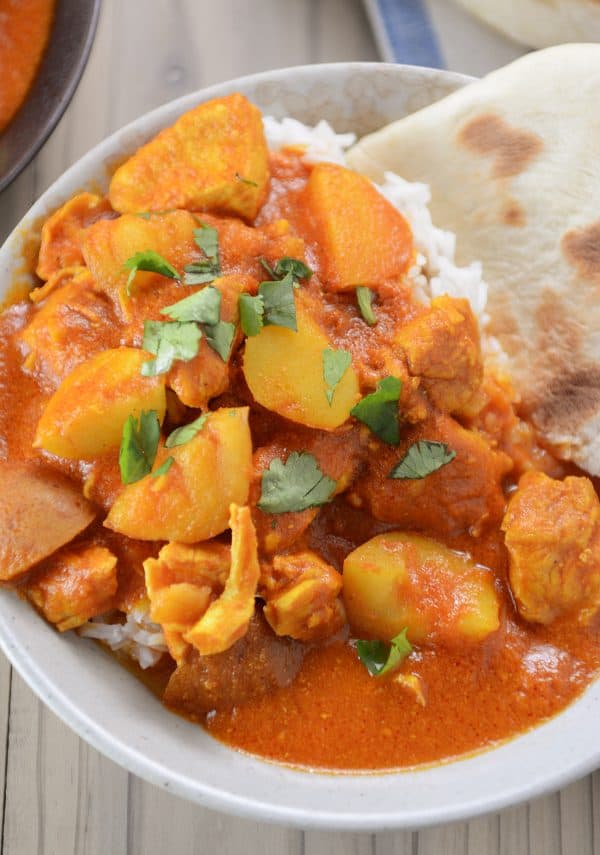 My version of Instant Pot Indian butter chicken recipe is slightly unusual (ok, let's just call it what it is: not authentic) in that I've eliminated the cream in favor of coconut milk, optionalized the butter, and added potatoes (because I love them so much in Indian dishes).
And the result is terribly, terribly delicious, even if it is less "butter chicken" and more "Mel's way of making an Indian butter-chicken-curry-mashup."
That chicken! So tender.
Those potatoes! So hearty.
The flavor! So warm and robust.
And of course, the ease of prep and cooking can't be beat thanks to the Instant Pot (or other electric or stovetop pressure cooker!).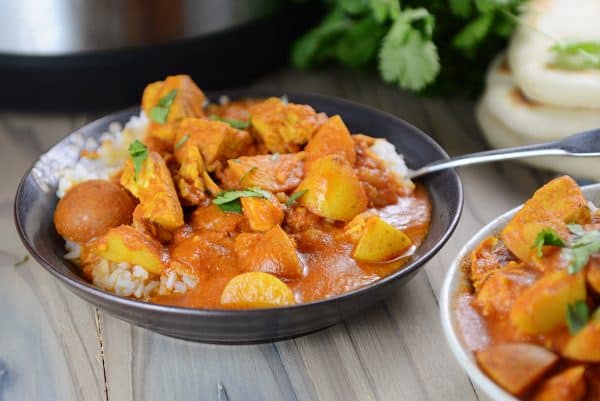 I know Indian-style recipes can seem a bit intimidating if you don't usually keep these style of spices on hand, but if your grocery store has bulk bin selections available, grabbing a pinch or two of spices from there is a great way to test out new spices without finding yourself with a huge bottle.
Or maybe call up a neighbor and see if you can borrow a little from their spice cabinet to try it out (if you're my neighbor, my spice cabinet door is always open!).
Also, I haven't made this particular recipe in the slow cooker or on the stovetop, so I didn't include directions below.  
But having said that, I think it would transition well to both options (maybe simmer for 15-20 minutes on the stovetop and try cooking on low for 5-6 hours in the slow cooker).
I hope you love this Instant Pot Indian butter chicken and potato curry. It's the definition of comfort food in my book (especially if you serve it with homemade or storebought flatbread – yum!).


Hot, cooked white or brown rice
Flatbread or Naan
Roasted broccoli or steamed peas
One Year Ago: From-Scratch Vanilla Pudding Cake
Two Years Ago: S'Mores Hershey Kiss Blossom Cookies
Three Years Ago: Chocolate Covered Strawberries Tuxedo-Style
Four Years Ago: Cinnamon and Sugar Breadstick Twists
Five Years Ago: Taco Enchiladas with Cornmeal Crepes
Yield: Serves 6
Instant Pot Indian Butter Chicken and Potato Curry
Ingredients:
1 tablespoon olive oil or ghee
1/2 cup diced white, red or yellow onions
3-4 medium cloves garlic, finely minced or pressed through a garlic press (for about 2 teaspoons)
1/2 tablespoon grated fresh ginger or ginger paste (see note)
2 pounds boneless, skinless chicken breasts (see note if using chicken thighs), cut into about 1-inch pieces
2 cups peeled, chopped russet, yellow or red potatoes (about 10 ounces)
2 teaspoons ground coriander
2 teaspoons garam masala
2 teaspoons turmeric
1 teaspoon salt (I use coarse, kosher salt)
1/2 teaspoon paprika
2 cans (15-ounces each) canned tomato sauce
1 can (15-ounces) reduced fat coconut milk
1 to 2 tablespoons butter, optional (but delicious)
Hot, cooked rice for serving
Fresh, chopped cilantro, for garnish
Directions:
Add the oil to the insert of the Instant Pot and select the Saute function (making sure the temperature is adjusted, using the + or – button, to normal). Add the onions, and cook, stirring often, until they start to soften and turn translucent, 2-3 minutes. Add the garlic and ginger and cook for 10-20 seconds.
Add the chicken and cook, stirring often, 1-2 minutes.
Add the potatoes, spices (coriander, garam masala, turmeric, salt and paprika), tomato sauce, and coconut milk. Stir well.
Secure the lid and make sure the valve is closed. Select the Manual or Pressure Cook button and dial up or down to 6 minutes. The Instant Pot will start on it's own.
After the cooking time is finished, quick release the pressure (if it bubbles and spurts through the valve, close the valve, let it sit for 10 minutes and try again), and remove the lid.
Add the butter and give the curry a good stir to melt the butter completely (see note if you want to thicken it up a bit more). Serve over rice garnished with fresh cilantro, if desired.
Notes:
For fresh ginger, I buy knobs of ginger, cut them into 1- or 2-inch pieces and toss in a freezer bag.  When I need fresh ginger for a recipe, I grab a knob of ginger straight from the freezer and grate it on my microplane or on the small holes of my box grater (no need to thaw or peel the ginger before using). Ginger paste, which is pretty widely available these days in the refrigerated section of stores often by the fresh herbs, is a great option, too. 
For chicken thighs, add 5-6 minutes to the cooking time. 
The curry will thicken a little more as it cools. If you want it thicker for serving, mix together 1 tablespoon cornstarch with 2-3 tablespoons cold water. Turn the IP to the Saute function and add the cornstarch slurry, whisking constantly, until the mixture is thick and bubbling. 
Also, I haven't made this particular recipe in the slow cooker or on the stovetop, so I didn't include directions in the recipe, but having said that, I think it would transition well to both options (maybe simmer for 15-20 minutes on the stovetop and try cooking on low for 5-6 hours in the slow cooker).
All images and text ©Mel's Kitchen Cafe.
Recipe Source: inspired by this recipe at Hearbeets Kitchen (after a reader, Sheree, sent it to me) combined with my own experimenting I've been doing the last few months to get an Instant Pot butter chicken/curry recipe perfected
shop this postFeatured Products
(may include affiliate links)