Hearty, warming and so delicious in the cold weather, this beef lasagna soup is so simple to make in the Instant Pot. Rich in flavor, this one is sure to fill hungry bellies!
Easy Lasagna Soup
If it's cold where you are – or if you just want a super tasty and fuss free dinner, then this Instant pot lasagna soup ticks all the right boxes!
Made with ground beef, this tomato based pasta soup has the most wonderful deep and rich flavor. One bowl is really filling, but it's hard not too reach for a second!
Be sure to try my White Chicken Lasagna Soup and Italian Wedding Soup too!
Why You'll Love this Lasagna Soup Recipe:
ONE POT: All cooked right in the Instant Pot, even the clean up is a breeze!
EASY: There's nothing complicated about this soup, just let the pressure cooker do all of the hard work and you'll be serving up something extra tasty!
FILLING: This isn't a thin soup that won't fill you up. It's perfect for an easy weeknight meal and contains protein, fiber and carbs to leave you feeling satisfied.
This is the perfect soup to cozy up with one the cold weather hits. Simple to make, the flavors are out of this world!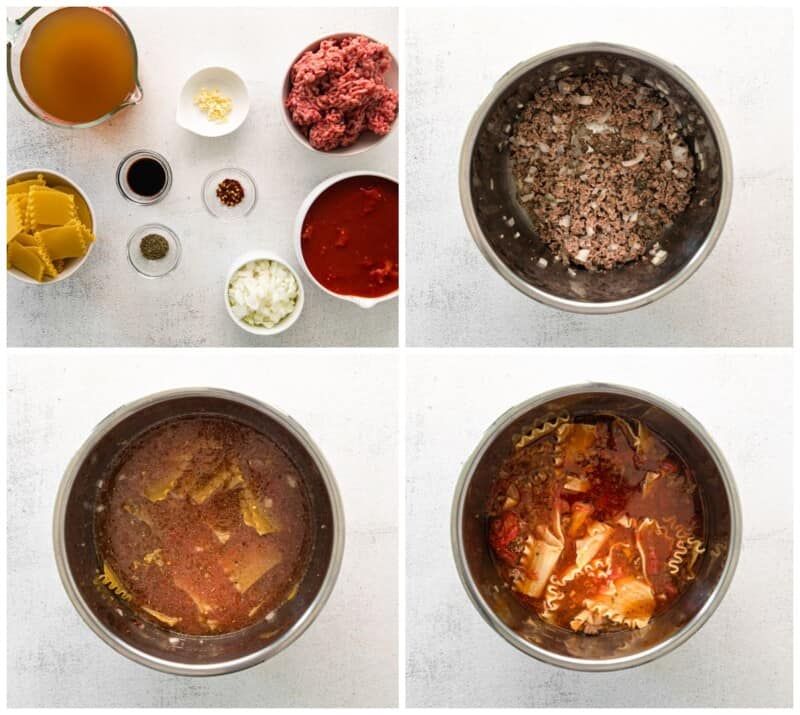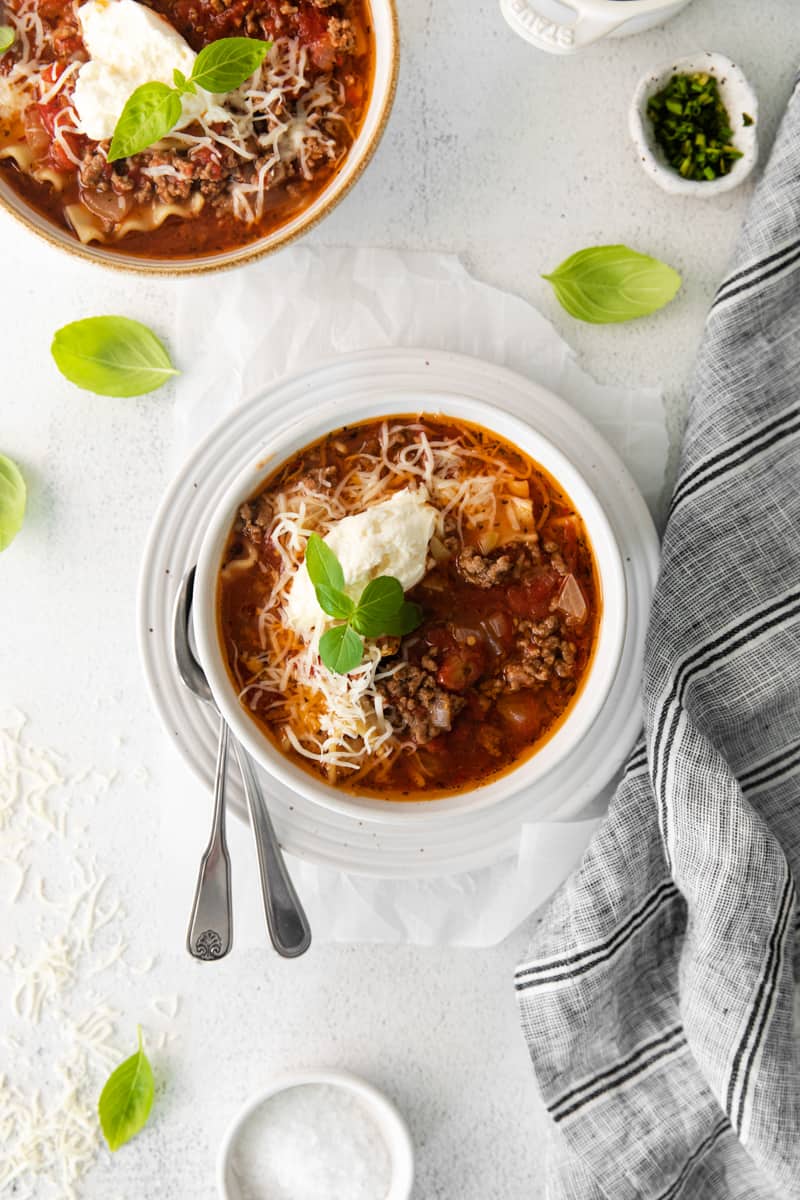 How to Make Instant Pot Lasagna Soup
Be sure to see the recipe card below for full ingredients & instructions!
Brown the beef in the Instant Pot.
Add the onion and garlic to soften.
Stir in the broth, tomatoes and seasonings.
Submerge the noodles in the liquid.
Pressure cook and naturally release.
Season and garnish if desired.
Lasagna Soup Recipe Notes
Meat: I used 80/20 ground beef for this recipe, but Italian sausage or ground turkey would be delicious alternatives.
Tomatoes: Instead of crushed tomatoes, try diced tomatoes or even tomato sauce.
Vinegar: Balsamic vinegar adds sweetness and acidity that compliments the tomatoes perfectly.
Red Pepper Flakes: I love the spice that red pepper flakes add, but these are completely optional!
Noodles: Use standard lasagna noodles (not the no-boil kind) that have a normal cooking time of about 10 minutes.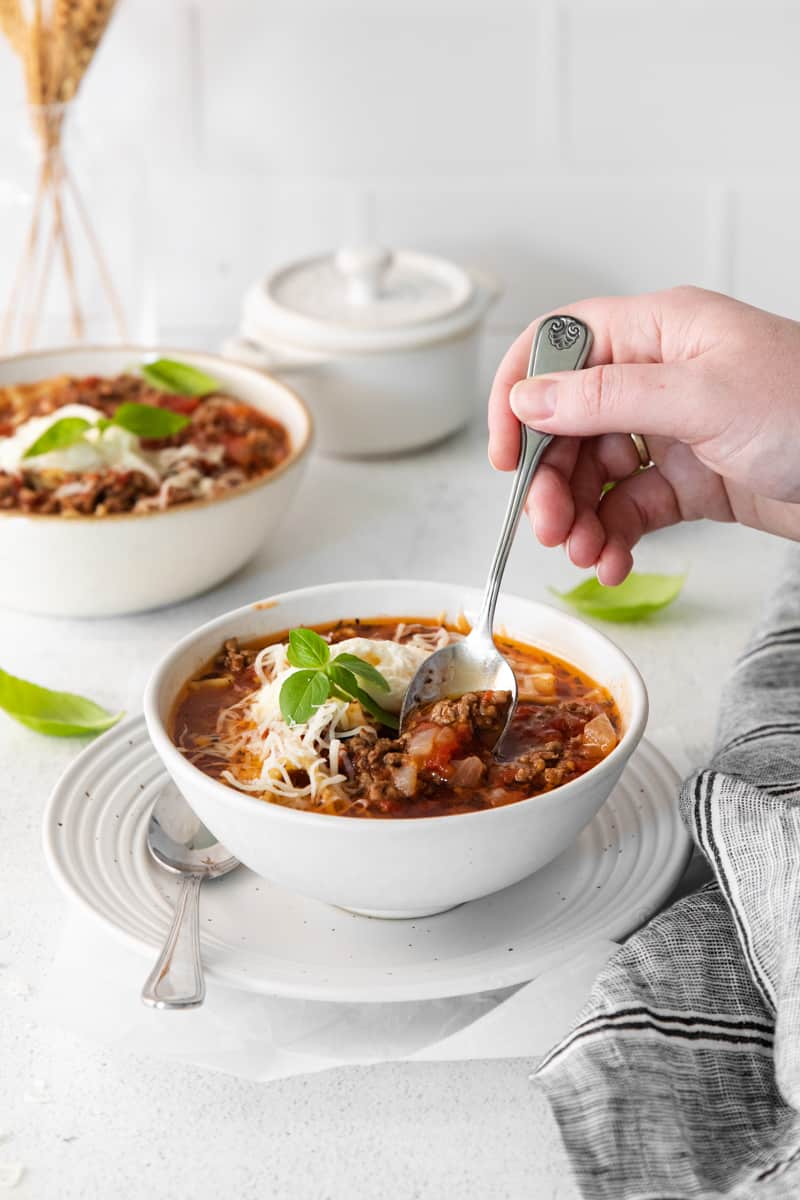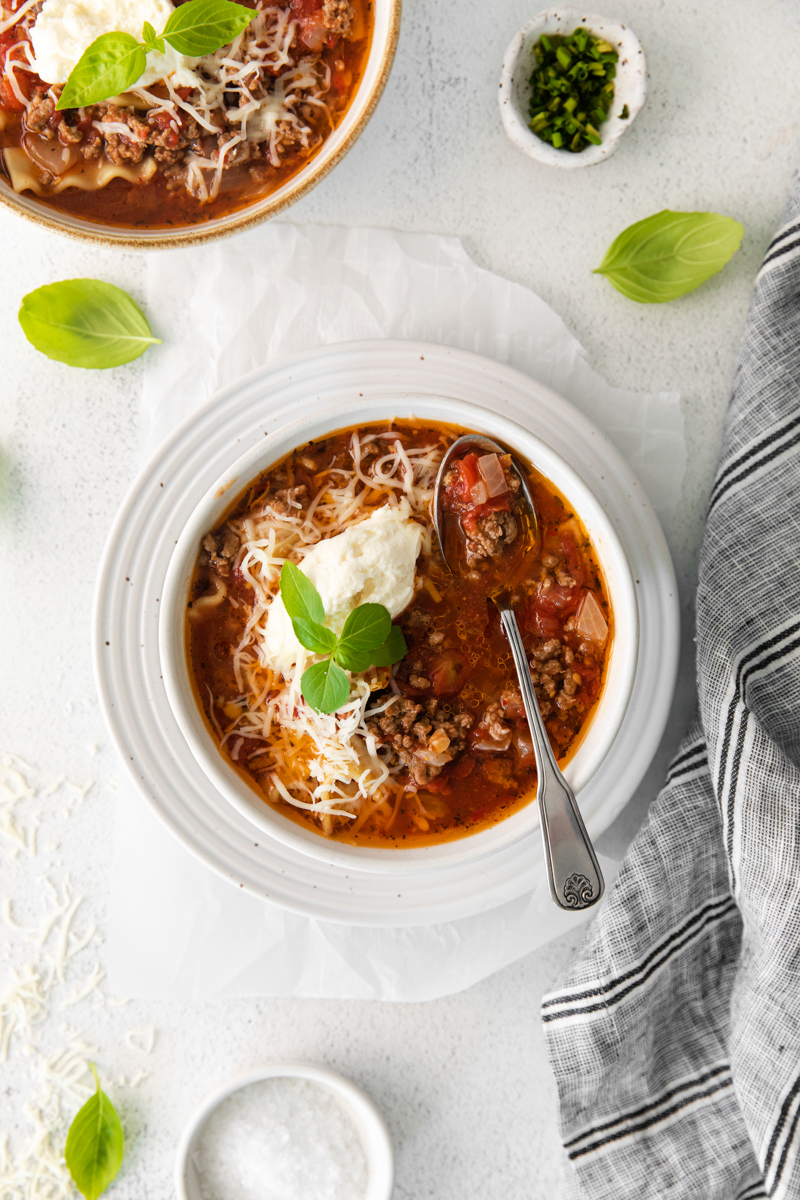 Can I use any kind of ground meat?
Yes! You can easily make this soup with ground chicken, turkey or bison. It will turn out delicious whatever you use! You could even make it with plant-based ground 'meat'.
How can I prevent the noodles from sticking and burning to the bottom of the Instant Pot?
The lasagna noodles should be added in last to the Instant Pot so that they are not resting on the bottom. Make sure that they are full submerged in the liquid so that they cook fully.
Can I make this soup on the stovetop?
Yes! It will take a little longer than the Instant Pot method, but it will still turn out great. Check out this Lasagna Soup recipe for full instructions
What is the best way to freeze lasagna soup?
It's best not to freeze this soup, as the texture of the noodles will change quite considerably and they will break up. If you plan on freezing it, leave the noodles out and add them back in when you reheat to cook.
Serving Suggestions
This Instant Pot lasagna soup is a filling meal all by itself, but you can easily serve it up with favorite sides like:
This easy lasagna soup recipe is sure to warm your body and soul. Quick and easy to make, it's a great go to after a long day!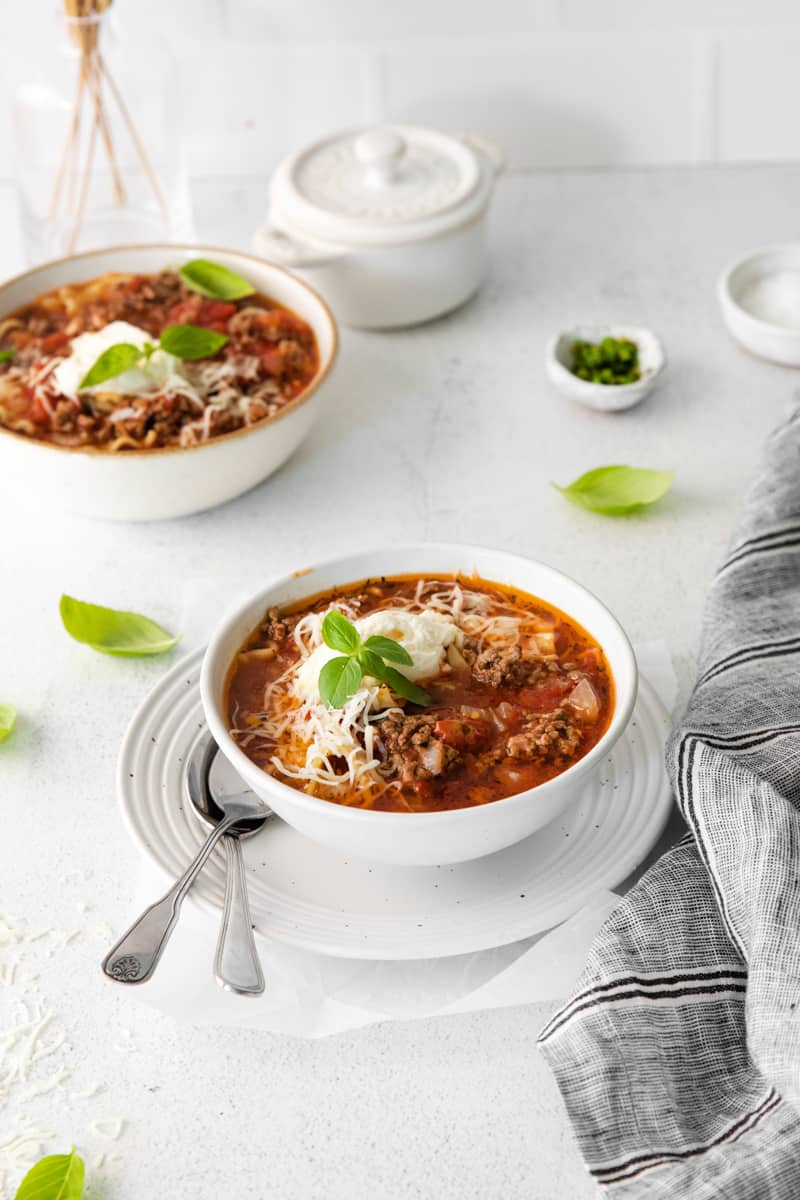 Tips!
Store soup in an airtight container in the refrigerator for up to 3 days.
Be sure to add in the noodles last so that they don't stick to the pot. They should be fully submerged in the liquid.
If making ahead of time, let cool fully before storing.
Making this soup in the Instant Pot is so hassle free, not having to watching bubbling pots on the stovetop is a joy!
What do you garnish the soup with?
To serve, I love to top the soup with cheeses and some fresh basil. I like to use a mix of ricotta and parmesan, but a good cheddar will do the job nicely too.
How can I make a vegetarian version of lasagna soup?
You can use a plant based meat alternative like Beyond Meat to replace the beef, or you could totally omit it and add in other veggies like carrots and bell peppers to bulk it up. Just soften them at the same time as the onion.
What kind of noodles are best for lasagna soup?
Use regular lasagna noodles, not the no-boil ones. You can simply break up the lasagna sheets into smaller pieces, or, you can sometimes find mini lasagna noodles that would work great in this.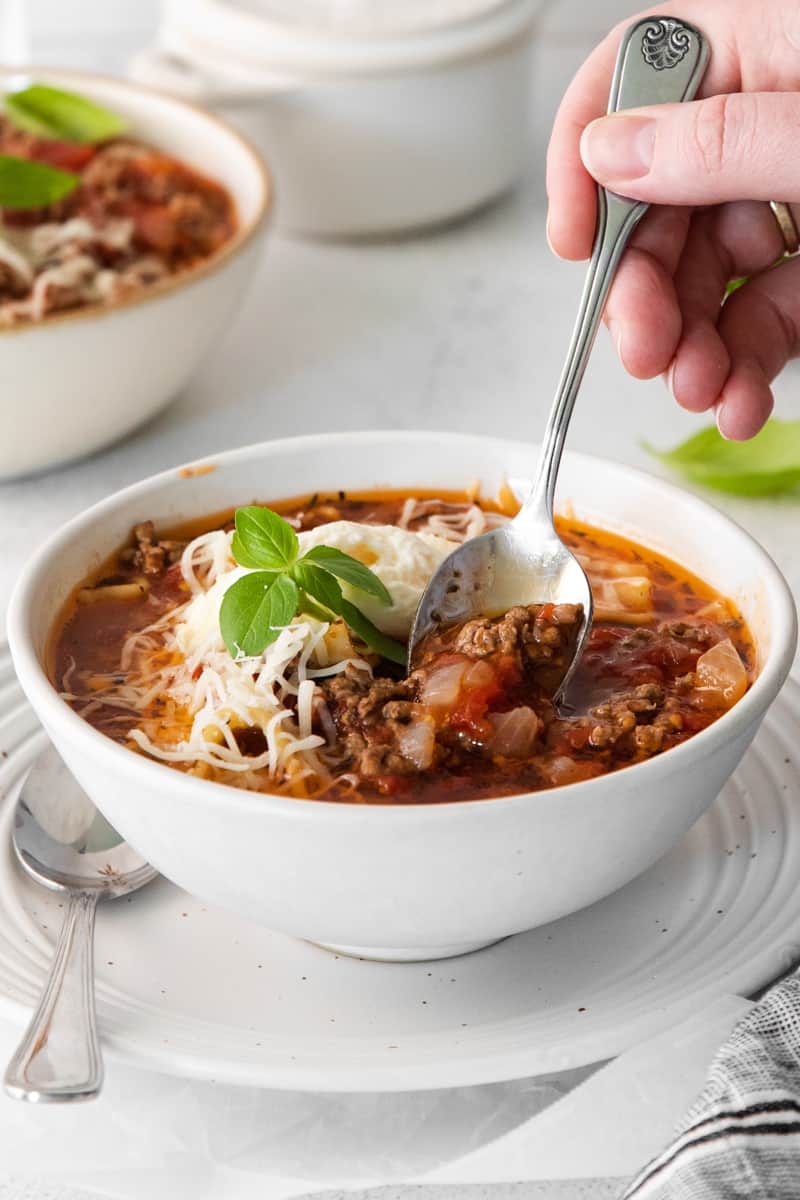 When you need a hearty and warming meal in a hurry, you really can't go wrong with this Instant Pot lasagna soup. Full of rich flavors with minimal effort, what's not to love?!
If you make this recipe be sure to upload a photo in the comment section below or leave a rating. Enjoy!