This Instant Pot Taco Meat from Frozen Ground Beef is the easiest way to do weeknight dinner! No thawing the meat, no extra pots — just throw it in the Instant Pot or pressure cooker, cook and season! This taco filling is perfect for tacos, burritos, quesadillas, or taco salad and great for prepping ahead!
Happy Thursday friends! I'm jumping in here for yet another Instant Pot recipe, and we're still sticking with the basics: how to make Instant Pot taco meat from frozen ground beef!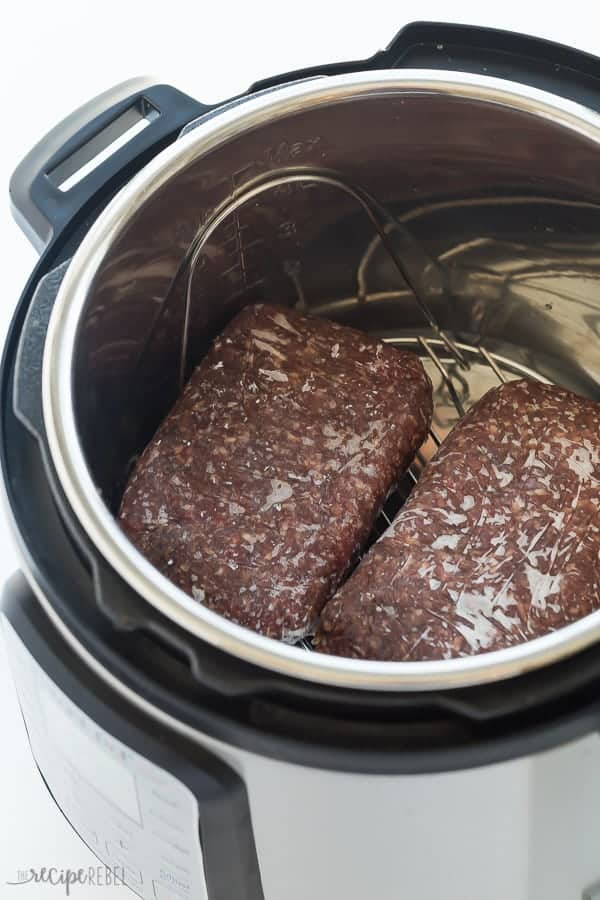 I'll admit, when I first heard about people cooking frozen ground beef in their Instant Pots, I wasn't convinced. I mean, how can that even work? Wouldn't it cook into a big solid block??
But after my success with cooking frozen chicken breasts in the Instant Pot, I was pretty determined to give it a try!
(Looking for more easy Instant Pot recipes? Check out these Instant Pot Baked Potatoes or this Creamy Instant Pot Chicken Noodle Soup!)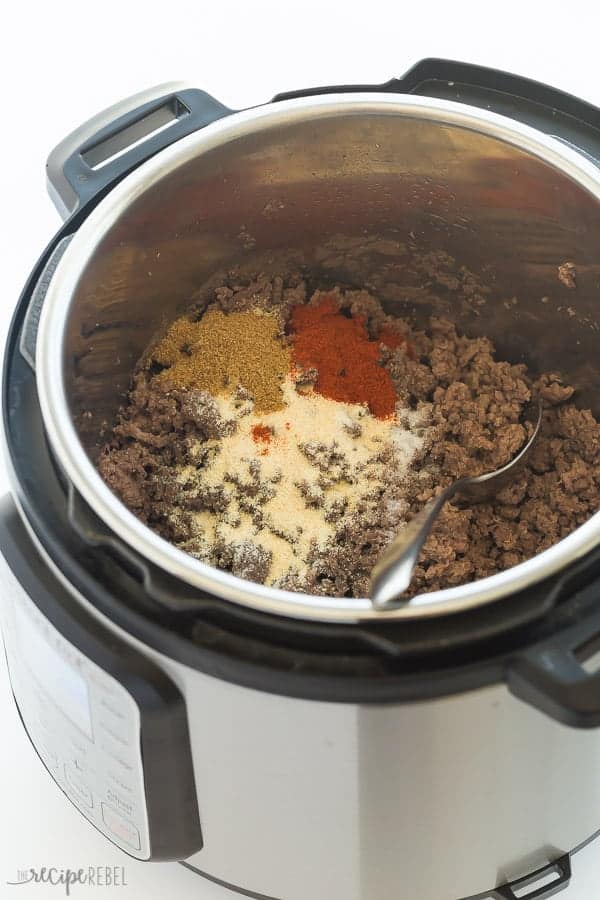 Friends, I have a 3 month old, a 3 year old, and a 5 year old. I've got a lot on my mind, and I'll be honest, spending a lot of time running around like crazy not really getting anywhere. If I actually remember to take some meat out to thaw in the morning, it's some kind of miracle.
If the 3 month old makes it into real clothes for the day, it's also some kind of miracle.
So learning to cook meat from frozen is one of the first things I knew I had to do with my Instant Pot! It's a game changer you guys.
You can absolutely just use this recipe and not add the taco seasoning. You can make sloppy joes, or spaghetti sauce, or just about anything where you need cooked ground beef and weren't exactly prepared for dinner that night ?
 
Tips and Tricks for Making this Instant Pot Taco Meat from frozen ground beef:
I usually cook two pounds at once, and they are frozen into square blocks. They are pretty thick, so even if your meat is in a slightly different shape it shouldn't take any longer. If you have more than one pound frozen together, you will want to add 5 minutes or just cook longer on saute at the end.
Because I am going to saute it with the seasoning in the end anyway, I'm not that concerned about it being completely cooked through after pressure cooking. I would rather have it a little easier to crumble and a little pink yet in the inside, then totally dried out and tough.
It's going to take a little time and muscle to scramble the meat — use a hard metal or wooden spoon and just go to town. Had a bad day? This is a great way to get some of that anger out! ?
Ingredients
1 1/2 cups + 1/2 cup water
1-2 lbs frozen ground beef, frozen in 1 lb blocks
3 teaspoons ground cumin
2 teaspoons garlic powder
2 teaspoons paprika
1 teaspoon salt
1 teaspoon onion powder
1/2 teaspoon black pepper
1/8 teaspoon cayenne pepper
Directions
Pour the water into your Instant Pot (mine is a 6 quart) and add the trivet or a cooking rack. 
Add the ground beef, side by side, on top of the trivet. 
Set the Instant Pot to Manual, high pressure, for 18-20 minutes (18 if your blocks are thinner, 20 for thicker blocks in the middle). 
At the end of the cook time, turn the Instant Pot off. Do a quick release and drain the water from the Instant Pot (I like to use my trivet to hold the meat in the pot as I dump out the water). 
Using a strong metal or wooden spoon, crumble the ground beef. This will take a few minutes! It's okay if your beef isn't cooked right through as we're going to be cooking further.
Turn the Instant Pot to saute and add the 1/2 cup water, cumin, garlic, paprika, salt, onion powder, black pepper and cayenne and stir until thoroughly combined, adding an additional 1/4 cup water if necessary.
Serve immediately, refrigerate for up to 3 days, or freeze for up to 3 months. 
Recipe Notes
This recipe will work just as well with fresh ground beef! Set the Instant Pot to Manual, high pressure, for 15 minutes and then crumble on saute as per the recipe.
Loading nutrition data…