These lemon poppy seed zucchini muffins are delightfully soft and fluffy (even with whole wheat flour!)…and so easy to make! They make a perfect snack or breakfast!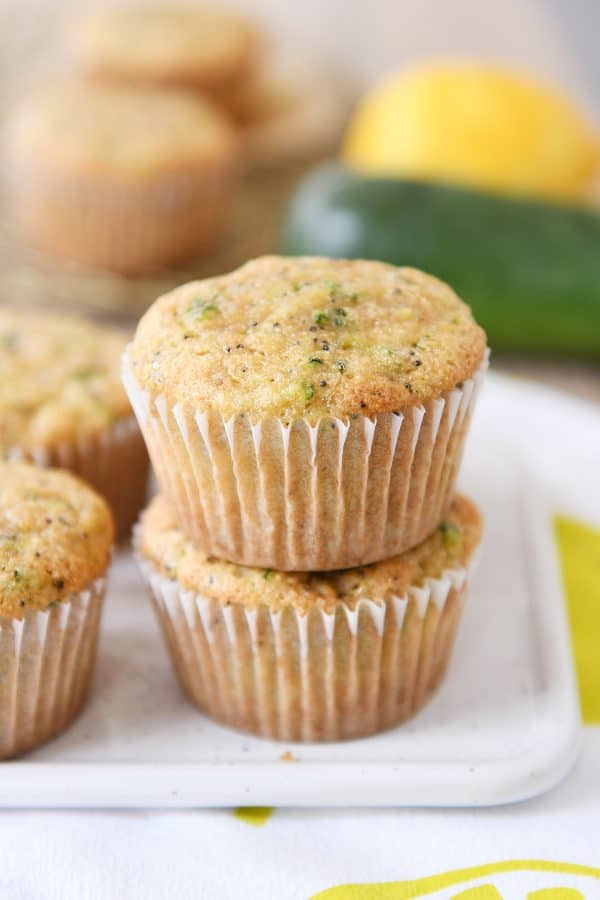 Ok, so tell me: what's your zucchini status?
Completely dried out? Never had any to start with? Currently piled on the countertop? Breaking into people's homes/garages/cars to get rid of your stash?
I'm really, really hoping you either have some of the humble green vegetable OR you know where to get some (scientific data has shown that you probably have an acquaintance within a 1/2 mile wanting to pawn off some of their late summer zucchini).
You are definitely going to want to get your hands on some zucchini ASAP thanks to this lemon poppy seed zucchini muffin recipe.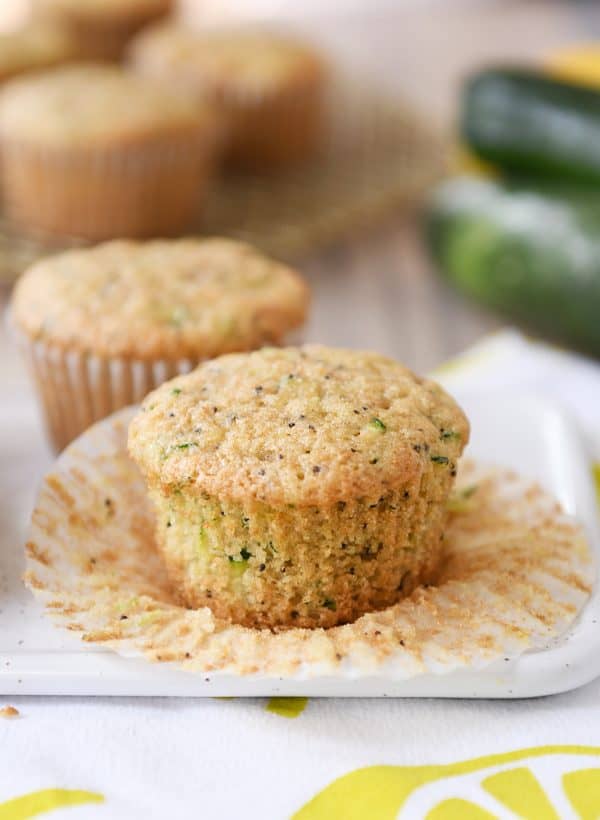 Perhaps you never thought a lemon poppy seed muffin should meet and merge with a zucchini muffin?
That's ok. I willingly take on all of those weird food fusion thoughts and experiments for you, promising to only share the ones that work.
So while you will not see a recipe for macaroni and cheese pancakes on this blog…EVER…I'm here to let you know that lemon and poppy seeds and zucchini work like magic together when combined into a soft and fluffy muffin.
I live for zucchini season for so many reasons, and they all involve food (shocker, I know).
I have over 30 zucchini recipes posted here, and honestly, I'd be hard pressed to choose a favorite.
Actually, I take that back. Chocolate zucchini cake for the rest of forever win.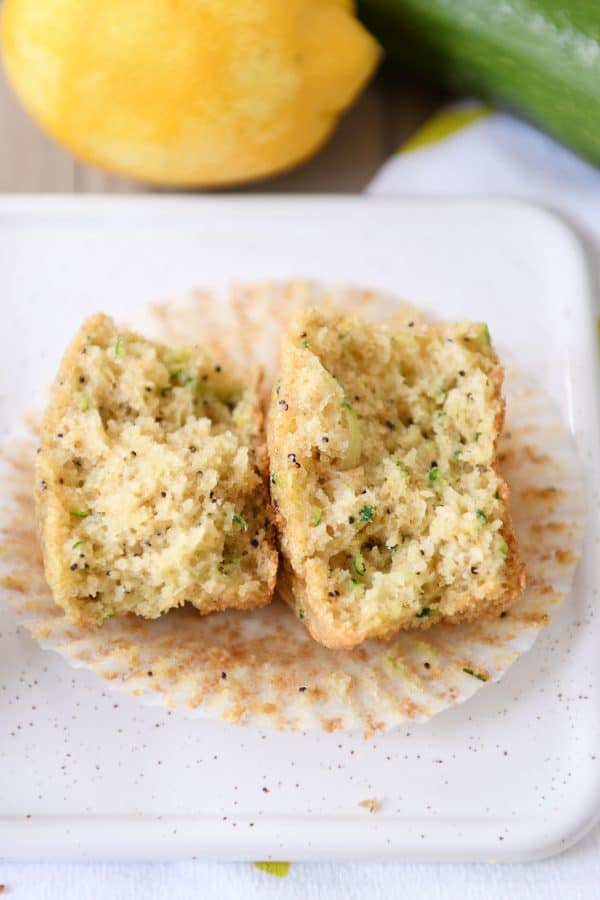 But these lemon poppy seed zucchini muffins are a very, very worthy addition to my favorite zucchini recipes.
Based on the wildly popular whole grain "best" zucchini muffin recipe (chocolate chips optional??), this lemon poppy seed version is out of this world good.
While the lemon flavor is subtle, it is definitely helped along by a simple step in the recipe that I want to make sure you do not skip. Promise me, ok?
Rubbing the fragrant lemon zest into the sugar before adding the other ingredients not only will make your hands and kitchen smell amazing, but more importantly, the process releases the oils out of the lemon zest and into the sugar.
Which means a boost in lemon flavor. Which means a boost in yumminess. Which means a total boost in overall mood and happiness.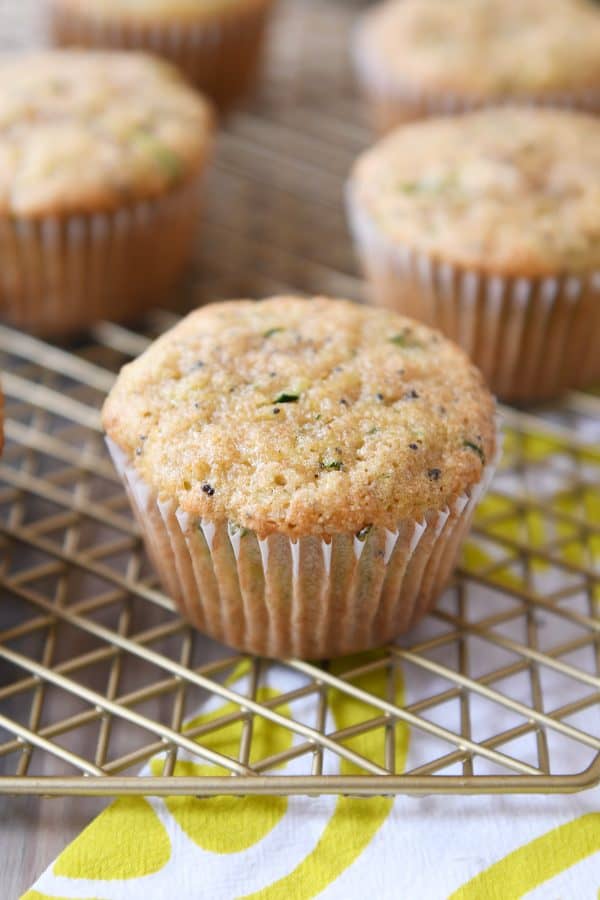 Incidentally, if you really are swimming in zucchini, one of my go-to "tricks" is to shred all zucchini that are not destined for bread or cake and store the zucchini in the freezer in resealable/ziploc bags (usually quart size).
Very often, all during the year, I grab a bag of frozen zucchini and toss it into spaghetti sauce or taco meat or shepherd's pie filling or whatever.
I try to thaw the zucchini first (either the night before in the fridge or just quickly in the microwave) so I can drain some of the extra liquid, but that's probably not necessary in all recipes.
If you have any other favorite ways to use up that zucchini, let me know! You guys have the best ideas. 
Yield: 12 muffins
Lemon Poppy Seed Zucchini Muffins
Ingredients:
3/4 cup (5.75 ounces) granulated sugar (can use 1/2 cup for a less sweet muffin)
2 to 3 lemons zested (1 to 2 tablespoons zest)
2 large eggs
1/3 cup neutral flavored oil (like canola, avocado, vegetable, melted coconut oil, etc)
1/2 teaspoon vanilla extract
1 1/4 cups (6.25 ounces) white whole wheat flour or all-purpose flour or half and half
1 tablespoon poppy seeds
3/4 teaspoon baking soda
3/4 teaspoon baking powder
1/4 teaspoon salt
2 cups shredded zucchini lightly squeezed of excess water (see note), about 10 ounces (measured after wringing)
Raw or coarse sugar for sprinkling on top, optional
Directions:
Preheat the oven to 350 degrees F. Line a standard 12-cup muffin tin with paper liners or grease with nonstick cooking spray.
In a large bowl, add the sugar and lemon zest. Use your fingers to rub the lemon zest into the sugar until evenly combined, this helps release the oils of the lemon zest into the sugar increasing the lemony flavor (it should smell amazing!).
Add the eggs, oil, and vanilla and whisk until well-combined.
In a medium bowl, whisk together the flour, poppy seeds, baking soda, baking powder and salt.
Add the dry ingredients to the wet mixture and stir with a wooden spoon or spatula 3-4 times until the batter starts to come together but there are still streaks of flour throughout.
Stir in the shredded zucchini until the batter is just combined. Don't overmix! It's ok if the batter is still slightly lumpy.
Divide the batter evenly among the prepared muffin tin. Sprinkle a bit of raw or coarse sugar over the top of the muffins, if desired (optional, but super delicious).
Bake for 17-22 minutes until the tops spring back lightly to the touch.
Let cool for a few minutes in the muffin tin before removing to a wire rack to cool completely. These taste best once cooled, in my opinion (and are delicious the next day, as well).
Notes:
Let's talk about shredding the zucchini. I usually use the fine shredding holes on my box grater or food processor, but sometimes I get all crazy and use the larger holes (box grater or shredding disc). It really doesn't matter. The muffins really do turn out great either way – just keep in mind that the larger the pieces of zucchini, the more "spongy" the muffins might be in spots and the more baking time you may need for them to cook all the way through. 
You don't need to go crazy wringing the water out of the zucchini here. I simply take handfuls of the shredded zucchini and give a good squeeze over the kitchen sink (with no extra tools like a kitchen towel, etc). No need to squeeze the guts out of the zucchini for this recipe. I've given a weight and general cup measure for the zucchini once it is lightly squeezed. 
All images and text ©Mel's Kitchen Cafe.
Recipe Source: from Mel's Kitchen Cafe (using this ever-popular zucchini chocolate chip muffin as inspiration)