If you ask me, a great coleslaw recipe is created with good knife skills and a short list of easy-to-find ingredients. Equal importance being placed on both ingredients and the cut of the cabbage. When cabbage is cut into ribbons that are too wide, the slaw ends up awkward, heavy, and daunting on the fork. If the pieces are too long, cheeks get dirtied with dressing-soaked cabbage sticks – awkward and messy. I like to shred my cabbage into ribbons that are thin as can be, half a pencil width at most. The cabbage becomes feather light and yet each bite maintains the perfect amount of coleslaw crunch.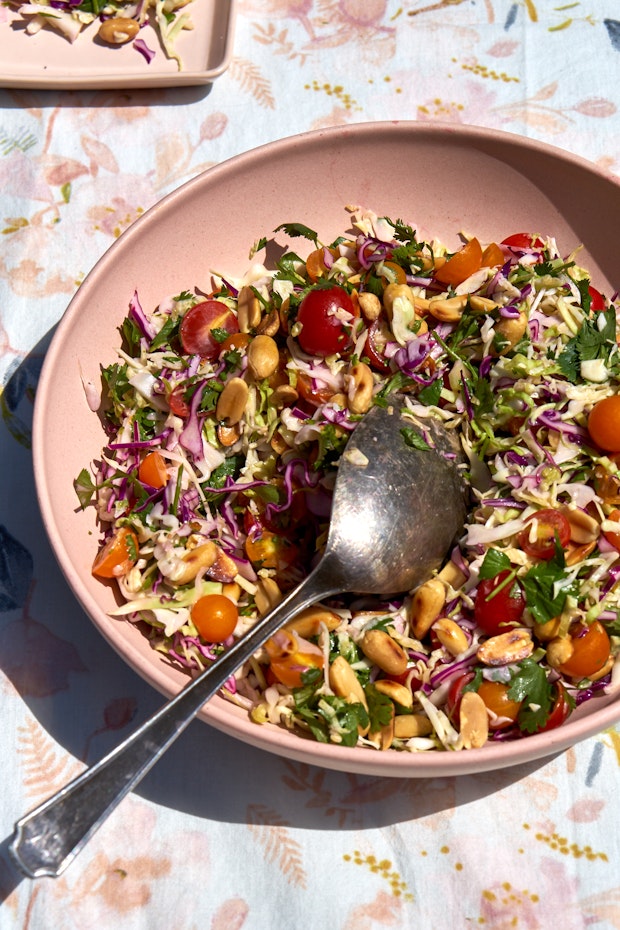 Inspiration for this Coleslaw
When Wayne and I visited Mexico City I discovered a simple snack that quickly became a favorite – salt-kissed peanuts that tasted as if they had been misted with lime. I made this coleslaw the other night with those flavors in mind. It builds on the peanut salad I included in Super Natural Cooking and is a tasty (and colorful) alternative to more typical, mayo-based coleslaws. I made it to go along with fajitas, but I suspect it would be a welcome addition to any potluck, BBQ, or summertime party or picnic – tacos, burgers, or whatever else you have planned for this holiday weekend.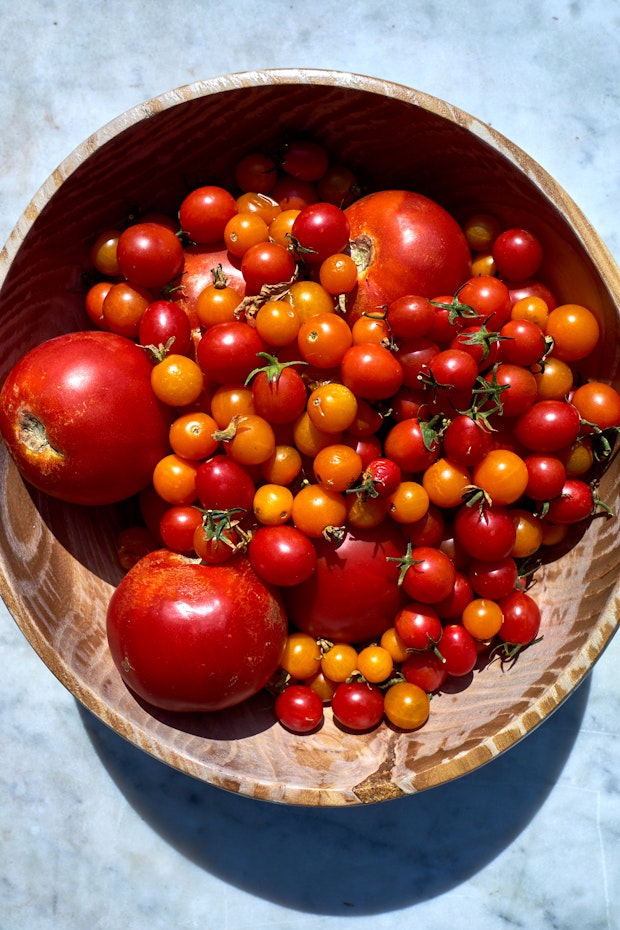 Ingredients & Variations
I've been buying my tomatoes direct from farmers. If tomatoes aren't your thing right now, I would substitute chopped avocado and red onion. Or, now that I'm thinking about it – shredded apple, or apple slices, or jicama. Other ideas: roasted cherry tomatoes in place of the fresh ones – would take longer but would add an entirely different flavor profile.
Creamy Coleslaw
You can easily make this a creamier coleslaw by adding a dollop of your favorite mayo or yogurt after the initial tossing of ingredients – before you add the peanuts. It's one of those things that is all about personal preference. Sometimes a hint of creamy is perfect, but some people really like to go for it! I mean, I've definitely had conversations with people convinced that a good coleslaw is as much about the mayo as it is about the cabbage.