This easy recipe for Macedonian Cabbage Rolls (Sarma) is hearty, flavorful, and vegan! You'll love the savory rice filling stuffed with herbs and spices in tender cabbage leaves. 
A Traditional Vegan Cabbage Roll Recipe
Homemade cabbage rolls are a special meal, one that really says, "I love you!". No, I'm not exaggerating here – the time and effort that it takes to create these little bundles of goodness is a labor of love! But, like many cooking projects, it's also fun, and pretty straightforward. If you're ready to try your hand at traditional homemade cabbage rolls, this recipe is for you!
You'll notice that this recipe is a meatless version – in fact, it's vegan! There are no animal products of any kind in this recipe, probably because it was developed at a time and in a place where fasting from all animal products was the norm during Lent. Today, vegan dishes are highly popular no matter what time of year it is – and when they're this tasty, it's easy to see why.
This is also a less tomato-oriented cabbage roll. There is no tomato sauce, crushed tomato, or strained tomato in this recipe – just a bit of tomato paste and a couple of fresh chopped tomatoes to add tanginess to the rice filling. Garlic, paprika, lemon pepper, olive oil, and herbs bring tons of flavor though!
And! A walnut tucked in each roll adds a unique touch to this old-fashioned dish. You can skip the walnut, but don't. It adds flavor and a soft crunch.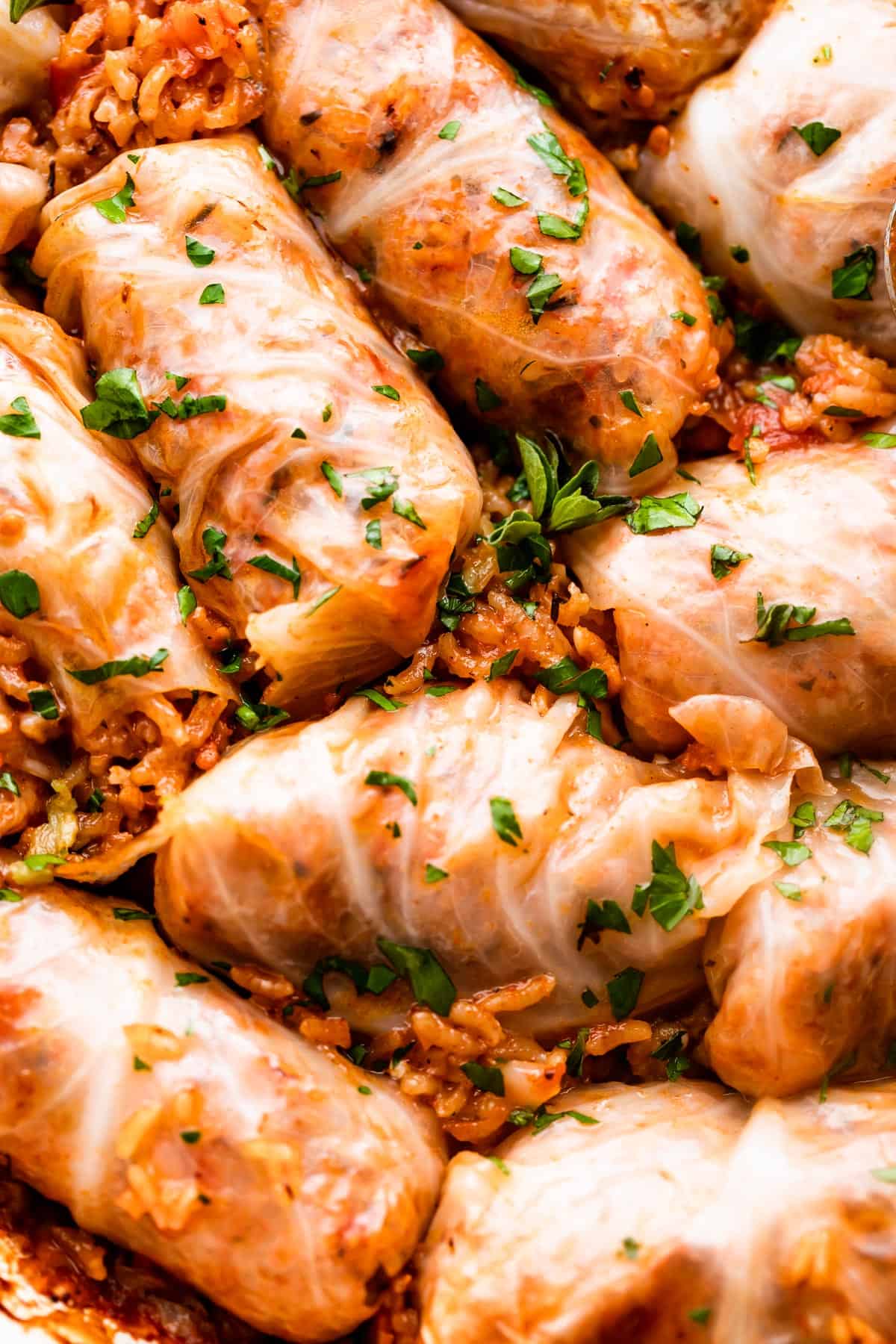 What Country Is Sarma From?
It might be easier to ask what country sarma is not from! These cabbage (and sometimes grape leaf) rolls are traditional foods in the Balkans, Central Europe, the Middle East, and the South Caucasus. That's a lot of cabbage! 🥬
But, it's no surprise this dish is beloved across cultures and countries. This recipe is a Macedonian version, with lots of paprika and not too much tomato, and authentic Macedonian Sarma is prepared with fermented cabbage leaves, but it's not a must.
The Ingredients You'll Need
While meat-filled cabbage rolls typically use ground meat such as beef, pork, lamb, or veal, this version is filled with veggies, seasonings, and rice. It's a comforting, carb-y dish that's guaranteed to fill you up.
For the Cabbage Leaves
For the Filling
Oil: Olive oil is my go-to for this recipe, but you could substitute another kind of oil as desired. Butter, ghee, and bacon grease would also work (keep in mind that animal fats would make this a meatless recipe rather than strictly vegan). 
Onions: The onions should be finely diced.
Garlic: You want to use a generous amount of fresh garlic, minced or pressed through a garlic press.
Parsley: Like paprika, parsley is a must-have ingredient in Macedonian cooking. 
Tomatoes: Take two fresh tomatoes, and chop them finely. 
Tomato Paste: A small amount of tomato paste adds depth to the cabbage roll filling.
Paprika: You'll want sweet paprika here, not smoked or hot paprika.
Salt and Pepper
Dried Herbs: Oregano and thyme bring a pungent, herbal fragrance.
Lemon Pepper: Lemon pepper seasoning makes the rice filling irresistible! 
Rice: Use your favorite long-grain white rice.
Walnuts: The final touch to the cabbage rolls is to include a halved walnut in each one.
For the Sauce
Oil: A little more oil for sauteing.
Garlic: Mince the garlic, or press it.
Paprika: Again, sweet paprika, rather than smoked or hot paprika.
Water: The water should be hot before adding it to the other ingredients.