These rich, fudgy Marshmallow Brownies have three layers to love! Homemade chocolate brownies topped with gooey marshmallows and creamy chocolate frosting. One of my most favorite brownie recipes EVER!
Looking for a more classic brownie? Make sure to try my Perfect Fudgy Brownie recipe!
These Marshmallow Brownies are the ULTIMATE Brownie Recipe!
These gooey chocolate brownies are perfect for summer, amazing at the holidays, or essential at any birthday party..did I also mention they're pretty perfect on a Monday morning with coffee? They bake in less than 30 minutes, and they're the perfect chewy alternative to flame-roasted s'mores. You can get that ultimately satisfying flavor of campfire s'mores without sitting around a hot fire (though of course, I love doing that too!).
What Makes these Brownies So Good?
Every layer of these marshmallow brownies is pure bliss! The brownies are fudgy, the marshmallows are gooey and the ganache-like chocolate frosting tops them off with even more indulgence.
If you like brownies and marshmallows, you'll be making this dessert every time you want something sweet. They're so quick and easy to make!
And oh….did I mention that FROSTING!?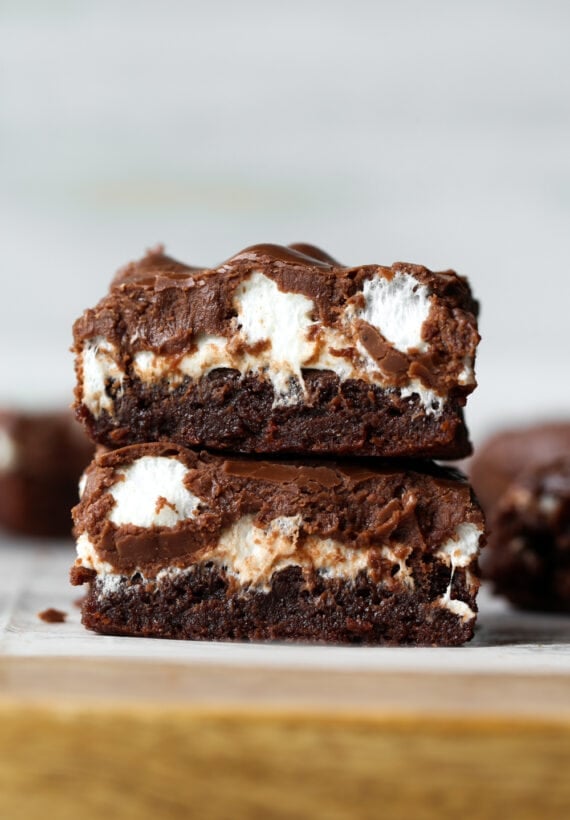 Recipe Ingredients
Marshmallow Brownies
Chocolate: Unsweetened chocolate will give you the richest, most chocolatey brownies ever.
Butter
Granulated Sugar
Large Eggs
Kosher Salt: Kosher salt has larger grains than table salt and will keep your brownies nice and moist.
Flour
Mini Marshmallows: These will be added later for the marshmallow layer!
Chocolate Frosting
Butter
Unsweetened Cocoa Powder
Milk
Powdered Sugar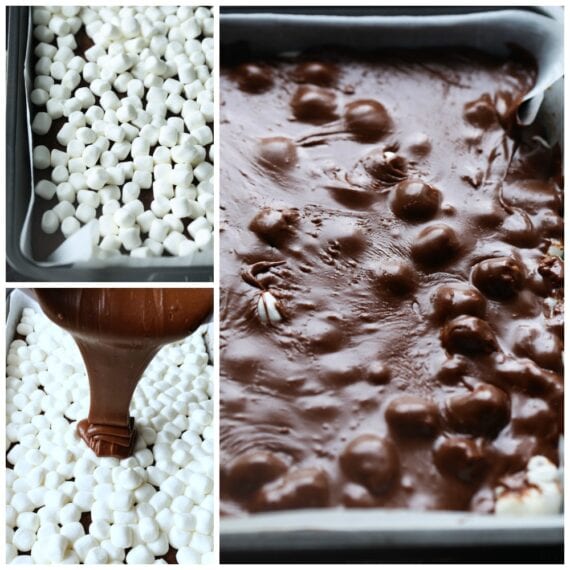 How to Make Marshmallow Brownies
These brownies may founds fancy, but they're incredibly easy to put together. The kids can definitely help you with this brownie recipe!
Brownies
Prepare for Baking: Preheat your oven to 350°F. Line a 9×13 pan with parchment paper and coat with nonstick spray. You can also bake these without the parchment and coat the pan if need be.
Melt Butter & Chocolate: In a large microwave-safe bowl, combine the chopped chocolate and butter. Microwave on high heat in 30 second intervals, stirring after each until smooth.
Add Dry Ingredients: When the chocolate is melted add in the sugar, eggs and salt and mix until smooth, using a wooden spoon or rubber spatula. Lastly, stir in the flour, until combined.
Bake: Pour the batter in the prepared pan and bake for 20-25 minutes until the center is just set and a toothpick comes out with a few moist crumbs.
Add Marshmallows & Bake Again: Immediately sprinkle the marshmallows on top of the hot brownies and return to the oven for 2 minutes, allowing the marshmallows to puff slightly.
Transfer: Transfer the pan to a wire rack while you prepare the frosting.
Frosting
Combine Ingredients: In a large saucepan, melt the butter, cocoa powder and milk together over medium heat until smooth. Remove from the heat and whisk in the powdered sugar until smooth and no lumps remain.
Pour Over Brownies: Pour the frosting evenly on top of the marshmallows, making sure all are coated.
Let Cool: Allow the brownies to cool completely, for 1 to 2 hours, before removing them from the pan and cutting them into bars.
Tips for the Best Marshmallow Brownies
Use Parchment Paper: Line your pan with parchment paper so it's easier to lift the brownies from the pan to cut them.
Avoid Over-baking: You want your brownies to be fudgy and moist, right? Make sure you don't over bake them, especially since you'll have to put them back in the oven once you add the marshmallows!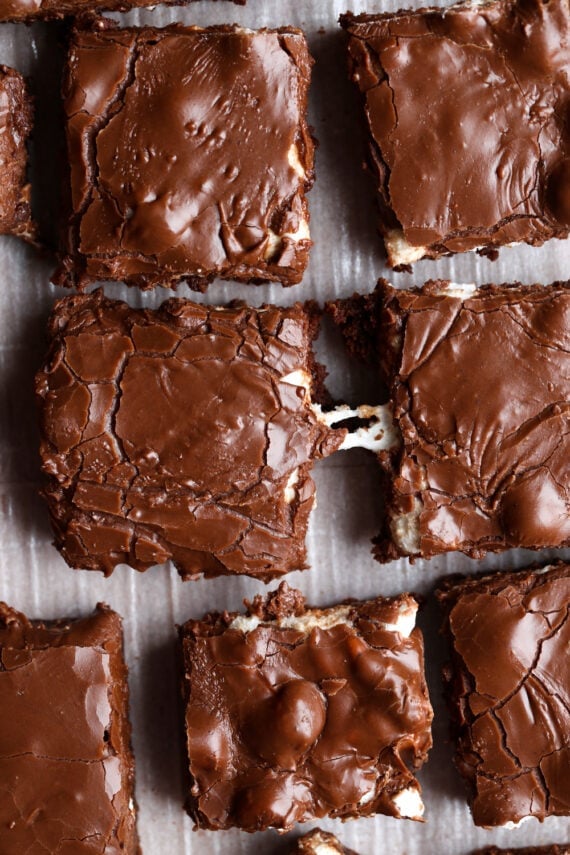 Serving Suggestions
Make these brownies your own by adding your favorite mix-ins. Here are some ideas!
Top with Graham Cracker Crumbs: To turn your brownies into the ultimate s'mores dessert, top them with crushed graham crackers!
Add Chocolate Chips: Add half a cup of chocolate chips to your brownie batter for chocolate overload.
Serve with Milk: I love drinking a cold glass of milk while I munch on these brownies!
Add Sprinkles: Top your brownies with chocolate sprinkles or sugar pearls to make them even prettier.
Serve with Ice Cream: I'm of the opinion that a scoop of vanilla ice cream never needs justification.
How to Store these Brownies
These marshmallow brownies should be stored in an airtight container. Enjoy them within 3 days for optimal freshness!