This post may contain affiliate links. Please read my disclosure policy.
These no-bake miso chocolate peanut butter cornflake bars are quick and easy to make and downright delicious.
New favorite no-bake dessert alert! ♡
The inspiration for these sweet and salty delights is completely thanks to my talented plant-based chef friend, Kissley. Last year, she got me hooked on making no-bake bars with cornflakes instead of my usual rice crispies, in order to add an extra satisfying bit of crunch to each bite. Then she also sold me on amping up the umami in chocolate peanut butter bars by adding a few tablespoons of white miso to the mix. Its mellow, nutty, salty flavor is the je ne sais quois ingredient that had all of our friends buzzing the first time we tried her famous chocolate peanut butter bars…and we've been completely hooked on them ever since!
The great thing about this recipe is that it takes less than 20 minutes to make, and calls for pantry ingredients that we pretty much always keep on hand. With a few simple tweaks, they can also easily be made gluten-free and/or vegan as well, making them one of our new favorite desserts to whip up for easy entertaining. And I'm telling you — every time we serve these bars, they are an absolute hit.
So add this recipe to your weekend plans, and let's make some cornflake bars together!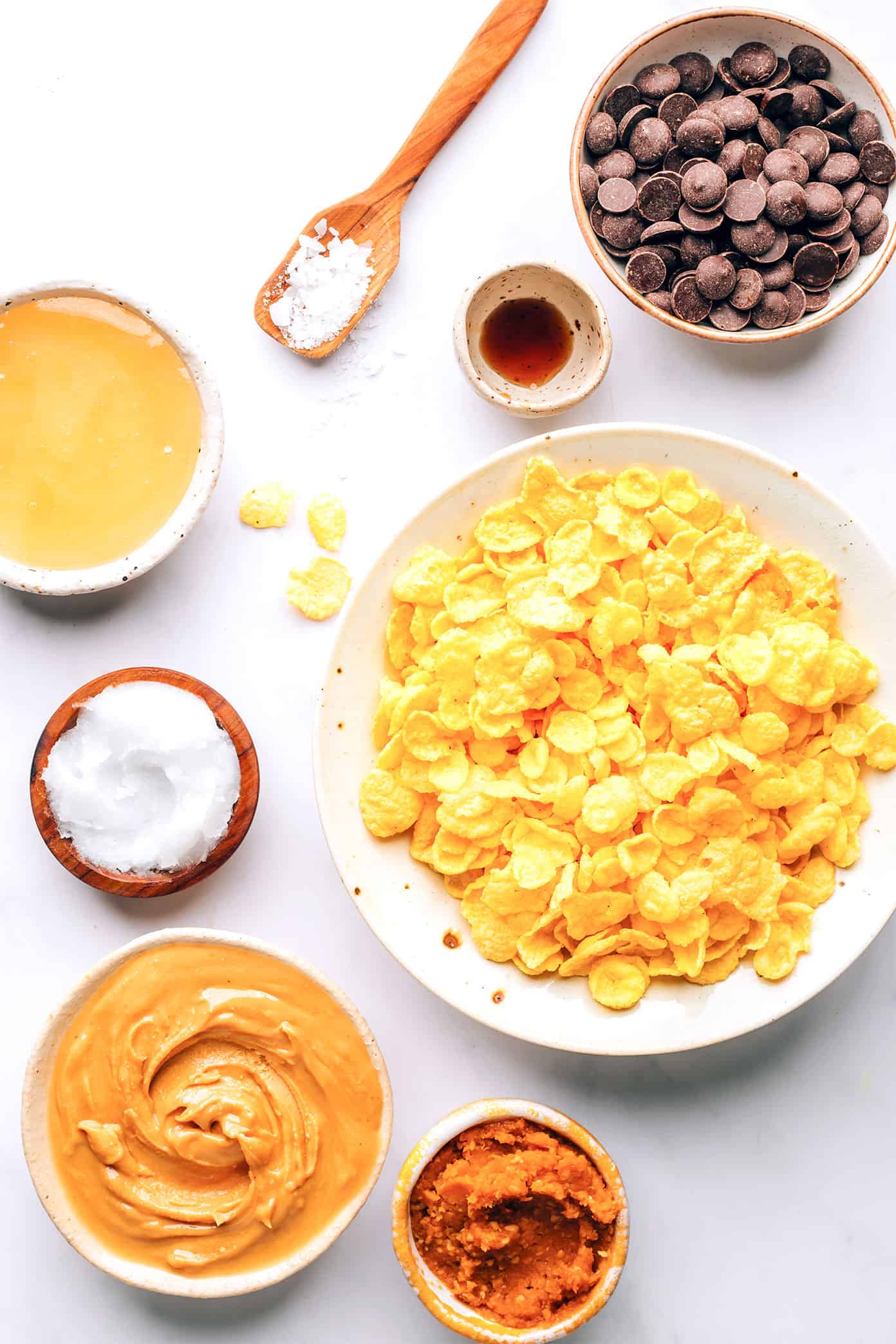 Cornflake Bar Ingredients
Before we get to the full recipe below, here are some notes about the ingredients you will need for these cornflake bars:
Coconut oil: This or any neutral-flavored oil will work well in the miso peanut butter sauce.
Natural peanut butter: I opted for natural peanut butter (made with 100% peanuts, no extra stabilizers) for this recipe. But any creamy peanut butter that you have on hand will work.
Honey: I've found these bars stick together best when using honey as a sweetener. But if you are making a vegan version, you're welcome to use maple syrup instead.
White (shiro) miso paste: These bars will still be delicious without miso, if you don't happen to have any on hand. But I highly recommend adding a few tablespoons if you can! Its mellow, nutty flavor adds such a fantastic extra umami note to these bars.
Vanilla extract: Just a splash, to bring out the best of the flavors in the miso peanut butter sauce.
Cornflakes: I just used basic cornflakes for this recipe, but feel free to use a gluten-free or vegan variety if needed.
Semisweet chocolate chips: Basic chocolate chips or dark chocolate bars will work for the chocolate topping.
Flaky sea salt: We're especially partial to smoked flaky sea salt in our house, but any flaky salt will be great.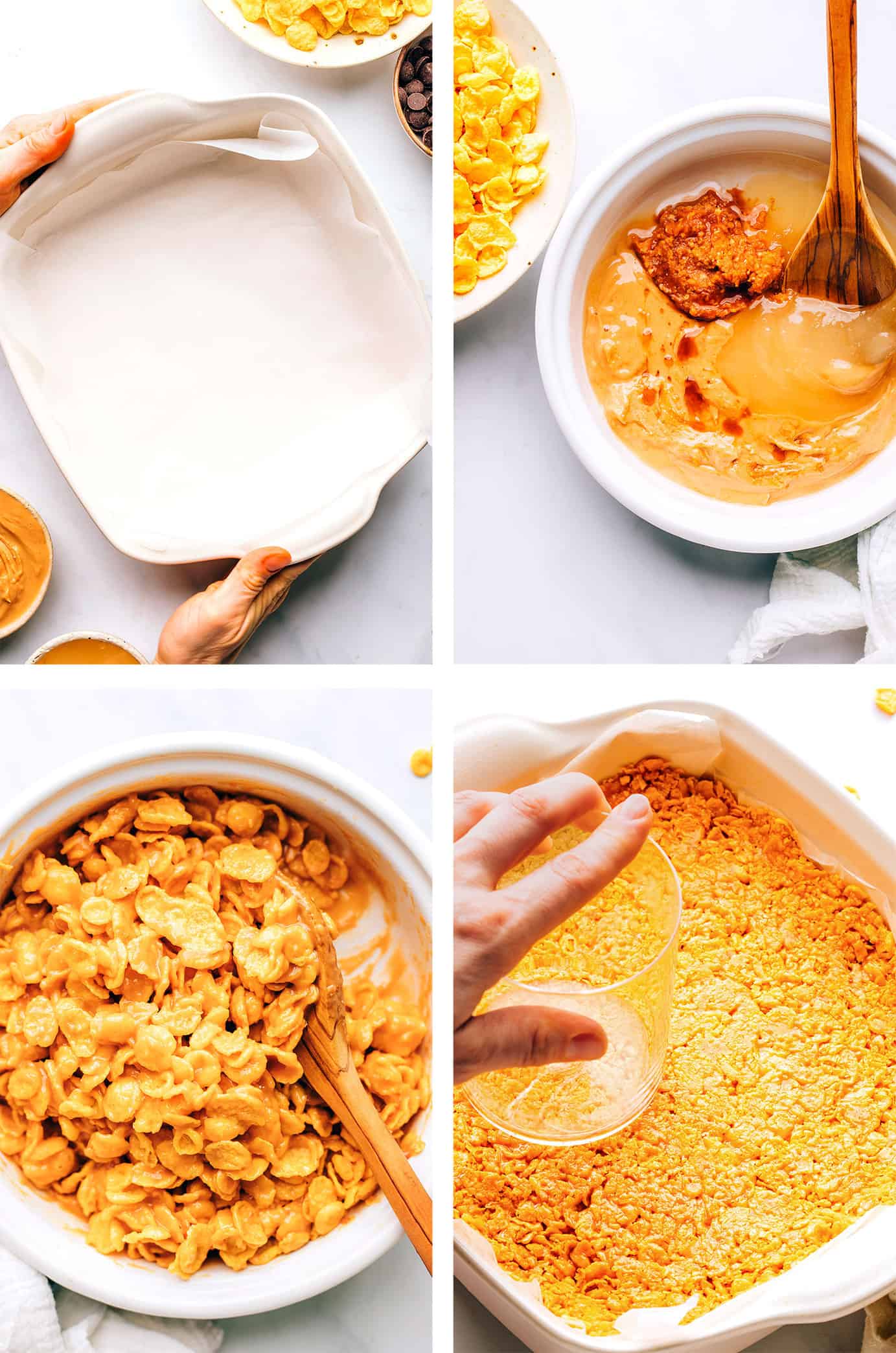 Tips For Making Cornflake Bars
Again, the full recipe is included below. But here are a few extra tips for making these bars:
Check the sauce for seasoning. Feel free to give the peanut butter sauce a quick taste before adding in the cornflakes, to see if you would like to add in any extra miso or salt (especially since different brands of peanut butter can vary significantly with salt content).
Firmly pack the cornflake mixture. This will help the bars stay together so much better and not crumble once cut.
Store in the refrigerator. Keeping the bars chilled will also help them hold together, so be sure to store any leftovers in a sealed container in the fridge.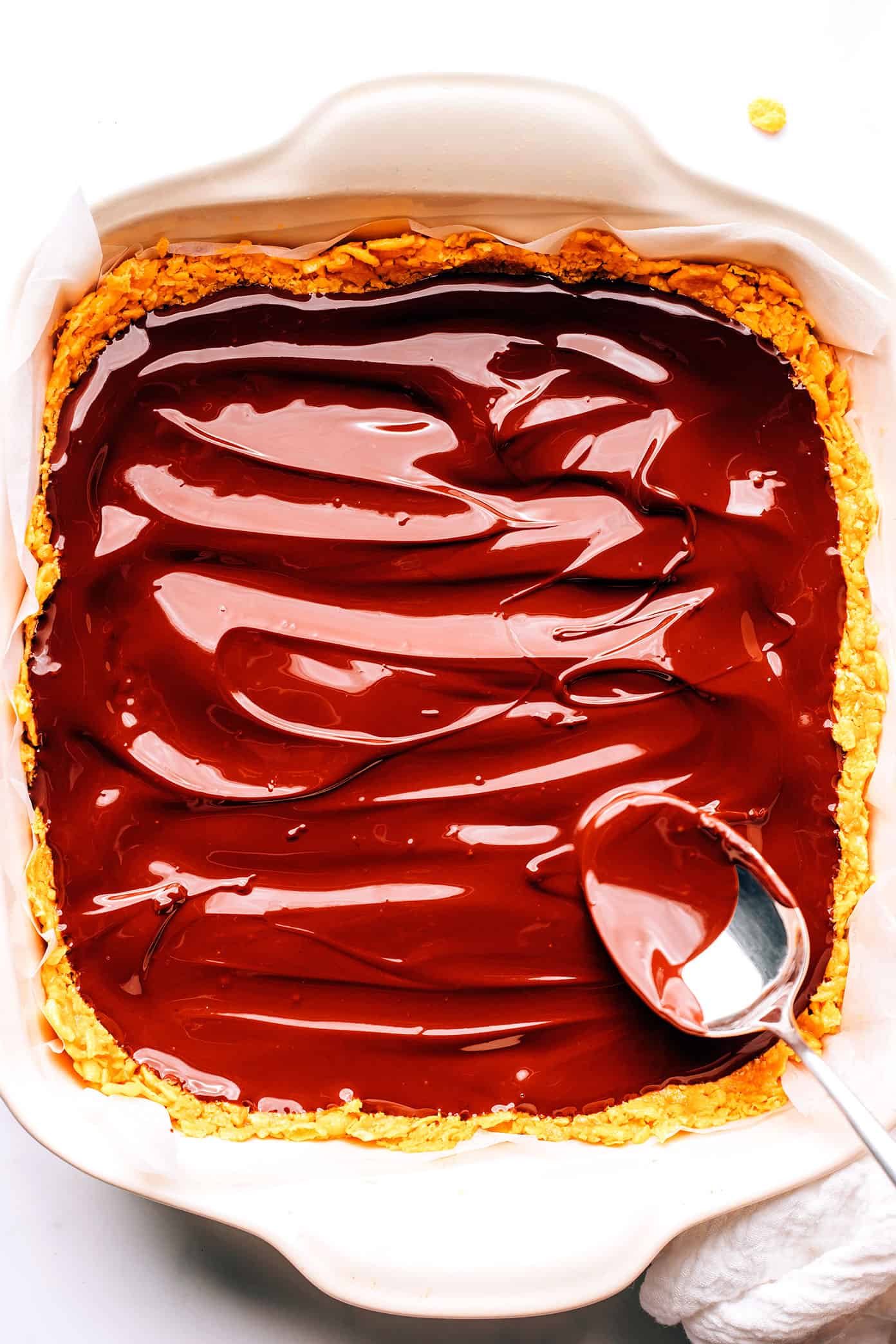 Potential Recipe Variations
Here are a few ways that you're welcome to customize this chocolate peanut butter cornflake bars recipe:
Make it vegan. Swap maple syrup (or your preferred sweetener) for honey, use vegan cornflakes, and use dairy-free chocolate chips (or chocolate bars) for the topping.
Make it gluten-free. Use gluten-free cornflakes and be sure to double-check that your brands of peanut butter and chocolate chips are certified GF.
Use a different nut butter. If you are trying to avoid peanuts, feel free to make these bars with almond butter, cashew butter, or sunflower seed butter.
More Favorite No-Bake Recipes
Looking for more fun no-bake dessert recipes to try? Here are a few of my faves:
---
Description
These no-bake miso chocolate peanut butter cornflake bars are quick and easy to whip up and ridiculously delicious. See notes above for modifications to make this recipe gluten-free and/or vegan.
---
---
Prep the dish.

Line a 9 x 9-inch baking dish with parchment paper.

Make the cornflake filling.

Heat the coconut oil in a large saucepan over medium-low heat until melted. Add peanut butter, honey, miso paste, vanilla extract, and stir steadily for 2 minutes or until lightly warmed. Remove from heat and stir in the cornflakes until they are evenly coated with the peanut butter sauce. Transfer the cornflake mixture to the prepared pan and use a silicone spatula (or the flat bottom of a glass or a measuring cup) to press the mixture down firmly and evenly until it is very compact.

Make the chocolate topping.

Heat the chocolate chips in a double boiler (or in the microwave in 10-second intervals) until completely melted, being careful not to overcook and burn the chocolate. Immediately spread the melted chocolate in an even layer over the cornflake mixture, using a spoon to create pretty swirls if you'd like.

Chill.

Refrigerate the bars for 2 to 3 hours or until firm. 

Serve.

When you're ready to serve the bars, carefully lift up the parchment and transfer the entire batch to a cutting board. Use a chef's knife to carefully cut the bars into squares. Serve immediately and enjoy!
---
---
Notes
Natural peanut butter: I used natural peanut butter (made with 100% peanuts) for this recipe. If you only have traditional peanut butter on hand, you may need to add in a bit of extra coconut oil so that the PB mixture is not too thick.
Total time: The time amount included for the recipe above does not include chill time, which will vary from fridge to fridge. (Or if you'd like to speed things up, you can pop the bars in the freezer.)
Source: This recipe was inspired by my talented plant-based chef friend, Kissley. If you happen to live in Barcelona and are looking for a personal chef or help with batch cooking, she's your girl!