Easy2 minsQuick
Learn how to make a Moscow Mule with this classic 3-ingredient recipe.  Plus, tips on how to purchase Moscow Mule copper mugs and how to customize your drinks.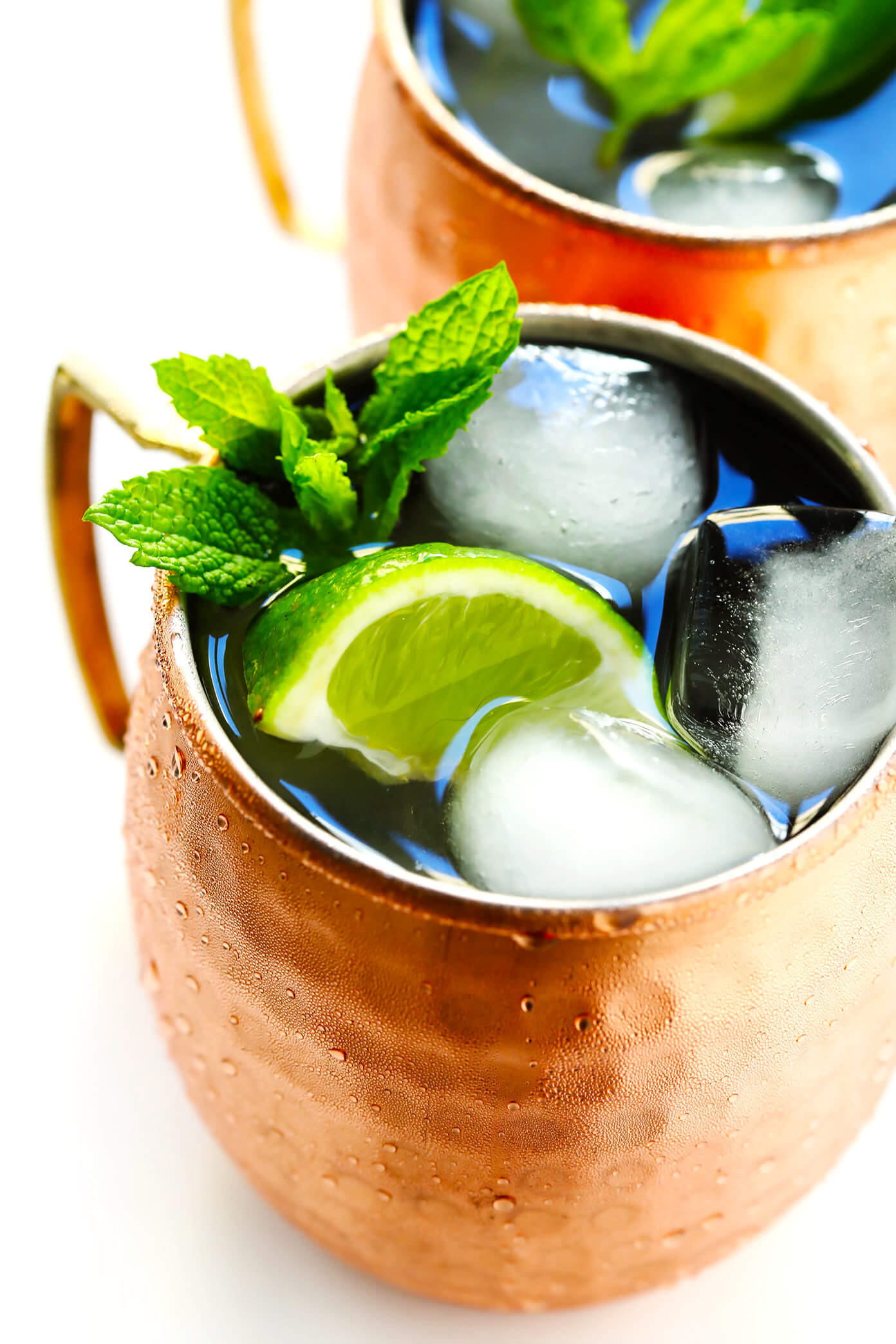 Well, we couldn't go a week talking all about summer cocktail recipes without giving a nod to the infamous cocktail that stole a new generation's hearts and somehow managed to convince all of us that a shiny set of copper mugs in our bar carts was now essential…
…the delightful, perfectly-refreshing, always-a-crowd-fave…Moscow Mule.
I've been a fan of the Moscow Mule (and even moreso, it's whiskey-with-a-splash-of-bitters cousin, the Horsefeather) for years and years now.  But especially so in the summertime.  When served up in a chilly mug, with a good spicy ginger beer, a solid splash of lime, and ideally a side of good friends all gathered around a patio table, this cocktail is my idea of a lovely way to cool down on a warm evening.  And in my experience hosting, it's also proven to always be a hit.
That said, there are endless ways to customize your Mules.  So if you happen to be looking for some new spins on the classic, or recommendations for a new set of copper mugs to purchase (totally not necessary for this cocktail, though!), or just a solid classic Moscow Mule recipe to bookmark, I've gotcha covered today.
So grab your favorite ginger beer, and let's get to mixing.

Moscow Mule Ingredients:
So what's in a Moscow Mule?  Three easy ingredients.  And, as with any cocktail with such a short ingredient list, the quality of each of those ingredients will definitely make a notable difference.  So avoid the cheapest options at the liquor store, and do some taste-testing to find what ingredients are most delicious to you.
To make a homemade Moscow Mule cocktail, you will need (affiliate links are included here):
Ginger Beer: Choose whatever brand you love best here.  I prefer my ginger beer to be minimally sweetened and as spicy as possible, so some of my personal favorites include:
Vodka: Quality is also important here, so try to avoid the cheapest bottle in the store.  I would recommend Tito's or Absolut vodka.
Freshly-Squeezed Lime Juice: Key words: freshly-squeezed.  No bottled lime juice, please!
Also, you will need lots of ice per serving (crushed ice is traditional) and garnishes, if you would like.  I tend to just add my leftover lime wedge into the drink, plus maybe a sprig of mint if I happen to have some on hand.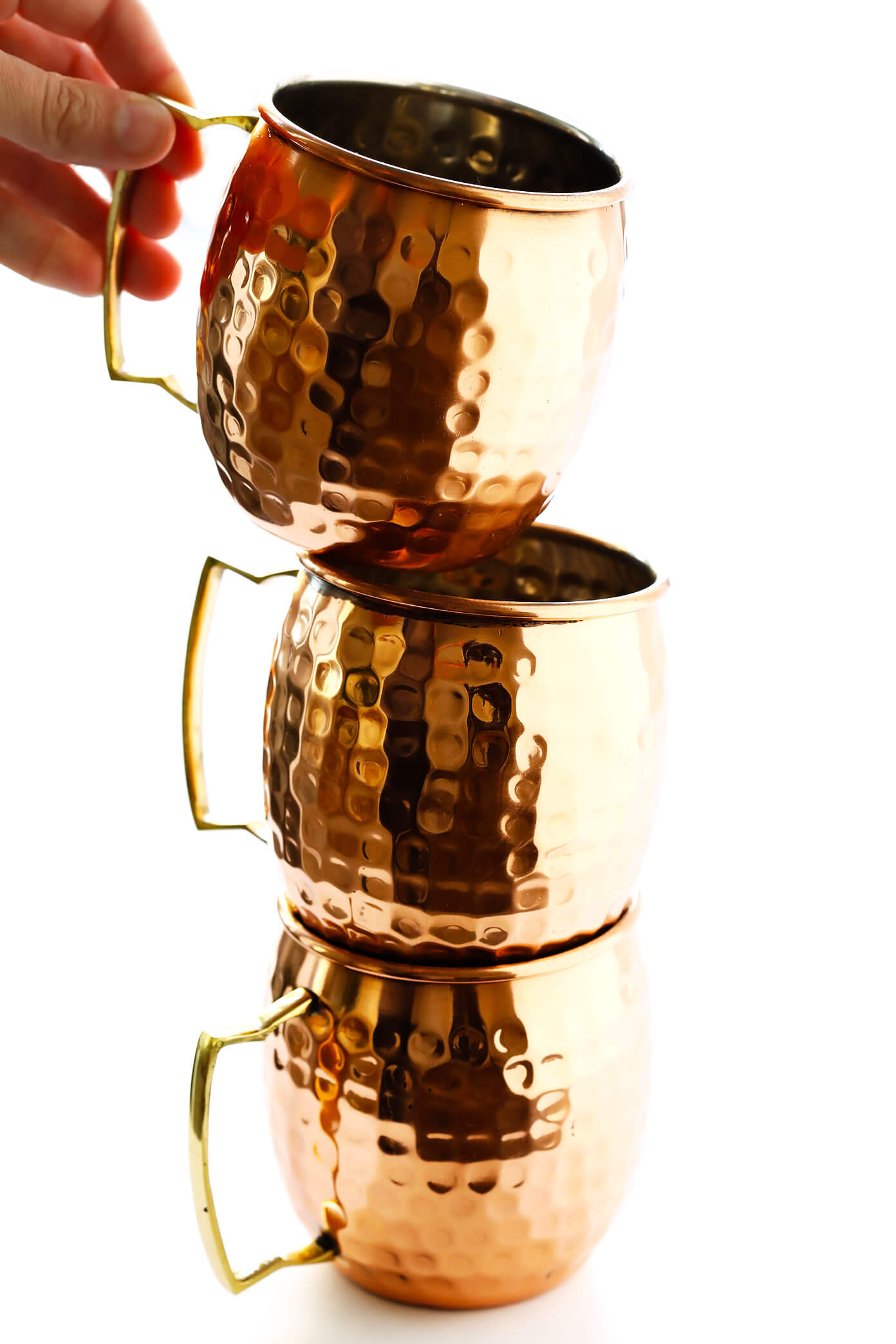 Moscow Mule Mugs:
I've gotta say — I have been making Moscow Mules for a decade in normal (glass) cocktail glasses, and the drinks are just as delicious.  But in stocking our new kitchen here in Barcelona, we decided to spring for a set of cute copper mugs for our Moscow Mules and Horsefeathers.  And I will admit — they've made us ridiculously happy each time we've used them.  They're just so fun!  And even though it's been proven that the copper doesn't really keep your drinks any cooler, those chilly handles and frosty mugs make a cold drink even more delightful in the summertime.
That said, there has been quite a bit of controversy this past year about the safety of 100% copper mugs.  Some scientists have warned that lime and copper are a dangerous mixture, while others have said that "you'd have to drink from a copper cup every meal of every day for 25 years" to ingest a dangerous amount of copper.
Still…up to you.
If you would like to purchase a nickel- or stainless-steel-lined copper Moscow Mule mug (such as I have in these photos), here are a few that I love: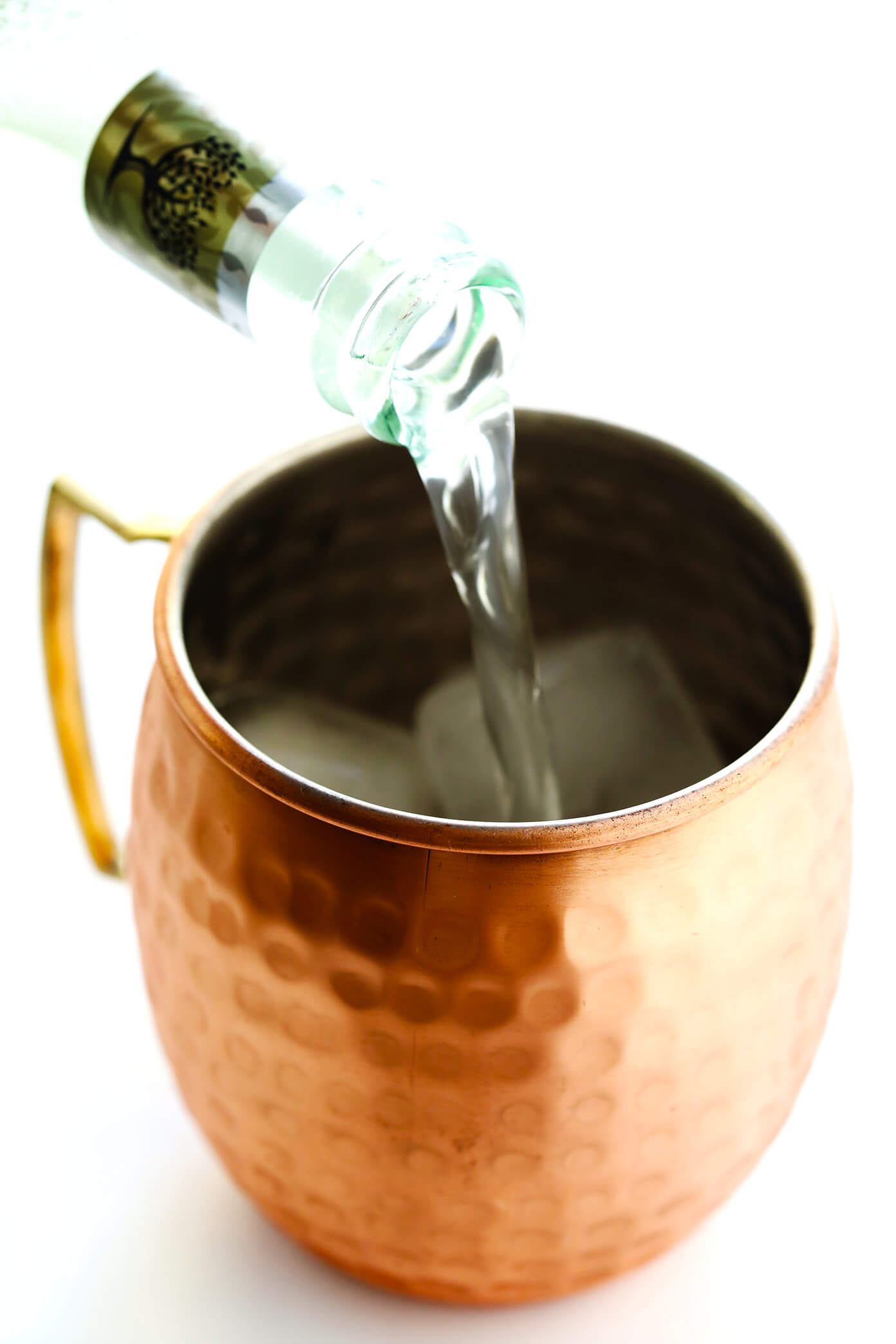 How To Make A Moscow Mule:
To make a Moscow Mule, simply:
Fill a glass or copper mug with ice.  Crushed ice is traditional, but any kind will do.
Add vodka and lime juice.  And feel free to toss the remaining squeezed lime into the glass/mug.
Add ginger beer.  Fill to the top with ginger beer.
Stir and serve!  Give the drink a quick stir, and then serve!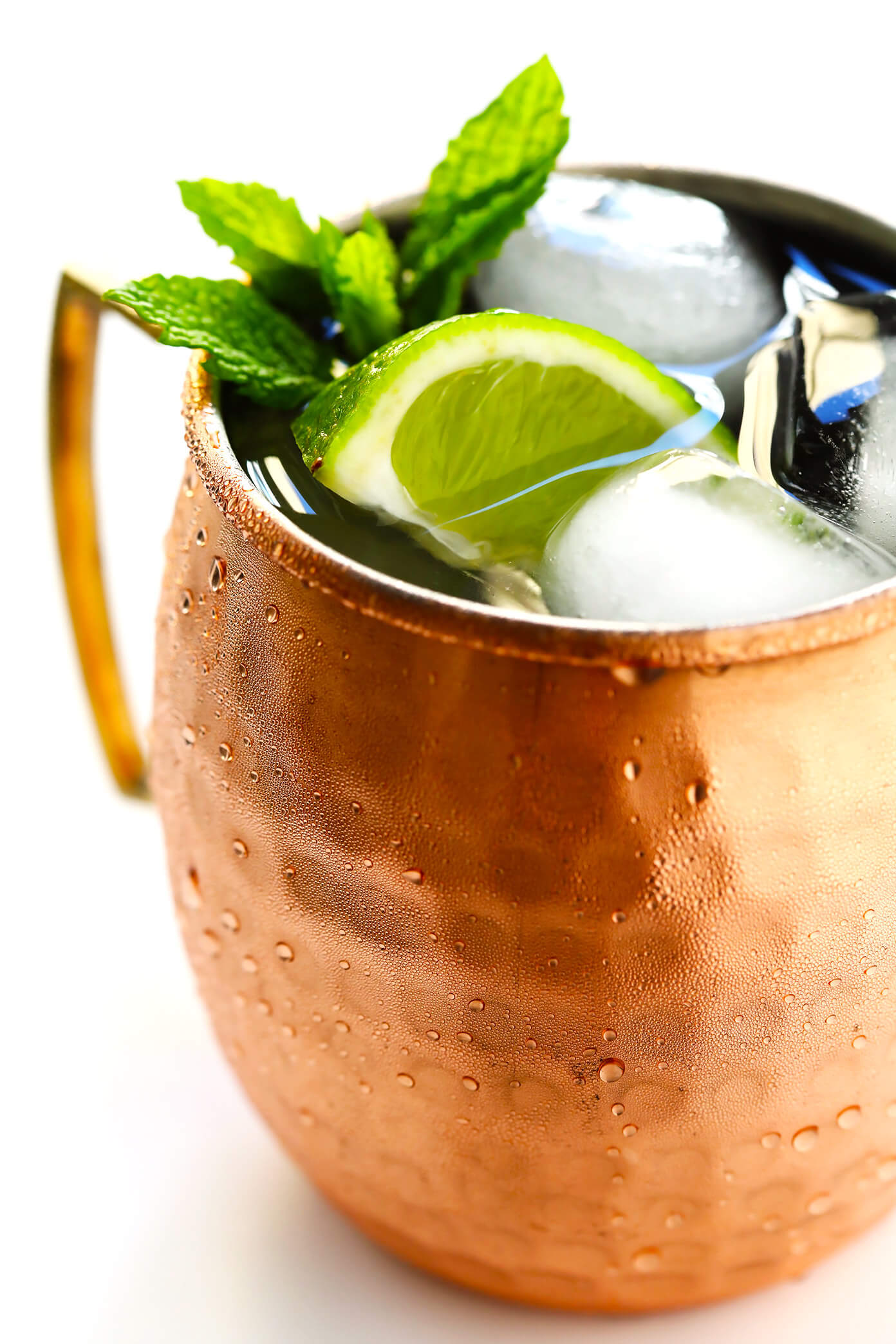 Moscow Mule Variations:
Nowadays there are about a million cocktails that claim to be some variation of a "mule".  So feel free to get creative with your cocktails and see what you love best!  Some ideas for variations could include:
Changing the liquor:

Dark & Stormy

: swap vodka for dark rum

Kentucky Mule

: swap vodka for bourbon

Irish Mule

: swap vodka for Irish whiskey

Glasgow/Scottish Mule

: swap vodka for Scotch whiskey

Mexican Mule

: swap vodka for tequila

Oaxacan Mule

: swap vodka for mezcal

Gin Gin Mule

: swap vodka for gin

Adding fruit:

Muddling in juicy fruit, such as watermelon, berries, peaches, pineapple, apple, pear, cranberry, and/or grapefruit would be delicious.

Adding veggies or herbs:

Muddling in veggies like cucumber, or herbs like basil, cilantro, sage or lavender would also be delicious.

Adding heat: 

I personally love adding a slice of jalapeño or serrano pepper to give my cocktails an extra kick.

Adding bitters:

Bitters are not used in the classic Moscow Mule recipe, but I almost always add a few shakes to my own.

Freeze it: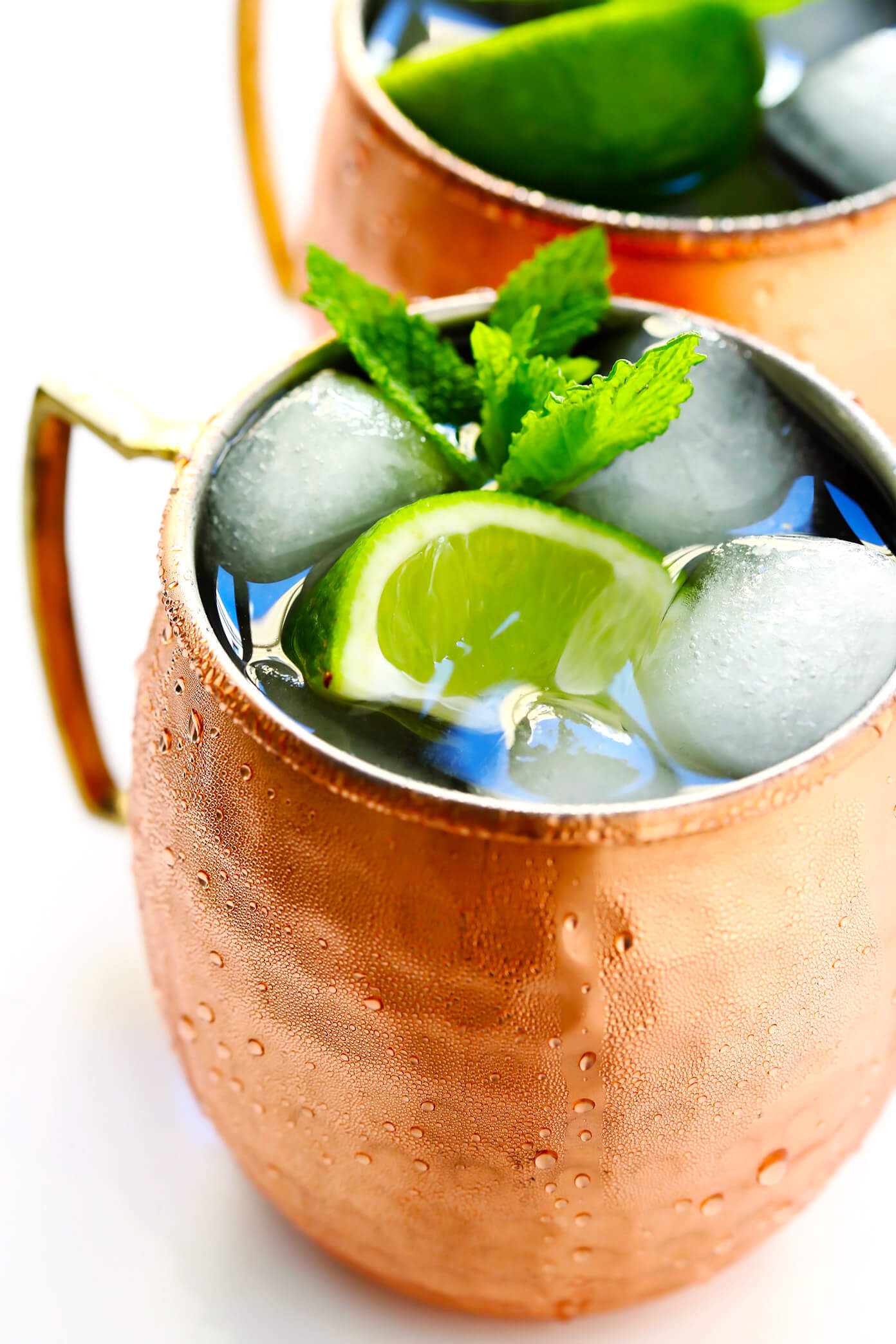 Cheers, friends!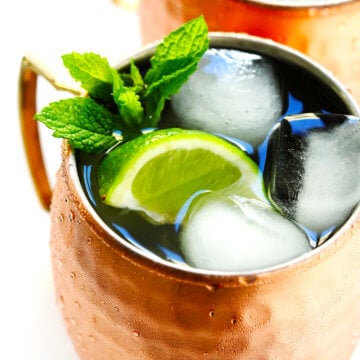 Yield: 1 serving
Moscow Mule
Learn how to make a Moscow Mule with this classic 3-ingredient recipe.  I like to garnish mine with a leftover lime wedge and maybe a sprig of mint, if I happen to have it on hand.  See notes above for ideas on Moscow Mule variations, if you would like to mix things up.
Ingredients:
2 ounces vodka

1 tablespoon (½ ounce) freshly-squeezed lime juice
4 ounces ginger beer
ice
Directions:
Fill a copper mug or a tall cocktail glass with ice.
Add vodka and lime juice.  Then fill the glass to the top with ginger beer.
Give the drink a quick stir, top with garnish(es) if desired, then serve cold.
Difficulty: EasyCategory: Quick


All images and text ©Gimme Some Oven
If you make this recipe, be sure to snap a photo and hashtag it #gimmesomeoven. I'd love to see what you cook!