This One Pan Sausage, Potatoes and Green Beans is an easy dinner idea with just 5 minutes prep time! Just toss and bake and dinner is ready!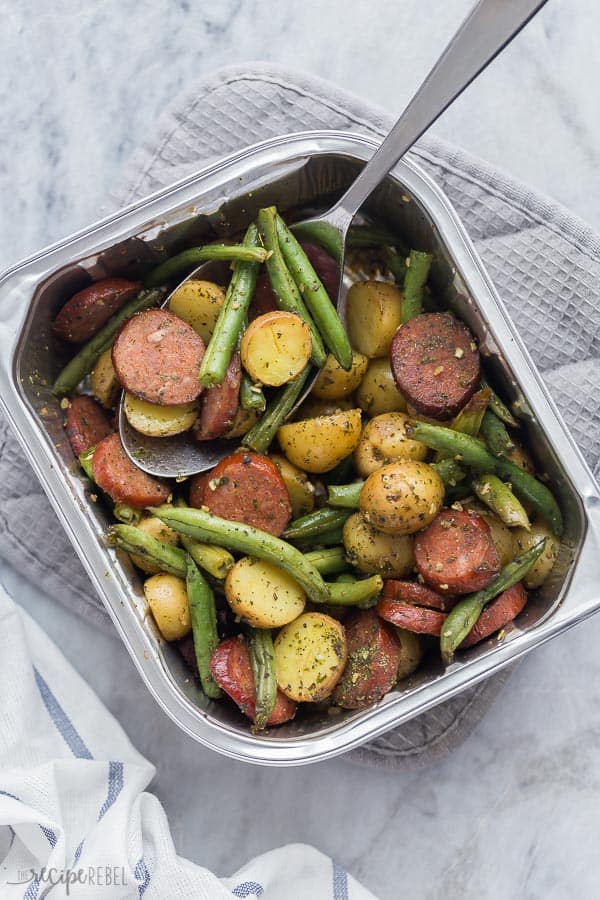 The weather is slowly warming up around here but life just doesn't seem to get any calmer.
If anything, once the sun starts to come out and Spring is near, we are just rushing around even more.
Sometimes, I wonder how it's even possible that this catches me off guard every year?
I think that after the holidays, in January life will slow down and it'll be more relaxing. But school, and lessons, and homework, and with 3 kids in very different age groups (all still young!), it feels like we're all over the place.
In Spring, nothing is different — the lessons, the activities, the homework changes, but with the world as fast-paced as it is today, easy, one pan meals are always something we need more of.
This One Pan Sausage, Potatoes and Green Beans?
Doesn't even have any pans to wash.
High five?!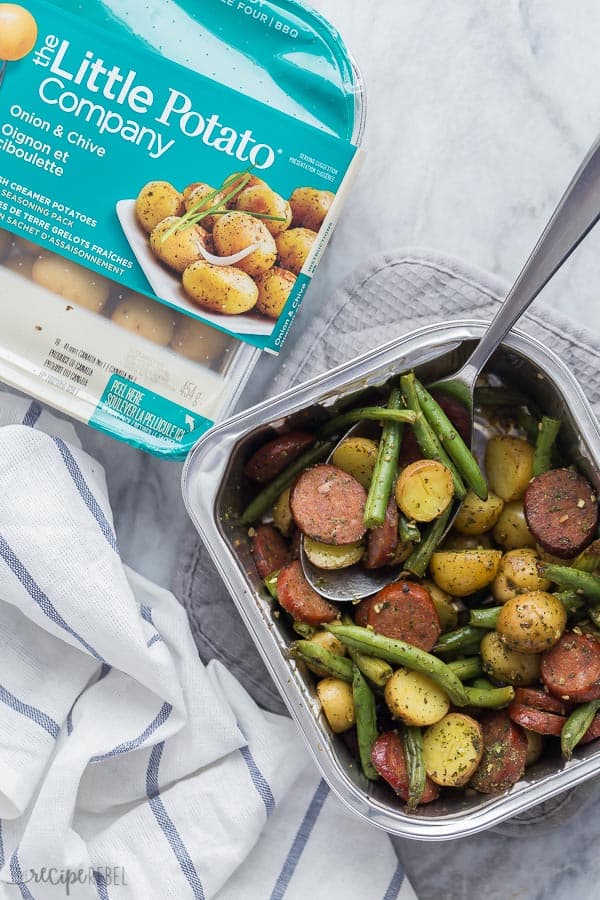 Maybe this shocks you, but I didn't always like green beans.
In fact, I only realized that I liked green beans (really liked them!) a few short months ago.
I think that I was so scarred from canned and frozen green beans that I just couldn't bring myself to give them another try.
Fresh green beans aren't something we had growing up, for whatever reason, and it's only in the last few months that I've realized what I was missing!
This one pan meal is made even easier with the Onion & Chive Oven | Grill Ready kit from The Little Potato Company — made with fresh Creamer potatoes and a simple seasoning blend which cuts the prep time down to almost nothing.
How to make this One Pan Sausage, Potatoes and Green Beans:
First, we halve the potatoes to ensure that everything cooks at the same pace (a couple minutes here will save us a couple minutes later having to add our veggies part way through).
Then we slice our sausages, cut our green beans in half and stir everything together.
Bake until potatoes are tender and green beans are roasted — roughly 40 minutes — stirring once.
Toss with the remaining seasoning (as much as you like!) and serve! Dinner has never been easier!
How to cook smoked sausage:
The beauty of choosing smoked sausages (or smokies) for this recipe is that they're already fulled cooked!
Which means that they will reheat perfectly while everything else cooks, and you don't have to worry about internal temperature or any of that. When the potatoes are ready, dinner is ready!
Variations on this Smoked Sausage, Potatoes and Green Beans recipe:
You can lighten up this recipe by choosing turkey smoked sausages instead of pork.
Feel free to swap out the green beans for other veggies you prefer — just keep in mind the cook time they require. You may have to add them part way through.
Try out the other varieties of the Oven Ready Packs — Garlic Herb or Roasted Red Pepper and Onion — for a different twist!
Need more than two servings? Grab a 1.5lb bag of any Little potatoes, and toss them on a sheet pan with 4 smoked sausages and extra green beans with your favorite all-purpose seasoning blend.
More one pan meals:
*This post is generously sponsored by The Little Potato Company — thank you for supporting the brands that make The Recipe Rebel possible!