This delicious one pot creamy tomato basil pasta proves that you really can throw everything in a pot, cook it up, and love every single bite.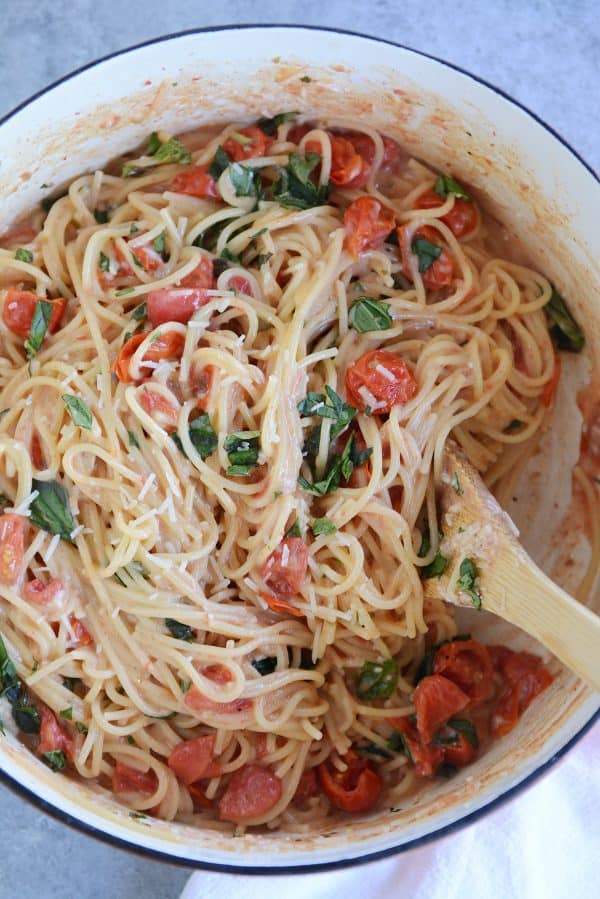 Hey friends! I apologize for falling off the face of the earth for the last two weeks. I've missed you!
What started as an anticipated one week blogging vacation (Brian and I took a long awaited cruise to Alaska) turned into 2+ weeks without a new recipe post thanks to end of summer craziness and the pain of reentry after vacation, as well as some general life/family "stuff" that needed attention.
The good news is I'm back with one of my favorite recipes in the history of all recipes.
And apparently I have one pot pasta recipes on the brain since I left you with one the day before I left…and I'm breaking my multi-week absence with another.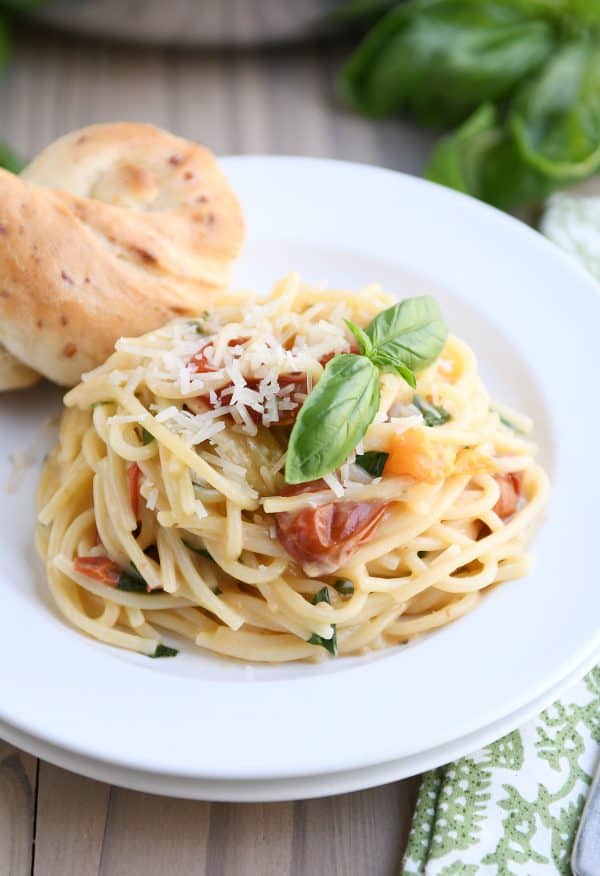 Every time I make this one pot creamy tomato basil pasta number (which happens to be a lot through the late summer when my cherry tomatoes and basil plants are showing off), we say all sorts of nice things about it.
How it's crazy delicious. And how it is so insanely quick to make.
I love this one pot wonder because it is my sanity saver on many, many weeknights when I hope and pray all day dinner will somehow make itself…but it doesn't. Weird.
Enter the one pot creamy tomato basil pasta recipe that continues to save my family's appetites over and over.
What kind of pot do you need for one pot pasta?
I'm glad you asked!
For this recipe, any pot that is 5-quarts or larger in size should do the trick. No lid required. I have an old enamel-coated cast iron Dutch-oven pot (Mario Batali brand) that I often use for this recipe, but my every day Farberware or All-Clad pots work great, too.
The biggest trick is moderating the heat while cooking and stirring every once in a while so the pasta doesn't stick. Honestly, the recipe is so easy and pretty darn foolproof.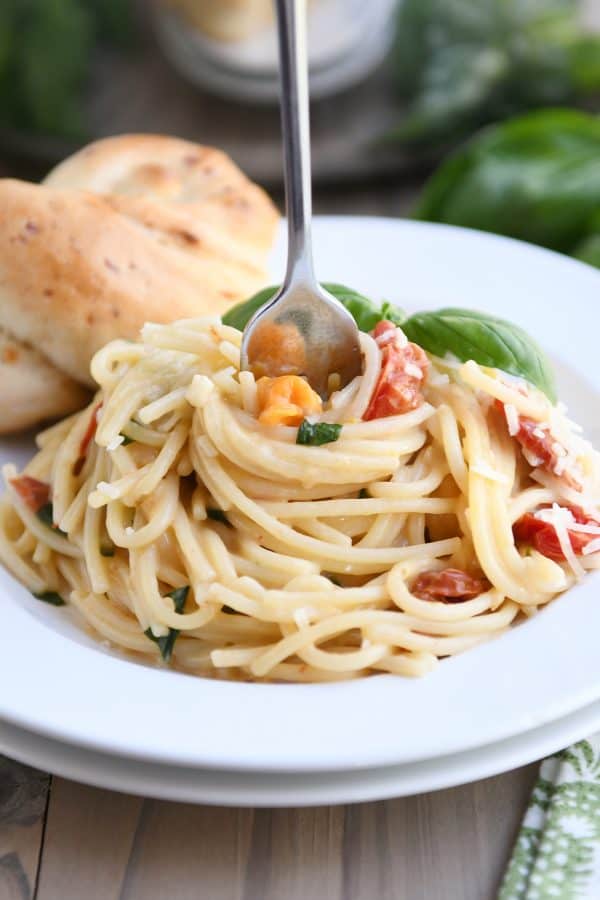 There are a few recipes worth planting a garden for, and this recipe is one of them.
Incidentally, so is this one and this one. And this one and this one.
Ok, see? Even though I always talk about how gardening makes me say bad words, I guess somewhere in my soul I decide it's worth it year after year.
For the food. I do it for the food. Mostly for the chocolate zucchini cake, if I'm being completely honest.
Anyway, MAKE THIS one pot pasta! The simplicity might be deceiving. As in, how can something so easy and fast and basic-looking actually change my life?
You'll see. I promise, you'll see.


Divine 1-hour Breadsticks
Skillet Zucchini and Yellow Squash
Yield: 6 servings
One Pot Creamy Tomato Basil Pasta
Ingredients:
2 cups milk

 

2 3/4 cups chicken broth (I use low sodium)
1 pound (16 ounces) spaghetti, broken in half

 

4 cups (about 20 ounces) cherry or grape tomatoes, halved

 

3 cloves garlic, finely minced (about 1 heaping teaspoon)

 

1 teaspoon dried oregano

 

1 teaspoon salt

 

1/4 teaspoon pepper

 

1/2 to 1 cup fresh basil leaves, torn into pieces

 

1/2 cup (about 1.5 ounces) freshly grated Parmesan cheese

 
Directions:
In a large pot (5- to 6-quarts), combine the milk, broth, spaghetti, garlic, oregano, cherry tomatoes, salt, and pepper. Bring to a boil over medium-high heat, then reduce the heat and gently simmer for 10-12 minutes, stirring often so the pasta doesn't stick. Adjust the heat accordingly especially at the end. Cook until the pasta is tender and most of the liquid is absorbed.
Off the heat, stir in the basil leaves and the Parmesan cheese. Serve immediately (if you want it slightly thicker, let it rest 5-10 minutes; it will thicken as it stands).
Notes:
I use regular spaghetti noodles with a cooking time of 10-11 minutes for al dente on the back of the package. Incidentally, whole wheat spaghetti works well in this recipe, too – increase the broth to 3 cups and check the package directions for correct cooking time.
If you don't have fresh basil, try subbing in 1 to 2 teaspoons dried basil, and add it with the dried oregano instead of at the end.
All images and text ©Mel's Kitchen Cafe.
Recipe Source: from Mel's Kitchen Cafe (original recipe printed in an eCookbook I published in 2016 to benefit a nonprofit organization – the eCookbook is no longer for sale)