Philly Cheesesteak Mac n' Cheese is a fun spin on a classic dish, mixing two favorites into an easy, cheesy dinner idea!
Make sure to try out my NO BOIL Crock Pot Mac and Cheese too!
This recipe was originally posted in 2014. The photos and recipe tips have been updated in 2021. The recipe itself hasn't been altered.
Philly Cheesesteak Meets Mac and Cheese
This Philly Cheesesteak Mac and Cheese recipe came into being for a very glamorous reason – I had to use up food in the fridge! I am generally great at meal planning, but sometimes life happens and I don't get around to all the ingredients I've purchased… which is what happened when I created this recipe. I had Philly Cheesesteaks on the menu as well as mac and cheese, and with the expiration date looming on the roast beef, I decided to combine the two and it turned out perfectly!
This homemade mac and cheese is so velvety, creamy and, with the addition of peppers and roast beef, it tastes otherworldly. I can't even begin to do the description justice, so you're just gonna have to take my word for it and put this mac and cheese on the menu!
What Makes This Recipe So Good?
Macaroni and cheese is one of the best comfort food recipes ever. I don't usually recommend messing with a meal that is already so good, but the addition of smoky roast beef into this creamy mac and cheese is something you've gotta try! Did I mention that it uses not one, but two cheeses? Talk about flavor. Even my pickiest eater enjoyed this… all while picking out the peppers and onions. I still consider it a win!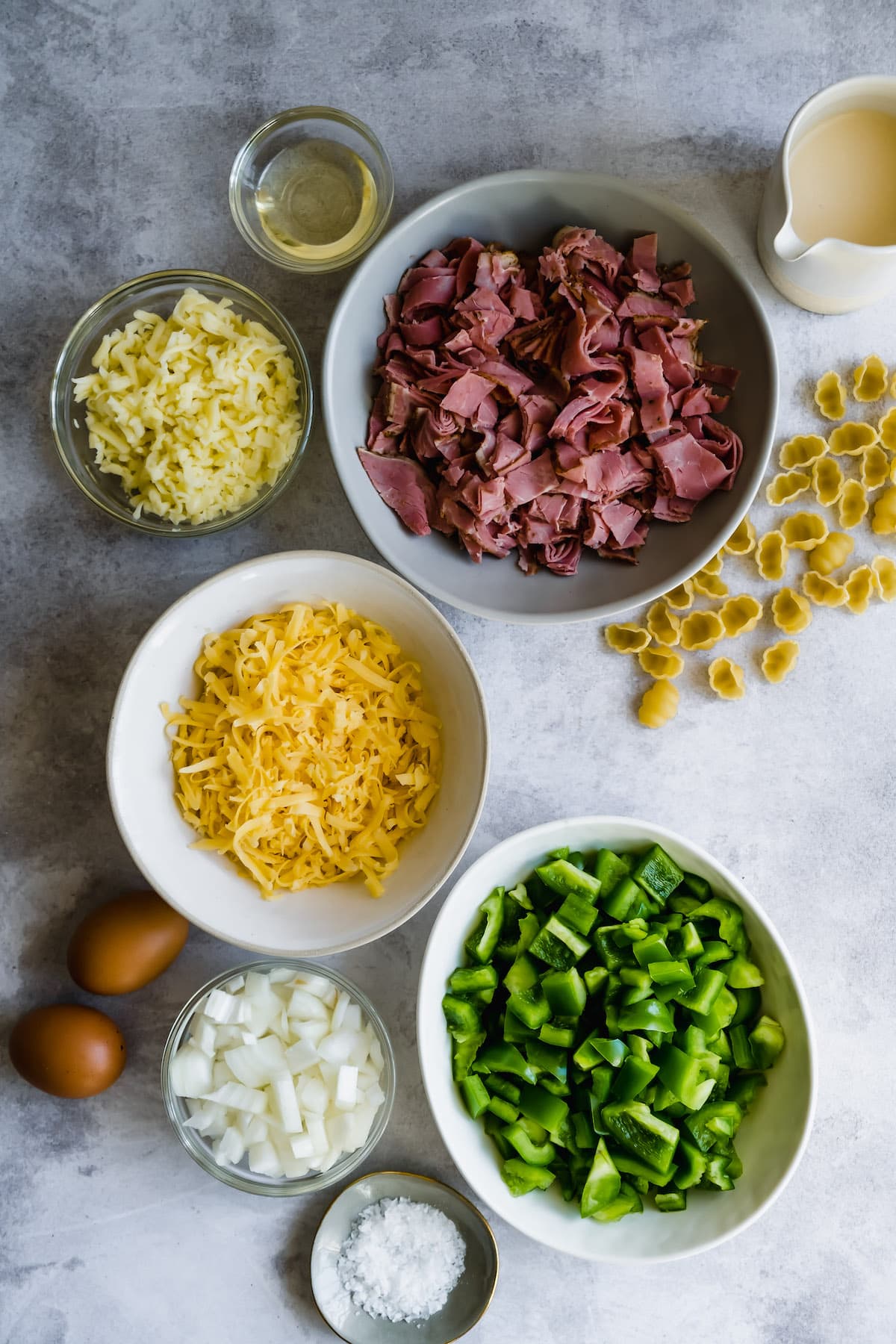 Ingredients
So, other than your standard mac and cheese essentials, what are you going to need? Take a look at this list of ingredients:
Olive Oil: Or another kind of cooking oil, like canola oil.
Onion: I used 1 medium yellow onion, sliced.
Peppers: You'll need 2 medium green (or red) bell peppers, sliced.
Roast Beef: Slice 1/2 lb – 3/4 lb of roast beef into small pieces to sprinkle into the mac and cheese.
Pasta: Shell pasta is my personal favorite, but you can use elbow macaroni or bow tie pasta, too.
Eggs: To thicken up the cheese sauce.
Evaporated Milk: Also needed for a rich, thick cheese sauce.
Cheese: I used 1 cup provolone, grated or thinly sliced, and 2 cups mild cheddar cheese, grated.
Seasoning: Seasoned salt.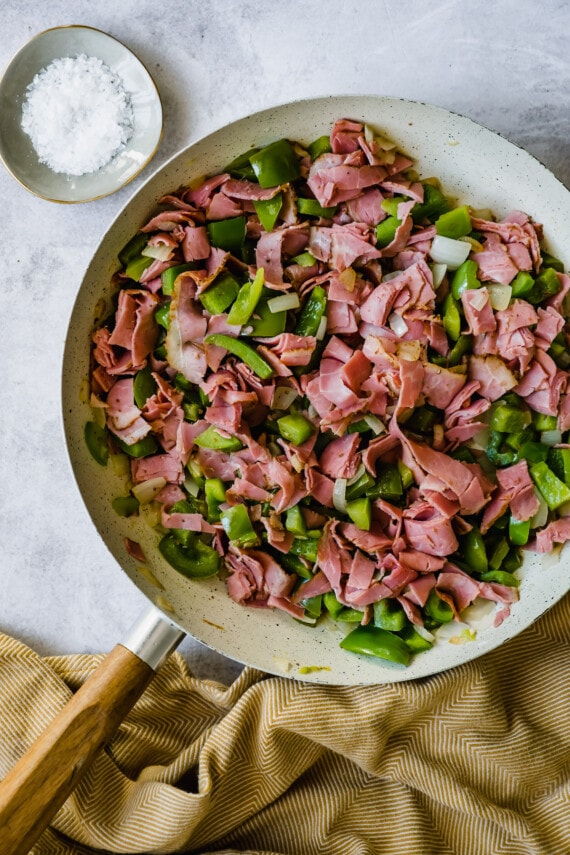 How to Make Philly Cheesesteak Mac and Cheese
Making this meal is basically like preparing the fixings for a philly cheesesteak sandwich (minus the bread, of course), and a pot of macaroni and cheese. Then, at the last minute, you combine the two together, and you've got philly cheesesteak mac and cheese!
Boil Water & Sauté Vegetables: Put a large pot of water onto boil for pasta. Meanwhile, in a large skillet heat olive oil on medium heat and sauté onions and peppers until onions are translucent and there is no more crunch, about 10 minutes.
Cook Roast Beef: Add sliced roast beef and cook until heated through. Remove from heat and set aside.
Cook Pasta: The water should be boiling by now. Add pasta and cook until al dente, according to package directions. Reserve 1 cup pasta water.
Make Cheese Sauce: In a large Dutch Oven or saucepan whisk together eggs, evaporated milk, seasoned salt and both cheeses over medium heat. Continue whisking until cheese is melted and mixture is thick.