Our Favorite Quesadillas– These quesadillas are loaded with beans, avocado, fresh veggies, and of course…CHEESE! This easy quesadilla recipe is perfect for lunch, dinner, and is always a hit with the entire family!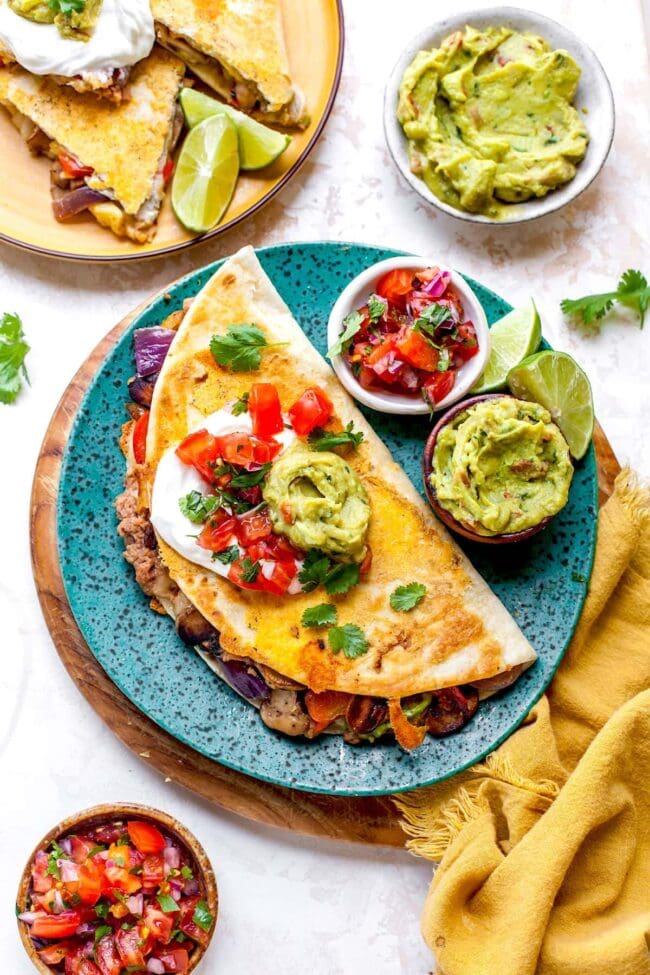 Favorite Quesadilla Recipe
This is an easy and classic quesadilla recipe with a special family twist (keep reading for our secret)! I love that you can use pantry ingredients and customize this recipe to your own preferences.
It's also a great recipe to get little ones helping in the kitchen! They can prep ingredients, sprinkle cheese, assemble quesadillas, and of course…eat them as quickly as possible. This is a quick and easy weeknight meal and a great option for lunch, too! The whole family loves an easy and CHEESY quesadilla meal.
Tortillas to Use
I like big flour tortillas for quesadillas! This gives you more real estate for cheese and any other fillings you want inside. Definitely avoid overstuffing your quesadilla or you'll have a mess on your hands! Better to make two perfect quesadillas, right? Go for an 8-10" package of tortillas. You can also make your own flour tortillas.
If you need the quesadillas to be gluten-free, you can use gluten-free flour tortillas or corn tortillas. Note, corn tortillas are smaller so don't over fill them!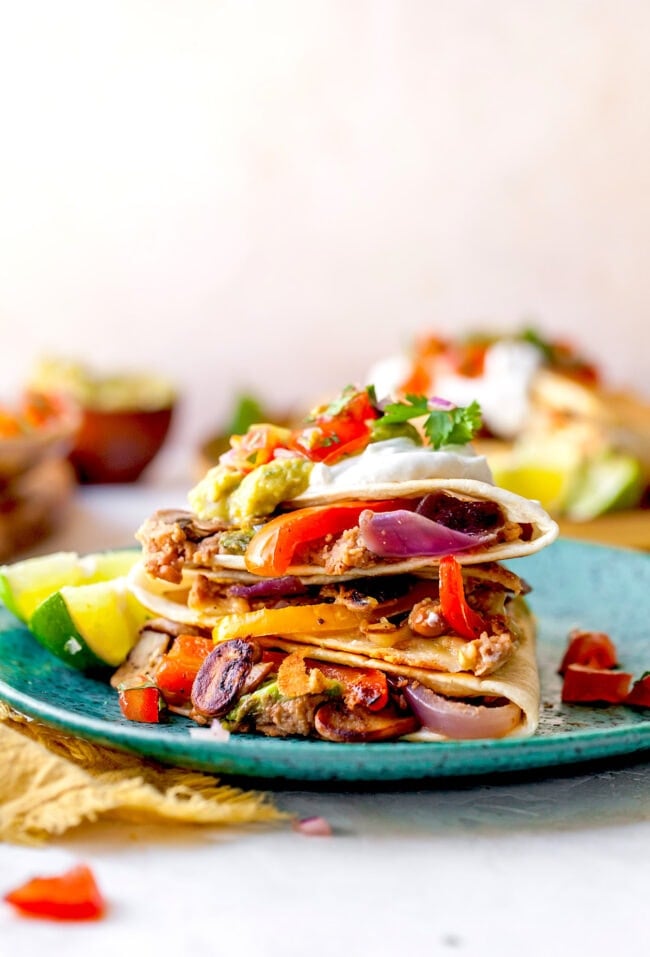 Best Cheese to Use
I always go for Monterey Jack cheese when making a quesadilla because it gets super melty! Feel free to use your favorite cheese, cheddar cheese and pepper jack are also great for quesadillas.
I also like to use freshly grated cheese instead of pre-shredded bagged cheese from the store. The bagged cheese has a powder coating and it doesn't get as melty as freshly grated cheese.
Quesadilla Ingredients
This is hands down one of the YUMMIEST ingredient list ever!
Large flour tortillas
Refried beans (you can use black or pinto beans)
Smashed avocado
Monterey Jack or cheddar cheese (freshly grated if you can!)
Cooked veggies (we usually go with peppers, mushrooms, and onions!)
Chopped fresh cilantro
Avocado oil, olive oil, or melted butter for cooking the quesadillas (to crisp them up)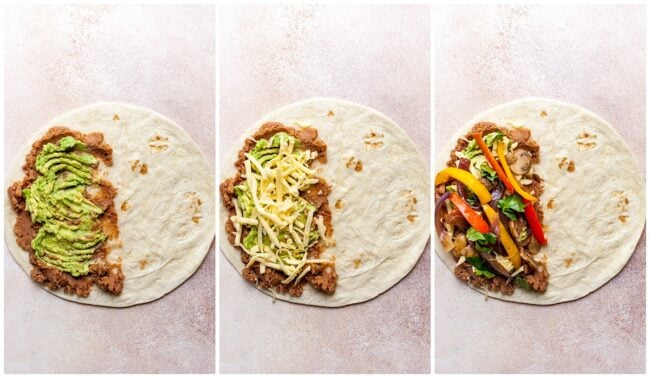 How to Make Quesadillas
Here's how we make the most PERFECT, melty, crispy quesadillas (including our special secret step!):
Start with your tortilla on a flat and clean surface. Right on a clean countertop works great!
Don't overfill the flour tortilla or you will end up with a mess. You can always eat more than one:)
Spread a layer of refried beans and smashed avocado on half the tortilla. Sprinkle with salt and pepper.
Add a handful of cheese on top of the beans and avocado. Place your cooked veggies and a little cilantro on top of the cheese. I like to add a little sprinkle of cheese over the veggies. When the cheese melts this will help the flour tortilla stick together. The cheese is like the glue:)
Fold the empty tortilla half over the filling and gently press it to keep everything secure inside while you cook.
Brush a little oil or melted butter on the outside of the tortilla. This will give it a nice crisp and golden brown color! Heat your pan over medium-low heat. This is key! We want to cook these low and slow so the cheese melts but doesn't burn. A little patience gets the best quesadilla!
Cook one side for 3-4 minutes, until you can lift up a corner and see a golden brown color. Yum! Use a spatula to remove the quesadilla from the pan. Get ready for our secret crispy-cheese step!
Sprinkle 2-3 tablespoons of shredded cheese into your hot pan. Place the uncooked side of the tortilla directly onto the cheese and cook it for 3-4 minutes until the quesadilla is lightly browned and has a crispy, cheesy crust. Perfection!
Pull it from the pan and let it cool for 2 minutes before cutting, topping, and serving.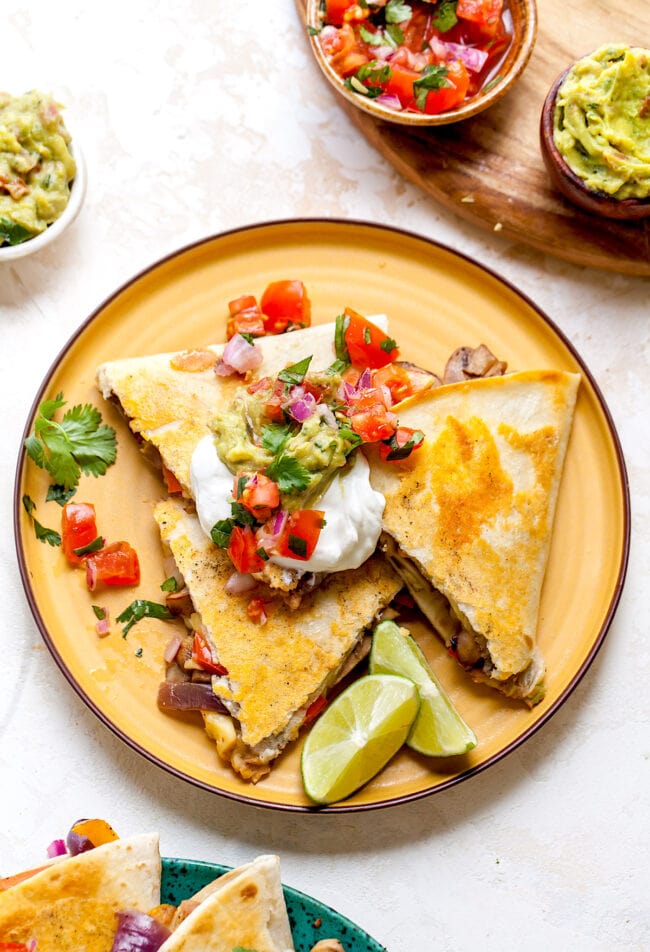 Quesadilla Fillings
Quesadillas are very customizable. I showed you our favorite quesadillas, but don't be afraid to play around and add your favorite ingredients. Just remember to not get too carried away and overstuff it. A few more filling ideas include:
Leftover cooked chicken or rotisserie chicken
Cooked steak
Shrimp
Different veggies (roasted corn, zucchini, cauliflower)
Quesadilla Toppings
We always serve our quesadillas with lots of toppings and garnishes. Some of the things I like to put out on the table: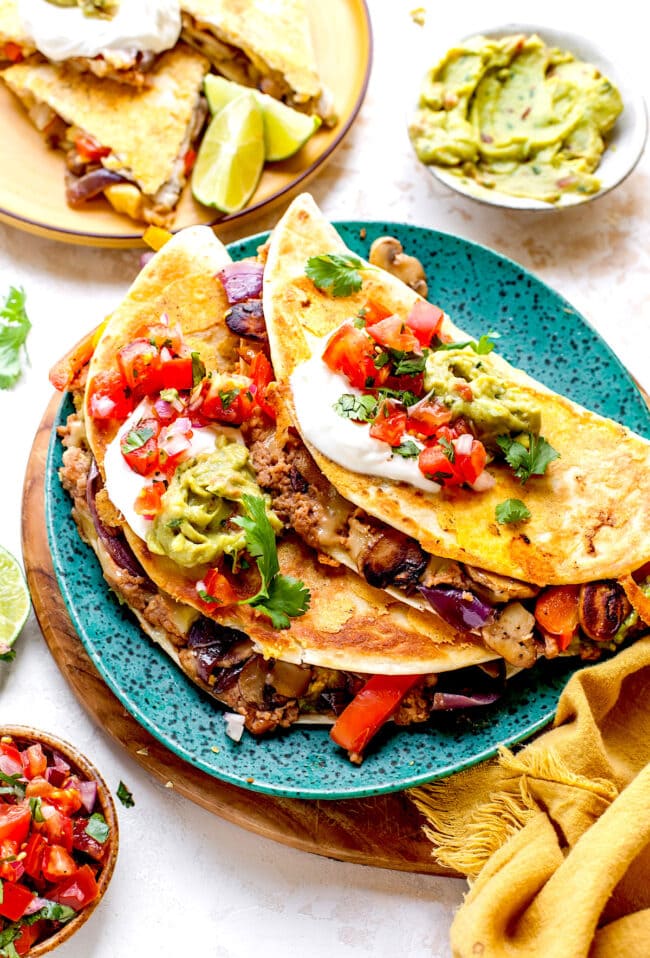 More Mexican Favorites:
Flour tortillas,

8 to 10-inch size

Refried beans

(can use black beans or pinto beans)

Smashed avocado

Kosher salt and black pepper,

to taste

Freshly grated Monterey Jack cheese or Cheddar cheese

Cooked vegetables

(onion, mushrooms, and peppers are our favorite mix)

Chopped fresh cilantro

Avocado oil, olive oil, or melted butter

More shredded cheese for cooking the quesadillas,

optional

For serving:

pico de gallo, salsa, sour cream, hot sauce, guacamole, creamy cilantro lime dressing
You can add cooked chicken, steak, shrimp, or carnitas to the quesadillas, if desired. This is more of a guide so use whatever ratios you need to! You can make one or 12 quesadillas:) 
Photos by Dishing Out Health
Thanks for Sharing!
If you make this recipe, please leave a star rating and comment below! You can also share a picture on Instagram! Tag @twopeasandpod and use the hashtag #twopeasandtheirpod.