This post may contain affiliate links. Please read my disclosure policy.
This Thai-inspired chicken noodle soup recipe is easy to make with whatever protein, veggies, and noodles you happen to have on hand and always tastes so fresh and flavorful!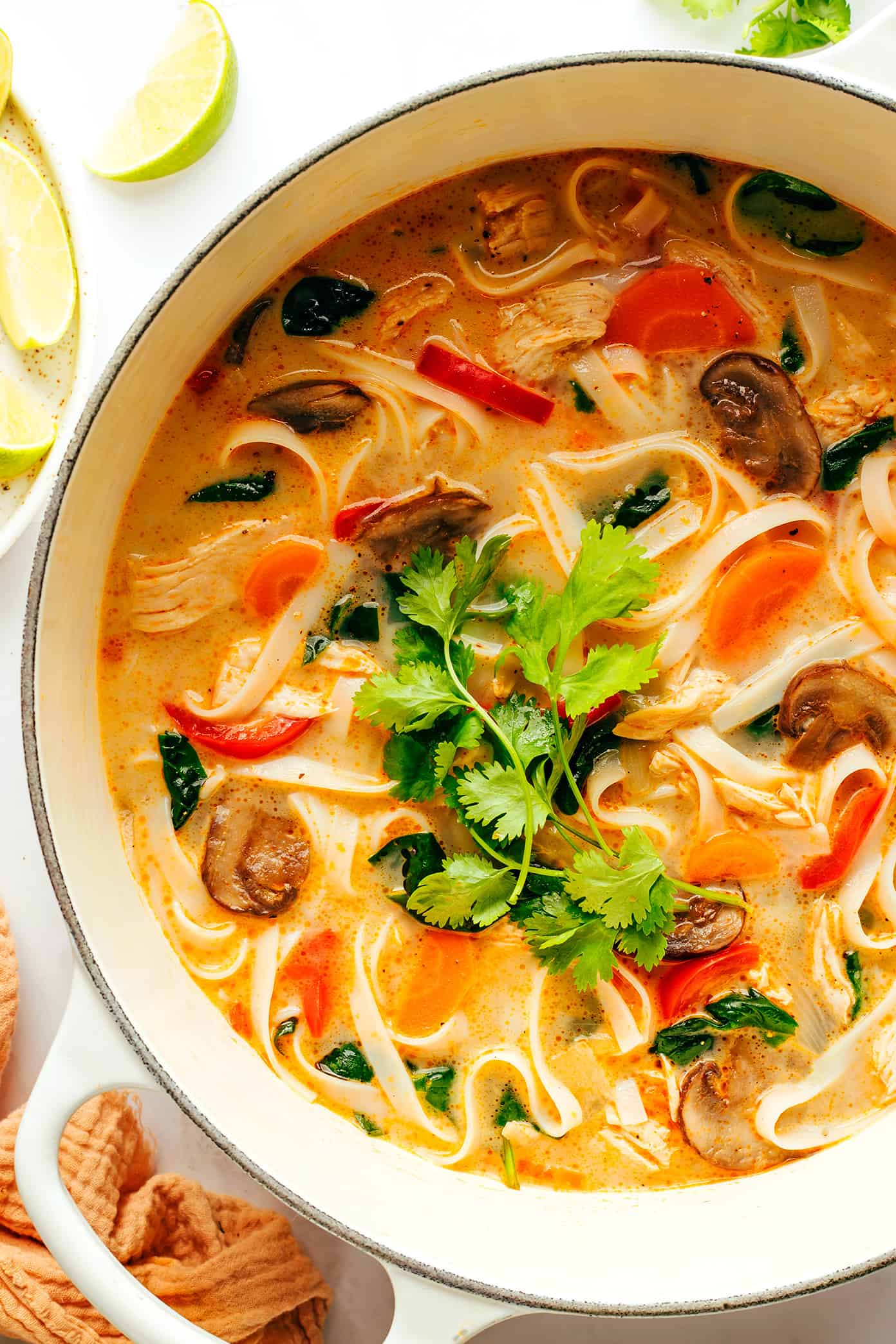 When 5:00 hits and we find ourselves in need of a fast and flavorful dinner stat, this Thai-inspired noodle soup recipe is one of our family's favorite fallbacks. ♡
I make it a point to always keep rice noodles, Thai curry paste, and coconut milk stocked in our pantry specifically so that we always have the base ingredients on hand to make this soup. Then we just add in whatever protein (chicken, beef, pork, shrimp, tofu, or chickpeas), veggies (perfect occasion to use up leftovers in the fridge) and greens we happen to have on hand. We simmer everything together in a rich and flavorful broth, thanks to the wonder ingredient dream team that is coconut milk and Thai curry paste (bonus if you have some garlic and ginger to add in). And finally, we serve these steaming bowls of noodle soup piled high with whatever fresh herbs, limes, and whatever toppings we happen to have on hand.
We've seriously made some version of this curry noodle soup recipe literally hundreds of times over the years. And it's one of those fresh, flavorful, and feel-good dinners that never disappoints. (Bonus, the leftovers taste amazing too!) So if you need a guaranteed winner for dinner tonight, grab that Thai curry paste and let's make a big pot of noodle soup together.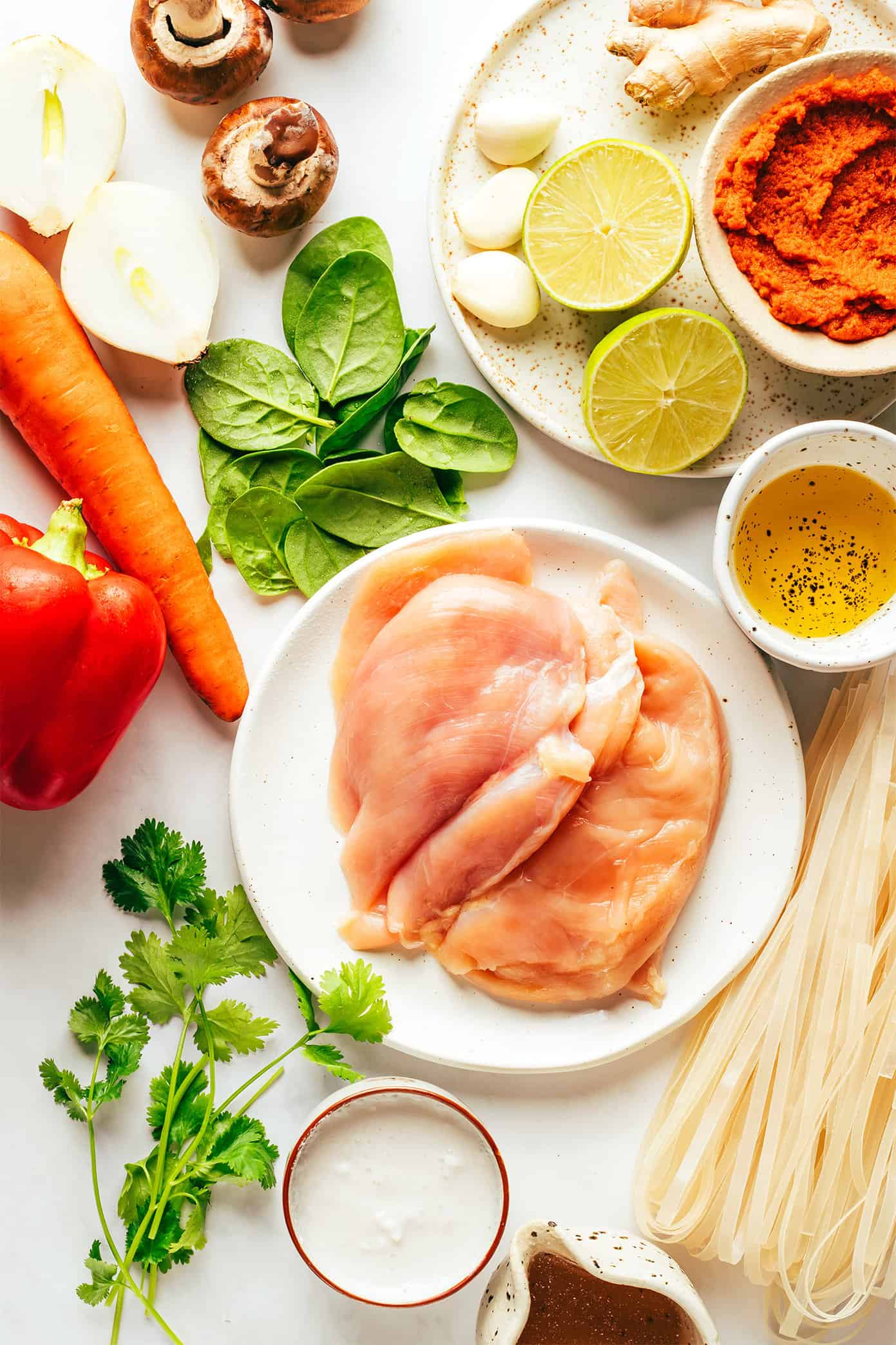 Thai Chicken Noodle Soup Ingredients
Here are a few brief notes about the ingredients you will need to make this Thai-inspired chicken soup recipe:
Noodles: We typically use thick or thin rice noodles when making this soup, which I recommend cooking separately so that they do not soak up too much of the broth.
Chicken: I recommend using boneless chicken breasts or thighs, which we will poach directly in the broth and then shred into bite-sized pieces. Or if you happen to have leftover cooked chicken on hand, you can just add it directly to the soup.
Veggies: I used a simple mix of sliced carrots, bell pepper, and mushrooms for this batch. But feel free to toss in any other soup-friendly veggies that you happen to have on hand.
Greens: I always love wilting some type of greens into the soup just before serving, such as fresh baby spinach, chopped kale or collard greens.
Aromatics: Onion, garlic, and fresh ginger will serve as the base aromatics for our broth.
Stock: Feel free to use either chicken or vegetable stock for the broth.
Thai curry paste: The starring ingredient of the soup! Thai curry paste adds so many delicious layers of flavor to this broth. Feel free to use either red, green or yellow Thai curry paste, and as always, add is gradually to taste. (If this is your first time working with Thai curry paste, please note that different brands can vary significantly in terms of spiciness. So if you are sensitive to heat, start with less curry paste and add more to taste.)
Coconut milk: I recommend full-fat coconut milk to make this soup nice and creamy.
Lime: And don't skimp on the fresh lime juice! I always add a generous amount to the full batch of soup, and then serve extra lime wedges on the side for those who want to brighten up their soup with even more citrus.
Toppings: The more, the merrier when it comes to this soup. I highly recommend adding lots of fresh herbs, such as cilantro and/or Thai basil. Then sliced Thai bird chiles, thinly-sliced red or green onions, crushed peanut, or lime wedges are delicious options too.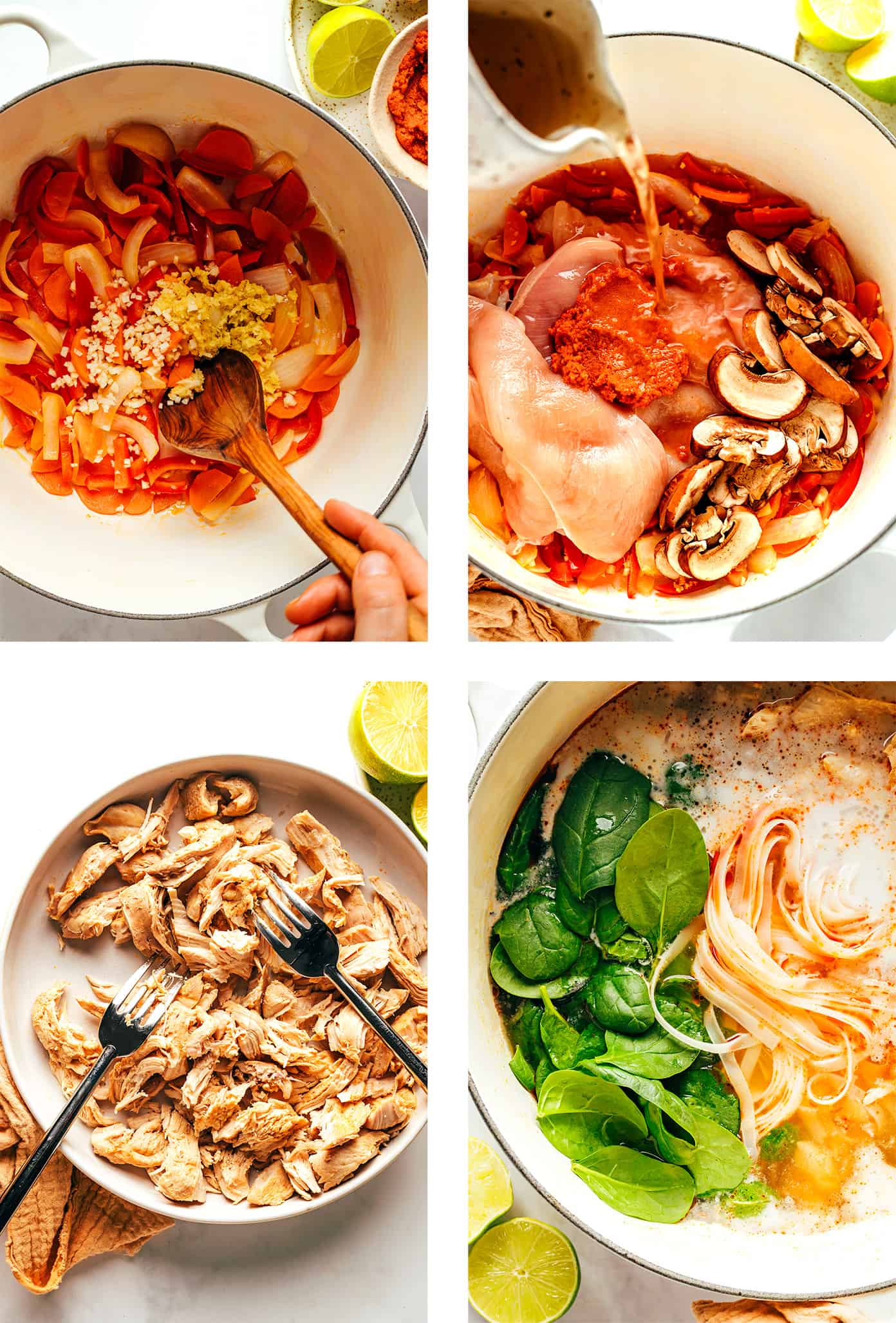 Tips for Making This Soup
Full instructions for how to make Thai-inspired chicken noodle soup are included in the recipe below, but here are a few additional tips for making this soup:
Cook and store the noodles separately: I always prefer to cook and store the noodles separately so that they do not soak up all of the broth, which can tend to happen with leftover soup if the noodles sit in the broth. Feel free to also cook the noodles in advance if you'd like to save a bit of time when you're ready to make dinner.
Add Thai curry paste to taste: Different types and brands of Thai curry can vary significantly in terms of their seasonings, intensity of flavor, and heat levels. So I recommend always starting with a little less curry paste than the recipe recommends, especially if you are sensitive to heat, and then you can always add more to taste.
Cook the veggies to taste: Everyone tends to have different preferences when it comes to the crispness of their veggies. So please simmer the specific veggies that you add for however long you prefer.
Don't worry if the broth separates: If you end up having leftovers, just wanted to offer a heads up that it's completely natural for the broth to separate a bit as it sits. Just give it a good stir once you warm it back up and it will be delicious.
How To Store and Reheat This Soup
Let any leftover soup cool to room temperature (or you can skip this step if your storage containers have vents that you can open). Then transfer the soup to a sealed storage container and refrigerate for up to 3 days. I recommend storing the noodles in a separate storage container so that they do not soak up all of the broth.
You can either reheat this soup in the microwave in 1-minute intervals or on the stovetop over medium-high heat until simmering.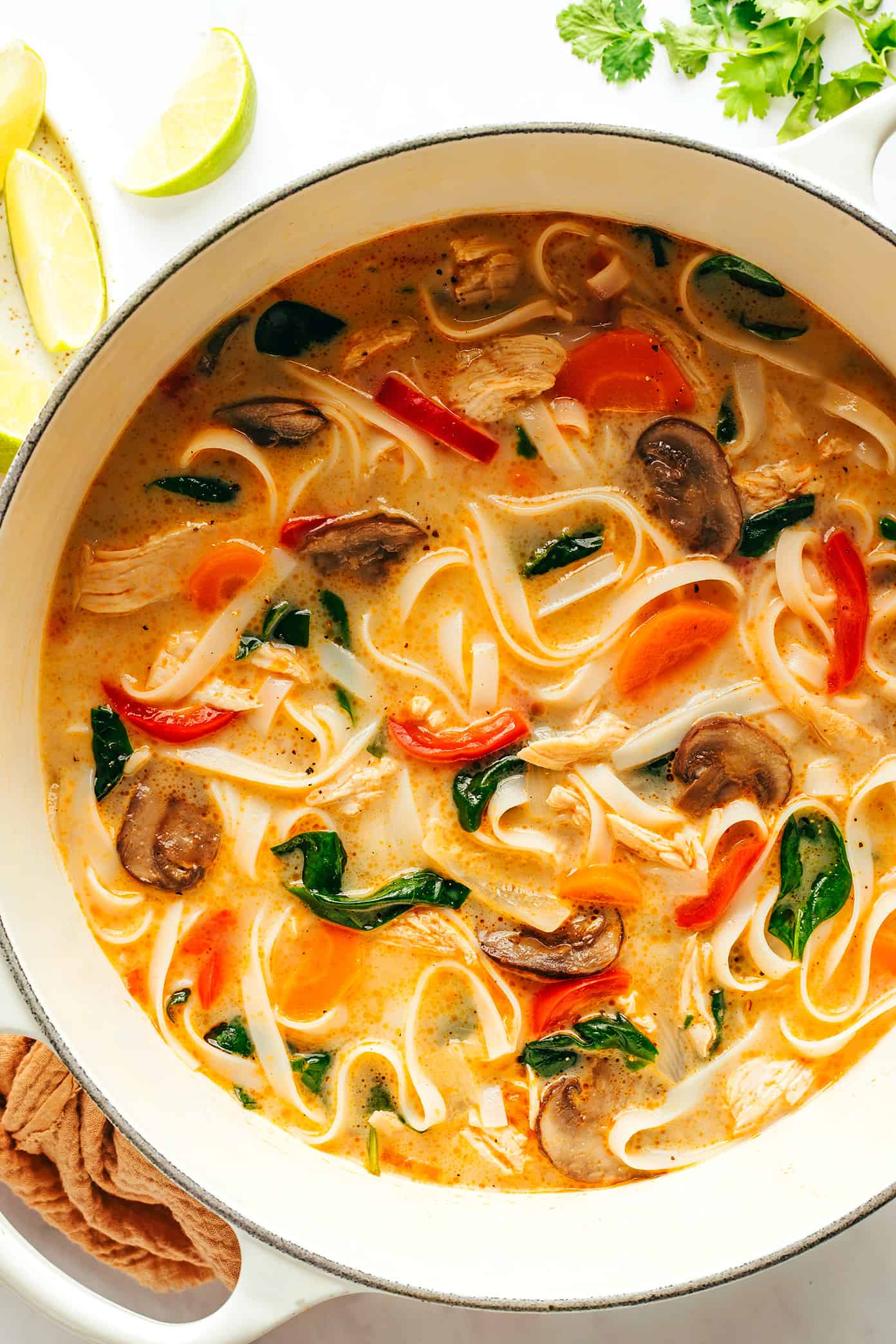 Recipe Variations
Here are a few additional variations that you are welcome to try with this Thai-inspired chicken noodle soup recipe:
Use a different protein: Beef, pork, turkey, meatballs, shrimp or tofu would all be great alternatives to chicken in this recipe.
Use different veggies: Add in any other soup-friendly veggies you love best, such as asparagus, broccoli, cabbage, cauliflower, eggplant, green beans, leeks, peas, potatoes, sweet potatoes, tomatoes or zucchini.
Use a different Thai curry paste: Swap in green or yellow Thai curry paste in place of the red Thai curry paste, adding whatever amount you prefer to taste.
Use different noodles: Use whatever other type of noodles you prefer, such as ramen, soba noodles, udon, sweet potato noodles, wheat noodles, or semolina pasta.
Use rice: Prepare 1 cup of uncooked white rice to use in place of the white noodles, which will yield about 3 cups cooked rice.
Make it vegetarian/vegan: Use tofu, chickpeas, or your favorite plant-based protein in place of the chicken. And use vegetable broth in place of chicken stock.
Make it gluten-free: This recipe is already naturally gluten-free if made with GF rice noodles.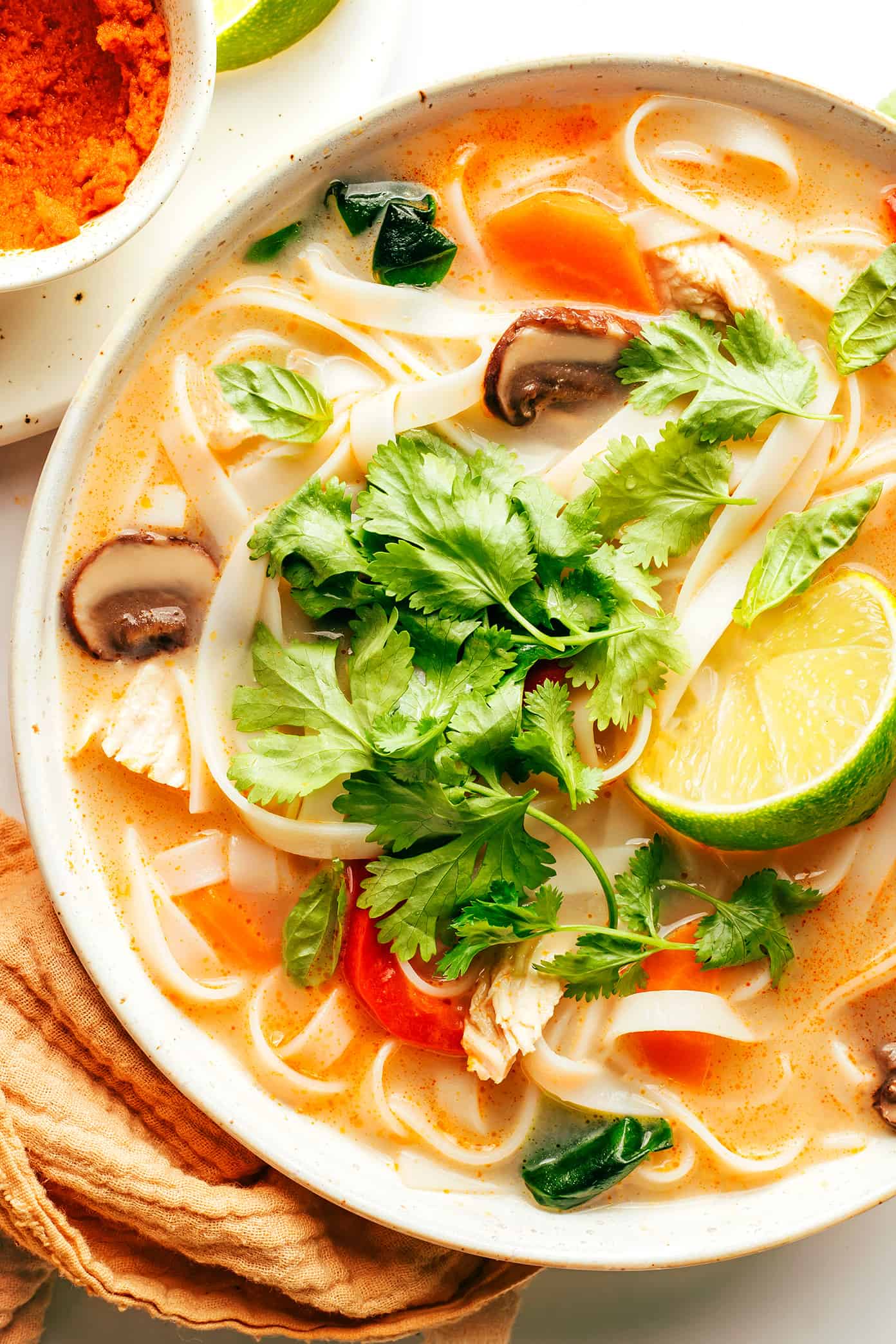 More Chicken Soup Recipes
Looking for more easy chicken soup recipes to try? Here are a few of our family's favorites:
---
7 ounces

thin rice noodles

1 tablespoon

olive oil

1

medium white onion, thinly sliced

1

large carrot, thinly sliced into half moons

1

large red bell pepper, thinly sliced into bite-sized pieces

4

cloves garlic, minced

1 tablespoon

grated fresh ginger

5

to

6

cups chicken stock

12 ounces

boneless skinless chicken breasts or thighs

8 ounces

baby bella mushrooms, thinly sliced

2

to

3

tablespoons Thai red curry paste

1

(15-ounce) can coconut milk

2

large handfuls fresh baby spinach

2 tablespoons

freshly-squeezed lime juice

fine sea salt and freshly-ground black pepper

toppings: fresh cilantro, fresh Thai basil, sliced Thai bird chiles, thinly-sliced red or green onions, crushed peanuts and/or lime wedges
---
Prepare the noodles.

Cook the noodles according to package instructions.

Sauté the veggies.

Heat the oil in a large stockpot over medium-high heat. Add the onion, carrot and bell pepper. Sauté for 5 to 7 minutes, stirring occasionally, until mostly softened. Add the garlic and ginger and sauté for 2 minutes, stirring occasionally.

Simmer.

Add chicken stock, chicken, mushrooms, Thai curry paste

(I recommend beginning with 2 tablespoons)

and stir to combine. Continue cooking until the soup reaches a simmer. Reduce heat to medium-low to maintain the simmer, cover and cook for 10-15 minutes or until the chicken is cooked through.

Shred the chicken.

Use tongs to transfer the chicken breasts or thighs to a clean plate, then use two forks to shred into bite-sized pieces. Return the chicken to the pot.

Add remaining ingredients and season.

Add the noodles, coconut milk, baby spinach, lime juice. Stir to combine until the spinach has wilted. Taste and season the soup with salt, pepper and/or extra Thai curry paste as desired.

Serve.

Serve the soup warm, garnished with lots and lots of your favorite toppings.
---
---