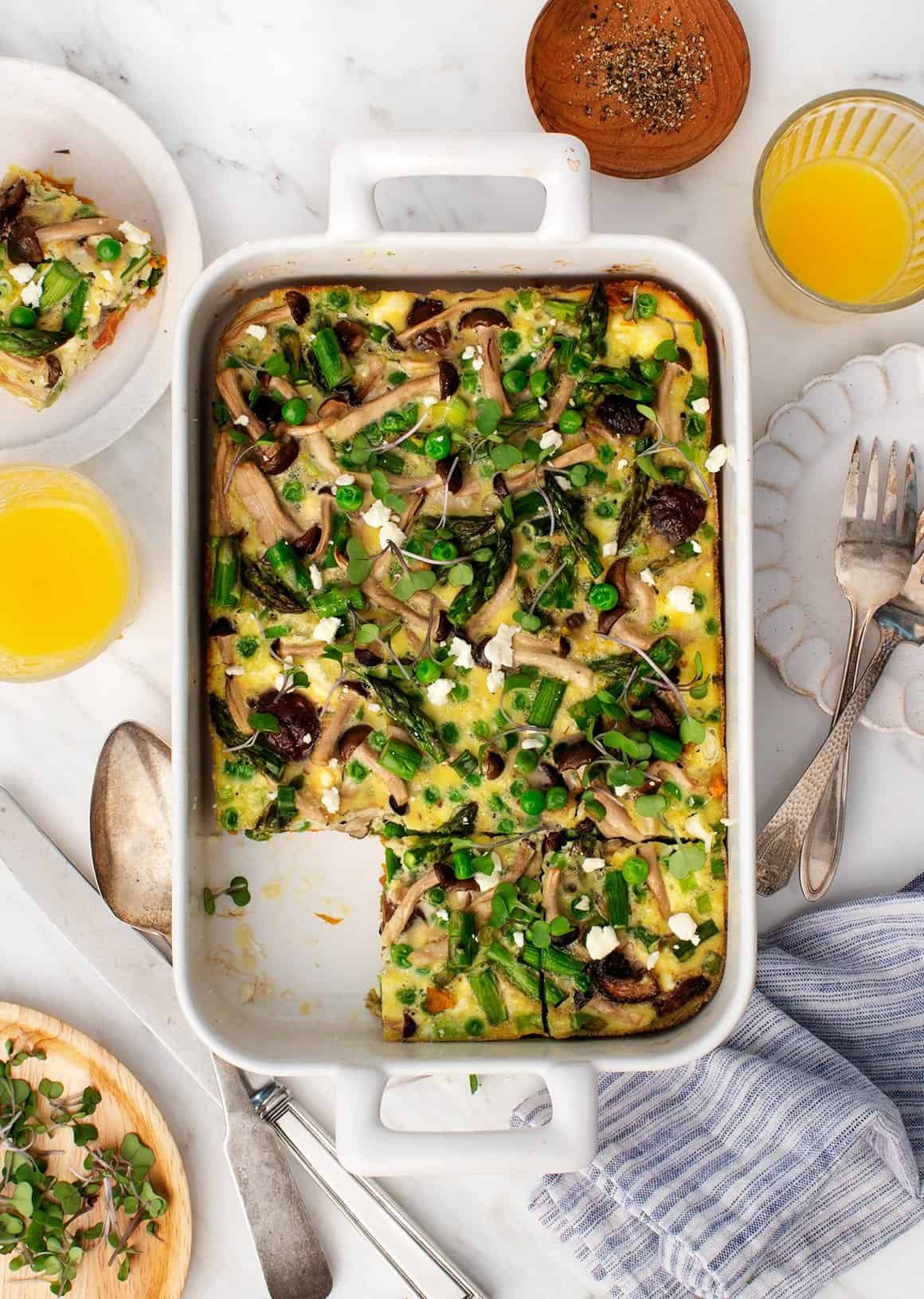 I love a good frittata. Frittatas are my go-to choice for brunch if Jack and I are hosting a couple of people. Now that we're living around more family here in Chicago, I've changed things up – this recipe is basically a frittata in casserole form. Why? Well with a casserole, you get a lot more portions with no more work. It's perfect if you're hosting a Mother's Day get-together with your family this weekend! 

Speaking of moms, I borrowed (er…took?) this recipe from my mom. She first started making it around the time of my sister's baby shower last spring and it has become her go-to brunch recipe ever since. My favorite part is the hearty layer of roasted sweet potatoes on the bottom. Since the sweet potatoes naturally sink to the bottom of the egg mixture, they create a beautiful and delicious base to this egg dish. My mom makes her recipe with bell peppers and zucchini, but I swapped in asparagus and peas to celebrate spring. Along with the mushrooms and scallions, this dish is positively packed with vegetables.


Since I don't drink regular milk, I reached for Almond Breeze to whisk into the eggs, but then I thought – ah ha – I'll switch things up by using their Almond Cashew blend instead. It's made with a creamy mix of almond milk and cashew milk – it makes these eggs nice and fluffy, but decadent at the same time. If you skip the feta, this recipe is entirely dairy free, but I really love the tanginess of feta cheese in this one, so I don't recommend skipping it 🙂
Just look at that sweet potato layer that I was talking about – yum!

Thanks, mom, for the recipe!
Very Veggie Spring Green Breakfast Casserole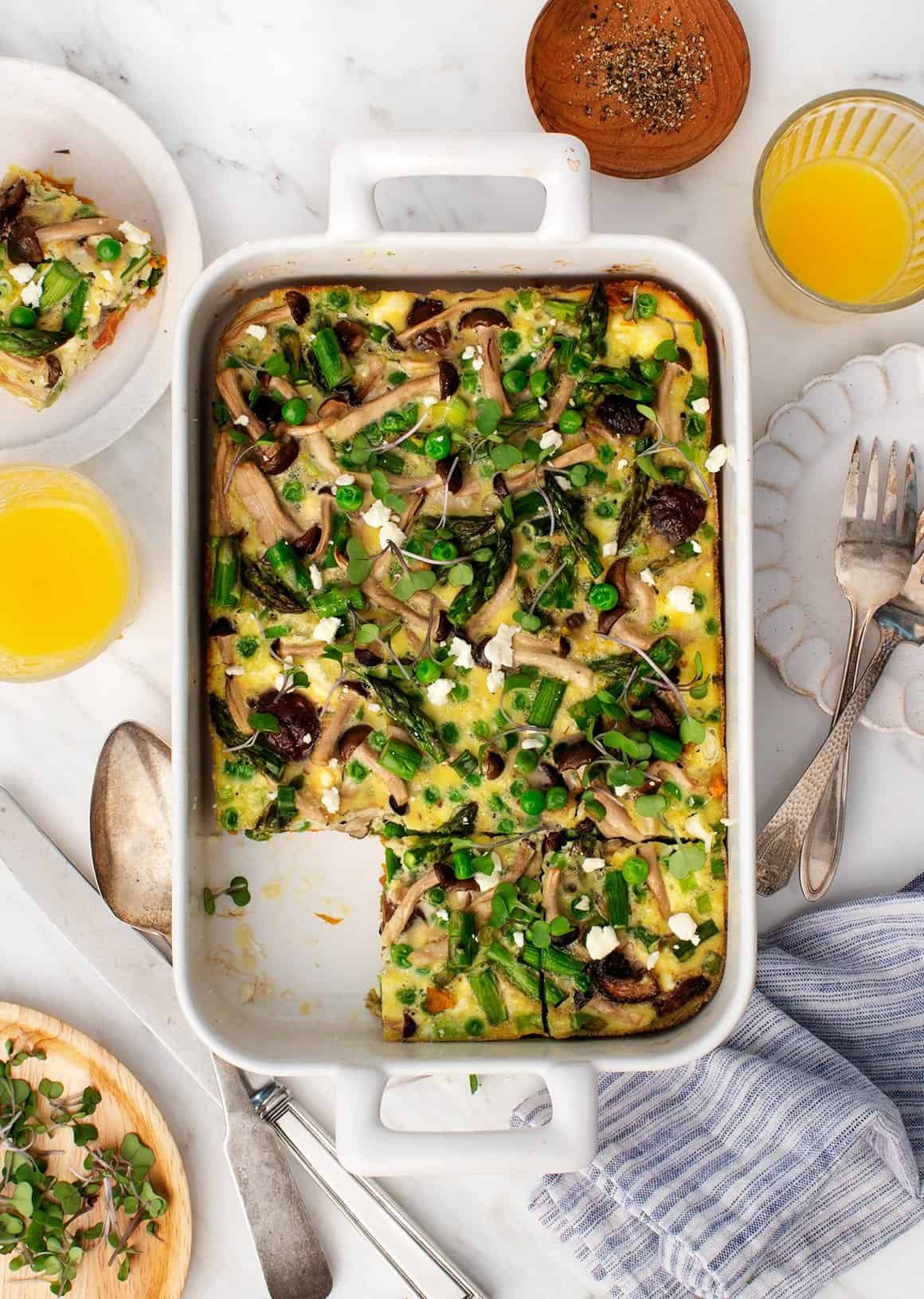 2 sweet potatoes, cubed
10 to 12 ounces mixed mushrooms, (cremini mushrooms, quartered)
1 bunch asparagus, tender parts, chopped
Extra-virgin olive oil, for drizzling
12 large eggs
1 garlic clove, minced
½ to 1 teaspoon sea salt*
½ teaspoon black pepper
4 ounces crumbled feta cheese
1 bunch scallions, chopped
1 cup frozen peas, thawed
Microgreens, optional, for garnish
Preheat the oven to 400°F and line 2 baking sheets with parchment paper. On one baking sheet spread the sweet potatoes, on the other baking sheet spread the mushrooms and asparagus. Drizzle with olive oil and sprinkle with pinches of salt and pepper and toss to coat. Roast the sweet potatoes for 30 minutes. Place the baking sheet with the mushrooms and asparagus in the oven to roast during the final 10 minutes.
In a medium bowl, whisk together the eggs, milk, garlic, salt, and black pepper.
Reduce the oven temperature to 350°F. Lightly spray a 9×13-inch** baking dish with nonstick spray. Place all the sweet potatoes evenly in the bottom of the baking dish. Add half of the vegetables from the second baking sheet and spread out evenly. Sprinkle with the feta cheese, scallions, and peas.
Pour the egg mixture evenly over the vegetables. Add the remaining mushrooms and asparagus.
Bake for 40 to 45 minutes or until the eggs are set and the edges are lightly golden brown. Let the casserole sit for 10 minutes before slicing.
Garnish slices with microgreens and season with additional salt and pepper, if desired.
* Use ½ teaspoon salt if using the feta cheese; use 1 teaspoon salt if omitting the feta cheese.
** Although the pan in the photo is a bit smaller than a 9×13, the recipe fits into a standard 9×13 pan. If you use a smaller pan, you'll need to use multiple pans.
3.4.3177