These Parker House Rolls are a classic, homemade dinner rolls recipe! Fluffy, buttery and light I am going to show you how EASY baking with yeast can be!
I have partnered with Fleischmann's Yeast on today's recipe. Thank you for continually supporting the brands that make this website possible.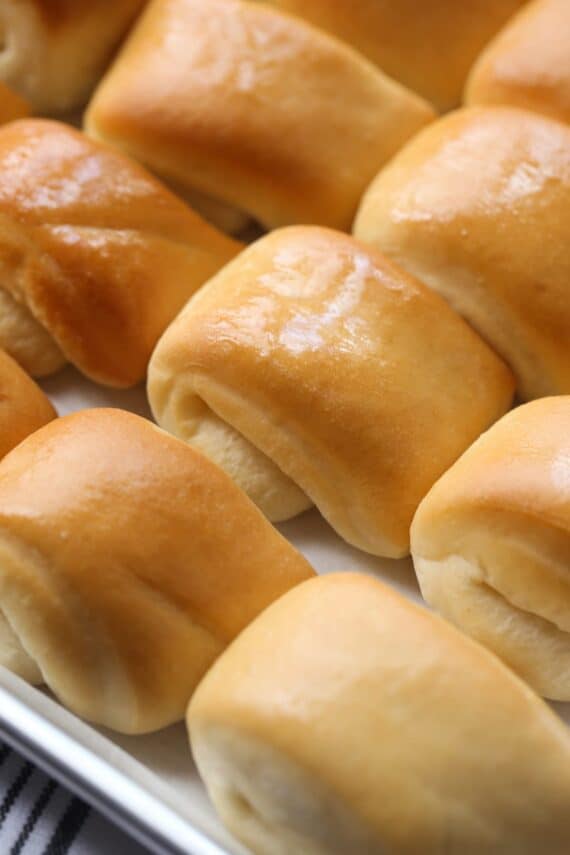 There's Nothing Better Than Homemade Dinner Rolls 
If there is one thing that you can make in your own kitchen that makes you feel like a TRUE baker, it's homemade bread! The smell, the process, the smiles from your family…it's pure love in carb-form. 
This Parker House Rolls Recipe is everything you could want in a dinner roll…it's light, fluffy, and buttery while being quick to prepare thanks to Fleischmann's® RapidRise® Yeast.
Baking from scratch doesn't have to be complicated and baking with yeast doesn't have to be scary! I'm going to show you today that you can have these dinner rolls on your table in just about an hour from start to finish.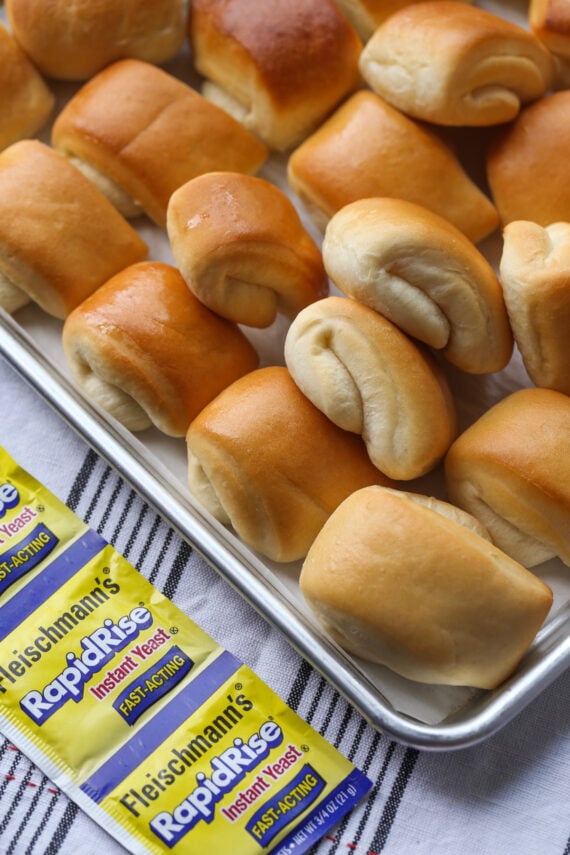 What Are Parker House Rolls?
The story goes that Parker House Rolls were created in the 19th century in a hostel in Boston called Parker House. They are a fairly classic sweet dinner roll, with a folded over shape. Over the years there have been many variations, but I found I love this recipe the best, as it's easy to prepare, can be made quickly, and I always get delicious, consistent results!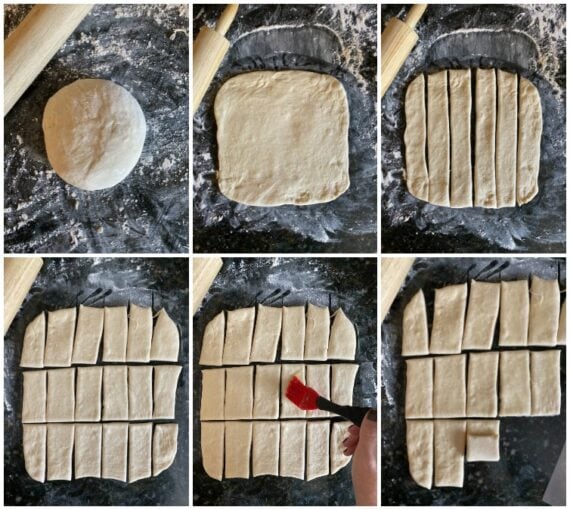 How To Make Parker House Rolls
I love using RapidRise® yeast in this recipe, among others because it always produces consistently delicious results and takes a lot of the guesswork out of baking with yeast. Whether you're an experienced yeast baker, or a novice, this is a recipe you will want to bookmark to make time and time again.
Let the Dough Rest
Once you make the dough, following the simple steps in the recipe below you will want to allow the dough to rest for 10 minutes after you knead it. Remember to cover it with a clean towel so it doesn't dry out.
This step allows the gluten to relax, which makes it easier to roll out, and allows the proteins to form long strands which aid in the structure and texture of the finished bread.
How To Roll Out The Dough 
Here are the fun steps…
Divide the dough in half and roll each half into a 12- inch square.
Using a knife or pizza cutter slice the dough into 6 strips, and then cut each strip into thirds!
Brush each piece with butter and then fold it in half-ISH. You will actually not want to fold them completely in half, because you want one side to be longer to fold over the top to create a kind of crescent shape. I've shown you in the image below how they should look!
Allow the rolls to rise for 30 minutes, or until they're doubled in size and then bake them until they're golden!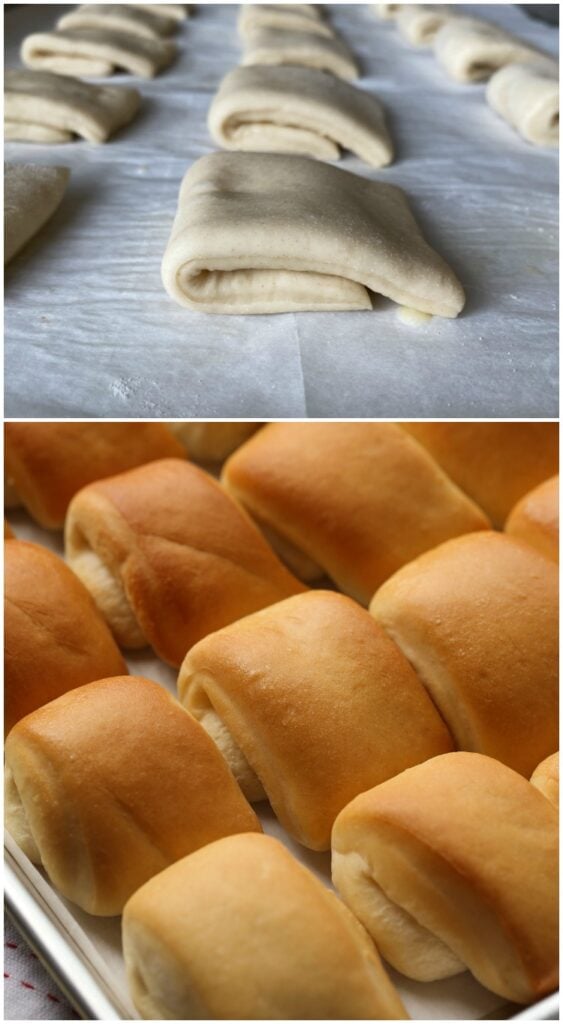 Where Do You Put Your Dough To Rise?
This used to always be a question I asked myself when I was new to yeast baking. But here are a few good tips:
If your kitchen is cool or drafty, heat your oven to 200°F when you first start mixing your dough. As soon as the oven comes to temperature, TURN IT OFF! Finish making your dinner rolls according to the recipe, and then cover and place the pan in the warm oven. The temperature will have dropped by this point leaving it only slightly warm which is the perfect place for your dough to rise!
Some new ovens have a "Proof" setting, and I have found this is an AMAZING feature, and if you're lucky enough to have this, USE IT!
If you don't have the proof setting and using your heated oven makes you nervous just find the warmest place in your kitchen. It might take longer than 30 minutes for your dough to double in size if your kitchen is on the cool side, and this is ok. Just be patient.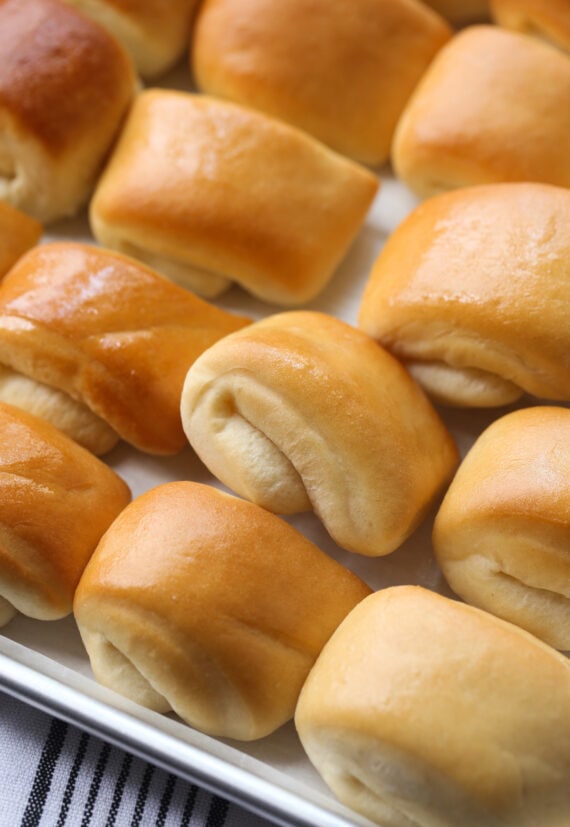 Baking with yeast shouldn't be stressful, so I hope I have taken a little bit of the worry out of it for you. There is just something super special in baking bread from scratch and I hope you try these Parker House Dinner Rolls!
Looking For More Bread Recipes To Serve With Dinner? Try These: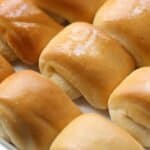 ---
Description:
These Parker House Rolls are a classic, homemade dinner rolls recipe! Fluffy, buttery and light they're the perfect side dish for any meal!
---
Ingredients:
4 3/4

to

5 1/4

cups all-purpose flour

1/3 cup

granulated sugar

2

envelopes Fleischmann's® RapidRise® Yeast

1 1/2 teaspoon

s kosher salt

3/4 cup

milk

3/4 cup

water

1/2 cup

butter, divided

1

egg

Optional – 2 tablespoons melted butter to brush on baked rolls
---
Instructions:
In the bowl of your stand mixer fitted with the paddle attachment combine 2 cups flour, sugar, undissolved yeast and salt. Mix on low until combined.

In a microwave-safe bowl heat the milk, water, and 1/4 cup butter in 30 seconds increments until very warm to the touch (120°F to 130°F). Butter might not be melted all the way, which is ok.

Pour the milk mixture into the flour mixture. Mix on medium speed for 2 minutes, scraping the sides of the bowl as necessary.

Add in the egg and 1/2 cup flour and mix for 2 minutes at high speed. Stir in enough remaining flour to make a soft dough. Dough should form a ball and be slightly sticky. Knead on a lightly floured surface until smooth and elastic, about 8 to 10 minutes, or alternately, you can do this step in your mixer with a dough hook.

Cover the dough with a clean towel and let it rest for 10 minutes.

Line a large baking sheet with parchment paper. Set aside.

Divide the dough in half. On a lightly floured surface, roll each half to a 12-inch square, about 1/4-inch thick. Using a knife or a pizza cutter cut the dough into 6 (12 x 2- inch) strips. Then cut each strip into thirds (4 x 2-inch rectangles).

Melt the remaining 1/4 cup butter. Brush each rectangle with butter.

Crease each rectangle

slightly off center with dull edge of knife and fold at crease, so it's not quite folded in half.

Place the rolls onto the prepared baking sheet, short folded side facing down. Cover and place in a warm, draft-free place. Allow to rise for 30 minutes, or until doubled in size.

Preheat oven to 375°F.

Bake for 12-15 minutes, or until golden brown.

Brush with more melted butter, if desired. Serve warm.
---
Notes:
Recipe adapted from breadworld.com
Store airtight at room temperature for up to 3 days
Keywords:: cookies and cups, parker house rolls, dinner rolls, yeast rolls, yeast baking
Want To Save This Recipe?