This Peanut Butter Chocolate Fudge with Pretzels is a sweet and salty Christmas candy that is SO easy to make! Just a few ingredients and no bake. Includes step by step recipe video.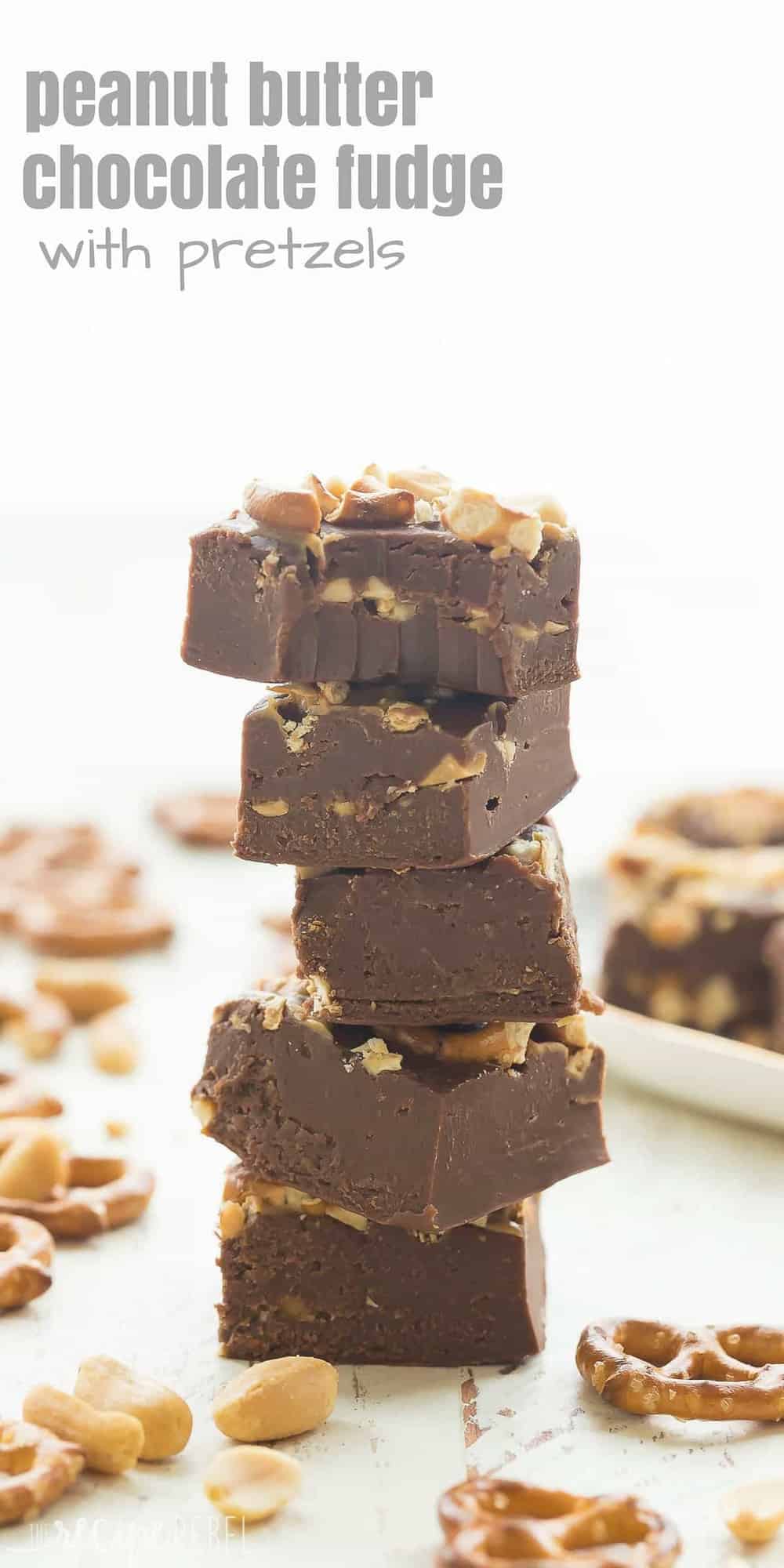 I am in full blown holiday mode here with this Peanut Butter Chocolate Fudge! I have to admit, I've never been one for making much Christmas candy: the fudge, the truffles, the brittles, etc. — I just didn't do it.
I love baking, and I love the cookies and the cakes and the desserts. I love the big dinners and brunches and alllll the hot chocolate. But the older I get, the less I enjoy those sickly sweet treats.
The cure? Add some peanut butter, pretzels, and chopped peanuts to a classic chocolate fudge recipe and suddenly you have just the right mix of sweet and salty, smooth and crunchy. Christmas candy perfection!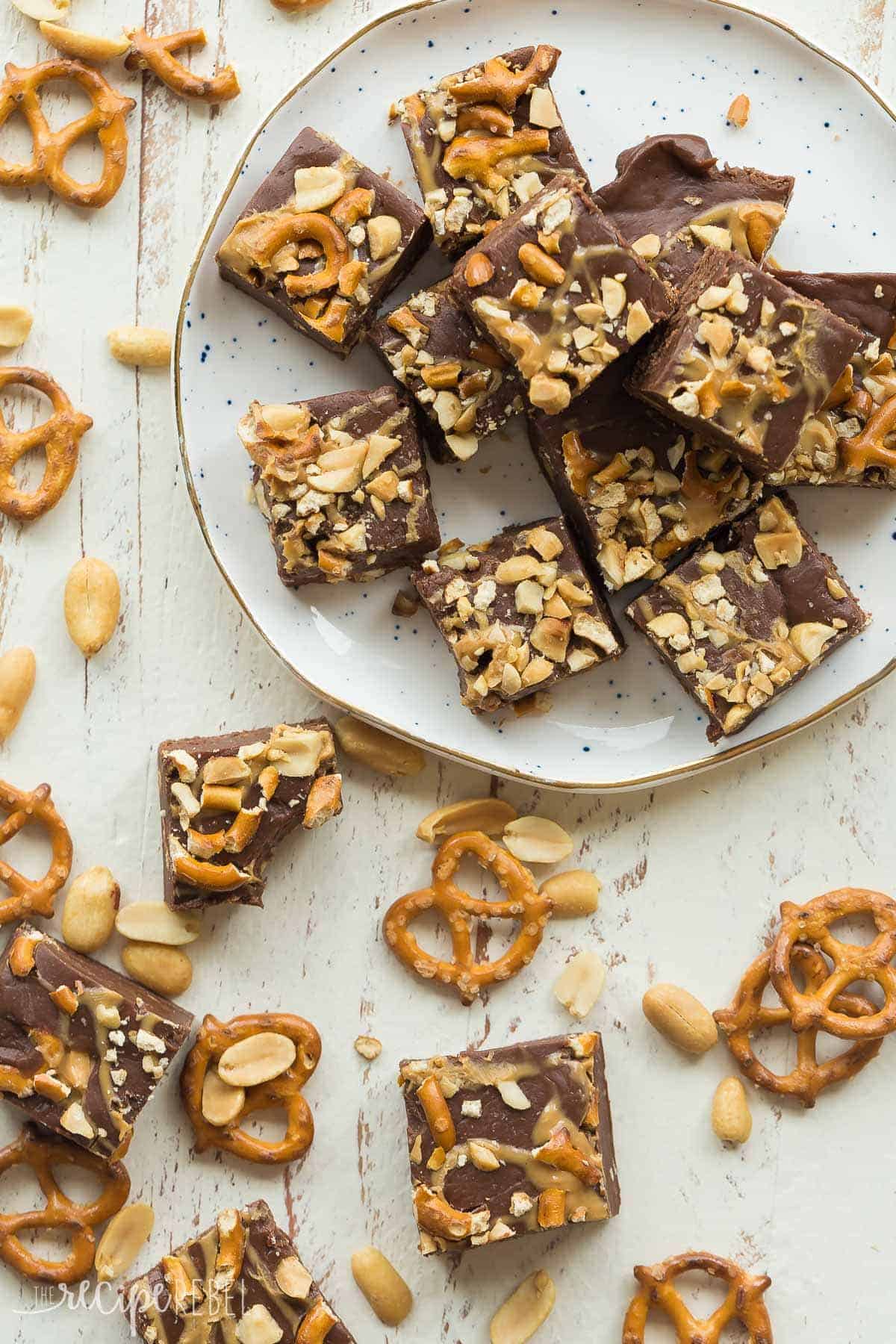 This recipe is perfect for sharing and gift giving! I love giving homemade edible gifts (maybe because I enjoy receiving homemade edible gifts?) because everyone has different favorites and Christmas traditions and you might try something you've never had before.
What are some of your favorite Christmas candies? Leave me a comment below!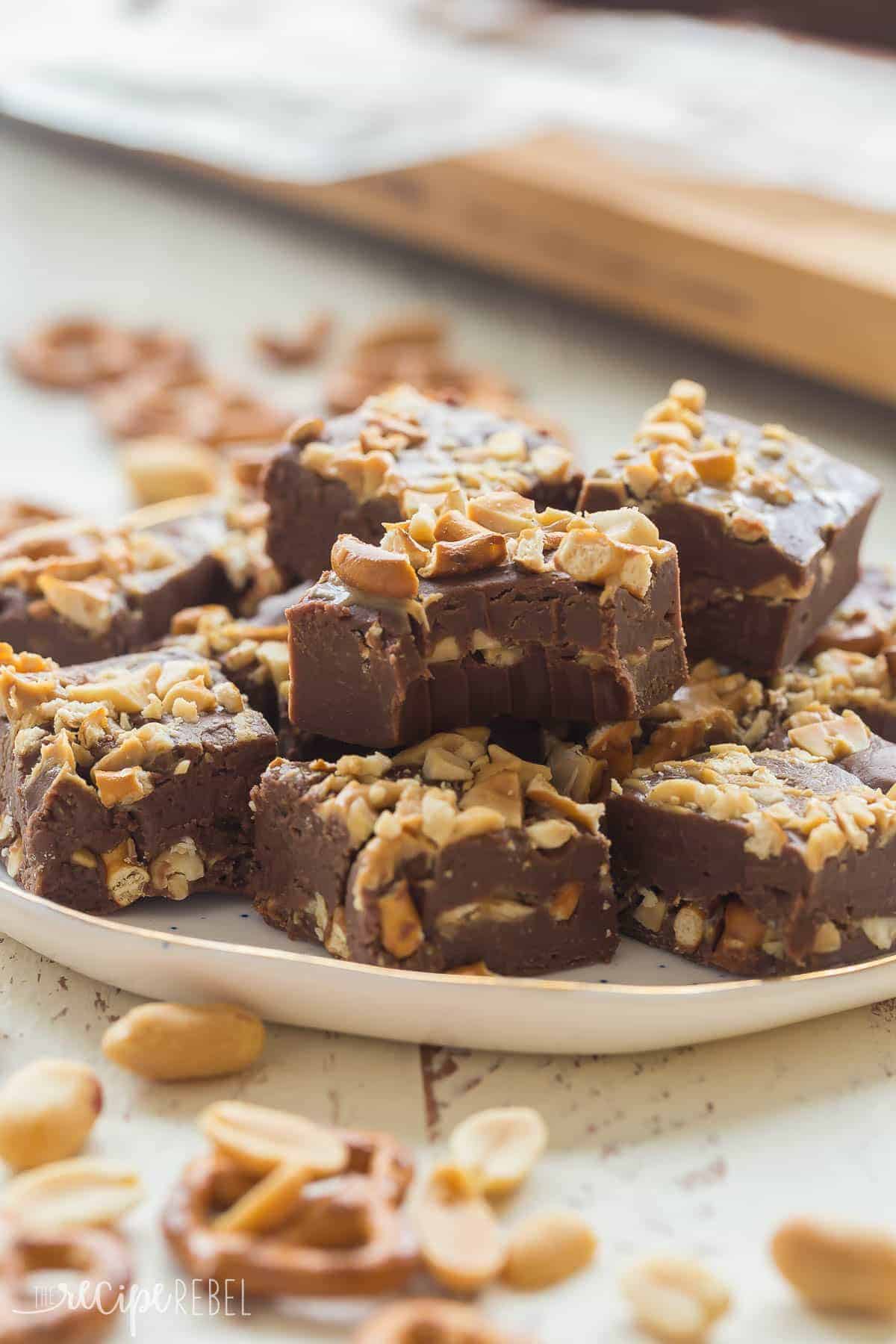 Tips and Tricks for Making this Chocolate Peanut Butter Fudge with Pretzels:
Choose a chocolate that tastes good. I really recommend using a good quality pure chocolate bar, either milk chocolate if you like things sweet, or dark chocolate (or a combo!) if you like a little more balance.
Work quickly. You don't want the fudge to set up or get too firm before you've got it in the pan and all of you goodies added.
Feel free to mix up your add-ins, although I definitely recommend adding some crunch and some salt, as it will really balance out that smooth, very sweet fudge. Crushed cereal, rice krispies, other nuts — all of those would work well!
Watch the recipe video and see how easy it is to make!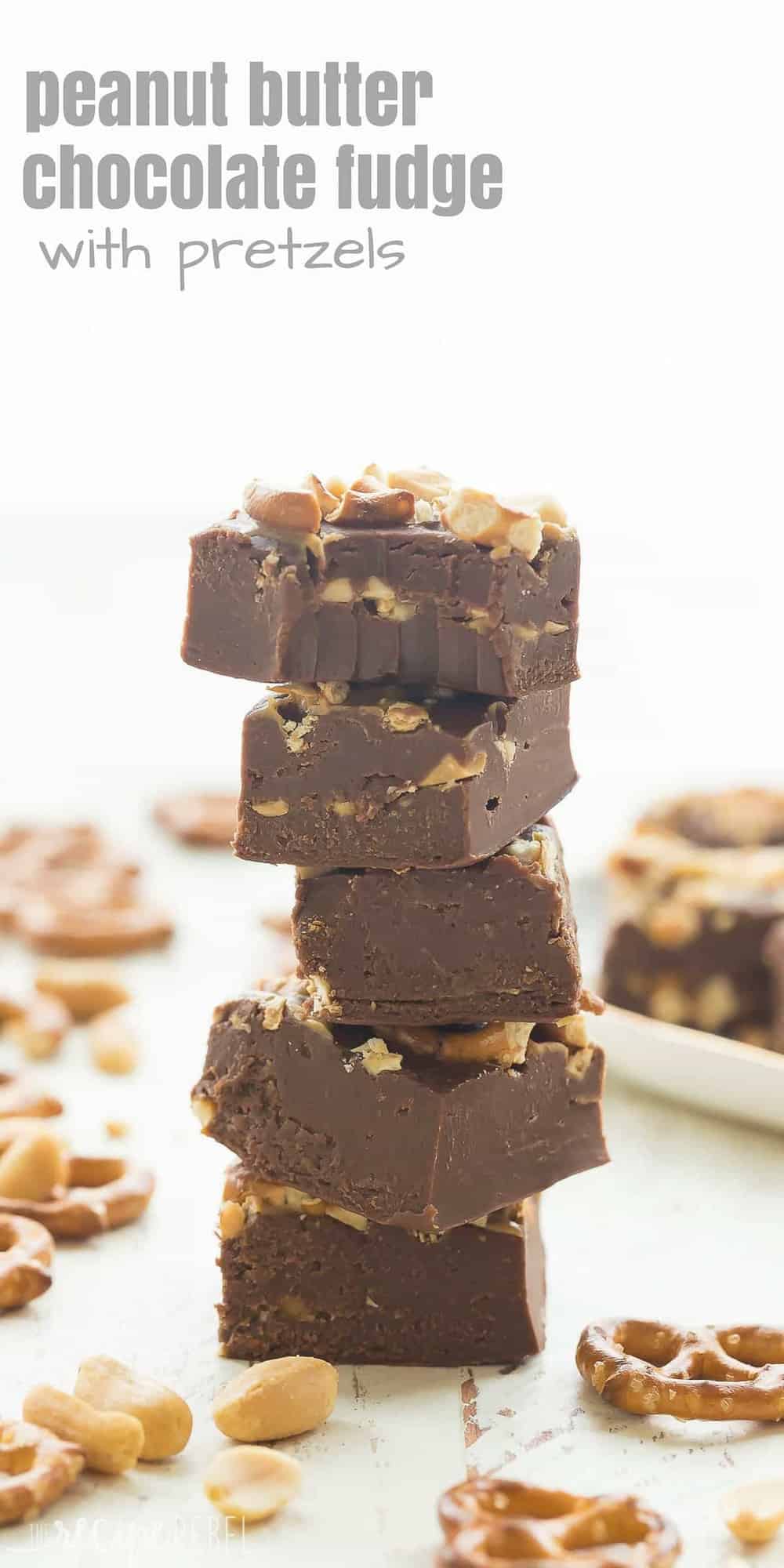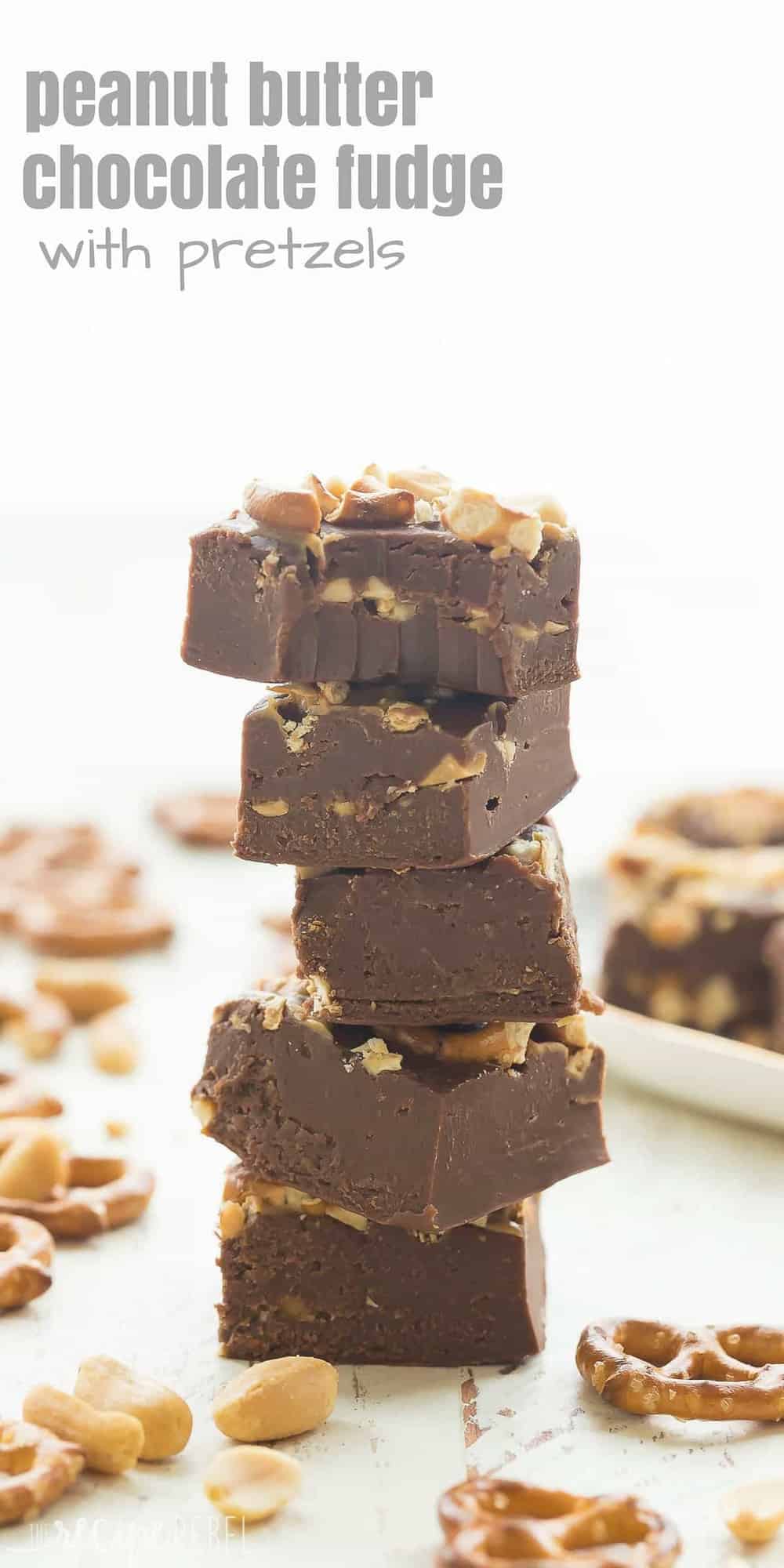 Ingredients

2 1/2

cups finely chopped chocolate (about 370g) — see note above

1

(14oz/300ml) can sweetened condensed milk

1/4

cup + 2 tablespoons smooth peanut butter, divided

1/4

cup chopped salted peanuts

1/4

cup chopped pretzels
Instructions
Line an 8×8″ pan with wax or parchment paper.
In a large microwave-safe bowl, combine chocolate, condensed milk and ¼ cup peanut butter.
Microwave on high in 20-25 second intervals, stirring well each time, until smooth (mixture will be thick — do not overcook!).
Spread half into prepared pan. Place a piece of wax paper on top and press fudge into the pan. Warm 2 tablespoons peanut butter for 15 seconds in the microwave, and drizzle half over fudge in pan. Top with half peanuts and half pretzels.
Repeat layers one more time, with the remaining fudge, peanut butter, peanuts and pretzels, using the same piece of wax paper to press your fudge into the pan (it will be impossible to spread otherwise!).
Refrigerate until set, or place in the freezer for 15-20 minutes until firm. Slice and serve. Store leftovers in the refrigerator or freezer.