Peanut Butter Flourless Chocolate Cake-This easy-to-make cake is gluten-free but you will never know it because it's so decadent! The peanut butter chocolate combo is a match made in heaven. This flourless chocolate cake is perfect for any celebration!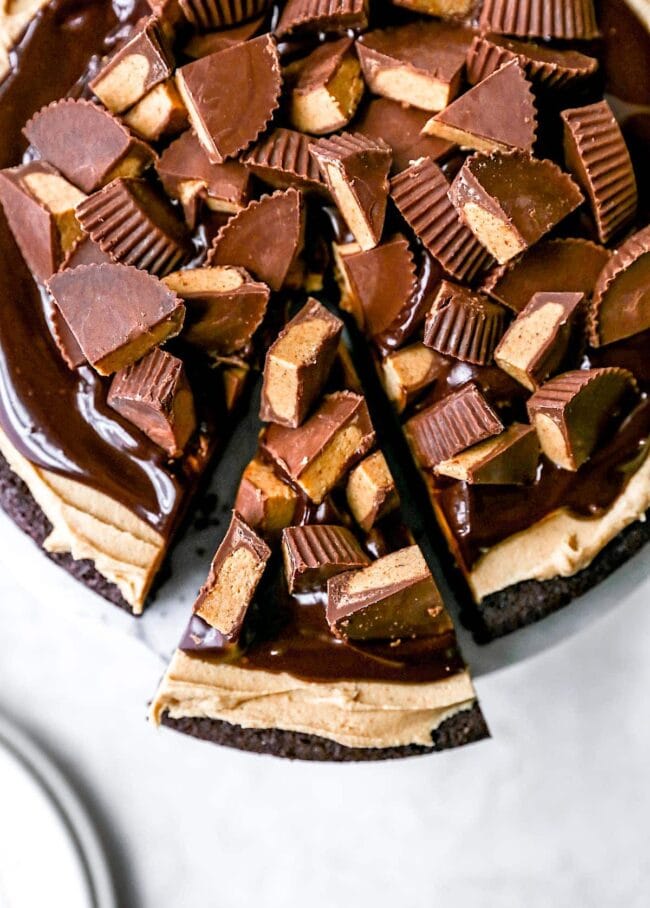 Peanut Butter Flourless Chocolate Cake
My Flourless Chocolate Cake is one of my all-time favorite desserts. It is the perfect chocolate cake. Everyone LOVES it and always begs me to make it for them or they beg for the recipe. The cake is gluten-free because there is no flour involved and I promise you won't miss it because the cake is super rich and decadent.
I decided to make my favorite chocolate cake, but with a little twist! I invited peanut butter to the party and best decision EVER! Who doesn't love a decadent chocolate-peanut butter dessert? My absolute favorite combo!
This Peanut Butter Flourless Chocolate Cake has a layer of creamy peanut butter frosting and a silky chocolate ganache for the ULTIMATE dessert…and of course I topped it with peanut butter cups! It is so rich and delicious! Serve it with a glass of cold milk and get ready to share the recipe. This cake is so, so yummy for birthdays, Valentine's Day, or any celebration that could use some extra sweetness.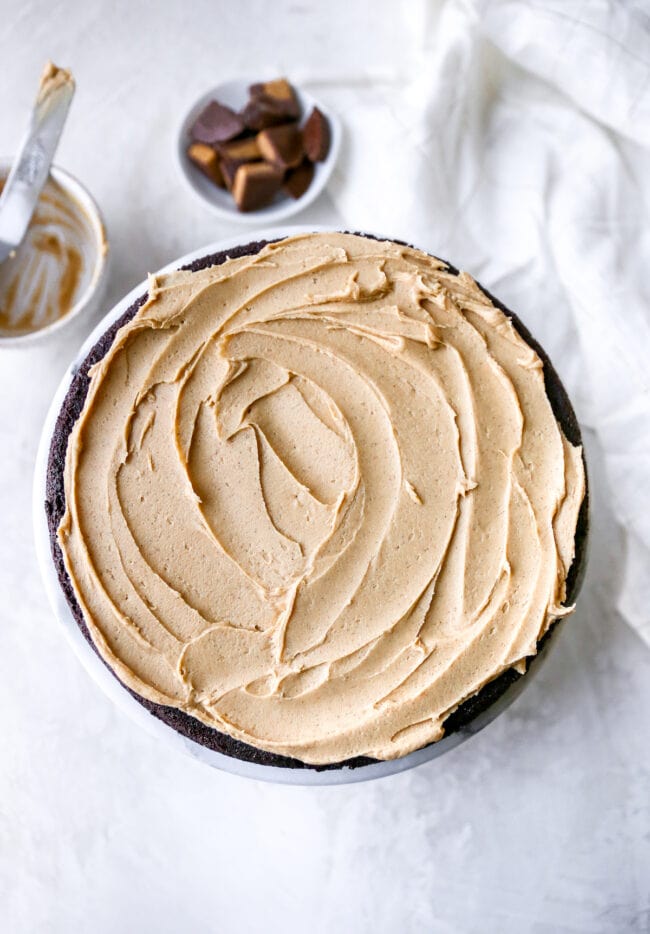 Cake Ingredients
You might already have everything you need to make this decadent cake! I know I always keep chocolate and peanut butter in the pantry, plus all of the other ingredients:)
Semisweet chocolate chips or chopped chocolate-Use the best chocolate for the cake and chocolate ganache. I love Guittard.
Unsalted butter-I use unsalted butter, if you want to use salted you can. You can reduce the salt a little or have a slightly saltier cake. It won't make that big of a difference.
Granulated sugar-Perfect for sweetening the cake!
Salt-I use Kosher salt.
Vanilla extract-Pure vanilla extract is best.
Eggs-Use large eggs.
Dutch process cocoa powder-I prefer Dutch processed cocoa for this recipe because the it gives the cake an intense chocolate flavor. You can use unsweetened cocoa powder, if you wish.
Peanut Butter-use creamy peanut butter, not natural peanut butter.
Confectioner's sugar-you will need confectioner's sugar (powdered sugar) to make the frosting.
Heavy Cream-you will use heavy cream to make the frosting and chocolate ganache.
Peanut butter cups-I top the cake with chopped peanut butter cups, the perfect finishing touch! Make sure the peanut butter cups you use are gluten-free if you need the cake to be gluten-free.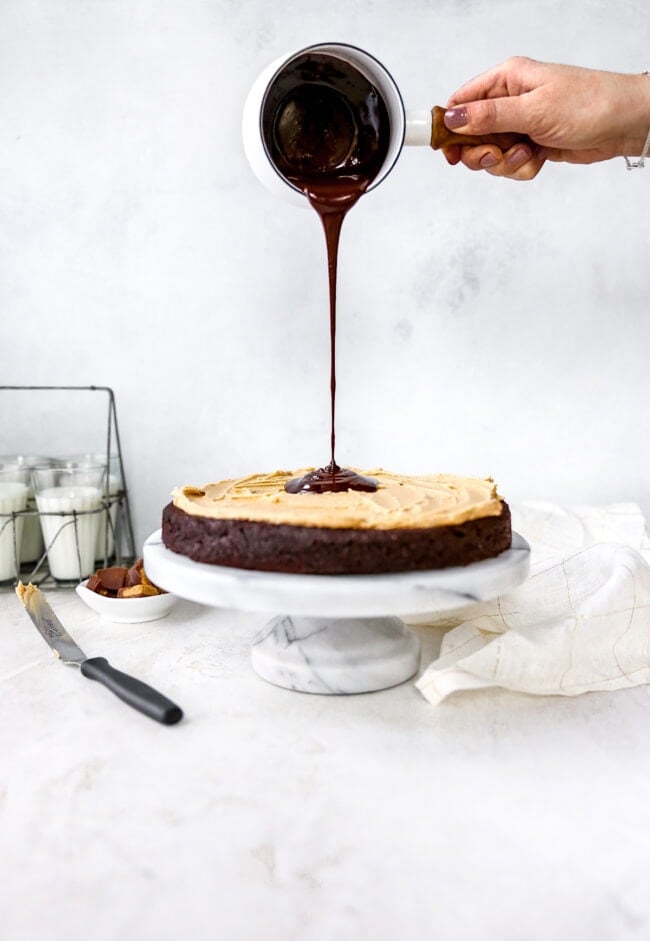 How to Make Flourless Chocolate Cake
It's easy as pie…no, easy as CAKE! Just a couple steps will get you the tastiest Flourless Chocolate Cake ever.
Let's do a little prep work! Preheat the oven to 375 degrees F and grease a round, 8-inch, cake pan. Cut a piece of parchment paper to fit the pan and set it in the bottom of the pan. Give that a little spray of nonstick cooking spray, too. This will guarantee an easy cake release.
Now we're ready to get baking! Put the chocolate and butter in a large microwave-safe bowl and get it heated until the butter melts and the chips soften. This usually takes about one minute! Give it a good stir so everything is smooth.
Stir in the sugar, salt, and vanilla, then eggs, and finally cocoa powder. Stir until just combined; don't over mix!
Gently pour the batter into the pan you've prepared and pop it in the oven for 25 minutes. The cake will have a thin crust at the top! If you have an instant-read thermometer, it will read 200 degrees in the center. Be careful not to bake it too long! You want a delicious, fudgy texture, not a dry cake.
Let the cake cool for 10 minutes and then carefully remove from the pan. Let it cool completely on a cooling rack.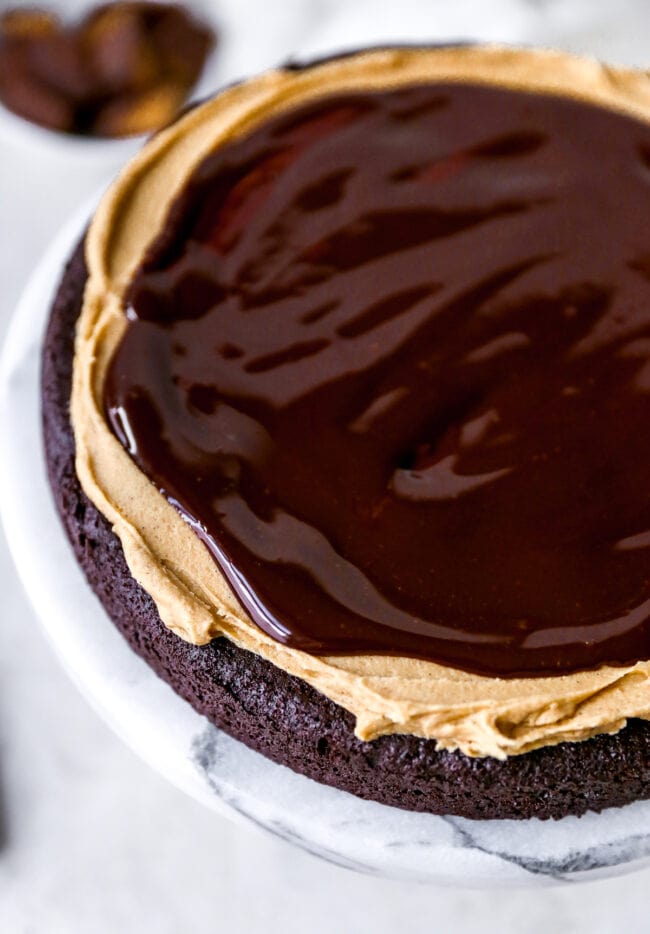 Peanut Butter Frosting
This peanut butter frosting is DREAMY! It takes this regular (delicious) flourless chocolate cake to peanut butter-chocolate cake heaven!
Use a handheld or stand mixer to beat the butter on medium speed for about a minute.
Add peanut butter, powdered sugar, heavy cream, vanilla extract, and a pinch of salt. Mix it until it's just combined, then kick up the speed a little!
Beat on medium speed until it's smooth and oh-so-creamy, about 3 minutes, scraping down the sides if needed.
If the frosting seems thin, add a little more powdered sugar. If it's thick, add a splash of cream!
How to Make Chocolate Ganache
This chocolate ganache is made of just two ingredients: chocolate and heavy cream! It is so silky and smooth and really makes the cake! Use high-quality chocolate for the best flavor. I like semi-sweet chocolate, but if you prefer a darker flavor, try a bittersweet chocolate.
To make the ganache, combine the two ingredients in a small microwave-safe bowl and heat for 30 seconds. Remove, stir, and if the chocolate isn't yet melted, microwave it for 15 more seconds. If there are a few unmelted chocolate chips, just keep stirring until they melt in. That's it! You can also make on the stove, using a double broiler.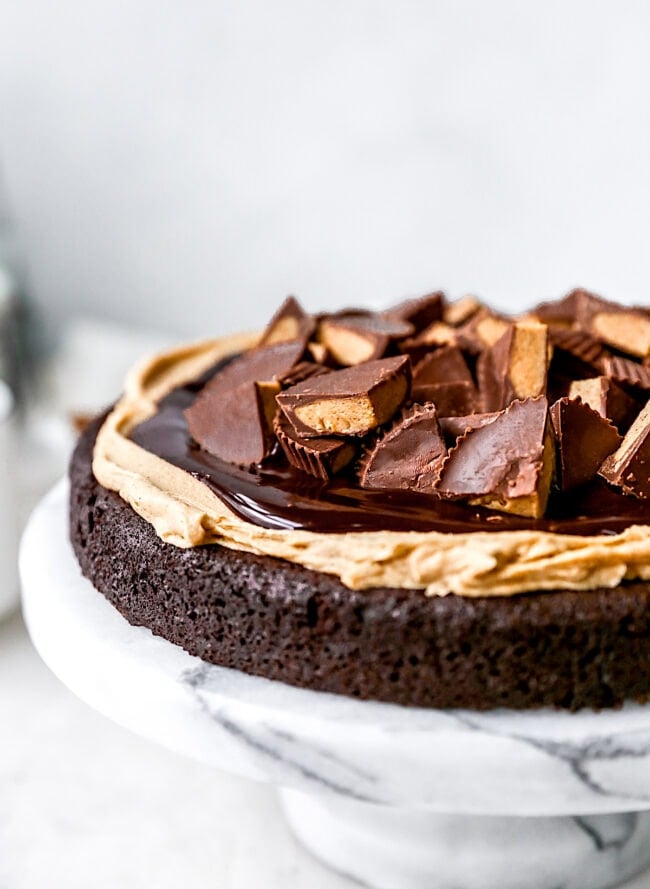 Assembling the Cake
This is where the magic happens! I love assembling this cake because it is SIMPLE! There is no fancy decorating involved, I promise.
First make sure your cake is completely cooled. The bottom of the cake, as it was baked, becomes the top.
Spread the creamy peanut butter frosting over the top of the cake, but not the sides.
Gently spread chocolate ganache on top of the peanut butter frosting. I like to leave the outer edges of the peanut butter frosting showing so everyone knows what decadent layers are in store for them!
Finally, garnish with chopped peanut butter cups. YUM!
You'll want to let the glaze set up for a couple hours for optimal presentation while serving. You can put it in the refrigerator for a little bit to speed that process along, though!
Cut, serve, ENJOY!
How to Store the Cake
Store any leftover cake in an airtight container in the refrigerator for up to 4 days. And if you have a slice for breakfast? I promise I won't tell anyone!
You can also freeze this cake. I have put single slices in the freezer for those days when I NEED chocolate. You can also freeze the entire cake for up to 2 months. I like to put the cake in the fridge until the ganache is set and solid. Then, I wrap the cake tightly in plastic wrap and foil.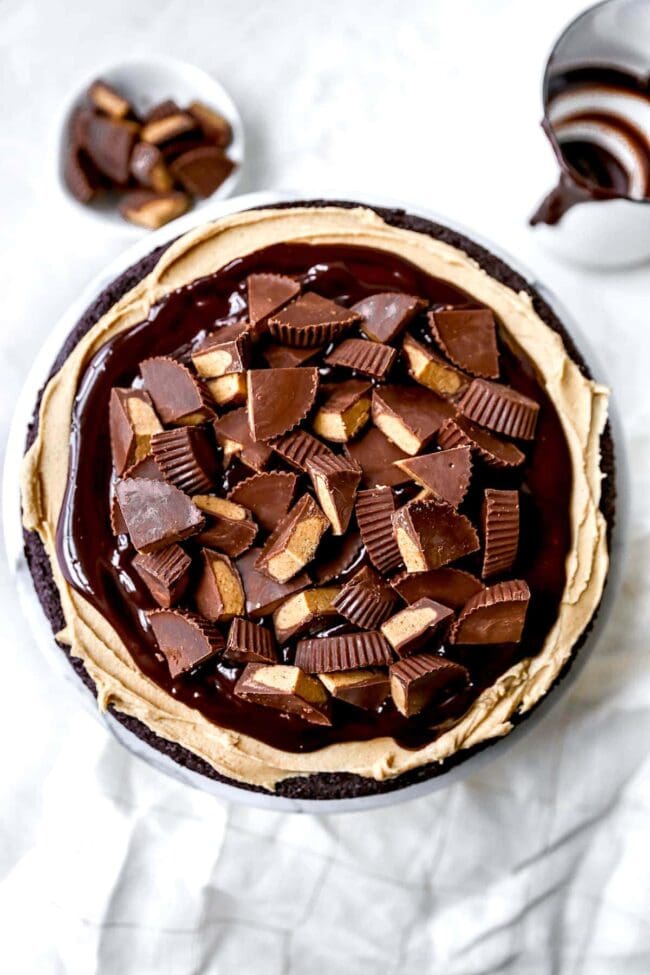 More Chocolate Cake Recipes
For the cake:
1

cup

semisweet chocolate chips or chopped chocolate

1/2

cup

unsalted butter

3/4

cup

granulated sugar

1/4

teaspoon

salt

1

teaspoon

vanilla extract

3

large eggs,

slightly beaten

1/2

cup

Dutch process cocoa or unsweetened cocoa
For the peanut butter frosting:
3

tablespoons

unsalted butter,

at room temperature

½

cup

creamy peanut butter

(I use Skippy)

3/4

cup

confectioner's sugar

1

tablespoon

heavy cream

1/2

teaspoon

vanilla extract

Pinch

of salt
For the chocolate ganache:
1/2

cup

semisweet chocolate chips or chopped chocolate

1/4

cup

heavy cream
For the garnish:
10

peanut butter cups,

chopped
Nutrition Facts
Peanut Butter Flourless Chocolate Cake
Amount Per Serving
Calories 363 Calories from Fat 225
% Daily Value*
Fat 25g38%
Saturated Fat 12g60%
Cholesterol 60mg20%
Sodium 128mg5%
Carbohydrates 33g11%
Fiber 3g12%
Sugar 27g30%
Protein 6g12%
* Percent Daily Values are based on a 2000 calorie diet.
Photos by Molly