This Perogies Recipe with bacon and onions is crazy good — pure comfort food and perfect for a Christmas side dish!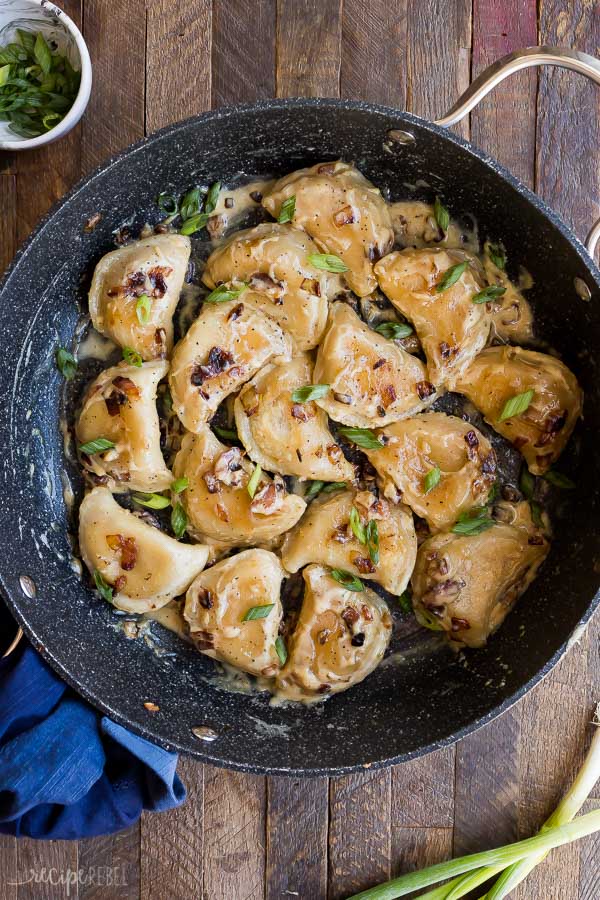 Call me a cheater, but today I'm not showing you how to make perogies (although I did that waaaaaay back here for these Saskatoon Perogies — my all-time, hands down favorite thing to eat ever).
But I am going to show you one Ridiculously Delish way to cook perogies and serve them at your holiday dinners this month.

MY LATEST VIDEOS
I mean, regular old mashed potatoes are great 'n' all, but creamy potato and cheese stuffed perogies?!? It's really the best of all of the worlds.
Traditionally, we either had the store bought potato perogies or, for a really special occasion, my mom would make Vareneki or Vareniki or Wareniki filled with saskatoon berries and sugar and we ate them with a savory, salty, white gravy made from butter and cream.
Any idea why it was my favorite meal ever? 😉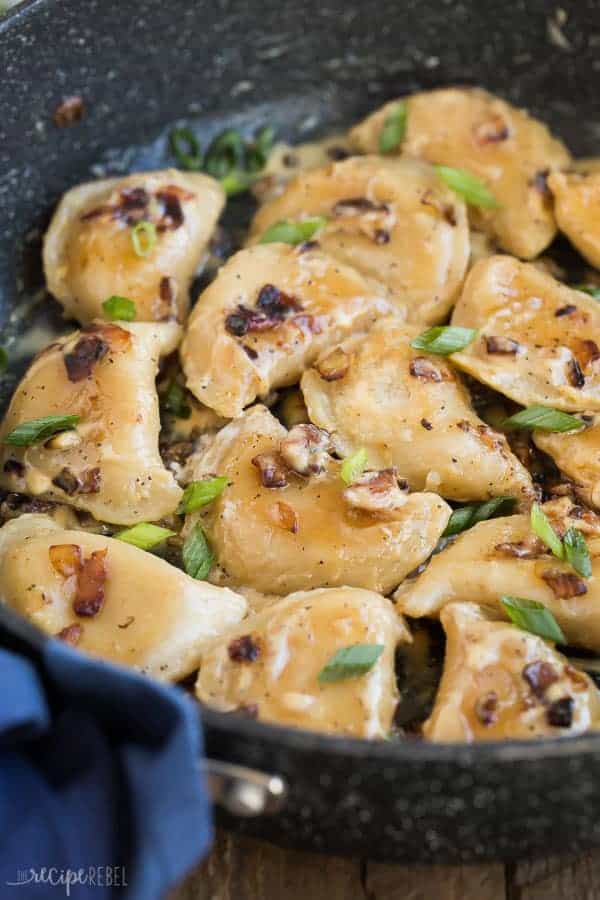 Vareniki and perogies (and pierogi) are all essentially the same thing, but one is Ukrainian and one is Polish and then there are all kinds of spellings and misspellings.
I'm taking the easy way out here and calling them Perogies.
Go ahead, get angry.
In reality, you should get excited. Because comfort food has never been this comforting before.
Now, there is a reason these are a treat and not an every day kind of thing. If you eat these every day or even every week and you have a heart attack, you don't get to blame me. Make them for special occasions or for your Christmas side dish and the whole family will go nuts for them!
Tips for cooking Perogies:
When making perogies, it's important that you invite all of your closest friends to join you. If you're left alone with a pan of perogies in bacon and onions and cream, there's no saying what might happen. You can't put that one on me.
Because I started with frozen perogies (around here, it's easy to buy frozen, good quality perogies and not necessarily the mass-produced ones), I boil them first and then add them to the pan with the bacon. I know it's an extra step and an extra pot, but it's the holidays so the hubs will be around to wash the dishes anyway, right?
You can absolutely mix things up and add some veggies to your pan — mushrooms would be great, or broccoli, brussel sprouts, green beans…. there are lots of ways to round out this decadent meal.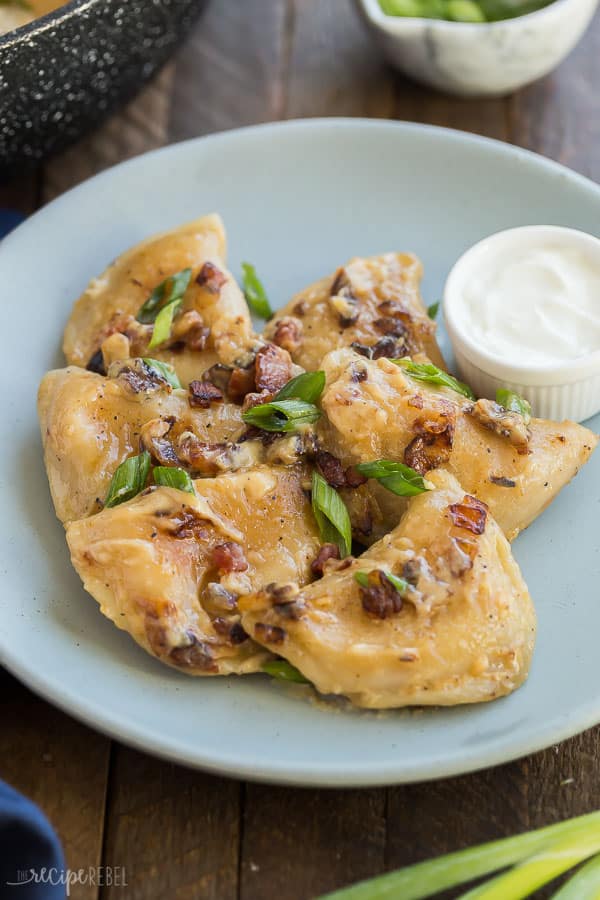 What is the best way to cook frozen perogies?
I think boiling is the best way to cook frozen perogies — it takes just a few minutes, and they pop right to the top of the water when they're ready so there's no second guessing.
You can also add frozen perogies to casseroles and simmer in one pan recipes, but it's more difficult to get right because it's tough to know how much water they will release as they cook and may water down sauces or not cook completely.
I would not add them directly to a hot dry pan without a considerable amount of liquid.
What to serve with perogies:
I won't blame you if you just sit down with the pan and a fork, but here are a few ideas for serving:
Proteins:
Roast beef or pot roast with veggies (skip the potatoes on that one)
Sausage (traditionally this has been one of the ways we serve it most often)
Side dishes and sauces:
Serve with a salad, steamed veggies, or even frozen if you're feeling the need to bump up the nutritional value.
We always add them with cream gravy — but not really necessary with this recipe!
Some people enjoy sour cream with perogies, if you're into that sort of thing.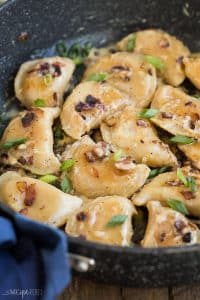 Perogies Recipe with Bacon and Onions
This Perogies Recipe with bacon and onions is crazy good — pure comfort food and perfect for a Christmas side dish! 
Prep Time 10 minutes
Cook Time 25 minutes
Total Time 35 minutes
Servings 4 servings
Calories 315kcal
Author Ashley Fehr
Ingredients
16

potato and cheese perogies

frozen

2

slices

thick cut bacon

diced

1

small onion

diced

1

tablespoon

unsalted butter

3/4

cup

heavy cream

1/4

teaspoon

salt

1/8

teaspoon

black pepper

green onions and sour cream to serve as desired
Instructions
Bring a large pot of lightly salted water to a boil. Add frozen perogies and boil for about 3 minutes or until they float to the top.

Meanwhile, cook bacon and onion in a large skillet until both are lightly browned. 

Remove cooked perogies to a plate lined with paper towel. 

Add butter to skillet with bacon and onions, then add perogies in a single layer and brown on both sides, about 3 minutes per side.

Whisk together cream, salt and pepper and add to the hot pan once perogies are lightly browned. Let simmer for 2-3 minutes until thickened slightly (it will bubble up and thicken fairly quickly, so keep an eye on it!). 

Remove from the heat to garnish with green onions if desired and serve.
Nutrition (this is an estimate)
Nutrition Facts
Perogies Recipe with Bacon and Onions
Amount Per Serving
Calories 315
Calories from Fat 243
% Daily Value*
Total Fat 27g
42%
Saturated Fat 14g
70%
Cholesterol 80mg
27%
Sodium 390mg
16%
Potassium 109mg
3%
Total Carbohydrates 13g
4%
Sugars 2g
Protein 5g
10%
Vitamin A
14.9%
Vitamin C
2.8%
Calcium
4%
Iron
2.7%
* Percent Daily Values are based on a 2000 calorie diet.