Pretzel Crusted Key Lime Bars are the perfect balance of salty and sweet. The key lime filling is tart, creamy, and smooth and combined with the crunch of the pretzel crust they are delicious!
I can't make anything citrus related at my house. If you've been following along with me for any length of time, you know that I am the only one in my house that eats lemon, lime, orange, grapefruit etc flavored baked goods. It makes no sense to me, because everyone eats fresh oranges, and they all consume plenty of sour/citrus candy.
But for some reason, a lemon bar grosses them out.

MY OTHER RECIPES
I would try to understand, but it's too annoying.
But really, now that I think about it….I am THEM in reverse! I really don't like lemon/lime/sour candies at all, and I pretty much never eat an orange…but give me ALL the KEY LIME PIE CAKE!
It's all a mystery.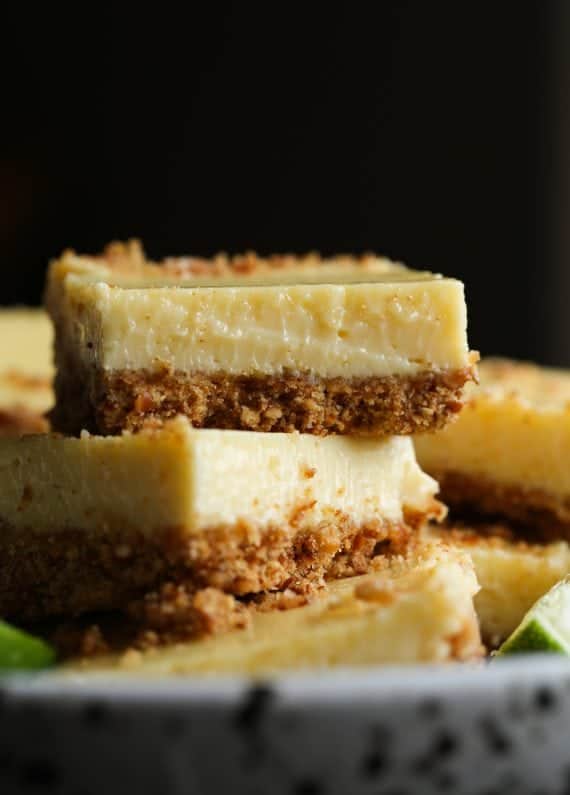 I originally posted this recipe WAY back in 2011, and honestly I forgot about it, until a reader mentioned it over in my facebook group (are you part of my group yet??)
When I clicked over to the original post…which is mega cringey…I knew they needed a facelift. Both the pictures and the written recipe.
I didn't make too many changes to the heart of the recipe (it was pretty fantastic), I just made it a little clearer to read, and included a printable recipe card fo you here. Oh, and I left off the white chocolate drizzle. Those were back in my drizzling days, where I seemed to think everything needed extra chocolate!
Anyhow, these bars are still some of my favorites, and I am happy to bring them to you in 2018!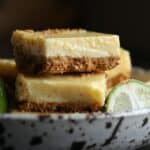 Pretzel Crusted Key Lime Bars
Author:

Prep Time:

10 minutes

Cook Time:

25 minutes

Total Time:

35 minutes

Yield:

14 bars
---
Ingredients
Crust
1 2/3 cups pretzel finely crushed pretzels (2 1/2 – 3 cups of whole pretzels)
1/2 cup butter, melted
1 teaspoon kosher salt
1/4 cup granulated sugar
Filling:
3 large egg yolks
1 (14- ounce) can sweetened condensed milk
1/2 cup key lime juice
---
Instructions
Preheat oven to 350°F. Line a 9×9 pan with foil and coat lightly with nonstick spray. Set aside.
In a food processor or blender pulverize the pretzels until they are a fine crumb. (You don't want dust, but you don't want chunks or it won't stay together)
In a large bowl stir together your pretzel crumbs, butter, salt, and sugar.
Press the mixture firmly into your prepared pan and slightly up the sides. Bake for 10 minutes, or until golden. Let the crust cool while you prepare the filling.
In a large bowl, whisk together the yolks, sweetened condensed milk and lime juice.
Pour the mixture into the warm crust.
Bake for 12-15minutes, or until just set.
Allow the bars to cool until room temperature, and then cover and chill in the refrigerator for 2 hours, or overnight.
---
Notes
Store airtight, in the refrigerator for up to 3 days.
Related