This is the BEST Pumpkin Bread recipe, it is moist, perfectly spiced, and easy to make. It will become one of your favorite fall recipes!
Pumpkin, the First Sign of Fall
Are you guys ready for pumpkin season? I sure hope so because today we are sharing the BEST Pumpkin Bread recipe. Pumpkin Bread is the first sign of fall at our house, I don't wait for the leaves to change colors because I LOVE pumpkin and can never wait that long. When you smell pumpkin bread baking at our house, you know it is fall, and that is a very good thing! Fall is my favorite season and this pumpkin bread is my all-time favorite! It is a fall MUST!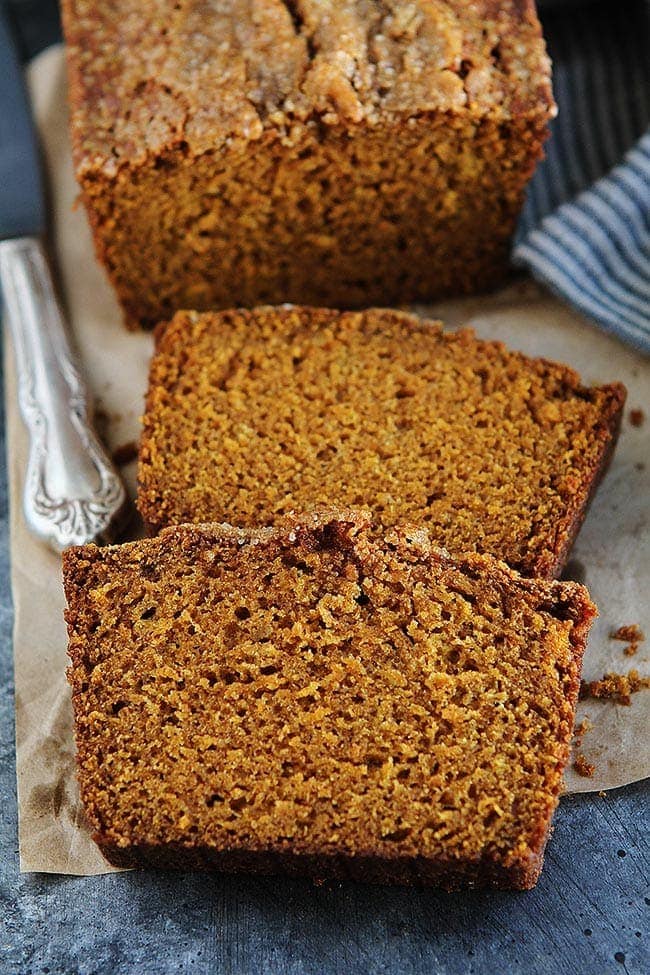 Best Pumpkin Bread Recipe
If you follow our blog, you know I LOVE baking quick breads, hello, banana bread, lemon zucchini bread, and chocolate banana bread…just a few of my favorites.
Well, pumpkin bread is right at the top of the list when it comes to quick breads. It is SO good! I love pumpkin everything and pumpkin bread is a fall classic. I have baked a lot of pumpkin bread in my life and I have to say that this pumpkin bread recipe is perfection! It is moist, full of pumpkin flavor, perfectly spiced, and easy to make. You are going to fall in love with this pumpkin bread recipe before it even goes in the oven…and when it comes out of the oven and you have a bite, you will be hooked for life!
Tips for Making Pumpkin Bread
Use 100% pure pumpkin (pumpkin puree). Do not use pumpkin pie filling that has been sweetened. You can find canned pumpkin at any grocery store. It is usually in the baking aisle. Libby's is a popular brand. For this pumpkin bread recipe, you will need 1 cup, a 15 oz can will be enough.
For this recipe, I use cinnamon, nutmeg, ginger, and cloves. They all come together to create the most amazing flavor. If you want to substitute pumpkin spice, you can, but I like using the individual spices because I think the flavors stand out more in the bread. If you are going to use pumpkin spice, use 1 tablespoon in place of the spices.
I use mostly brown sugar and a little granulated sugar. The brown sugar adds a nice molasses flavor to the bread and keeps it super moist.
Make sure the butter is melted and slightly cooled before adding it to the batter. I like using butter and oil because the butter adds a rich flavor and the oil keeps the bread moist.
I add a little water to the bread to thin out the batter and to keep it moist. You can also use buttermilk if you wish!
Don't forget the pure vanilla extract. Vanilla makes everything better!
Bake the bread in a greased 8 x 4 x 3 -inch loaf pan. The bread will take 45 to 60 minutes to bake, depending on your oven and pan. If it is your first time baking the bread, check it at 45 minutes to be safe. The bread is done when a toothpick inserted into the center comes out clean. If your bread is getting dark and the middle isn't done you can always place a piece of aluminum foil loosely over the bread and finish baking it.
Let the bread cool in the pan for 10 minutes and then carefully remove it from the pan and cool completely before slicing.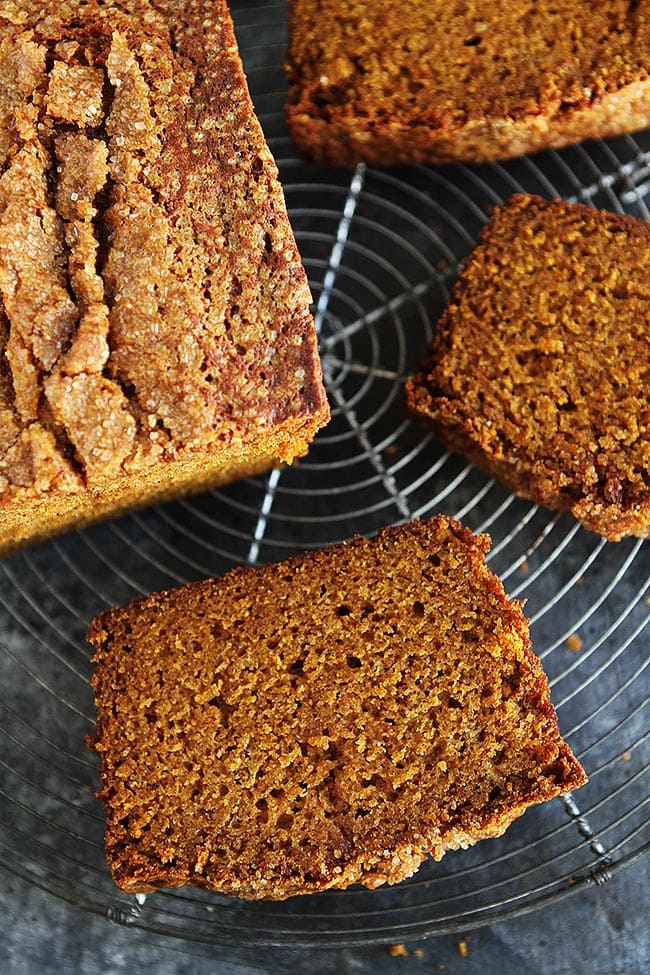 Can You add Chocolate Chips?
I know I am going to get this question, so I am going to answer it. Of course, you can add chocolate chips! Pumpkin chocolate chip bread is a THING. People go crazy for anything pumpkin chocolate chip (like these cookies) and I understand why, it is SO good! Pumpkin and chocolate are a match made in heaven. If you want to add chocolate chips, stir in 1 cup of semi-sweet or milk chocolate chips after you add the dry ingredients.
You can also stir in a cup of chopped pecans, walnuts, dried cranberries, or raisins.
How to Store Pumpkin Bread
I think this pumpkin bread is even better the second day. Sure, you have to enjoy a fresh slice of bread, but try to save some for the next day.  All of the flavors set in and the bread gets even moister. It is worth the wait and a great recipe that you can make in advance for parties or breakfast the next day.
To store the bread, wrap the cooled bread in plastic wrap and keep on the counter for two to three days. If you need to store it for longer than that, keep in the refrigerator for up to 5 days. This pumpkin bread also freezes beautifully. Wrap the cooled bread in plastic wrap and place in a freezer bag for up to 3 months. Defrost before slicing. You can also keep slices of the pumpkin bread in the freezer. To reheat, just pop in the toaster and slather with butter, that part is optional but SO good:)
Can You Double the Recipe?
YES! You are going to love this pumpkin bread recipe so much that I know you are going to want two loaves. One loaf for you and one loaf for a friend…or two loaves for you, I won't tell anyone:) You can easily double this recipe. You will need two loaf pans. Bake both loaves at the same time, on the middle rack in the oven.
You can also make mini loaves with this recipe or muffins, just reduce the baking time!
Easy Pumpkin Bread
Kick-off fall by making a loaf of this easy and delicious pumpkin bread! It is guaranteed to be a fall favorite! Your house will smell amazing and you will be in pumpkin bread heaven. You can enjoy a slice of pumpkin bread for breakfast, as a snack, or even for dessert. It is a great bread for Halloween, Thanksgiving, fall parties, or EVERY day! ENJOY!
More Pumpkin Recipes:
Pumpkin Bread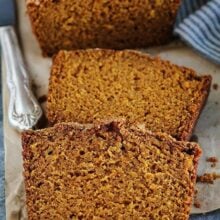 This is the BEST pumpkin bread recipe! It is easy to make, super moist, and perfectly spiced. It will become a staple in your house every fall season.
Yield: 1 loaf
Prep Time: 15 minutes
Cook Time: 45 minutes
Total Time: 1 hour
Ingredients:
1 3/4 cup all-purpose flour
1 teaspoon baking soda
1/2 teaspoon kosher salt
1 teaspoon ground cinnamon
1/2 teaspoon ground nutmeg
1/2 teaspoon ground ginger
1/4 teaspoon ground cloves
1 cup pumpkin (not pumpkin pie filling)
3/4 cup packed light brown sugar
1/4 cup granulated sugar
2 large eggs, at room temperature
1/4 cup melted butter, slightly cooled
1/4 cup canola or vegetable oil
1/4 cup water
1 1/2 teaspoons pure vanilla extract
Turbinado sugar, for sprinkling on bread
Directions:
Preheat oven to 350 degrees F. Grease a  8 x 4 x 3 -inch loaf pan generously with nonstick cooking spray or butter. Set aside.
In a medium bowl, whisk together the flour, baking soda, salt, cinnamon, nutmeg, ginger, and cloves. Set aside.
In a large bowl, whisk together the pumpkin, brown sugar, sugar, eggs, melted butter, oil, water, and vanilla extract.
Add the dry ingredients and stir until just combined. Don't over mix the batter.
Pour the pumpkin batter into the prepared loaf pan and smooth with a spatula. Sprinkle generously with turbinado sugar.
Place the loaf pan in the oven and bake for 45 to 60 minutes, depending on your oven. The loaf is done when a toothpick inserted into the center comes out clean.
Remove the pan from the oven and place on a cooling rack. Cool for 10 minutes in the pan. Use a butter knife to loosen the bread in the pan. Turn over and carefully remove the bread from the pan. Let the bread cool completely on the cooling rack. When cool, slice with a serrated knife.


All images and text ©Two Peas & Their Pod.




Follow twopeasandpod on Instagram and show us what recipes you are making from our blog! Use the hashtag #twopeasandtheirpod! We want to see what you are making in your kitchen!