This is the best gingerbread cake because it's easy to make, super moist, and perfectly spiced! The gingerbread flavor is perfect and the brown butter makes the cake extra special! A must make dessert for the holiday season!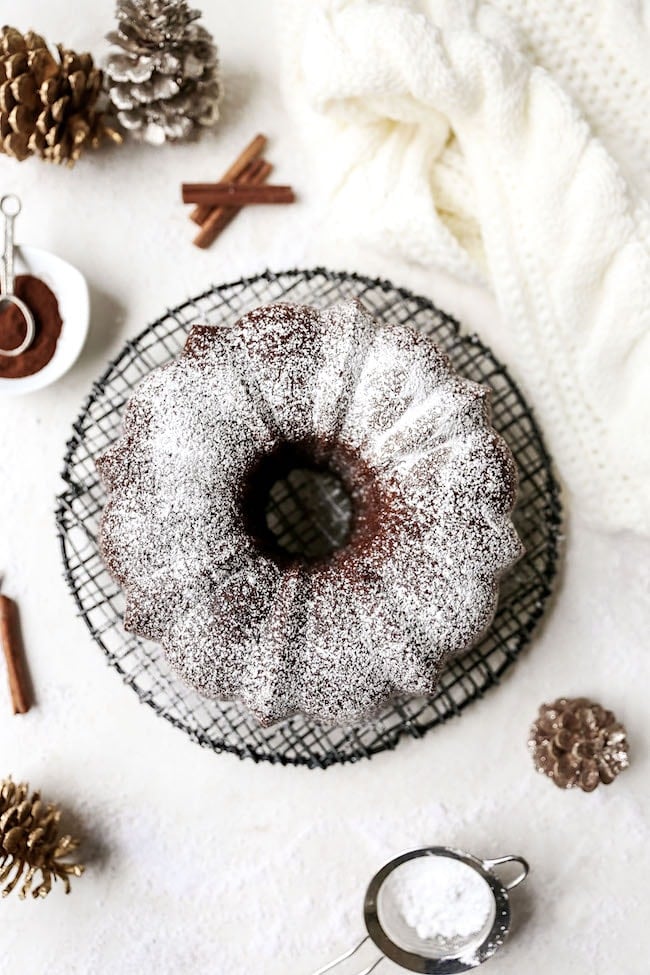 Gingerbread Cake
I love making gingerbread in the winter months! My gingersnaps are my all time favorite! And to let you in on a secret…I think ginger and molasses are the most underrepresented of the holiday flavors. Peppermint and pumpkin get all the love, but I love all things ginger too!
This warm, perfectly spiced gingerbread cake is such a delicious way to warm your kitchen, surprise your favorite people, and have a festive dessert. Let's dig in!
What Molasses Do You Use for Gingerbread?
For this gingerbread cake, use unsulphured light or dark molasses, all of which can be found in the baking aisle of your grocery store. Grandma's is a popular brand.
I've found that blackstrap is a little too dark and bitter for a sweet cake like this one. Blackstrap molasses is better for savory recipes because it has less sugar than light or dark molasses.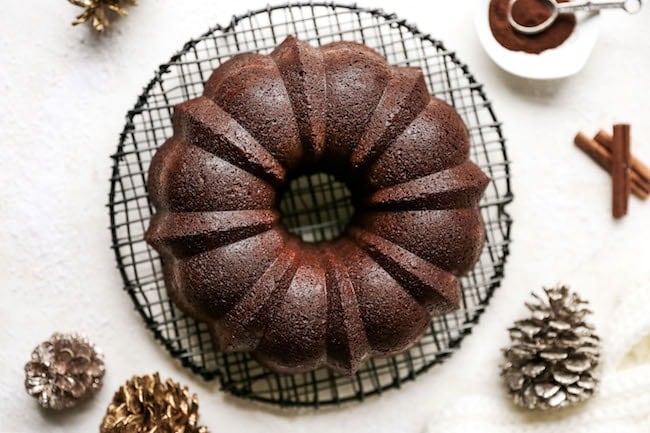 How to Brown Butter
The brown butter makes this gingerbread cake extra special. There is nothing that smells quite as delicious as brown butter, and it adds this great rich, nutty, toffee flavor to your baked goods! You just need a stove top and a pan to make it, too.
Put the butter in a small saucepan and melt it completely over medium heat. 
Once melted, crank up the heat to medium high. Stay close to the stove and keep an eye on things!
Continue stirring and look for small golden bits that will start to settle on the bottom of the pan. After about 3-5 minutes it will smell deliciously nutty and caramel-y. 
Once this happens, pour it into a heat-safe bowl and let it cool completely. Easy as can be!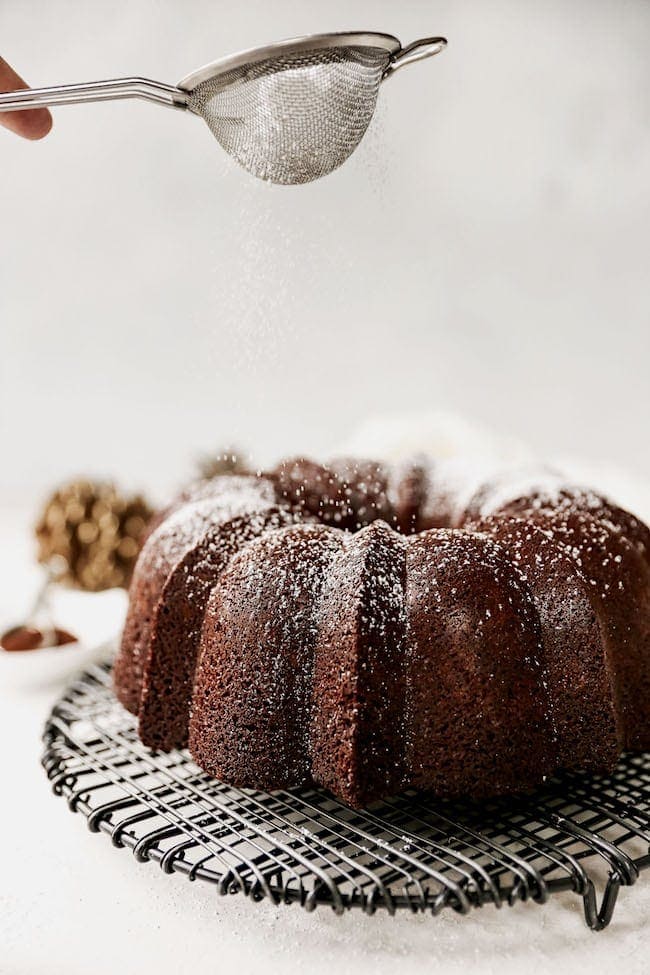 How to Make Gingerbread Cake
We start with preheating the oven (350 degrees F) and greasing a bundt pan. Make sure you REALLY grease your pan. There is nothing worse than a perfectly baked cake getting stuck in the pan and ruining your presentation!
As you go through the ingredient list, make sure your spices are all fresh. Outdated spices won't taste quite as good, and the spice is really what makes this cake shine.
You'll notice we're baking with both brown butter and oil. Do you need both? Yes! That brown butter adds lots of flavor, while the oil keeps things moist. The buttermilk is another ingredient that improves texture and moistness. 
Whisk all the dry ingredients together and set them aside. I think the spices and flour all mixed together are so pretty!
Add the wet ingredients into the bowl of your mixer and beat it all on high speed for about 3 minutes. 
When measuring molasses, spray your measuring cup with cooking spray so the molasses will slide right out!
Get it light and fluffy in there before beating in room-temperature eggs one at a time, then vanilla.
Alternate adding flour and buttermilk in three additions, starting and ending with the flour mixture. Mix until just barely combined; don't over mix!
Pour batter into your prepared bundt pan and bake for about an hour, checking at the 50-minute mark. A toothpick inserted into the center will come out mostly clean when it's finished!
Remove it from the oven, admire your gorgeous gingerbread bundt cake, and let it cool for about 10 minutes before loosening the edges with a butter knife.
Invert the cake onto a cooling rack, finish cooling to room temperature, and dust with powdered sugar.
Cut into pieces, serve, and enjoy!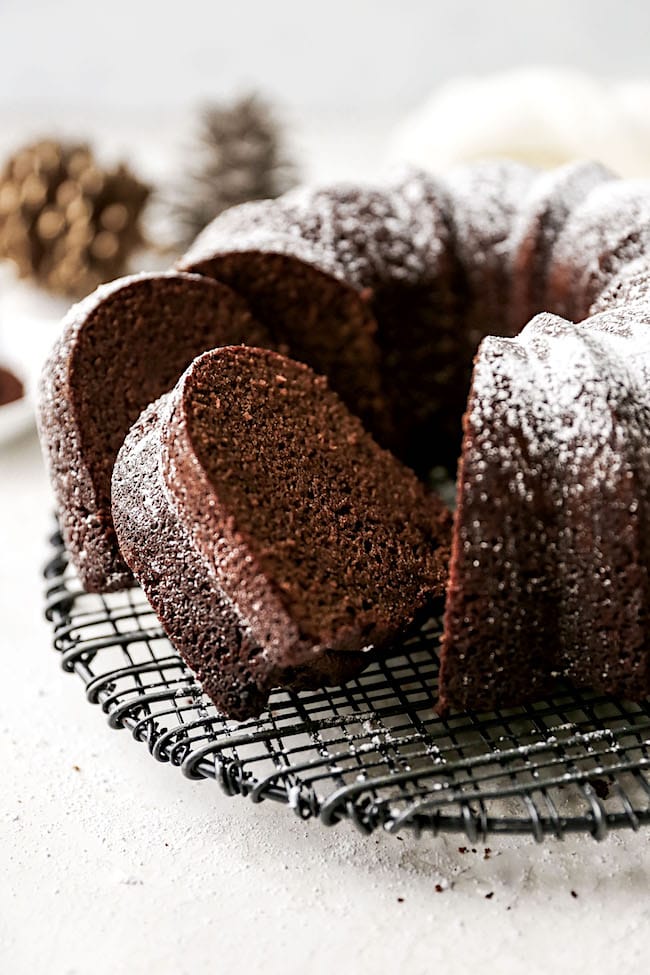 Serving Suggestions
A simple dusting of confectioners' sugar is our favorite way to serve and enjoy this gingerbread bundt cake. It looks really beautiful and like a winter wonderland! The flavor of the cake is so good, it really doesn't need anything extra.
If you want something different you can add a glaze to the cake. A lemon, maple, or vanilla glaze would be great drizzled on top of this gingerbread cake. Just make sure the cake is completely cool before adding the glaze.
How to Store Gingerbread Cake
Keep your gingerbread cake covered in an airtight container on the counter for 3-5 days. While it tastes best fresh, you can freeze it for up to two months.
More Cake Recipes:
Looking for more bundt cake recipes? Here are some of my favorite easy cake recipes: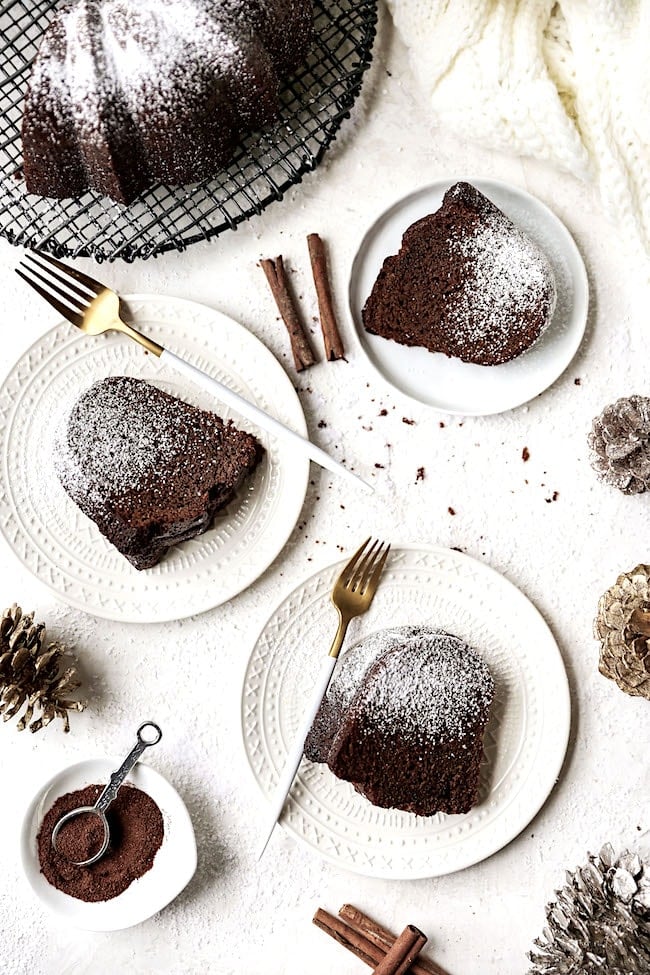 1/2

cup

unsalted butter,

cut into tablespoon pieces

3

cups

all-purpose flour

1

tablespoon

ground ginger

2

teaspoons

ground cinnamon

1

teaspoon

baking soda

1/2

teaspoon

salt

1/2

teaspoon

ground allspice

1/2

teaspoon

ground cloves

1/4

teaspoon

ground nutmeg

1/2

cup

canola oil or vegetable oil

1 1/2

cups

dark brown sugar,

packed

1

cup

molasses

(not blackstrap)

4

large eggs,

at room temperature

1

tablespoon

pure vanilla extract

1

cup

buttermilk,

at room temperature

Confectioners' sugar,

for decorating
Nutrition Facts
Gingerbread Bundt Cake
Amount Per Serving
Calories 367 Calories from Fat 135
% Daily Value*
Fat 15g23%
Saturated Fat 5g25%
Cholesterol 58mg19%
Sodium 188mg8%
Potassium 400mg11%
Carbohydrates 55g18%
Fiber 1g4%
Sugar 37g41%
Protein 4g8%
Vitamin A 261IU5%
Calcium 91mg9%
Iron 3mg17%
* Percent Daily Values are based on a 2000 calorie diet.
Photos by Molly