Pumpkin Chocolate Chip Cookies-everyone's favorite fall cookie! These spiced pumpkin cookies are soft, chewy, and dotted with chocolate chips!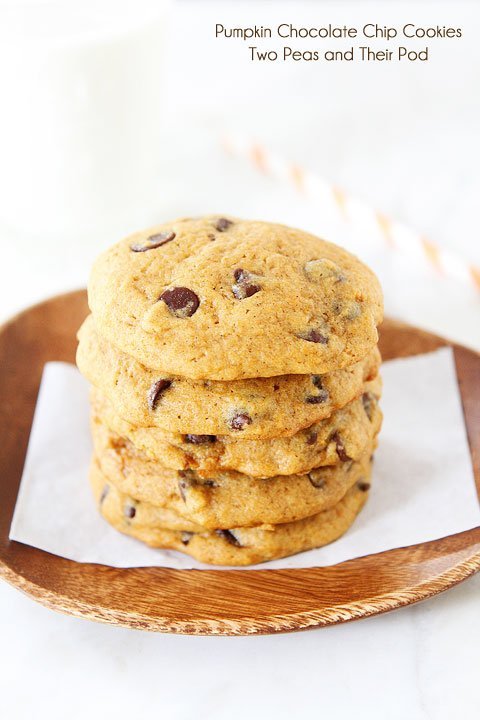 Pumpkin Chocolate Chip Cookies, A Fall Favorite
I had pumpkin leftover from our Pumpkin Bread and wasn't about to let it go to waste. I love it when ingredients force you to make something, especially when cookies are involved. I pulled up our website to get our Pumpkin Chocolate Chip Cookie recipe and was shocked that I didn't find it. I am so sorry I haven't shared my favorite Pumpkin Chocolate Chip Cookie recipe. I get wrapped up in creating new cookie recipes that sometimes I forget the classics. Well, this Pumpkin Chocolate Chip Cookie recipe is a classic and a fall favorite. Everyone LOVES these cookies!
Soft Pumpkin Chocolate Chip Cookies
Pumpkin and chocolate are two of my favorite combinations. I can eat a whole loaf of Pumpkin Chocolate Chip Bread by myself. Good thing our recipe makes three loaves. I eat one and share the other two loaves:) Pumpkin Chocolate Chip Cookies don't stand a chance against me either. I can't stop eating them after I start! They are one of my favorite fall cookies!
I love these pumpkin cookies because they are easy to make and are the perfect chocolate chip cookie for fall. The pumpkin addition is SO delicious. The pumpkin makes the cookies super soft and chewy.
The spiced pumpkin cookies are also dotted with sweet chocolate chips! I like to use semi-sweet chocolate chips, but if you are a milk chocolate fan it won't hurt my feelings if you invite them to the party instead. Do what you gotta do!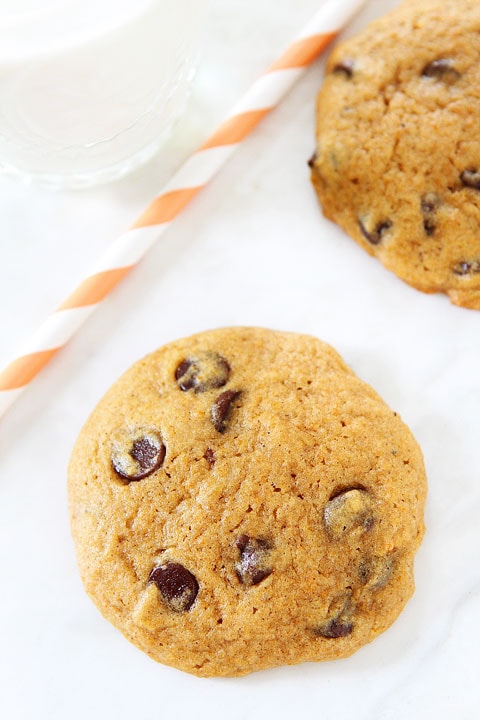 Cookie Add-Ins
Feel free to add in the following ingredients to jazz up your pumpkin chocolate chip cookies!
chopped pecans
chopped walnuts
dried cranberries
raisins
white chocolate chips
cinnamon chips
chocolate chunks
I love playing around with this recipe and all of these additions make a great pumpkin cookie!
Tips for Making Pumpkin Chocolate Chip Cookies
Line a large baking sheet with a Silpat baking mat or parchment paper so the cookies don't stick to the pan.
I like to use ground cinnamon, ginger, nutmeg, and cloves to make the cookies. If you don't have all of these spices, you can use pumpkin spice.
Make sure your butter is at room temperature.
Use pure pumpkin puree. You can find pumpkin in the baking aisle. Do not use pumpkin pie mix.
Don't over bake the cookies, they will set up as the cool on the baking sheet.
You don't need to refrigerate the cookie dough before baking, but you can for up to 24 hours if you need to.
Store the cookies in an airtight container for up to 3 days. You can also freeze pumpkin chocolate chip cookies. Place the cooled cookies in a container and freeze for up to one month.
Fall isn't fall without Pumpkin Chocolate Chip Cookies, so get baking! We love these cookies and I think you and everyone you share them with will too! That is, IF you decide to share, I won't judge you if you eat them all by yourself. It's ok to just love yourself once in awhile and hog all of the cookies!
If you like this pumpkin chocolate chip cookie recipe, check out:
Happy Baking!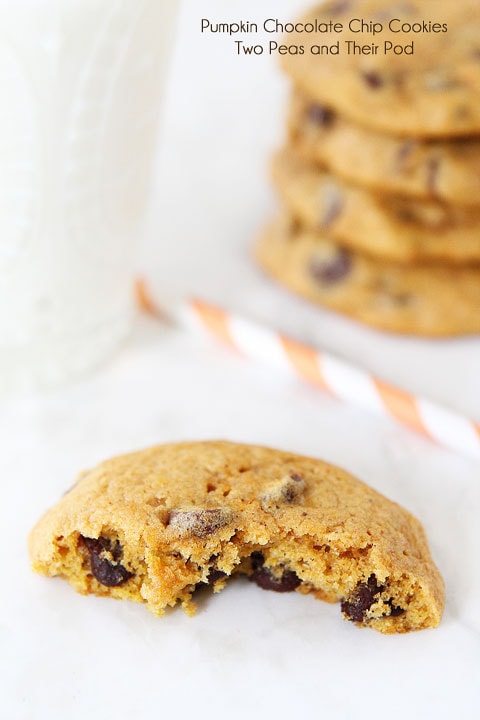 Pumpkin Chocolate Chip Cookies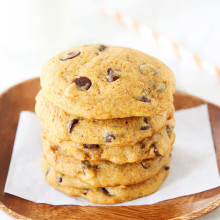 Soft and chewy spiced pumpkin cookies dotted with chocolate chips! We make endless batches of Pumpkin Chocolate Chip Cookies during the fall months. They are always a hit!
Yield: 3 dozen cookies
Prep Time:10 minutes
Cook Time:10 minutes
Total Time:40 minutes
Ingredients:
3 cups all-purpose flour
3/4 teaspoon salt
1/2 teaspoon baking soda
1/2 teaspoon baking powder
1 teaspoon ground cinnamon
1/2 teaspoon ground nutmeg
1/2 teaspoon ground ginger
1/4 teaspoon ground cloves
1 cup butter, at room temperature
3/4 cup brown sugar
1 cup granulated sugar
1 large egg
2 teaspoons vanilla extract
1 cup pumpkin puree (not pumpkin pie filling)
2 cups chocolate chips
Directions:
Preheat oven to 350 degrees F. Line a large baking sheet with a Silpat baking mat or parchment paper and set aside.
In a medium bowl, whisk together flour, salt, baking soda, baking powder, and spices. Set aside.
Using a mixer, cream the butter and sugars together until light and fluffy, about 3-4 minutes. Add the egg, vanilla, and pumpkin and mix until combined, about 3 minutes. Slowly add in the dry ingredients. Mix until just combined. Stir in the chocolate chips.
Drop by large, rounded tablespoons onto prepared baking sheet. Bake for 10 to 12 minutes or until cookies are just beginning to brown around the edges. Let the cookies cool on the baking sheet for two minutes. Transfer to a wire cooling rack and cool completely.


All images and text ©Two Peas & Their Pod.




Follow twopeasandpod on Instagram and show us what recipes you are making from our blog! Use the hashtag #twopeasandtheirpod! We want to see what you are making in your kitchen!