The BEST Puppy Chow (Muddy Buddies) recipe and it's SO easy to make! You will love this decadent chocolate peanut butter cereal treat! It is the perfect party recipe and always a hit during the holidays.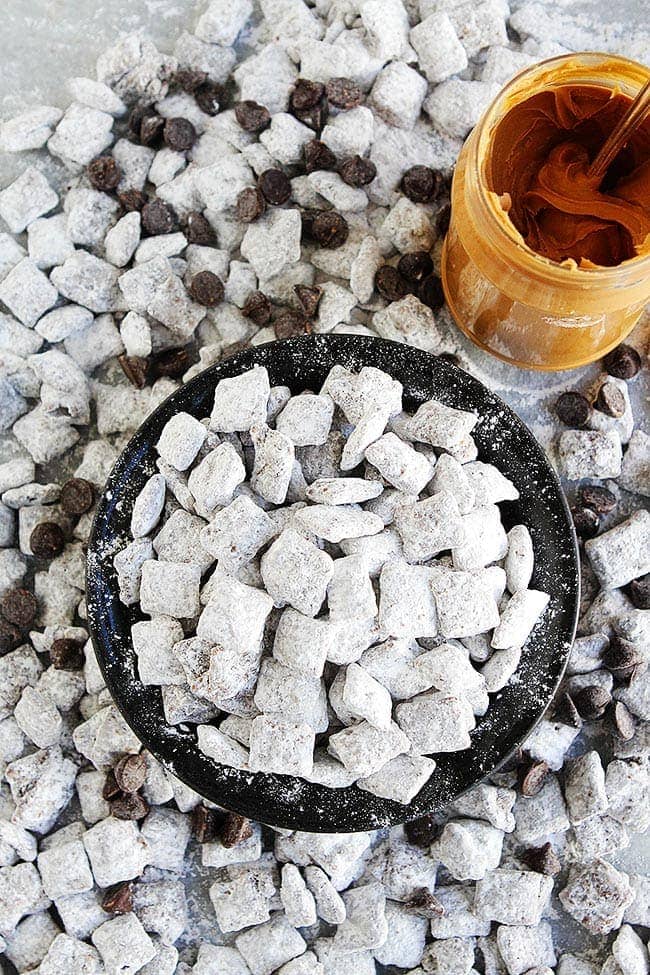 What is Puppy Chow?
Puppy chow is one of my all-time favorite treats, and I am not talking about dog food. I promise I haven't lost it:) I am talking about the decadent chocolate peanut butter cereal treat that is covered in powdered sugar. It's kind of like dessert Chex Mix. I grew up making and eating puppy chow, it was a staple at our house especially during the holiday months.
So why is it called puppy chow? Well, because it kind of looks like real puppy chow…ha! But don't worry it is SO much better, not that I have tasted real dog food:) Just make sure you don't give this recipe to your dog, it has chocolate, which isn't safe for dogs, but it is very safe for humans. This is human chow:)
If you have made puppy chow, you know it is one of the best treats of all-time. And if you haven't made it, you are in for a real treat because you are going to LOVE this easy recipe!
Puppy Chow or Muddy Buddies?
So there is a little debate about the name of this popular treat. Some people call it Puppy Chow and some call it Muddy Buddies. General Mills, who makes Chex cereal, started making and selling Muddy Buddies in stores and that is their official name for the snack. I grew up calling it puppy chow so that is what we are going with today, but Muddy Buddies is perfectly fine too. And I have also heard it called Reindeer Chow, Muddy Munch, and Monkey Munch. You can call it whatever you want, it will still be delicious! I mean, people LOVE it and it's called puppy chow, so you KNOW it is good:)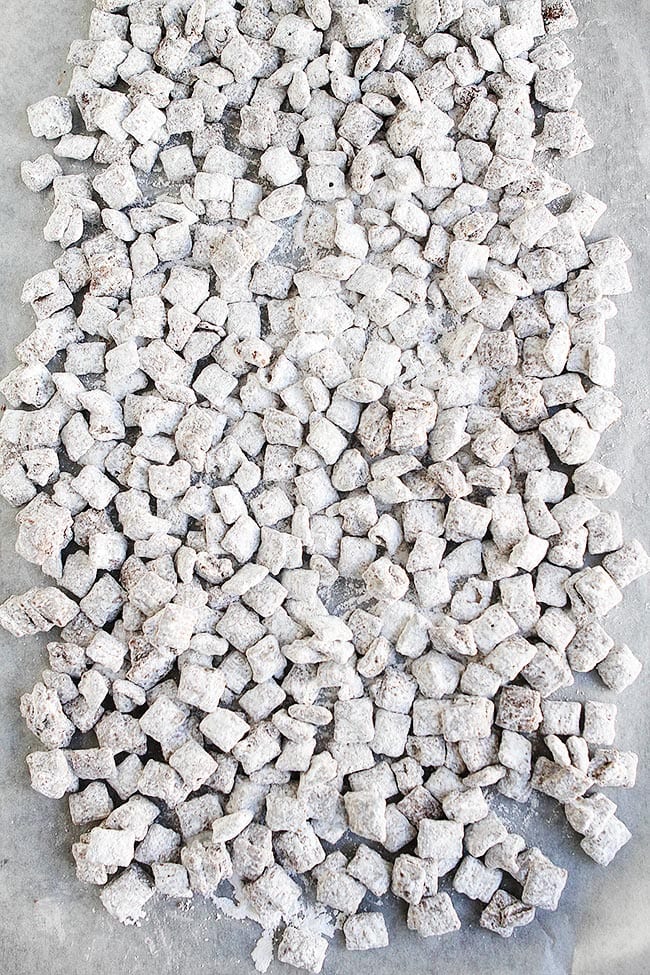 Puppy Chow Ingredients
You will need the following ingredients to make puppy chow aka muddy buddies:
Rice Chex cereal-I use Rice Chex cereal to make puppy chow.You can use Corn Chex cereal, but I prefer the rice cereal flavor. You can also use Crispix cereal, but the shape of your puppy chow will be a little different.
Chocolate Chips-I use semi-sweet chocolate chips, but you can use milk chocolate chips.
Peanut Butter-I use creamy peanut butter and not natural peanut butter. Think JIF or Skippy for this recipe!
Butter-I usually use unsalted butter, but if you want a little salt kick, salted butter works too!
Vanilla Extract-add a little vanilla extract for a nice vanilla kick. You can never go wrong with vanilla!
Powdered Sugar (Confectioners' Sugar)-the powdered sugar gives the puppy chow the perfect sweet finishing touch and gives the puppy chow it's signature look.
Easy, right? I make sure I always have these ingredients on hand so I can make puppy chow anytime and all of the time!
How to Make Puppy Chow
Puppy chow is a no-bake treat, which makes it even better. You can whip up a big batch of puppy chow in no time!
A few tips for making puppy chow:
Use a medium, microwave safe bowl to melt the chocolate chips, butter, and peanut butter together. Start with 1 minute on high, stir, and heat again for about 30 seconds. Stir again. If the mixture isn't melted, you can heat for 10 more seconds and stir again. Don't over heat. You want to heat just until the mixture is smooth.
Stir in the vanilla extract.
You will need six cups of Rice Chex Cereal. Yes, only SIX cups. A lot of recipes call for nine cups, but my friend Rachel taught me that six is the magic number to maximize the chocolate peanut butter flavor. Again, I like to use Rice Chex, but corn or Crispix will work too.
Place the cereal in a large bowl and pour the chocolate peanut butter mixture over the cereal. Stir GENTLY with a spatula. Make sure you don't break up the cereal, you want it to stay in whole pieces.
When the cereal is evenly coated, place it in a large Ziploc bag and add the powdered sugar. You will need 1 1/2 to 2 cups, depending how coated you like it. Make sure you seal the bag and shake! Kids love helping with this part:) Shake until all of the cereal is white and well coated.
Open up the bag and pour the puppy chow onto a big piece of parchment paper or wax paper. Spread the puppy chow in a single layer so it can cool and not stick together. Let sit until the chocolate is hard. To speed up the process, you can put it on a tray and put it in the refrigerator.
How To Store Puppy Chow
After the puppy chow is dry, you can put it in a large airtight container and store on the counter for up to 2 weeks. If your kitchen is warm, you can store the puppy chow in the fridge to make sure the chocolate doesn't melt. I have never had a problem with it being on the counter though. The only problem I have is EATING it…ha! Beware, this cereal treat is ADDICTING:)
You can also put puppy chow in decorative Christmas tins or bags to give to friends, family, and neighbors for the holidays. Everyone loves this easy homemade holiday gift!
Perfect Party Snack
If you need an easy treat to take to a party, puppy chow is always a hit! Put out a big bowl and I guarantee it will be gone by the end of the night. It is always a good conversation starter too. People will wonder why it's called puppy chow and their might be a debate about if the correct name is puppy chow or muddy buddies! It is the ultimate chocolate peanut butter treat! And it's perfect for holiday parties because it looks like snow. Warning, your fingers will become coated with powdered sugar, but that really isn't a bad thing:) ENJOY!
If you like this easy Puppy Chow Recipe, you might also like: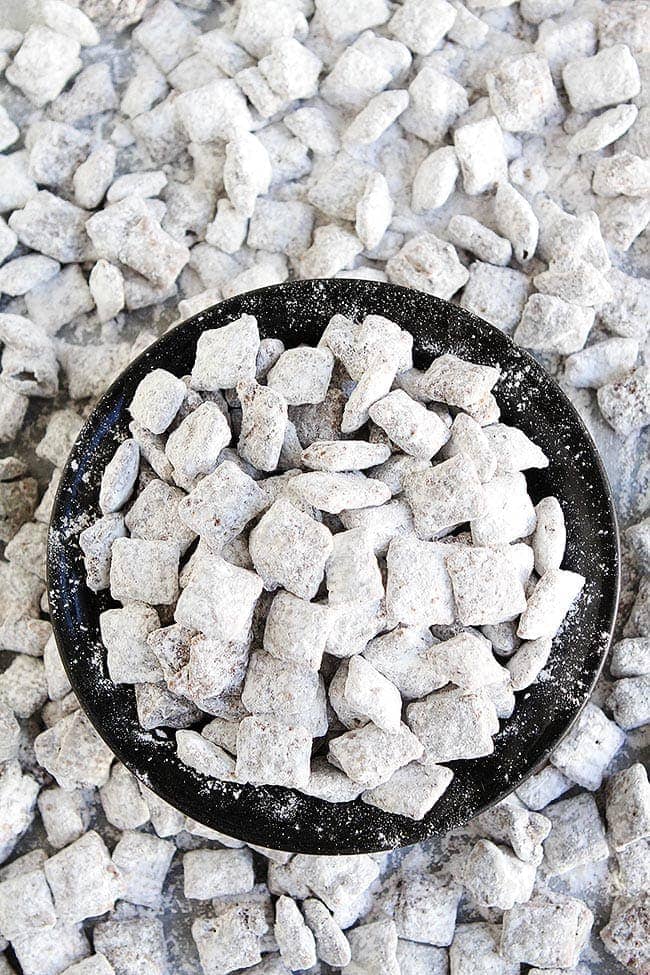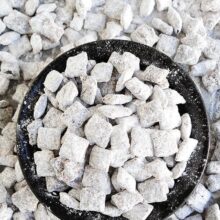 Puppy Chow
Chex or Crispix cereal coated in a mixture of peanut butter, chocolate, butter, vanilla, and dusted with powdered sugar. This easy treat is always a hit at parties! 
1




cup




semisweet chocolate chips

1/2




cup




creamy peanut butter

1/4




cup




unsalted butter

1




teaspoon




vanilla extract

6




cups




Rice Chex cereal

1 1/2 to 2




cups




powdered sugar
Place the chocolate chips, peanut butter, and butter in a medium microwave safe bowl. Microwave on high for 1 minute. Remove the bowl from the microwave and stir. Put the bowl back into the microwave and heat for an additional 30 seconds or until mixture is smooth when stirred. Add the vanilla extract and stir again.

Pour the cereal in a large mixing bowl. Add the chocolate peanut butter mixture and gently stir until cereal is evenly coated. Pour the coated cereal into a large Ziploc bag. Add the powdered sugar. Seal the bag and shake until the cereal is well coated. Spread on parchment paper or waxed paper. Let sit until cool and chocolate is set.

Store the puppy chow in an airtight container for up to 2 weeks. If it is warm in your kitchen, store the puppy chow in the refrigerator.
Nutrition Facts
Puppy Chow
Amount Per Serving
Calories 161
Calories from Fat 90
% Daily Value*
Total Fat 10g
15%
Saturated Fat 4g
20%
Cholesterol 7mg
2%
Sodium 112mg
5%
Potassium 123mg
4%
Total Carbohydrates 15g
5%
Dietary Fiber 1g
4%
Sugars 5g
Protein 3g
6%
Vitamin A
8.3%
Vitamin C
3.6%
Calcium
4.3%
Iron
20.9%
* Percent Daily Values are based on a 2000 calorie diet.