This post may contain affiliate links. Please read my disclosure policy.
This Tex-Mex queso blanco (white cheese dip) recipe is easy to make in about 20 minutes, perfectly melty and scoop-able, and irresistibly delicious.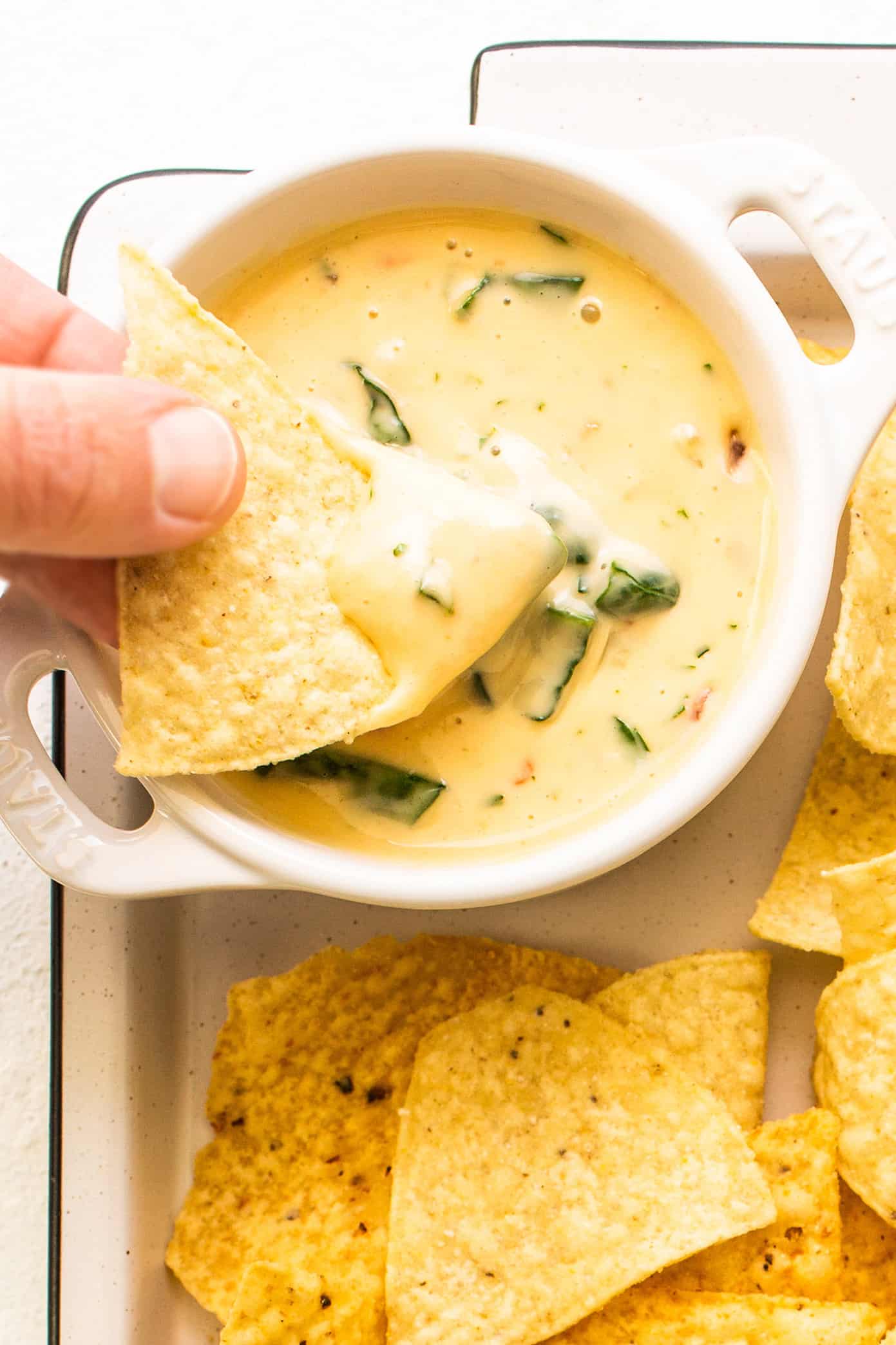 Meet my all-time favorite queso recipe. ♡
Anyone who has followed this blog for awhile knows that excellent chips, salsa and queso are some of my favorite things in the world. And after having made homemade cheese dip about a million different ways over the years, this Tex-Mex queso blanco recipe continues to be the unbeatable gold standard in my book.
It's inspired by the famous espinaca con queso at Jose Pepper's, which I was completely obsessed with back when we lived in Kansas City. And true to its name, it's loaded up with lots of fresh spinach, as well as diced onion, jalapeño, garlic, tomatoes, chiles and cilantro for lots of zesty flavor. It's also made with my preferred blend of Monterrey Jack and white American cheeses, which I'm going to insist that you use if you want a genuinely melty, creamy, scoop-able cheese dip. (I've tested at least a dozen varieties of Mexican and American cheeses when making queso over the years, and have found this combination is key for achieving a melty vs gritty texture.) And it is absolutely, irresistibly, can't-stop-going-in-for-another-dip delicious.
I'm also a big fan of this queso recipe because it be ready go in about 15 minutes from start to finish, making it perfect for easy entertaining. And if you happen to have any leftovers, it even reheats well the next day.
Alright, fellow cheese lovers, let's make some restaurant-style queso together!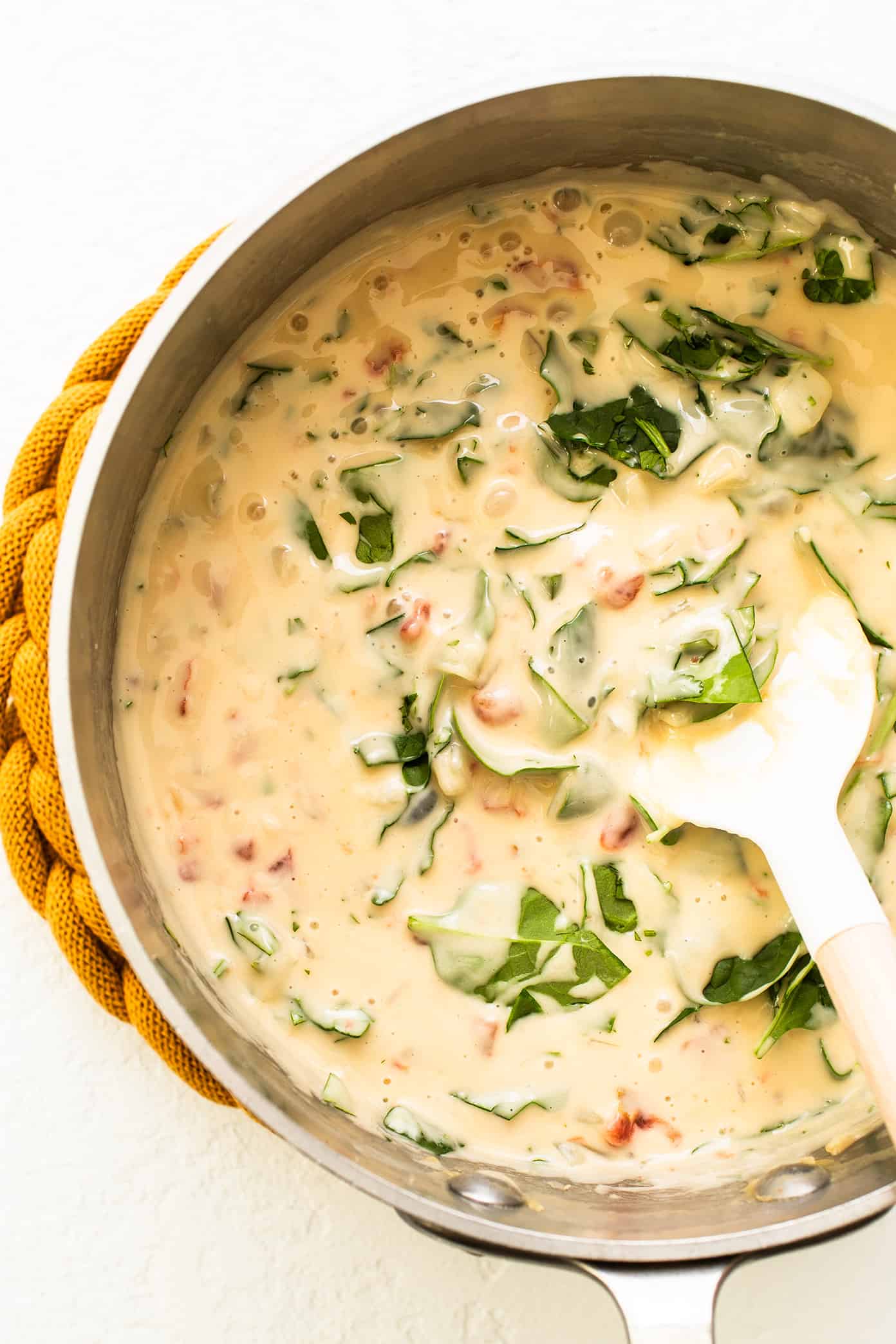 Queso Blanco Ingredients
Before we get to the full queso recipe below, here are a few important notes about the ingredients you will need to make this queso blanco:
Onion, jalapeño and garlic: Which we will briefly sauté this mix in oil until softened in order to bring out their best flavor (versus adding them directly to the melted cheese). Feel free to use more or less jalapeño if you prefer a mild or spicier salsa.
Diced tomatoes and chiles: I typically usually use one can of spicy Ro*tel in this cheese dip, but feel free to use mild Ro*tel if you prefer.
Evaporated milk: I've found this works best to help achieve a creamy texture when making homemade cheese dip. (By the way, we often have readers mistake evaporated milk for condensed milk in recipes, so please be sure that you are buying

evaporated

milk, which has no added sweeteners.)
White American and Monterrey Jack cheese: As mentioned above, a 2:1 ratio of these cheeses is my preference in homemade queso dip. White American cheese is usually found at the deli counter (they may need to cut it for you). Then I recommend purchasing a block of Monterrey Jack and dicing it yourself so that it will melt smoothly (pre-shredded cheese has a coating on it that prevents it from melting well). You are welcome to sub in other cheeses that you prefer, but the texture will likely not be as smooth and melty.
Fresh spinach: I always roughly chop and add fresh spinach to this dip. But alternately, you could thaw and drain some frozen chopped spinach to add instead.
Cilantro: I also really love adding a bit of chopped fresh cilantro to this dip. But if you have an aversion to cilantro, feel free to just leave it out.
Salt and pepper: Finally, don't forget to season the dip with salt and pepper to taste!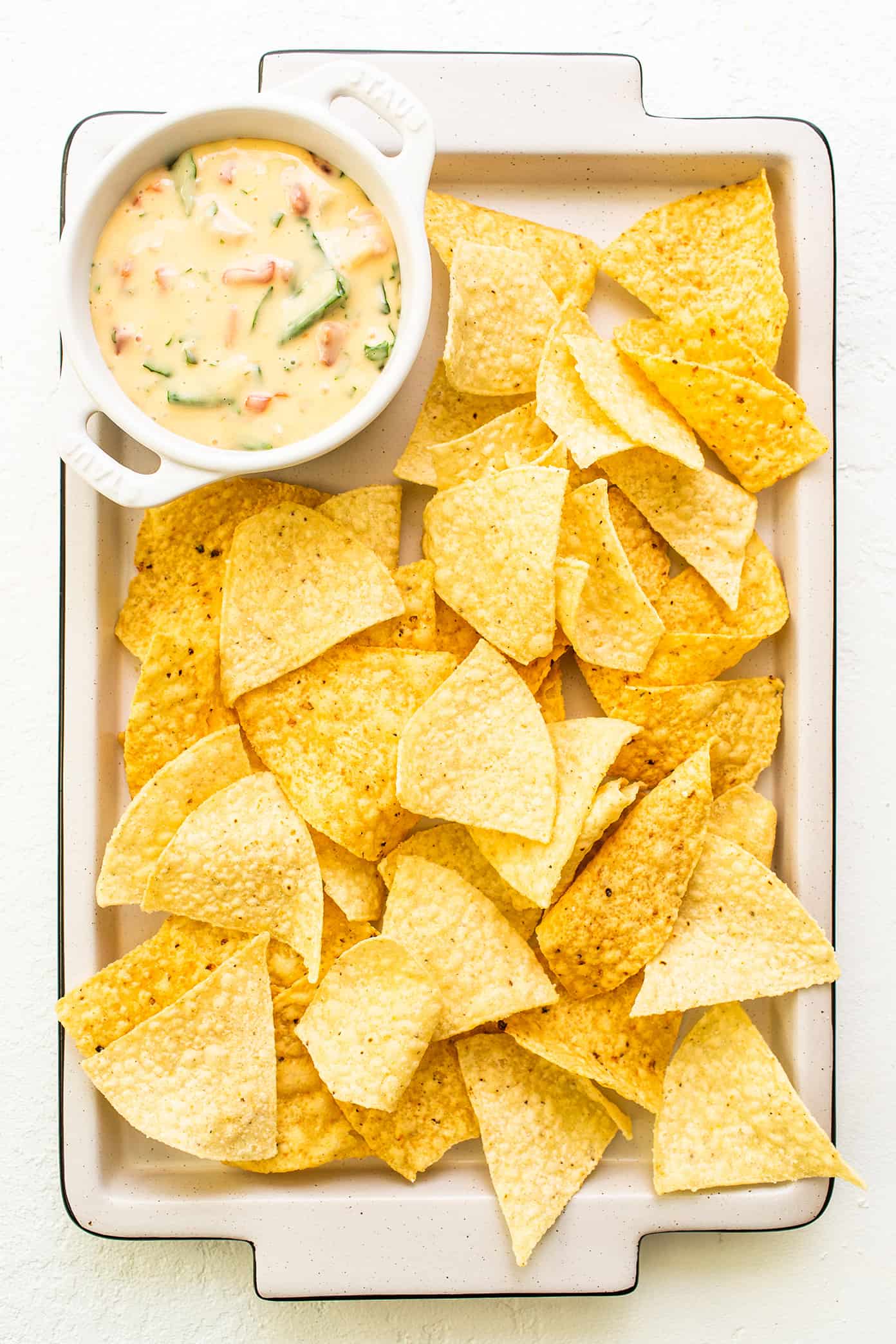 Recipe Variations
There are lots of fun ways to customize this recipe to your liking, so please feel free to have fun with it! For example, you are welcome to…
Add meat: Cooked ground chorizo, beef, chicken or bacon would be delicious additions to this dip.
Add chipotle: Add a finely-diced chipotle in adobo (or some chipotle chili powder) if you would like to make this dip even smokier.
Add extra chiles: Add an extra jalapeño or serrano pepper if you would like to make this dip even spicier.
Use half and half: If you don't happen to have evaporated milk on hand, I've found half and half to be the best substitute. (You could alternately use whole milk or heavy cream, but the latter doesn't always yield a great texture and heavy cream feels too rich to me.)
Use different cheese: If you would like a spicier salsa, feel free to swap pepper jack cheese in place of Monterrey Jack. We've also had people use the new white Velveeta cheese in place of the white American cheese with success. Unfortunately, most other varieties of American or Mexican cheeses that I've tried over the years just do not yield the smooth, melty texture 

and

good flavor that comes from white American cheese.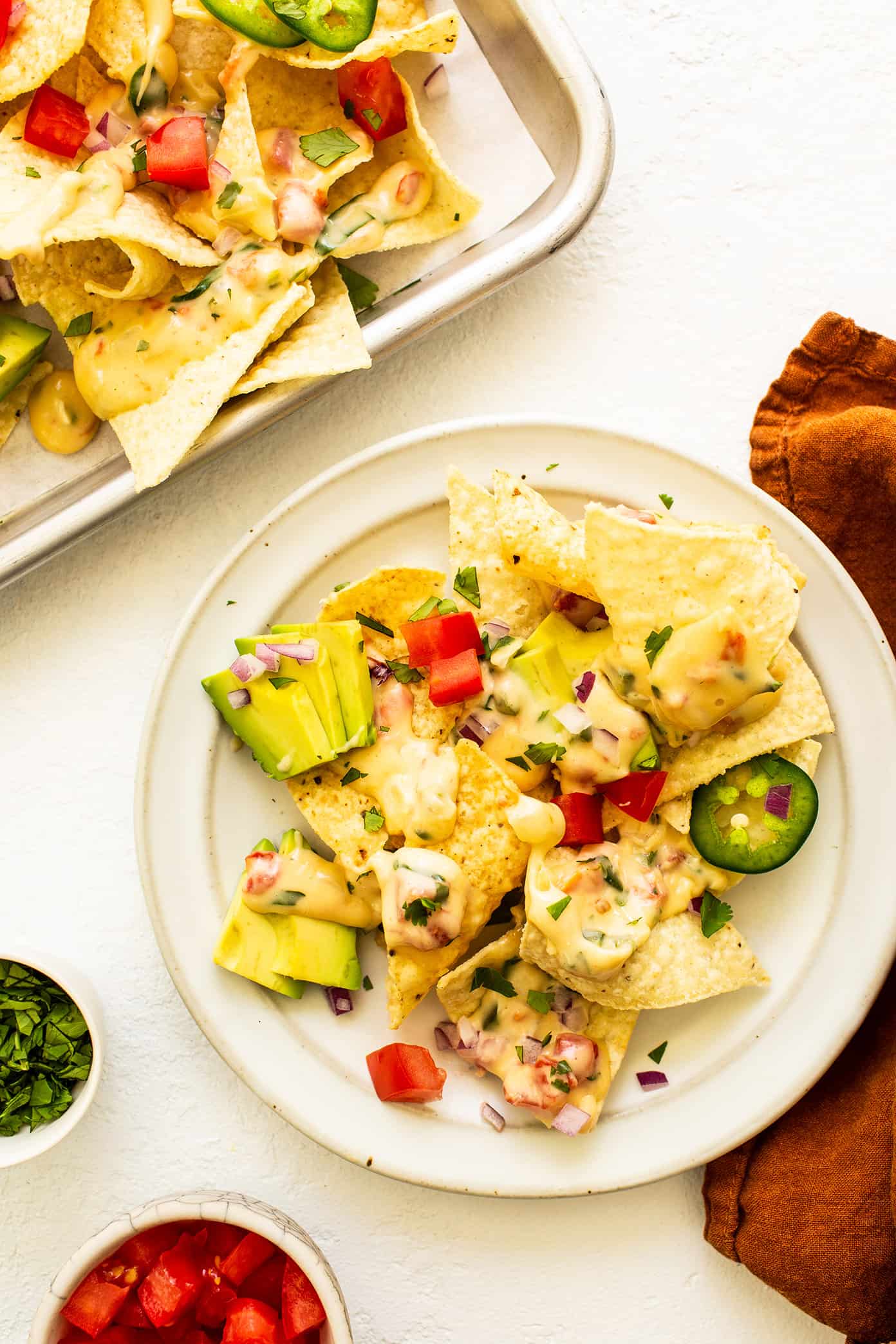 More Mexican Dip Recipes
Looking for more Mexican-inspired dip recipes to serve alongside this queso blanco? Here are a few of my faves…
---
Description
This queso blanco (white cheese dip) recipe is easy to make in about 20 minutes, perfectly melty, and irresistibly delicious!
---
1 tablespoon

butter or olive oil

1

small white onion, peeled and diced

1

large jalapeño pepper, cored and diced

2

cloves garlic, minced

1

(15 ounce) can diced tomatoes and chiles, drained

1 cup

(8 ounces) evaporated milk

1

pound (16 ounces) white American cheese, diced into small cubes

8 ounces

Monterey Jack cheese, diced into small cubes

2 cups

(loosely-packed) chopped fresh baby spinach

1/4 cup

chopped fresh cilantro

fine sea salt and freshly-ground black pepper
---
Sauté veggies.

Heat butter in a large saucepan over medium-high heat. Add onion and jalapeño and sauté for 5 minutes, stirring occasionally, until softened. Add garlic and sauté for 1 minute, stirring occasionally. 

Combine.

Add in the diced tomatoes and chiles, evaporated milk and stir to combine. Gradually add in the cheese, stirring constantly until it has completely melted. Stir in the spinach and cilantro until combined.

Season.

Taste and season with salt and pepper as needed. If the dip is too thick, add in extra evaporated milk to thin.

Serve.

Serve warm and enjoy!
---
Notes
Recipe edit: This recipe was edited slightly in 2022 to include more veggies and a different ratio of cheese.