Skip the griddle and preheat your oven for a crowd-friendly recipe for light and fluffy Quick Sheet Pan Pancakes that can be customized with endless toppings.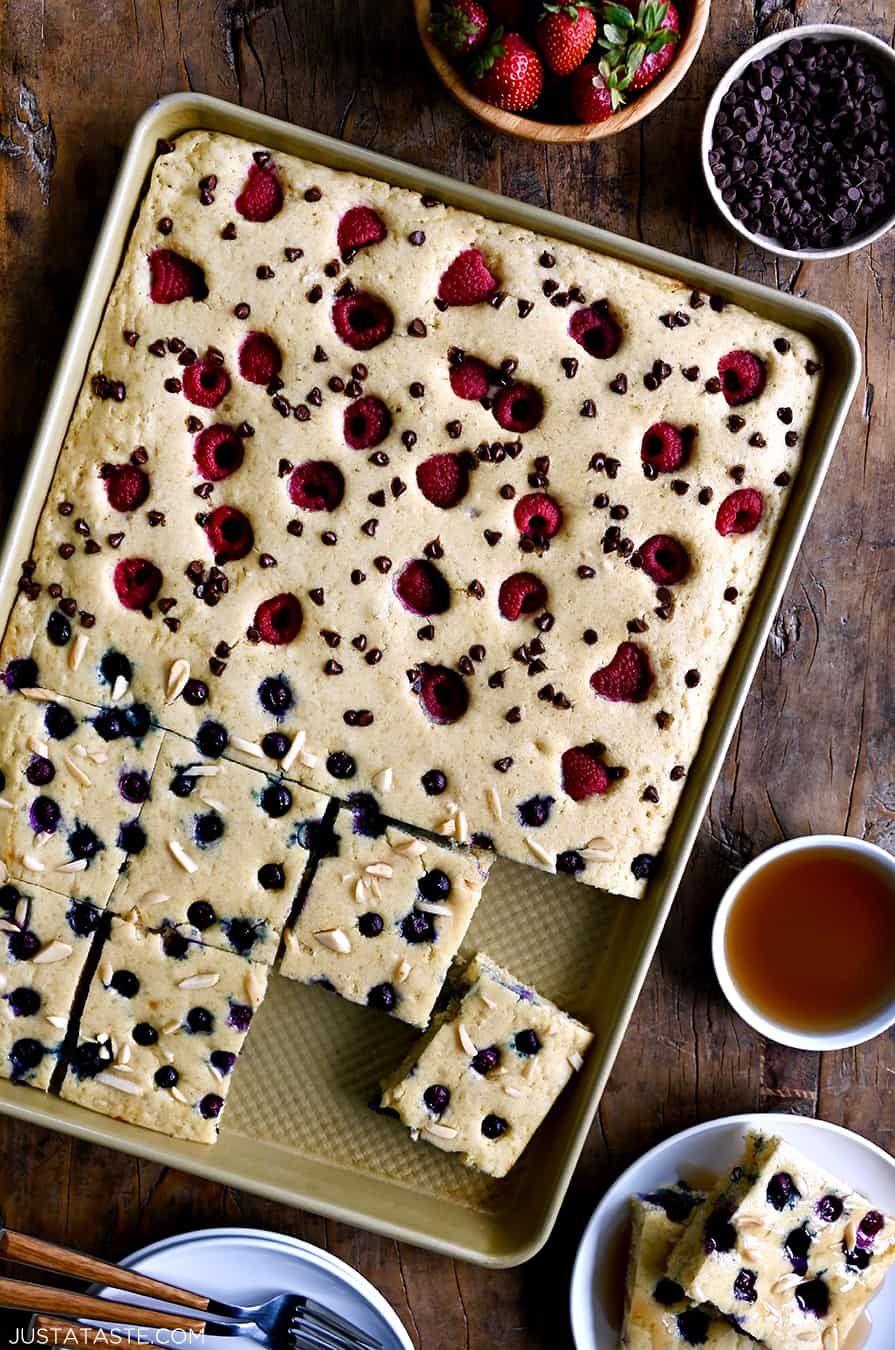 Pancakes are a food group around our house, and they've certainly appeared in a range of both savory and sweet variations around these parts. We've got everything from the top-rated Greek Yogurt Pancakes and the classic 5-star Light and Fluffy Pancakes to the easiest, cheesiest Mashed Potato Pancakes and my personal favorite, Scallion Pancakes with Soy Dipping Sauce. If you can flip it on a griddle, I've got you covered!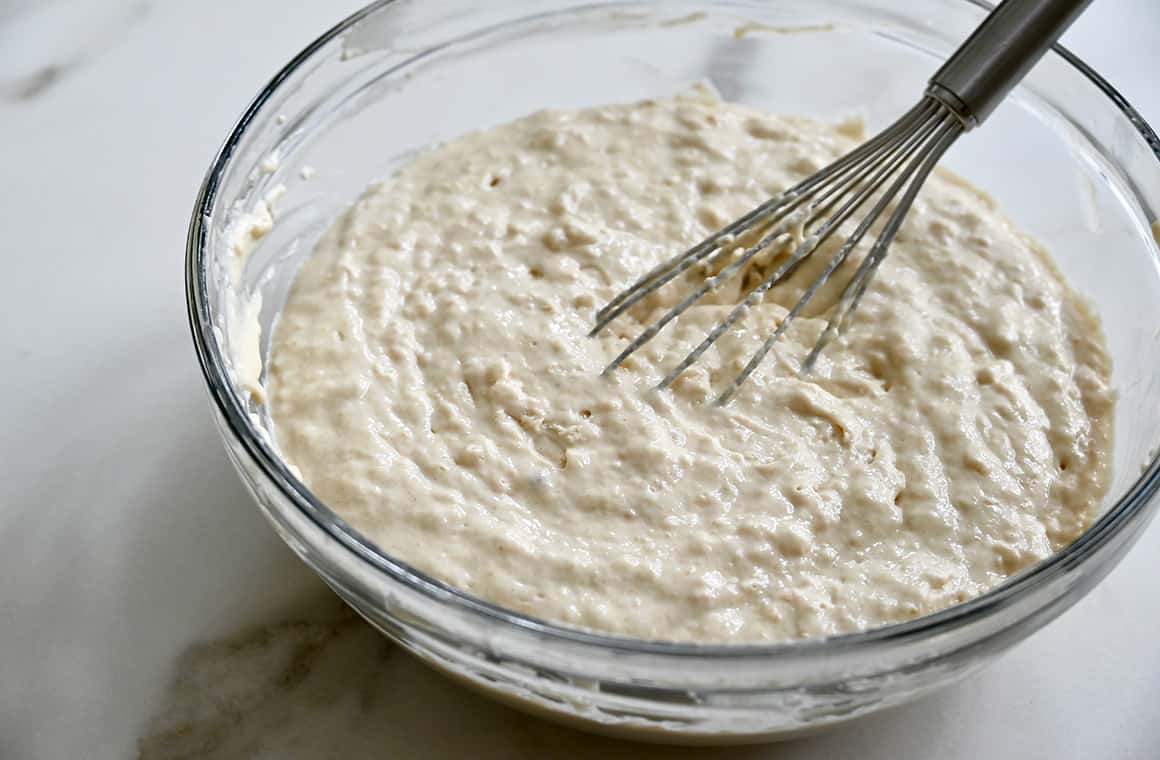 But what happens when standing by the stove, flipping flapjack after flapjack, doesn't fit in the breakfast or brunch timeline? It's your oven and a sheet pan to the rescue!
How Do You Make Sheet Pancakes?
It's as easy as measuring, mixing and pouring to whip up sheet pan pancakes. My tried-and-tested recipe yields the perfect quantity of batter for a standard 13×9-inch baking pan, which you'll grease generously with cooking spray or butter.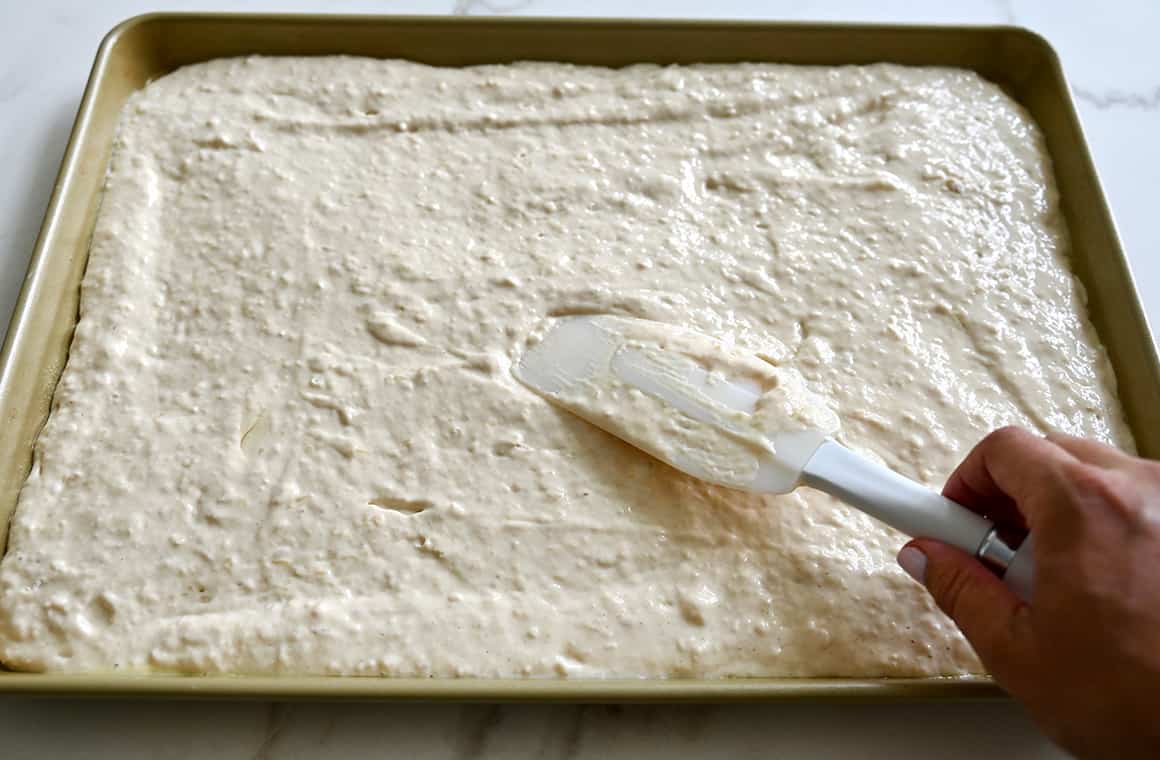 Aside from feeding a hungry crowd in minutes, the best part about sheet pan pancakes is that you can top them with endless additional ingredients, all on the same singular sheet pan. Drop in your fruit, nuts, chocolate chips or other toppings of choice then pop the pan in the oven and let the 15-minute countdown begin!
The Secret To Light and Fluffy Pancakes
I consider sheet pan pancakes successful when their texture matches that of classic pancakes. They should be light, fluffy and tender with a bit of springy bounce. Achieving this texture is all about what goes into the batter, which in my recipe includes a combination of two leaveners—baking soda and baking powder—along with plenty of buttermilk for moisture. (No buttermilk? No prob! Read on below for plenty of substitutions.)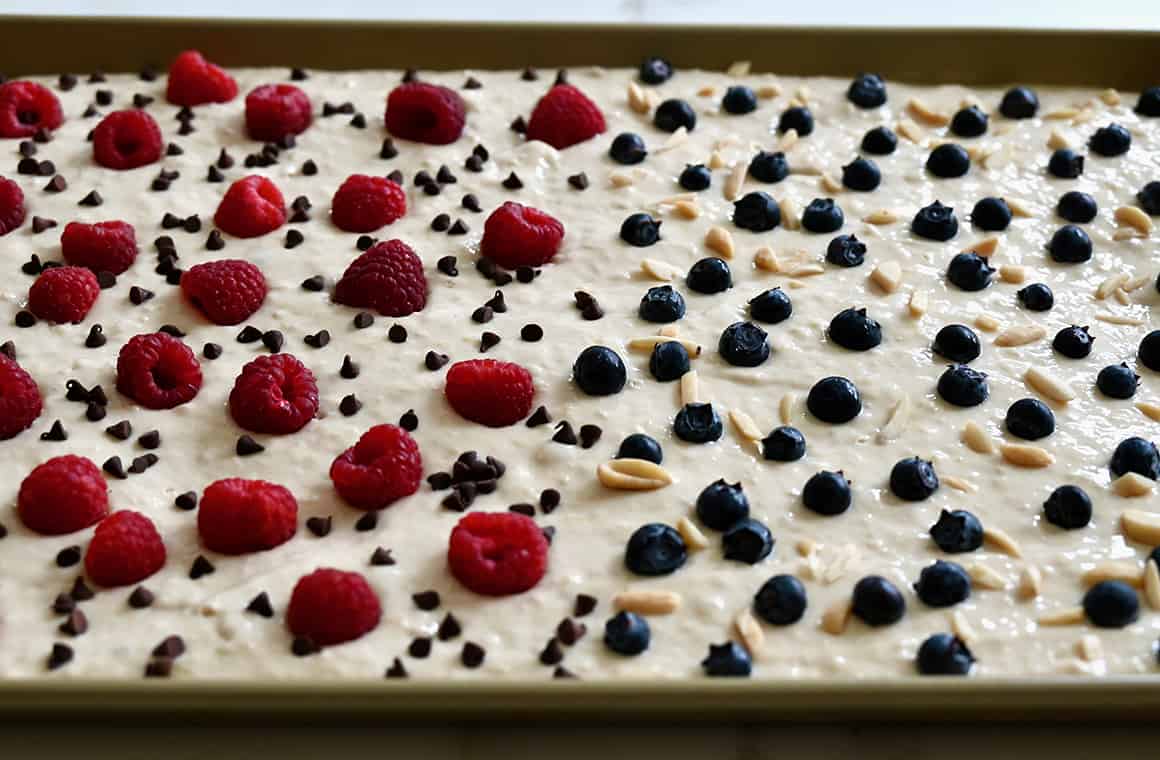 When it comes to technique, whisking just until the batter is combined is essential. Just like classic pancakes, we want a lumpy batter that hasn't been overmixed. So when in doubt, stop stirring and get that batter into the pan!
The Best Buttermilk Substitute
Buttermilk is a common ingredient in pancake batter because the acidic component helps activate the baking soda, which leads to bubbles. And bubbles in a batter translates to light, fluffy flapjacks!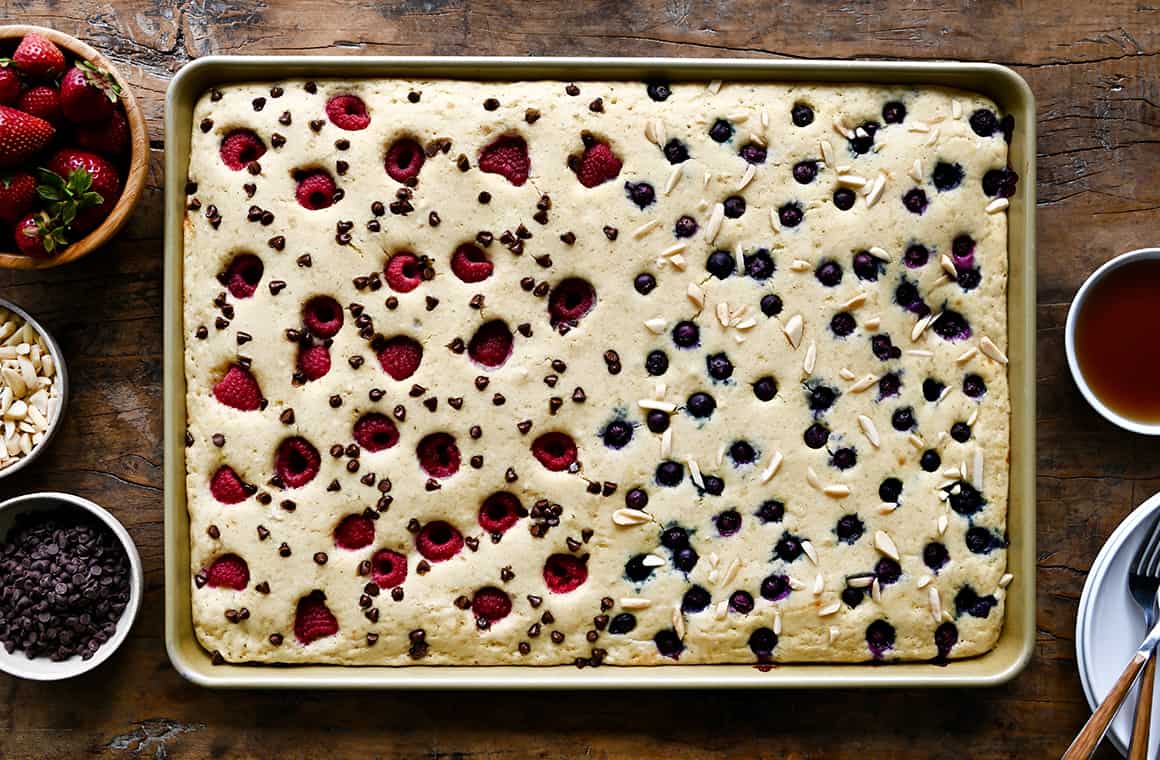 Check out my ultimate Buttermilk Substitutes Guide to learn how you can swap in everything from milk and lemon juice to milk and vinegar, and even sour cream or yogurt.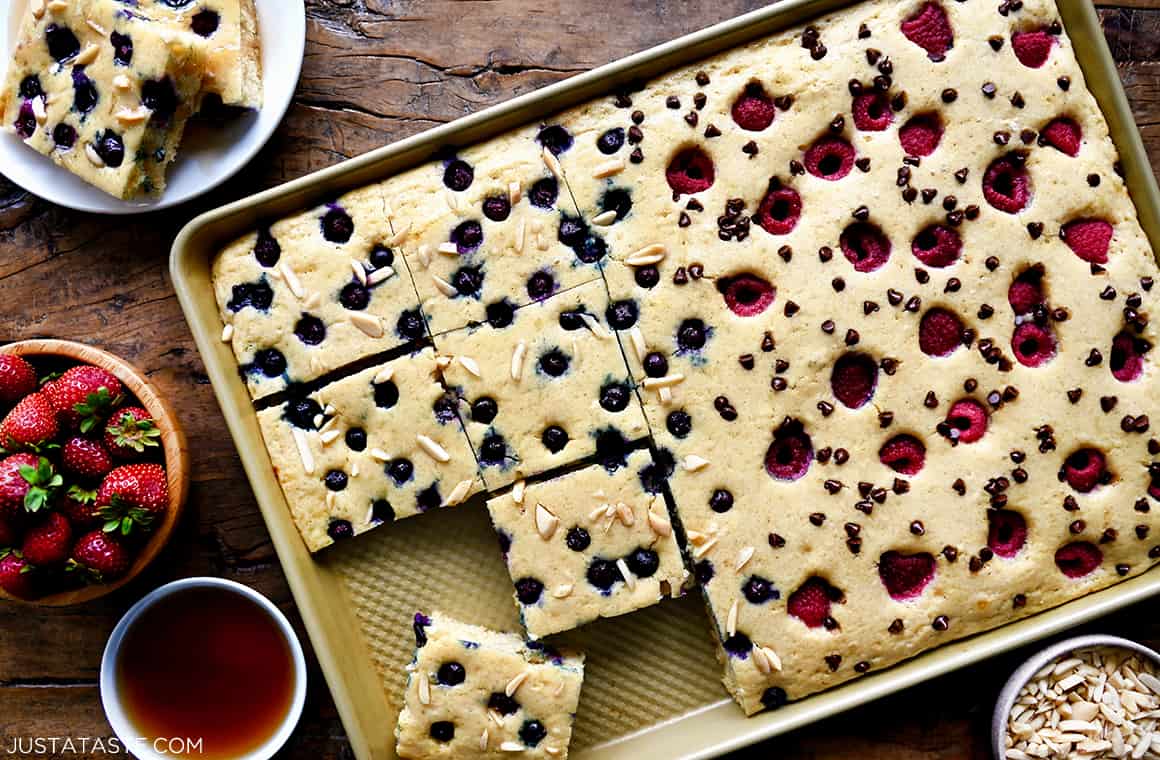 Craving more? Subscribe to Just a Taste to get new recipes, meal plans and a newsletter delivered straight to your inbox! And stay in touch on Facebook, Twitter, Pinterest and Instagram for all of the latest updates.
Preheat the oven to 425°F. Generously grease a half-size (13×18") baking sheet with cooking spray.

In a large bowl, whisk together the flour, baking powder, baking soda, sugar and salt.

In a separate medium bowl, whisk together the buttermilk, eggs, melted butter and vanilla extract. 

Add the wet ingredients to the dry and whisk just until combined. (The batter should be lumpy.) Pour the batter into the prepared baking sheet, spreading it into an even layer.

Sprinkle preferred toppings atop the batter (optional). 

Bake the pancakes until they are golden brown on top and a toothpick inserted comes out clean, 15 to 20 minutes.

Remove the pancakes from the oven and let them cool slightly before slicing and serving with maple syrup.

★ Did you make this recipe? Don't forget to give it a star rating below!