Ranch Pork Chops – Made with just a few simple ingredients, including Ranch Seasoning Mix, this Ranch Pork Chops Recipe will become your new favorite pork dinner!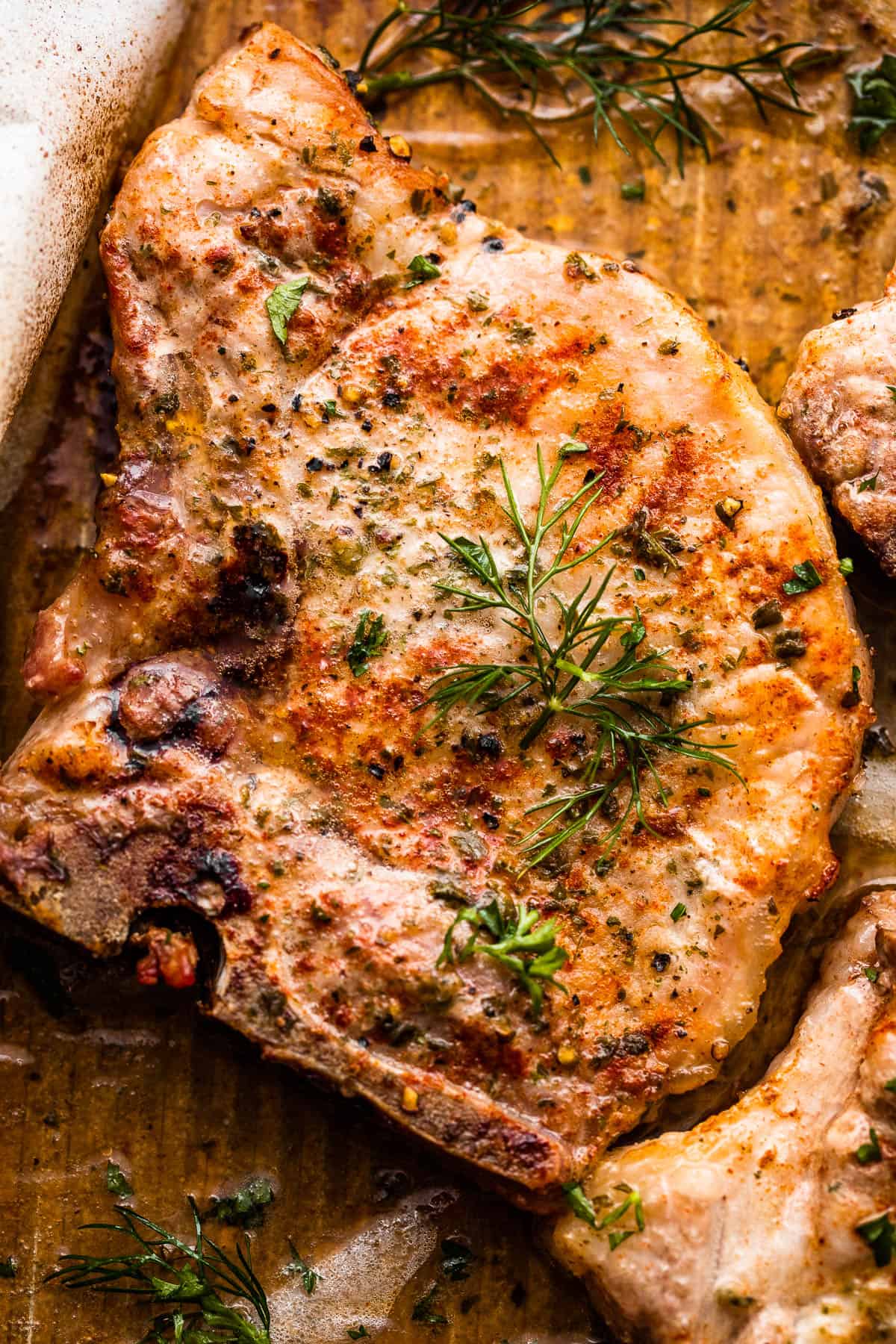 Hi Hi!! I have something to tell you! It's a story about how I bought three ingredients and made one of our favorite dinners of all time: Ranch Pork Chops. 
WHAT IS RANCH PORK CHOPS
RANCH Pork Chops are oven-baked, tender and juicy chops packed with ranch dressing flavor! It is the easiest 4-ingredient dinner recipe you will ever make. You just need one pan and 5 minutes to prep. It's quick, very easy, and beyond delicious!
I love making pork chops for dinner. If you are anything like me, then you are also a lover of ranch dressing, and now is the time to take it all to the next level. If you haven't yet, that is. Ranch ain't just a salad dressing, you know? 
However, I have to admit — Hidden Valley Original Ranch Dressing is my savior when it comes to dinner time. As long as there's HV's Ranch Dressing to dip our food in, everyone is at the table. #truth 
One might cover her fries with ranch, the other might cover his meat with ranch, and as for me? I put it all over my salad and simply enjoy the cool creaminess.
Buuuuut! THIS is not THAT. THIS my friends is Hidden Valley Original Ranch Salad Dressing & Seasoning Mix sprinkled over juicy pork chops and baked in the oven for only 18-ish minutes. Dinner, with prep time and all, will be ready in under 30 minutes. 
HOW TO MAKE RANCH PORK CHOPS
Preheat the oven to 450˚F.
In the meantime, season pork loin rib chops with Ranch Seasoning mix plus paprika, and arrange on a lined baking sheet. 
Pop them in the oven and cook for 20-ish minutes, turning once halfway through cooking. 
Take the pork chops out of the oven and serve. That's IT! Easy peasy. 
While you're at it, check out my recipe for INSTANT POT CREAMY RANCH PORK CHOPS, too! 😀 
ENJOY!
Easy Pork Chops Recipes
Ranch pork chops recipe
Oven baked, tender and juicy pork chops packed with ranch-flavor!
Instructions 
Preheat oven to 450˚F.

Line a baking sheet with foil or parchment paper and lightly grease with cooking spray. Set aside.

In a small bowl, combine Ranch Seasoning Mix, paprika, salt, and pepper; mix well.

Coat both sides of pork chops with the seasoning mixture.

Arrange pork chops on previously prepared baking sheet.

Bake pork chops for 10 minutes; turn over and continue to cook for 8 more minutes, or until internal temperature is about 145˚F. Use an instant read meat thermometer to check for doneness.

Remove from oven; let stand about 5 minutes before serving.
Nutrition Facts
Ranch pork chops recipe
Amount Per Serving
Calories 221
Calories from Fat 81
% Daily Value*
Fat 9g14%
Saturated Fat 3g15%
Trans Fat 1g
Cholesterol 90mg30%
Sodium 419mg17%
Potassium 502mg14%
Carbohydrates 3g1%
Fiber 1g4%
Sugar 1g1%
Protein 29g58%
Vitamin A 46IU1%
Calcium 10mg1%
Iron 1mg6%
* Percent Daily Values are based on a 2000 calorie diet.
Keywords: baked pork chops, pork dinner, ranch pork chops
Want To Save This Recipe?
Originally Published on August 18, 2016.