Pink Champagne Floats are the perfect Valentine's Day cocktails and dessert all in one! This fun treat is the same as a regular float, but it's made with pink champagne and raspberry sorbet for something classy and festive. Talk about a romantic dessert idea!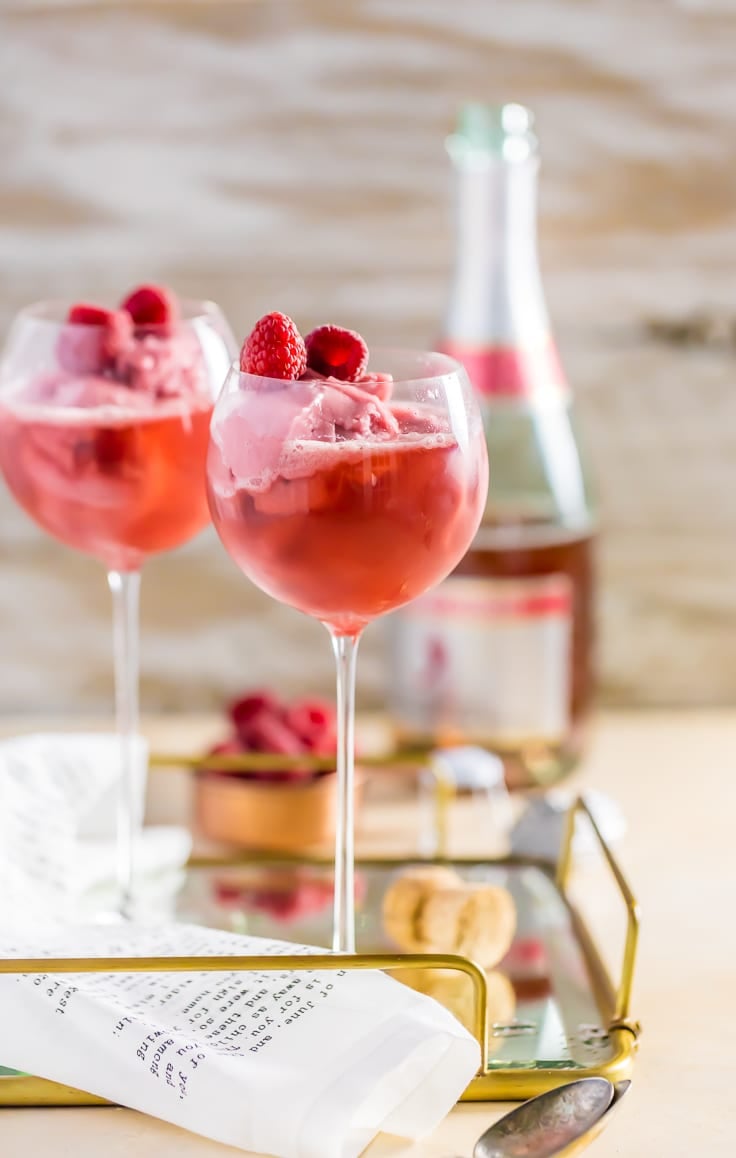 Pink Champagne Floats
These beautiful champagne floats are made with pink champagne and raspberry sorbet for a super PINK and romantic treat.
I've never been much of a girly girl. I'm not all about pink things or one for frills and hearts. But I am definitely a champagne girl, and definitely someone that absolutely loves Valentine's Day. So I'll compromise and bring in a little more pink specifically for the holiday that celebrates LOVE. February 14th is definitely a day for pink things, bubbly things, and all things girly, and this recipe is all of the above.
Raspberry Pink Champagne Floats are the perfect sweet treat to make for your sweetie (or for yourself, you don't need a man to enjoy the finer things in life). I put a spin on classic ice cream floats by using raspberry sorbet and pink champagne to create a super romantic treat that is PERFECT for Valentine's Day. It's a cocktail and a dessert all in one. What could be better?
This Valentine's Day cocktail is very pink, very bubbly, and very delicious. And it's just as fun for bridal showers, anniversaries, or any girl's day occasion. It feels like the classiest cocktail you'll ever have!
These Raspberry Sorbet Pink Champagne Floats just scream Valentine's Day. So pink, so romantic, and so cute!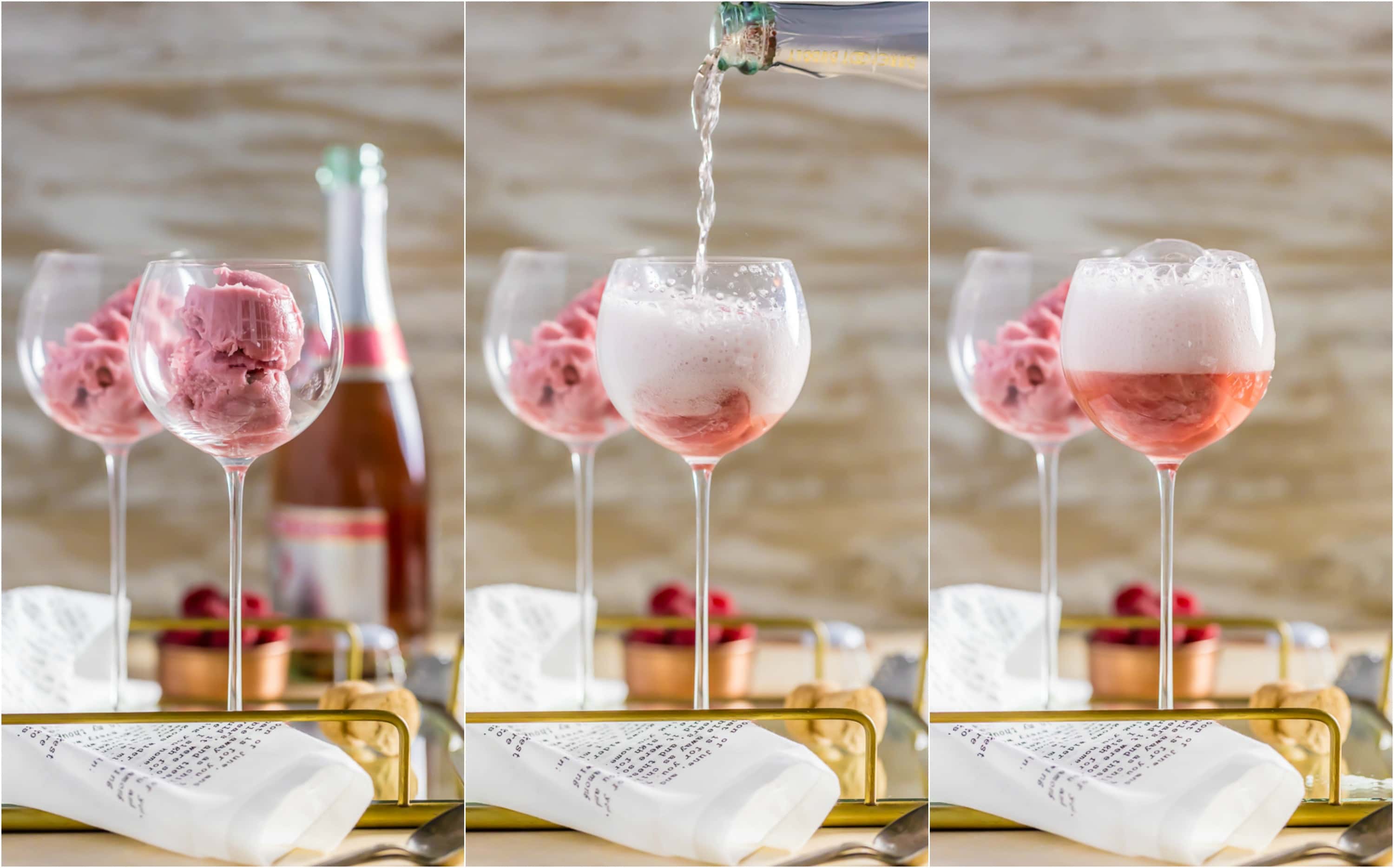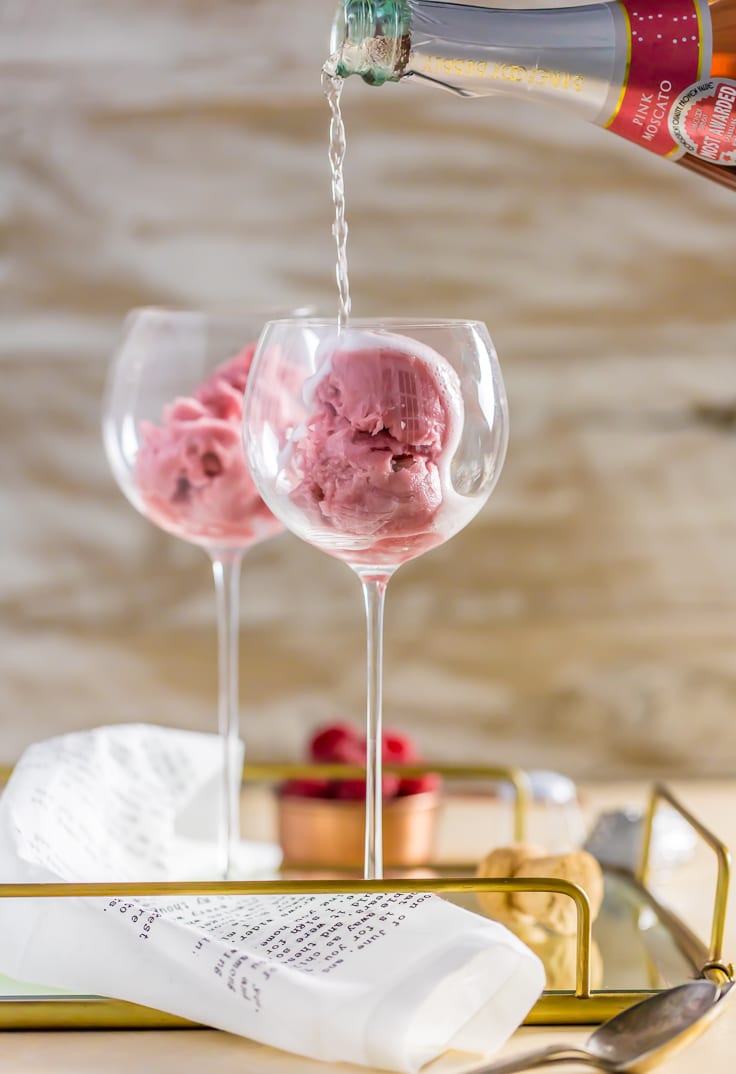 Raspberry Sorbet Mimosa
I think Champagne Floats is the best way to describe this cocktail, but you could also consider them as something like a Raspberry Sorbet Mimosa. I made Sherbet Mimosas in the past, and I was hooked. Those are the perfect brunch cocktail, and they definitely helped inspire this recipe.
I love how the raspberry sorbet melts into the pink champagne and creates a sweet mix of fruity and bubbly. It's refreshing, fabulous, and EASY! Such a fun way to impress your guests or a loved one.
How to Make Raspberry Pink Champagne Floats
One of my favorite things about drink recipes is how simple they are. Just a few steps (that are mostly just pouring and mixing), and you've got a super fun treat to serve. These pink champagne floats are no different. Just scoop, pour, and drink!
How to Make Raspberry Champagne Floats:
Place 1 or 2 scoops of raspberry sorbet in each glass.
Pour pink champagne directly over the sorbet (fill up those glasses).
Finish them off with some fresh raspberries and serve!
You can dig right in with a spoon, or you an let the sorbet melt as you sip on the champagne. I like to do a bit of both. Can't let any of it go to waste!
If you want to turn this into a non-alcoholic treat, there are plenty of alcohol-free champagnes and sparkling juices and ciders to choose from. That way you can serve these pink drinks to everyone who wants one. I think these would just be ADORABLE at a girl's birthday party.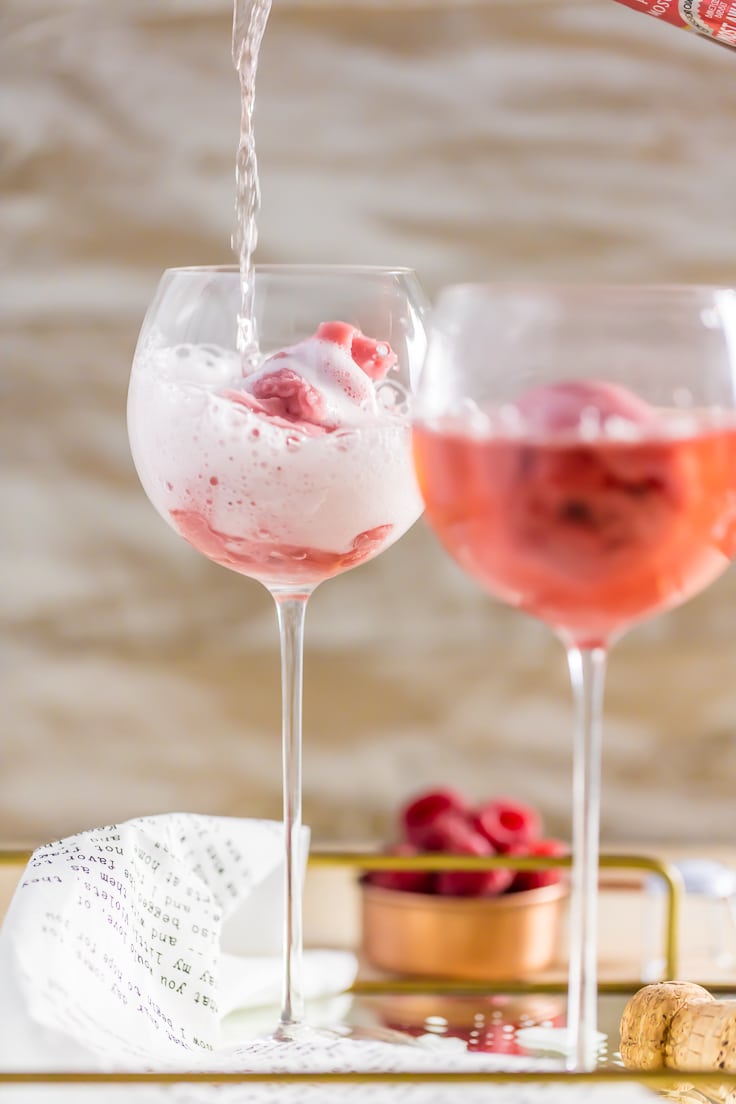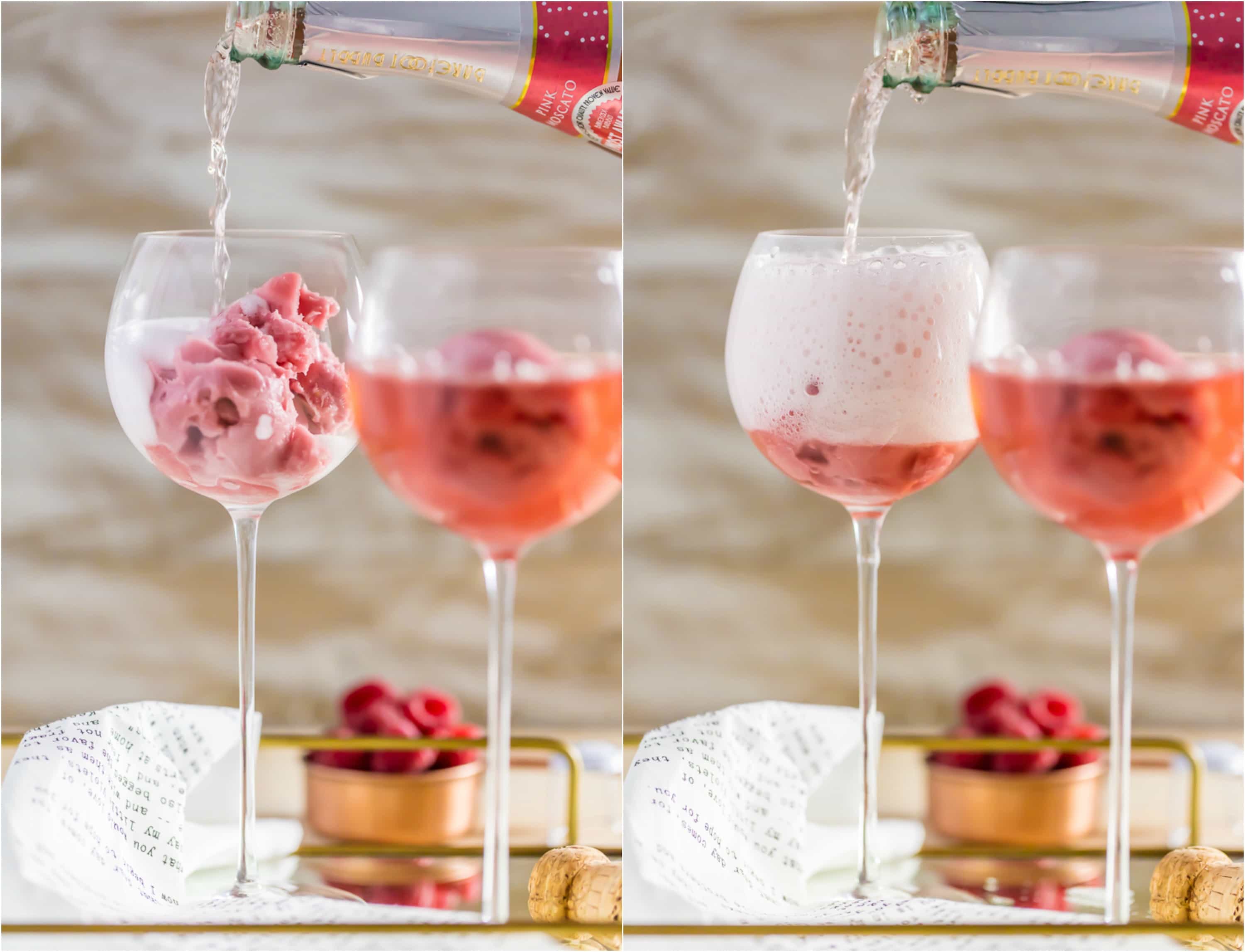 Valentine's Day Cocktails
I love these raspberry champagne floats for Valentine's Day, but also for so many other occasions. They're great for New Years Eve, girl's baby showers, birthday parties, or wedding showers. You can use a clear champagne and use any color sorbet that fits the color of the day! Fun, right? So teyt don't have to be Valentine's Day cocktails…but they are perfect for it!
Here are some other fun Valentine's Cocktails to try out too: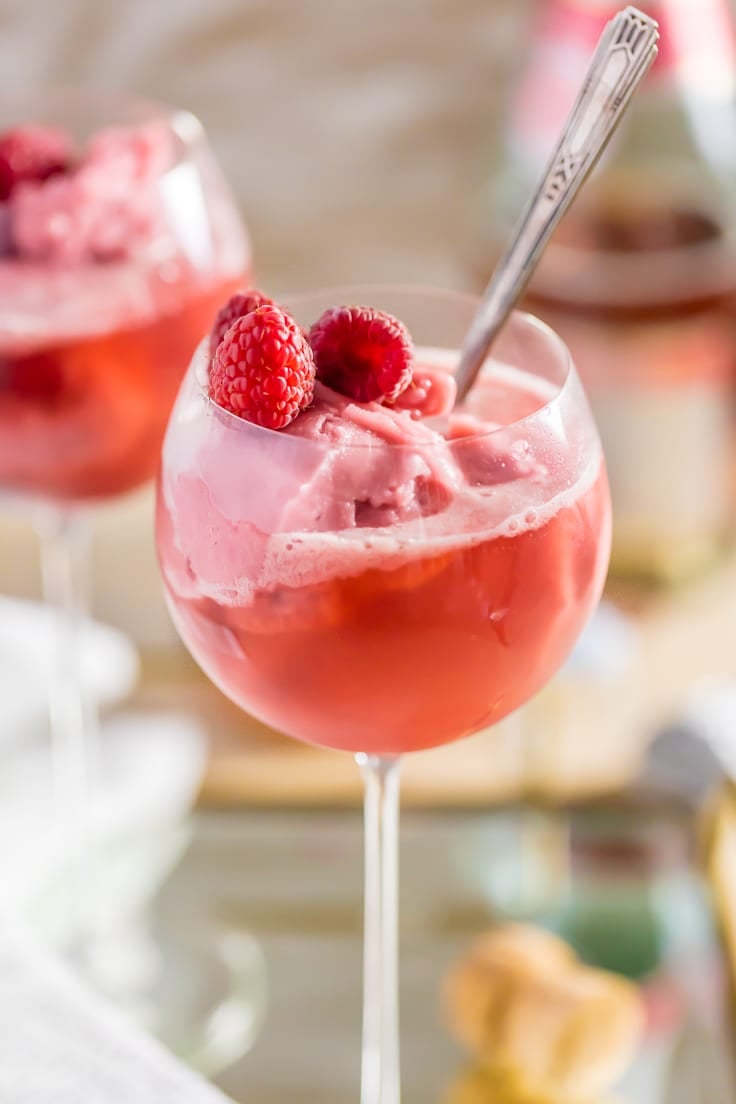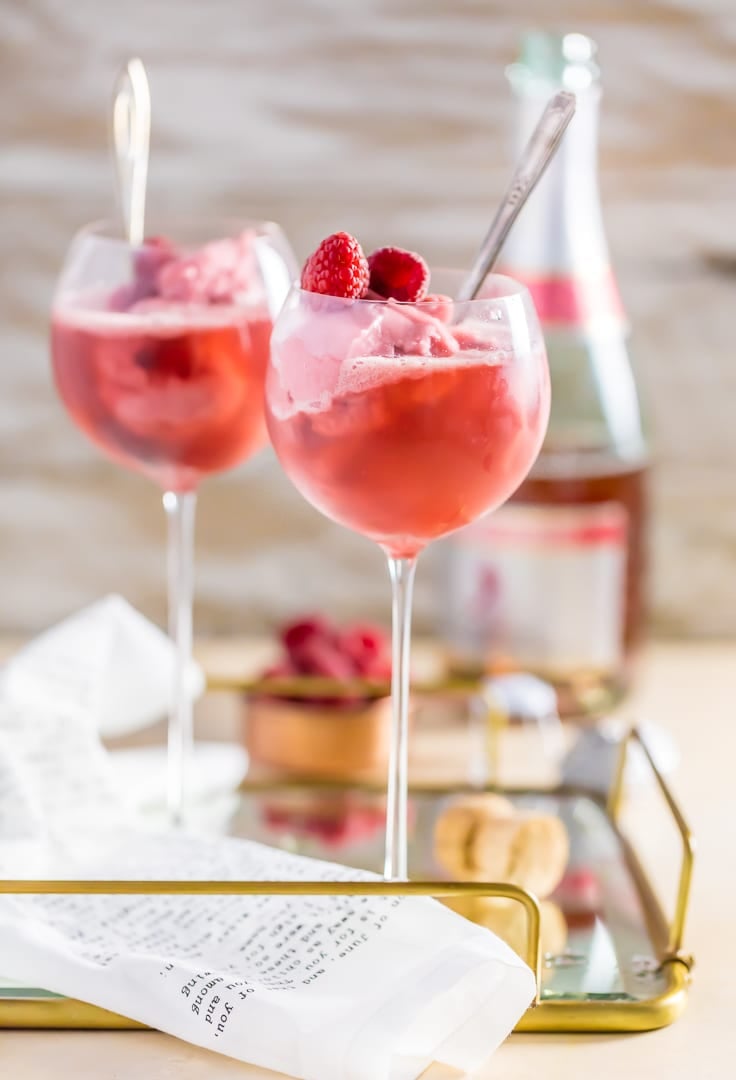 Make these Raspberry Sorbet Pink Champagne Floats this Valentine's Day and enjoy!
See the recipe card for details on how to make these Raspberry Sorbet Pink Champagne Floats. Enjoy!
If you like this recipe, you'll love our other Valentine's Day recipes too:
I hope you'll love my raspberry pink champagne floats recipe, but LOOK… my friends have some great recipes using champagne, too:
Frozen Peach Champagne Cocktail (Spend with Pennies)
Champagne Punch Bellini (Crazy for Crust) – I could drink a pitcher full of this right now!
Champagne Cocktail Sugar Cubes (In Katrina's Kitchen) – These would be SO cute floating in the pink champagne floats!
Champagne Mango-Lime Agua Fresca (Boulder Locavore)