This Red Wine Beef Stew has tender beef swimming in a rich beer and red wine sauce. It's pure comfort food and utterly delicious. Serve with some crusty bread for a filling and easy weeknight meal!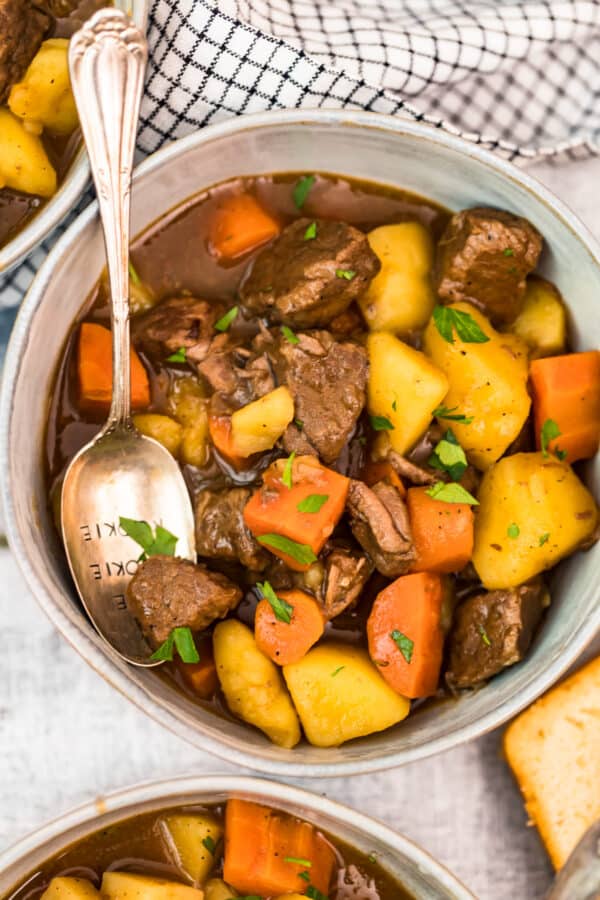 This Red Wine Beef Stew is a delicious twist on a Belgium classic, beef carbonnade.  Deep, rich flavors with very little effort! This is an incredibly tender beef stew with a silky sauce. It's a hearty main that will have you coming back for more!
Why this is so good
Succulent Beef. Perfectly cooked stew or chuck beef, slowly cooked in a dutch oven, so it's perfectly tender.
A Delicious Sauce. Rich and deep gravy, made with beer and red wine.
Easy to make. All made in one pot!
Ingredients
Olive Oil: Or canola oil.
Butter: Unsalted.
Meat: Use stew meat or chuck roast trimmed of fat.
Veggies: Onion, carrots, potatoes.
Garlic: Freshly minced.
Bottle Beer
Red Wine: Dry or semi-dry.
Beef Stock
Beef Bouillon Cubes: Or Dry au jus mix
Tomato Paste
Worcestershire Sauce
Bay Leaves
Seasoning: Smoked paprika, kosher salt, ground black pepper, sugar.
Garnish: Fresh parsley.
How to make Red Wine Beef Stew
In a Dutch Oven, brown the meat, then remove from the pot. Then place in onions and add the garlic. After they've softened add the beer, then add the beef and all other ingredients except carrots, potatoes and parsley.
Bring the mixture to a boil, then simmer covered for an hour.
Remove the lid and add the potatoes and carrots, simmer for another hour.
Allow to thicken, serve with chopped parsley and crusty bread!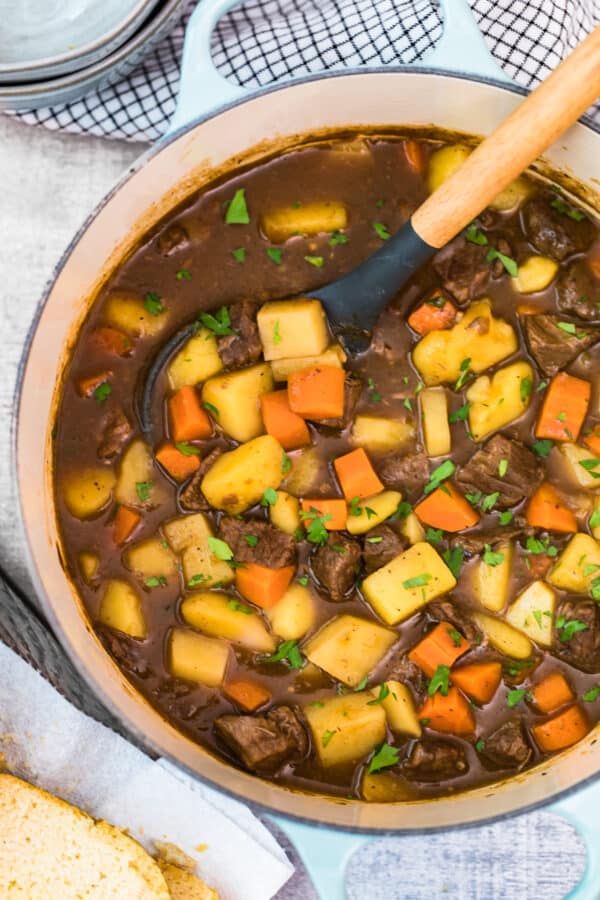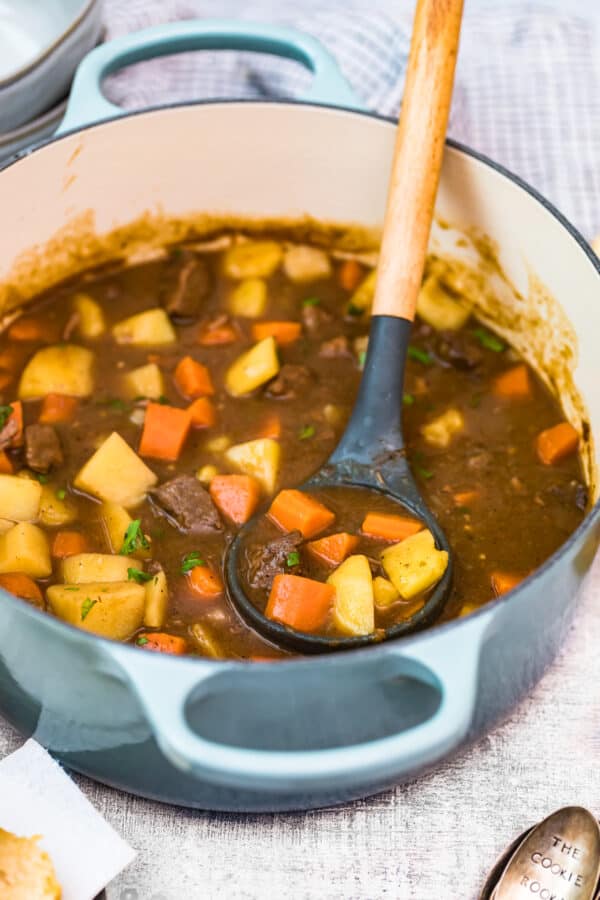 Do I have to use a dutch oven?
 You can use any heavy-bottomed pot that is oven safe, but I always braise beef stew in a dutch oven, for a few reasons.
For one-pot braised meals like stew and chili, heft is a necessity. It means higher heat retention, allowing you to evenly brown and caramelize the meat before braising.
A fitting lid is important too, ensuring a steady cooking temperature, resulting in super tender meat that is perfectly infused with moisture and flavor.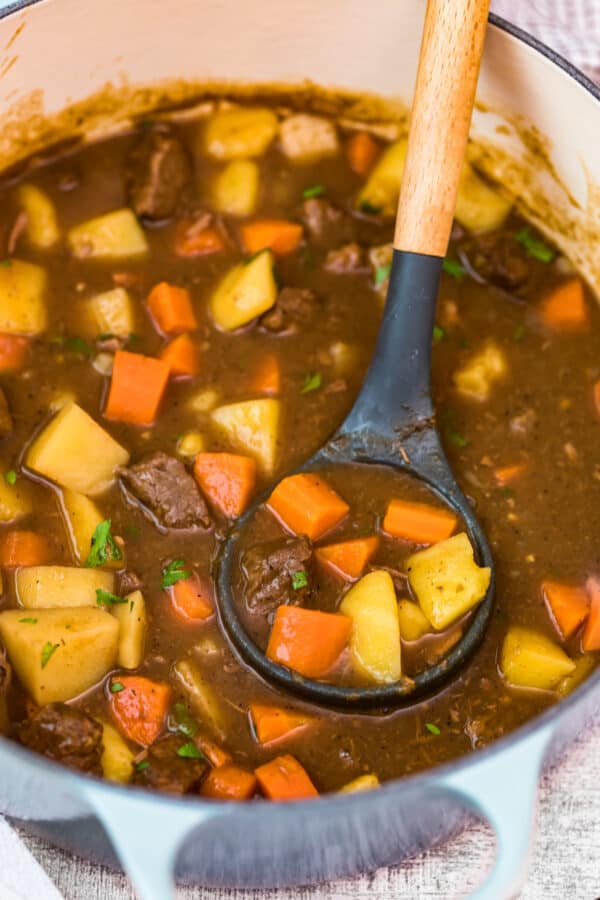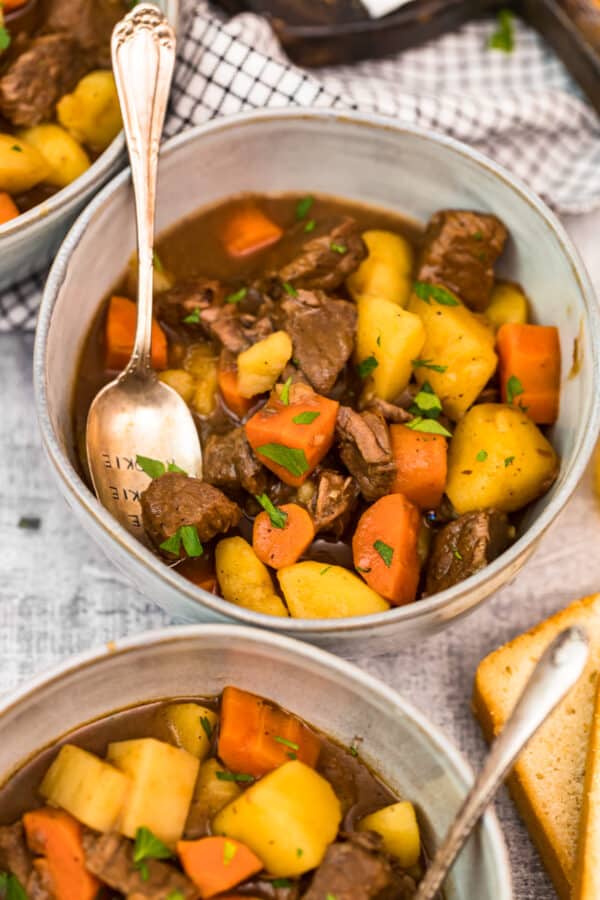 Variations
Feel free to adapt the recipe to your liking. You can leave out the potatoes and serve it over buttered egg noodles, or toss in some frozen peas or sautéed mushrooms at the very end. Either way, it's super satisfying comfort food for a cold night.
Can I freeze this Red Wine Beef Stew?
The stew can be frozen for up to 3 months. Just omit the potatoes because they don't freeze well. If you'd like, boil some potatoes separately when you defrost the stew and either add them into the stew or serve them on the side. Before serving, defrost the stew in the refrigerator for 24 hours and then reheat on the stovetop over medium-low heat until hot.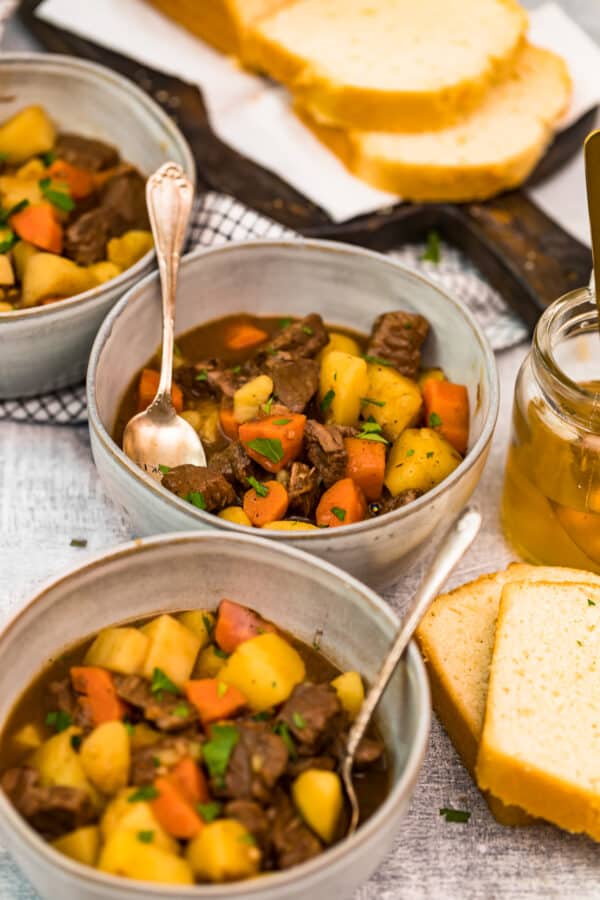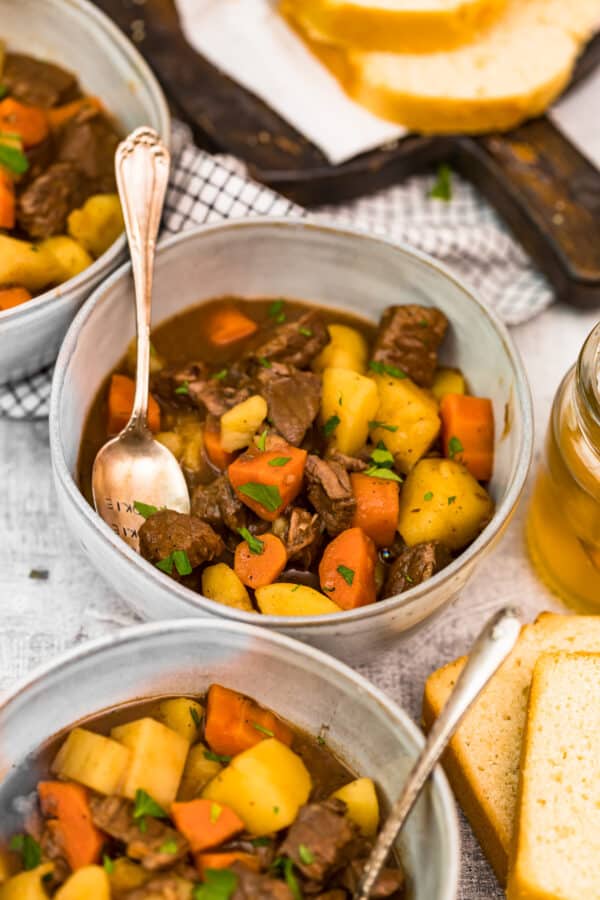 Top Tips
Brown your beef.  It's SO worth it. You can make this stew without browning the beef before, and it's still good, but the version with the browned beef is amazing!
Don't go for 'fancy' beef cuts!  Stew is the ideal time to skip the lean, pricier cuts of meat and go for the less expensive, tougher cuts. The long, slow cook time leaves lean meat, like sirloin, tough and chewy, while tougher cuts, like chuck, break down and become really tender.
Adding Veggies. Add hearty vegetables, like carrots, turnips, and potatoes halfway through cooking. If you plan to include delicate vegetables, like peas, wait to add them until a few minutes before taking the stew off the heat.
This recipe makes a lot, and the leftovers are even more amazing, so definitely save what you don't eat the first night!
Other Delicious Stews
Have you tried this Red Wine Beef Stew? Feel free to leave a star rating and I'd love to hear from you in the comments below!