This is the most Ridiculous Vanilla Cake… seriously the softest, most moist cake EVER – it literally melts in your mouth! A vanilla cake recipe topped with sweet icing and garnished with white chocolate chips – you've got to get in on this goodness!
Make sure to check out my Ridiculous Chocolate Cake too! It's INCREDIBLE!
Ridiculous Vanilla Cake Is An Easy Vanilla Cake with Pudding Mix!
A few years ago I made a chocolate cake. It was insanely fudgy and soft and EASY. I decided to call it Ridiculous Chocolate Cake because…well…it was. And then I started getting requests for a Vanilla version…which leads us to today.
I created that vanilla cake recipe essentially just swapping out the vanilla cake for the chocolate and really, REALLY loved it. It was soft and crazy moist, almost like a spoon bread or a bread pudding texture. If I didn't love it, I wouldn't have shared it….BUT some of you guys found it TOO soft and TOO moist.
So I want you to know I heard you.
It was an easy fix, honestly…one that a lot of you left comments about, which I love! If something isn't working for you, let me know!
This Vanilla Cake Recipe Is Updated and Improved!
The alternations were minimal, but made an impact that I think works great. It leaves you with an extremely soft, moist cake, but not "wet" in texture, which was the issue some of you were having.
What Have You Changed?
The only change I made tho this recipe from the original posting back in 2016 is the amount of sour cream. In the original recipe I used 16- ounces, and I reduced that to 8- ounces in the current version. If you made the original and loved it you can stick with the 16- ounces.
The updated version with less sour cream produces a less heavy cake. You'll get a rich and delicious texture, without it being quite as "wet".
Recipe Ingredients:
vanilla cake mix
instant vanilla pudding
sour cream
eggs
vegetable oil
water
white chocolate chips
Icing
powdered sugar
milk
vanilla
white chocolate chips to garnish
How To Make Ridiculous Vanilla Cake:
The steps are easy! Please note as this this a common question: You use the cake mix as an ingredient! You don't follow the instructions on the box at all. Just use the dry cake mix as you would your flour, sugar, baking powder etc.
Baking Tips:
Make sure you grease the pan HEAVILY especially if you use the white chocolate chips. You can use a baking spray or grease the pan with butter or shortening and then lightly dust with flour or powdered sugar
The cake is so soft to begin with and a few white chocolate chips might melt to the side of the pan and stick if not greased properly.
Allow the cake to cool in the pan for 10-15 minutes before inverting the pan onto a cake plate or platter.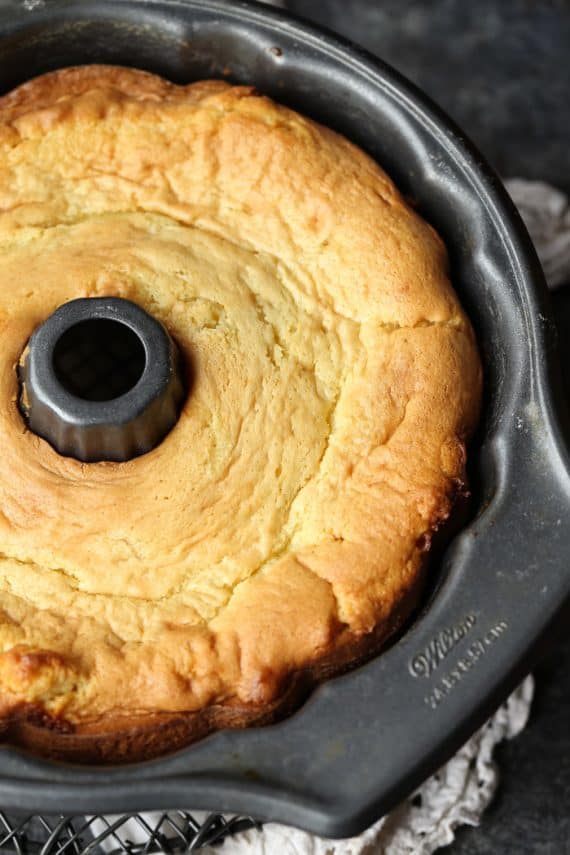 What If It Sticks To the Pan?
Oh I feel you. This has happened to me time and time again. The only answer is that your pan wasn't greased heavily enough. I've done it, trust me.
If this happens, depending on how much sticks, know that you will be icing this cake and garnishing it with white chips, which will cover up a whole lot of imperfection!
The Pan I Recommend…
Like I said, I have had my fair share of cake disasters while flipping it out of a bundt pan. It's enough to make you cry! Along with greasing the pan heavily I use THIS PAN and literally have never looked back. I recommend this to SO many people and truly feel like it's the best. I can't say that I have had any issue with sticking since using this one.
What If You Don't Have Vanilla Cake Mix?
I hate to say this, but the cake mix in this recipe is the secret sauce. If you don't have access to a boxed cake mix (I know in some countries they aren't available) try making my Sour Cream Pound Cake from scratch and add the white chocolate chips. It's a close dupe!
If You Don't Like White Chocolate…
Can we still be friends? Ha! Yes, of course! But if you really just aren't a white chocolate fan, you can ABSOLUTELY omit the white chips from this recipe.
Do You Have To Make This In a Bundt Pan?
Nope! You can bake this is an assortment of different pans. Please note, however, this is a denser-style cake, which I prefer in a bundt or tube pan style. But it will work in other pans too:
9×13 pan: Decrease your bake time to estimated 30-35 minutes
2- round 9 inch cake pans: Decrease your bake time to 25-30 minutes
cupcakes: Decrease bake time to 20-25 minutes
Looking For More Vanilla Cake Recipes? Try These:
As noted, this recipe was originally posted in 2016. The recipe and images have been updated in 2021.