This post may contain affiliate links. Please read my disclosure policy.
This Roasted Cauliflower Mac and Cheese features lots of zesty roasted cauliflower, a velvety cheese sauce, and a sprinkling of toasted breadcrumbs. So simple and so good.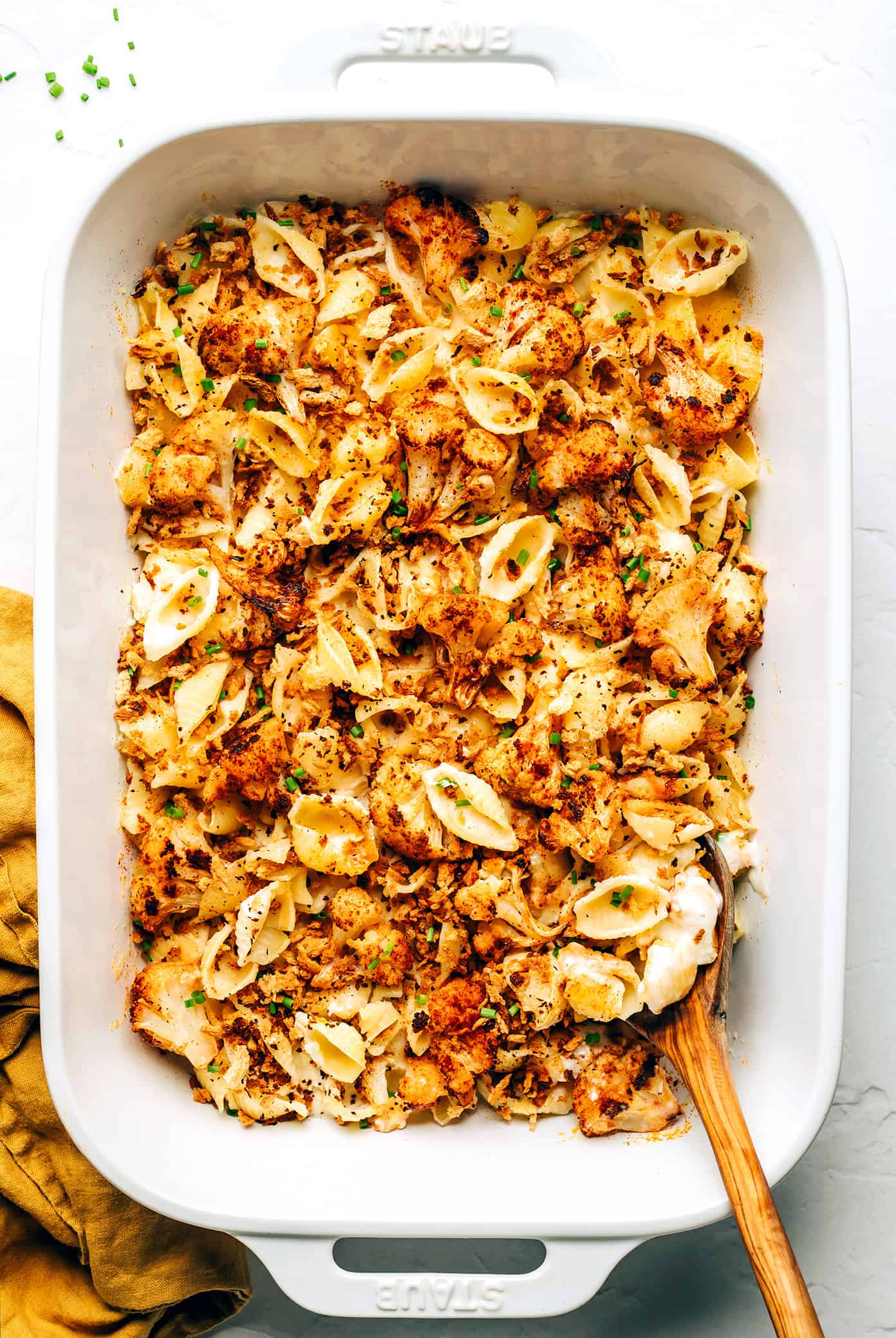 For those days when you're craving a vegetarian comfort food hug. ♡
This simple roasted cauliflower mac and cheese recipe has become a new family favorite this winter. It's loaded up with more than twice the amount of cauliflower as pasta, which is seasoned with smoked paprika and garlic and roasted until caramelized. The cauliflower is then tossed with your choice of pasta, folded together with the coziest cheese sauce, sprinkled with a shower of toasted breadcrumbs, and baked until perfectly creamy, crispy and cozy. And on chilly winter days, I'm telling you, a steaming cheesy helping served fresh out of the pan is guaranteed to warm you right up.
Like most of my mac and cheese recipes, this recipe is very flexible if you'd like to toss some extra veggies, greens or proteins into the mix. There are a number of different directions you could choose to go with the types of cheeses and seasonings used, as well as options for making the entire recipe gluten-free, so please don't hesitate to play around with the recipe and make it your own.
Let's make some mac and cheese!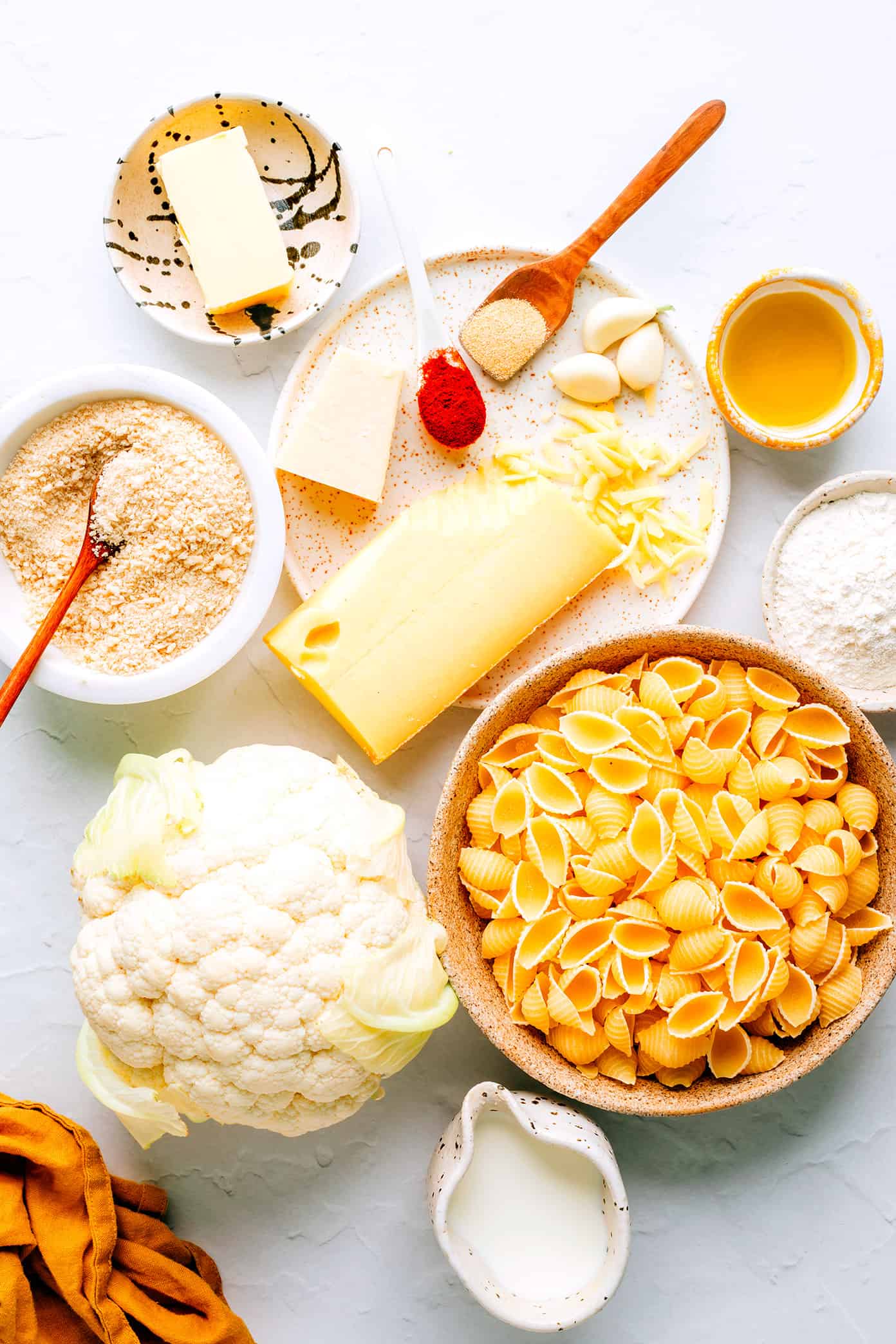 Roasted Cauliflower Mac and Cheese Ingredients
Before we get to the full recipe below, here are a few notes about the ingredients you will need to make this roasted cauliflower mac and cheese…
Pasta: Feel free to use traditional macaroni elbows, shells, or any other pasta shape that you love best.
Cauliflower: You will need one large cauliflower, which we will chop into florets.
Panko breadcrumbs: I recommend briefly toasting the breadcrumbs before adding them to the mac and cheese to bring out their best texture and flavor.
Cheeses: I recommend using a sharp cheddar and/or gruyere as the base for the cheese sauce. Then we will also stir in some Parmesan for those salty, nutty, umami notes.
Olive oil and butter: We will use olive oil to roast the cauliflower and butter to form the roux for the cheese sauce.
Whole milk: I generally use whole cow's milk as the base for mac and cheese sauce, but you are welcome to sub in a plain plant-based milk (such as oat milk) if you prefer.
Flour: We will use flour to form a roux and thicken the cheese sauce.
Garlic: I also like adding a generous amount of garlic to season the cheese sauce.
Seasonings: I used a simple combination of smoked paprika, garlic powder, fine sea salt, black pepper to season the cauliflower. But feel free to experiment with whatever seasonings here you love best!
Garnish: A sprinkling of fresh chives or parsley adds a lovely pop of color and freshness to this dish.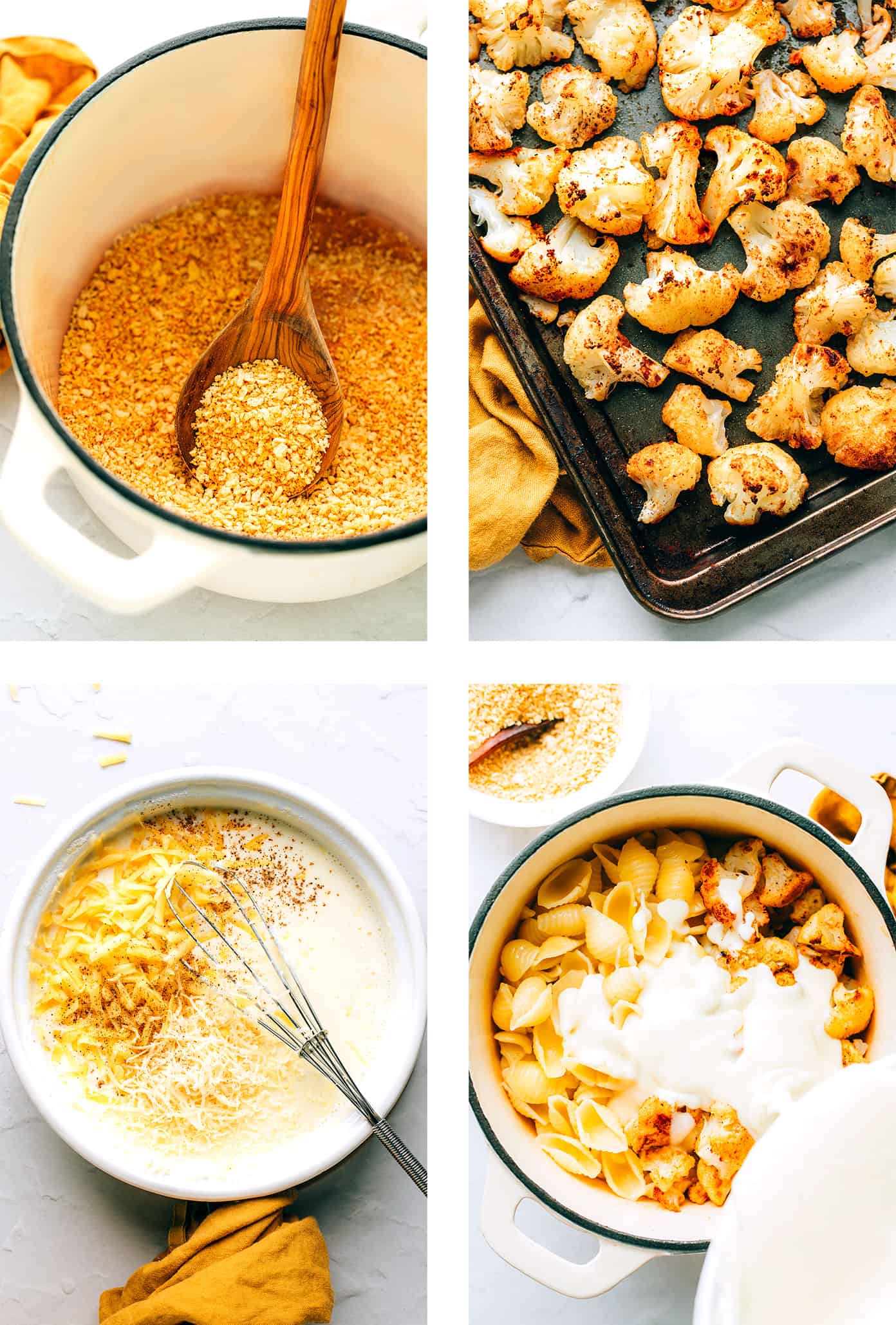 Potential Recipe Variations
This roasted cauliflower mac and cheese recipe is quite flexible, so feel free to adjust the
Add/swap veggies: We've also made this recipe using roasted broccoli in place of cauliflower and it was delicious. That said, you're welcome to roast any other veggies that you love in with the cauliflower too, such as roasted Brussels sprouts, sweet potatoes, mushrooms, bell peppers, etc. (If adding extra vegetables, you will need to use less cauliflower.)
Add greens: Feel free to also wilt some fresh baby spinach to the cheese sauce to add some greens.
Add a protein: Bacon, Italian sausage or chicken would all be delicious options if you would like to add an extra protein to this recipe.
Make it gluten-free: Use a gluten-free pasta and a GF all-purpose flour blend to make this recipe gluten-free.
Make it spicy: Mix a generous pinch of crushed red pepper flakes into the cheese sauce if you'd like to add some heat.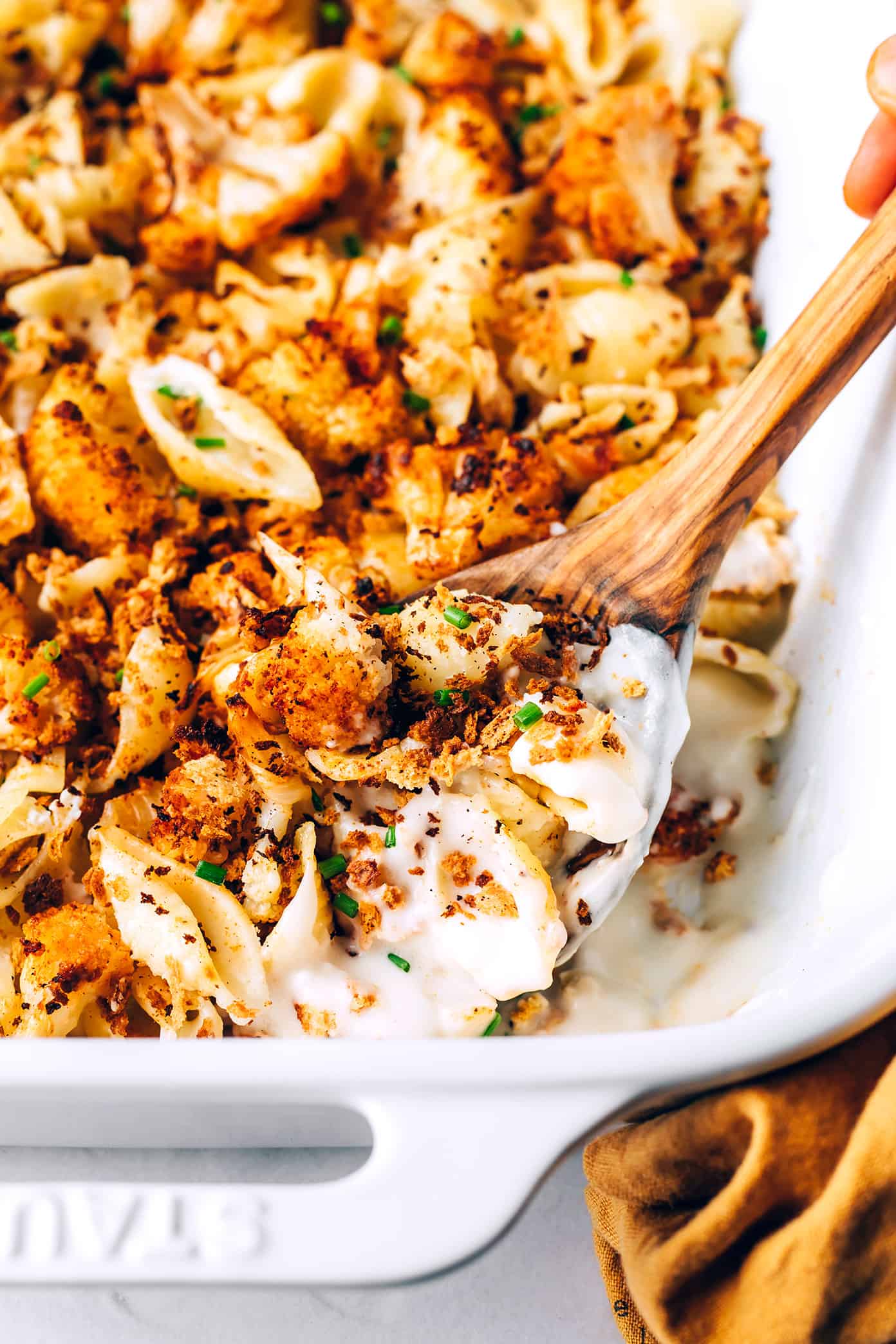 More Favorite Mac and Cheese Recipes
Looking for some more cozy vegetarian mac and cheese recipes to try? Here are a few of my faves…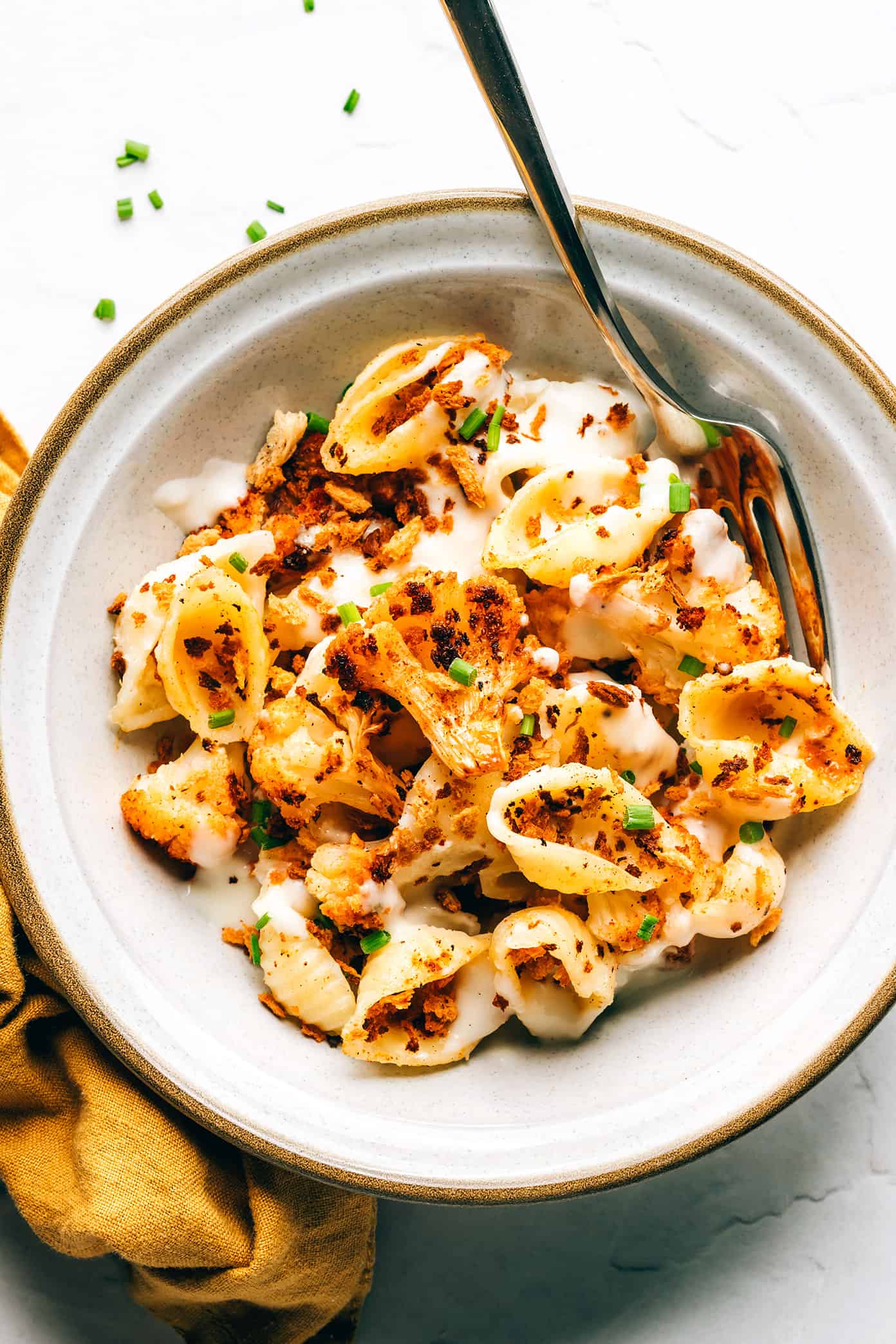 ---
Description
This Roasted Cauliflower Mac and Cheese recipe is features a generous amount of zesty roasted cauliflower, the coziest cheese sauce, and a sprinkling of crunchy toasted breadcrumbs.
---
Roasted Cauliflower:
1

large head of cauliflower (about

3

pounds before chopping), chopped into florets

1 tablespoon

olive oil

2 teaspoons

smoked paprika

1 teaspoon

garlic powder

fine sea salt and freshly-cracked black pepper
Mac and Cheese Ingredients:
1/2 cup

Panko breadcrumbs

12 ounces

uncooked pasta (I used shells)

3 tablespoons

butter

3

large cloves garlic, pressed or finely minced

1/4 cup

all-purpose flour

2 1/2 cups

whole milk

8 ounces

freshly-grated sharp cheddar or gruyere

1 ounce

freshly-grated Parmesan 

(optional) chopped fresh chives or parsley, for garnish
---
Roast the cauliflower.

Heat oven to 425°F (220°C). Arrange the cauliflower florets in an even layer on a large baking sheet. Drizzle evenly with the olive oil, then sprinkle the smoked paprika, garlic powder, and a generous pinch of salt and pepper evenly over the cauliflower. Toss briefly to combine. Spread the cauliflower out in an even layer and bake for 25 to 30 minutes until lightly toasted around the edges. Remove baking sheet from oven and set aside, leaving the oven on.

Toast the breadcrumbs.

Meanwhile, as the cauliflower is roasting, toast the Panko by cooking it in a large stockpot over medium-high heat, stirring frequently, until it turns golden brown (about 3-5 minutes). Transfer the breadcrumbs to a separate bowl, and briefly wipe down the stockpot so that it is clean.

Cook the pasta.

Fill the same stockpot with water and bring it to a boil. Generously salt the water, add the pasta, then cook until it

just

reaches al dente. (Try to avoid overcooking the pasta since it will cook slightly more in the oven.) Drain pasta, return it to the stockpot, and set aside.

Make the cheese sauce.

Meanwhile, as the pasta is being prepared, melt the remaining 3 tablespoons butter in a medium saucepan over medium heat. Add the garlic and cook for 1 minute, stirring occasionally. Add the flour and whisk to combine until the mixture is smooth. Gradually add the milk and whisk until combined and smooth. Continue cooking, stirring occasionally, until the mixture has thickened and

almost

reaches a simmer. Add in the cheeses plus a few twists of freshly-cracked black pepper and stir to combine. Continue cooking for 2 to 3 more minutes, stirring occasionally, until the cheese has completely melted and the sauce is smooth.

Combine and bake.

Pour the sauce into the stockpot with the cooked pasta, add the roasted cauliflower and toss the mixture gently until combined. Transfer the mixture to a 9 x 13-inch baking dish, spread it out in an even layer and sprinkle the toasted breadcrumbs evenly on top. Bake uncovered for 5 minutes.

Serve.

Remove from the oven and sprinkle with your desired garnish. Serve immediately while it's hot and melty…and enjoy!
---
---