Roasted Cauliflower Red Pepper Soup-this creamy soup is easy to make and perfect for a cold day. Serve with crusty bread or a grilled cheese sandwich.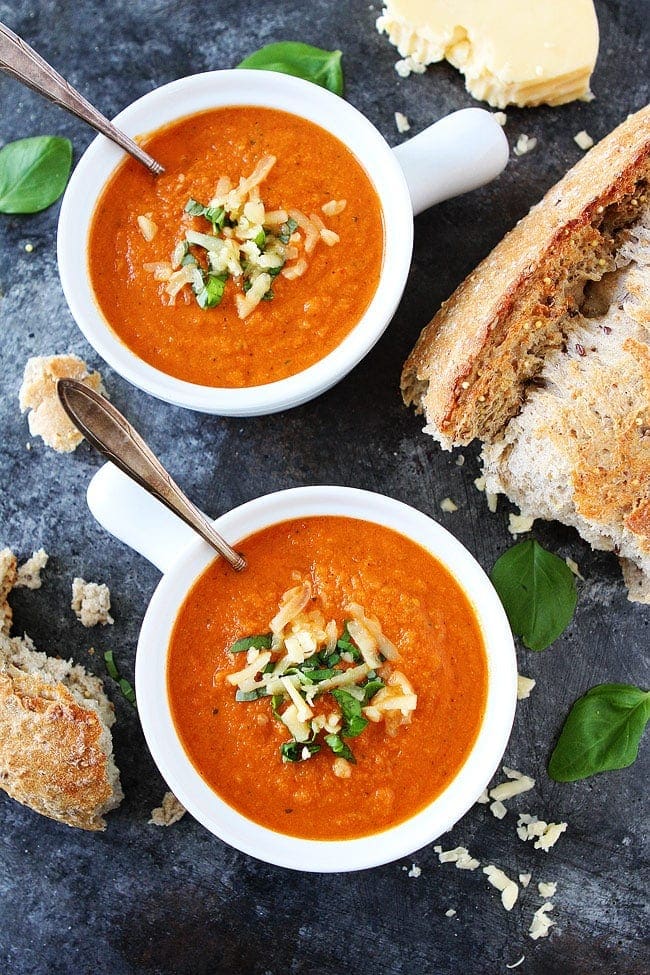 You can't beat a hot bowl of soup on a cold winter day. Soup has been on our menu every single week for the past month or so. A few favorite heart-warming and belly-warming soups include our Slow Cooker Minestrone Soup and our Easy Chicken and Rice Soup.
And a new favorite, Roasted Cauliflower Red Pepper Soup. I made this soup for lunch last week and it really hit the spot. It warmed me up, filled me up, and is so easy to make!

OTHER RECIPES
How to Make Roasted Cauliflower Soup
This soup is made with two of my favorite ingredients, roasted cauliflower and roasted red peppers. I roasted the cauliflower in the oven and used a jar of roasted red peppers. You might be thinking, hmmm, that is an interesting combination. Josh thought the same thing..ha! But you just wait until you try this creamy soup! The flavors are SO good!
I use jar roasted red peppers to keep this recipe super simple. You can roast red peppers in the oven or over a flame, but I am all about easy.
I also added in onion, garlic, fresh thyme, crushed red pepper flakes, basil, and Gouda cheese. The cheese melted in nicely and added a richness to the soup. It was the perfect finishing touch!
You can serve this soup with crusty bread or even better, grilled cheese sandwiches. Caleb and Maxwell loved dunking their grilled cheese sandwiches into this soup. It would also be good with a salad on the side.
Stay inside and cozy up to a bowl of Roasted Cauliflower Red Pepper Soup!
If you like this soup recipe, you might also like: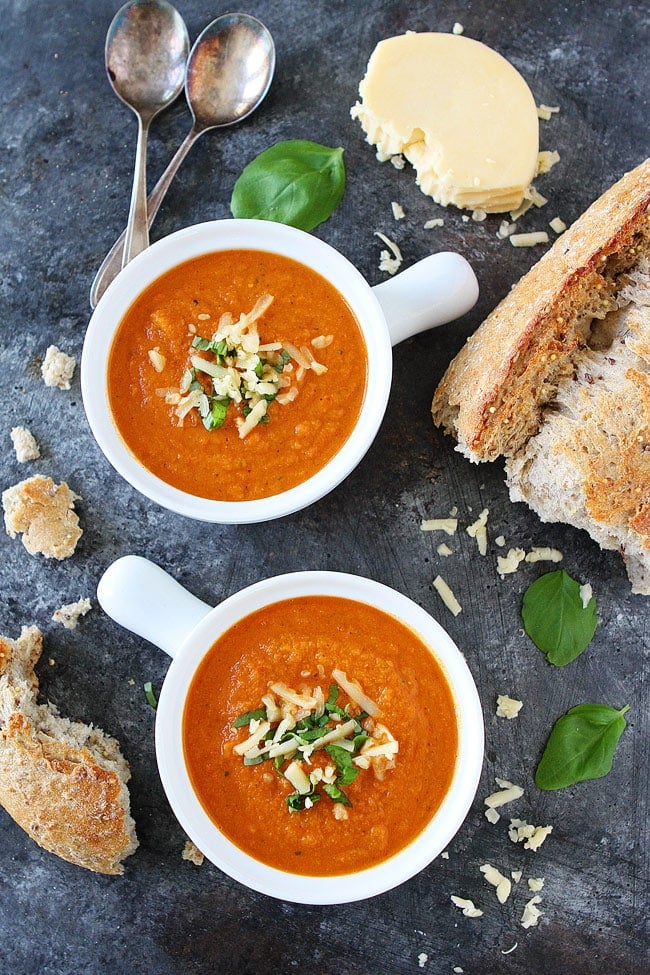 Roasted Cauliflower Red Pepper Soup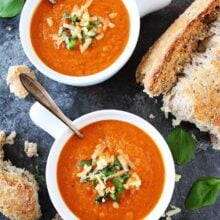 This creamy roasted cauliflower red pepper soup is great for lunch or dinner. We like to serve the soup with crusty bread or classic grilled cheese sandwiches.
Yield: Serves 4
Prep Time:15 minutes
Cook Time:50 minutes
Total Time:1 hour 5 minutes
Ingredients:
1 medium head cauliflower, cut into florets
2 tablespoons olive oil, divided
Salt and black pepper, to taste
1 small yellow onion, chopped
4 cloves garlic, minced
1 teaspoon fresh thyme leaves
1/4 teaspoon crushed red pepper flakes
1 (16 oz) jar roasted red peppers, drained and chopped
4 cups vegetable broth
1/2 teaspoon paprika
1/4 cup chopped basil
1/2 cup shredded Gouda cheese
Salt and pepper, to taste
Shredded Gouda and chopped basil, for garnish, if desired
Directions:
Preheat oven to 400 degrees F. Place cauliflower florets on a large baking sheet and drizzle with 1 tablespoon of the olive oil. Toss and season with salt and pepper. Roast in the oven for 25-30 minutes, or until cauliflower is tender and starting to brown.
In a large pot, heat the remaining tablespoon of olive oil over medium heat. Add the onion and cook for 3-5 minutes, or until the onion is soft and translucent.
Add the garlic, thyme, and crushed red pepper flakes. Cook for 2 minutes.
Stir in the roasted cauliflower, roasted red peppers, vegetable broth, and paprika. Turn the heat to low and let the soup simmer for 10 minutes.
With a hand held blender, blend the soup in the pot until soup is creamy and smooth. Stir in the fresh basil and shredded Gouda cheese. Heat until cheese is melted. Season the soup with salt and pepper, to taste.
Ladle the soup into bowls and serve with a little shredded Gouda cheese and fresh basil, if desired.


All images and text ©Two Peas & Their Pod.




Follow twopeasandpod on Instagram and show us what recipes you are making from our blog! Use the hashtag #twopeasandtheirpod! We want to see what you are making in your kitchen!