Rugelach is a delicious and classic cream cheese pastry filled with a variety of nuts, fruit, preserves, and cinnamon sugar. This is an easy rugelach recipe that breaks down and simplifies the steps so everyone can make it with ease!
I'm thrilled to announce I'm a 2019 Reynolds Kitchens Ambassador and will be partnering this year with them on some fun new recipes! Thank you for supporting the brands that make this website possible!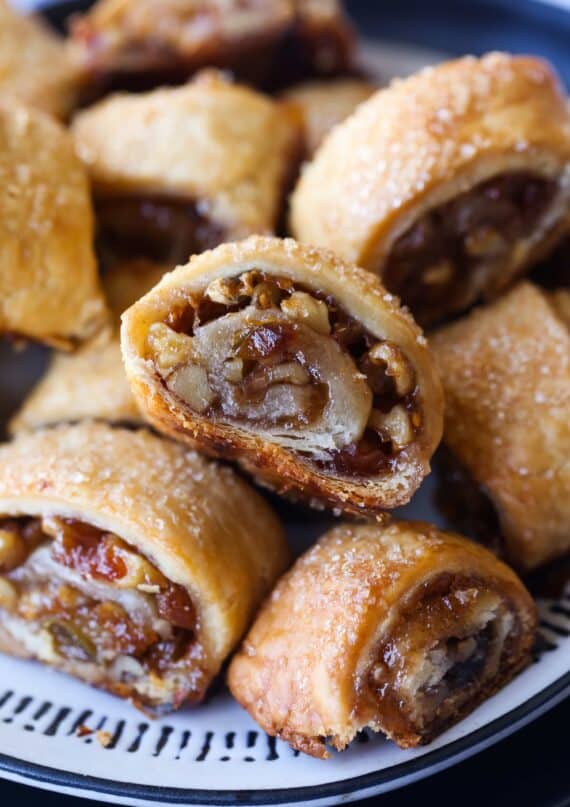 This Easy Rugelach Recipe Is A Classic!
Rugelach Cookies are one of those classic pastry recipes that seem difficult to make, but are deceptively easy. The butter and cream cheese dough is soft, but as it bakes it gets buttery, crunchy, and caramelized. And the filling is traditionally a combination of nuts and fruits but you can really fill get creative with what you want to add!
I have simplified my Rugelach Recipe so it's approachable, easy and adaptable. Even those of you who think you don't like Rugelach need to give this recipe a try. I'm almost positive that I will change your mind!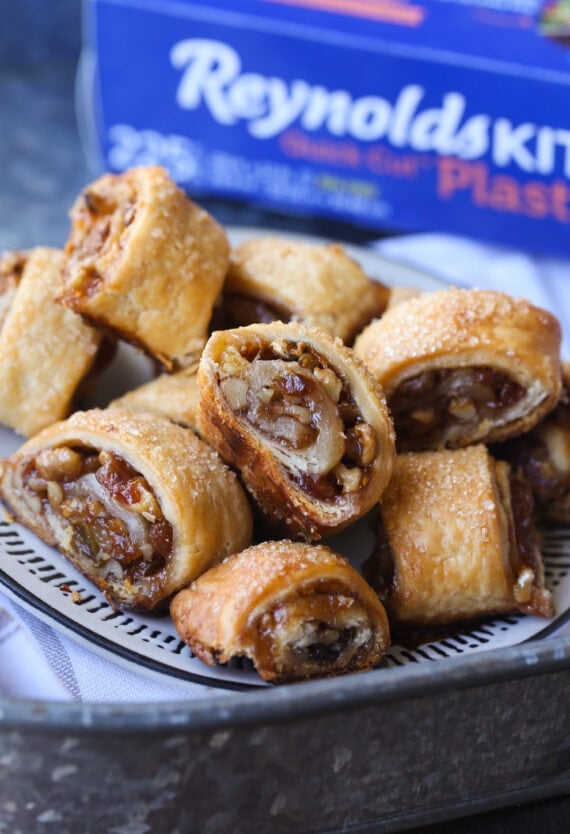 What Is Rugelach?
Rugelach is a filled pastry cookie that I found originated in the Jewish communities of Poland. The word "Rugelach" is Yiddish that means "little twists" and can be filled with a variety of ingredients. They can be made in slices, like I did, or in a more crescent or horn shape.
Rugelach has always been one of those cute pastries that I never gravitated towards if thy were displayed on a cookie tray with other treats. But once I started making my own, that all changed. The dough is rich and delicious, and customizing the fillings is the best part!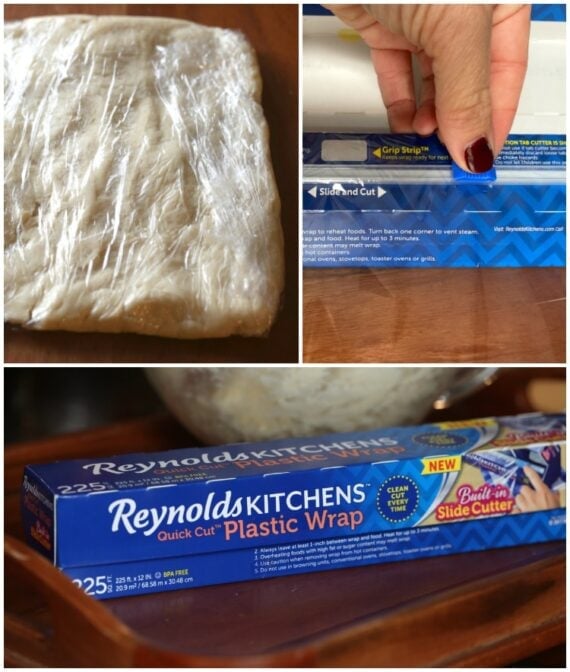 How To Make Homemade Rugelach Cookies
I prefer to make my Rugelach by creating a log of dough and slicing it, instead of creating individual crescents. I have found this is an easier process, quicker to put together and creates beautiful pinwheel-style cookies.
The trick to making Rugelach is to chill the dough. Chilling the dough allows the flavors to combine, the gluten in the flour to relax, while also making it easier to work with, being less sticky! Chilled dough also slices much easier than warm dough so you will have pretty pinwheels.
I use Reynolds Kitchens Quick Cut Plastic Wrap to wrap the dough before it goes into the refrigerator for a few reasons:
Reynolds Kitchens Quick Cut Plastic Wrap with built-in slide cutter which gives you perfectly clean slices, with no jagged edges. You can pull out your plastic wrap, lay it on the counter and then slice the edge to get the exact right size you need, which is what I did above!
Also Reynolds Kitchens Quick Cut Plastic Wrap has a long lasting tight seal to keep food fresh and airtight.
The Dough Is Made With Butter AND Cream Cheese!
The trick to making rugelach dough is the combination of cream cheese and butter. If you were to use an all butter dough it would be a lot like a pie crust, which isn't necessarily a bad thing, it's just the cream cheese keeps the dough soft, tender, and pliable, because you are rolling it up.
This recipe makes four "logs". I like to keep the dough that I am not working with in the refrigerator so it's nice and cold whenI want to roll it out. It takes the stress of trying to get things done quickly out of the equation.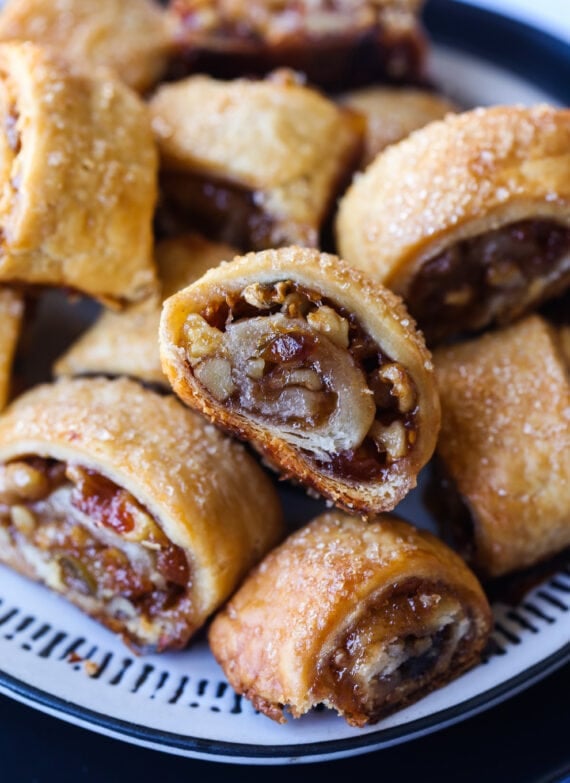 What Are Some Other Fillings?
Since you divide the Rugelach dough into fourths when rolling it out it's a great time to get creative! You could easily create four different "flavors" with one batch of dough with is so fun! Here are some ideas of other fillings:
Nutella
Fruit preserves like strawberry or raspberry + mini chocolate chips
Butter and cinnamon sugar
Peanut Butter + mini chocolate chips
Other dried fruits instead of raisins like: dried cherries, Craisins, chopped dates etc.
Apples and cinnamon (raw peeled and diced apples)
Looking For More Easy Pastry Desserts? Try These: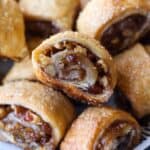 ---
Description:
This Easy Rugelach recipe is a classic pastry that is adaptable and fun to make!
---
Ingredients:
1 cup

butter, room temperature

8

– ounces cream cheese, room temperature

1/2 cup

granulated sugar

1/2 teaspoon

kosher salt

2 cup

s all purpose flour

1 cup

apricot preserves

1 cup

golden raisins

1 cup

chopped walnuts
Cinnamon Sugar (2 tablespoons granulated sugar + 1 teaspoon ground cinnamon)

2 tablespoon

s milk

1/3 cup

turbinado sugar  for garnish (I used Sugar in the Raw)
Tools: 

Reynolds Kitchens Quick Cut Plastic Wrap
---
Instructions:
In the bowl of your stand mixer fitted with the paddle attachment mix the butter and cream cheese together for 2 minutes, until smooth and creamy.
Add in the sugar and salt and mix for 1 minute, scraping the sides as necessary.
Turn mixer to low and add in the flour, mixing until just combined, don't over-mix.
Place a large piece of plastic wrap onto your counter. Place the dough onto the plastic wrap and press it into a rectangle shape, approximately 1- inch thick. Wrap the dough tightly in the

Reynolds Kitchens Quick Cut Plastic Wrap

and refrigerate for at least 6 hours, or overnight.
Preheat oven to 350°F. Line a large baking sheet with parchment paper and set aside.
Divide the dough into 4 equal pieces, working with one piece at a time, placing the dough you aren't using back in the refrigerator.
On a lightly floured surface, roll out the dough into a 12 x 8- inch rectangle. Spread 1/4 cup of the preserves evenly onto the dough. Sprinkle 1/4 cup of the raisins and 1/4 cup walnuts evenly on top. Sprinkle about 1 1/2 teaspoons of cinnamon sugar all over the top. Roll the dough tightly from the long side into a log. Place the log seam side down onto your prepared baking sheet and repeat with the process with the remaining dough placing the logs 2- inches apart on the baking sheet.
Brush each log with milk and sprinkle with turbinado sugar.
Using a very sharp knife, cut the logs 3/4 through (not all the way) into 1- inch slices.
Bake for 45 minutes, or until golden. Allow to cool on the baking sheet for 30 minutes, and then transfer to a cutting board to slice all the way through.
---
Notes:
Store airtight at room temperature for up to 5 days or freeze airtight for up to a month. You can also use any flavor preserves you like if you don't prefer apricot.
Keywords:: cookies and cups, rugelach, pastry recipe, easy rugelach
Want To Save This Recipe?