These Fudgy Salted Chocolate Cookies are so chewy and soft, with beautifully crackled tops! I sprinkle these gorgeous homemade cookies with flakes of sea salt for the perfect balance of flavor. You're going to love them!
Looking for more crinkle cookie recipes? Try these Classic Chocolate Crinkle Cookies.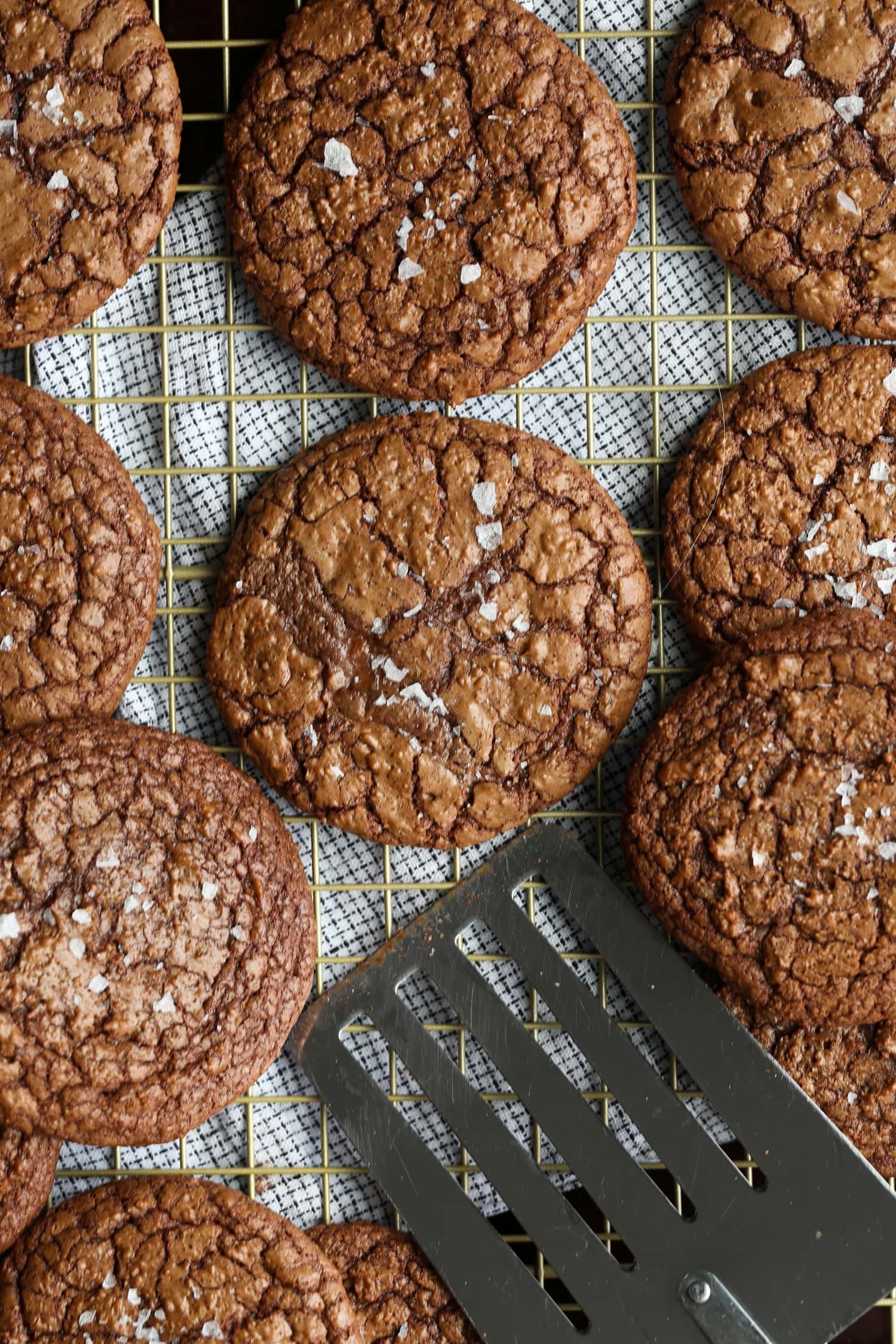 How to describe these fudgy chocolate cookies, apart from AMAZING? I'm already dreaming of making them again: decadent, soft, and chewy chocolate cookies topped with big flakes of sea salt. It's a perfect example of a cookie recipe that is so simple, yet so crazy delicious! These homemade cookies have a finesse about them that's just so satisfying.
If you've never thought to sprinkle your chocolate cookies with sea salt before, then you have to give it a try – it will rock your world! The salt flakes amplify the sweetness in these cookies and make the rich, chocolatey flavors shine. These cookies are simply divine, and I know you'll think so too!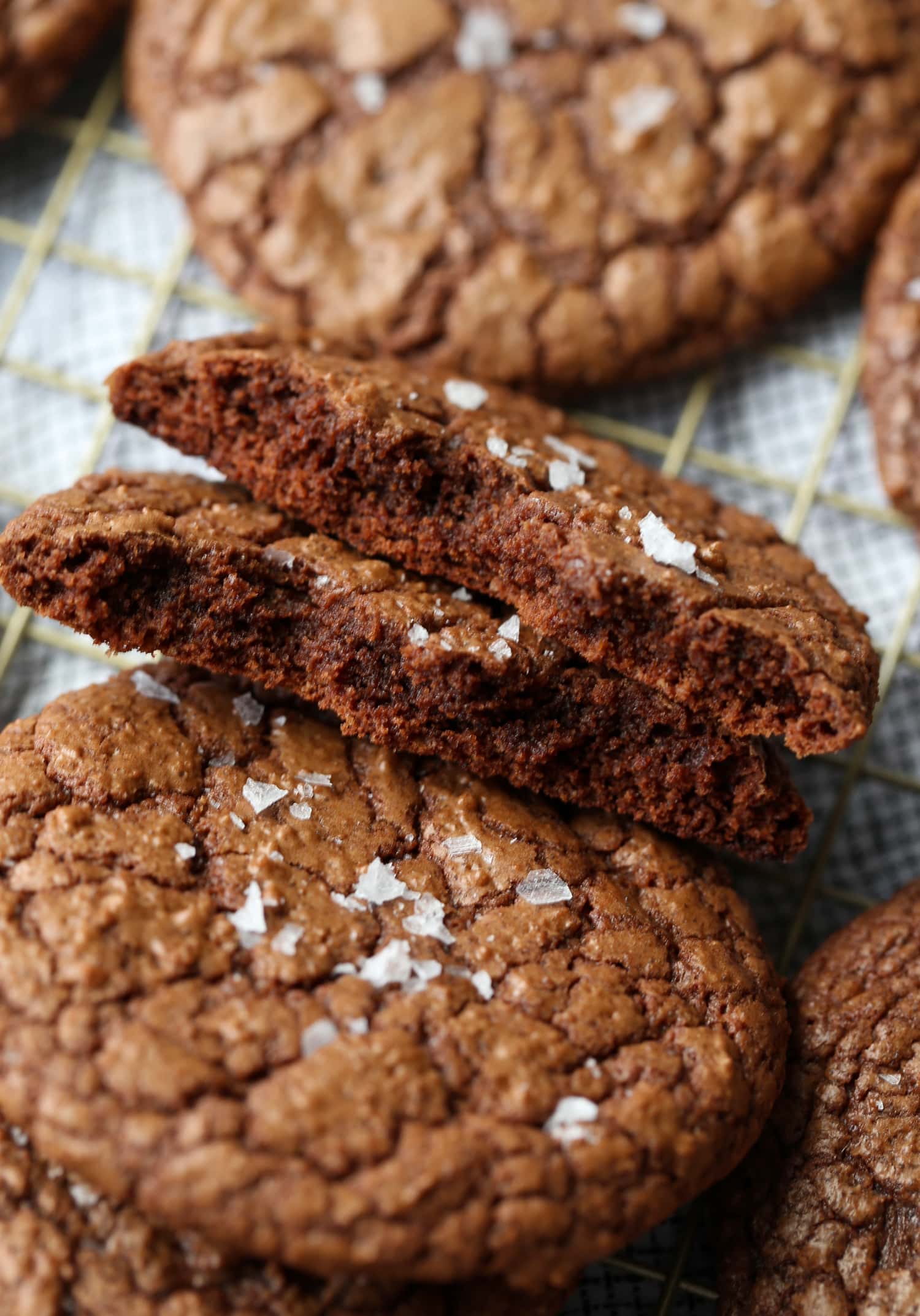 What You'll Need
Here's what you'll need to make these fudgy salted chocolate cookies:
Cocoa Powder: I used Hershey's Unsweetened cocoa powder when testing this recipe multiple times. You could also use Special Dark cocoa powder as well if you prefer a deeper chocolate flavor and darker color!
Chocolate Chips: Make sure to use semi-sweet chocolate chips, and not milk chocolate. Milk chocolate will add a little too much sweetness.
Flour: All-purpose flour yields the best results when it comes to these cookies.
Sugar: I use a combination of light brown sugar and regular granulated sugar.
Sea Salt: Flaked sea salt, such as Maldon salt.
Butter: Sliced or cubed.
Eggs
Vanilla
Baking Powder
These chocolate cookies come together quickly, zero chilling required! Here are the 5 steps to delicious and soft salted chocolate cookies:
Mix the Dry Ingredients: Whisk the flour and dry ingredients in a large bowl, and set aside for now.
Melt the Chocolate: On the stovetop, melt the chocolate chips and butter into a smooth mixture.
Combine: In a separate bowl, cream together the sugars, eggs, and vanilla. Slowly add in the chocolate mixture, followed by the flour mixture until the cookie dough is just combined.
Bake: Drop spoonfuls of dough onto lined baking sheets, leaving enough space for them to expand. Bake the cookies in a preheated oven until the tops are crinkly.
Salt: Give your freshly baked cookies a sprinkling of sea salt, then allow them to cool.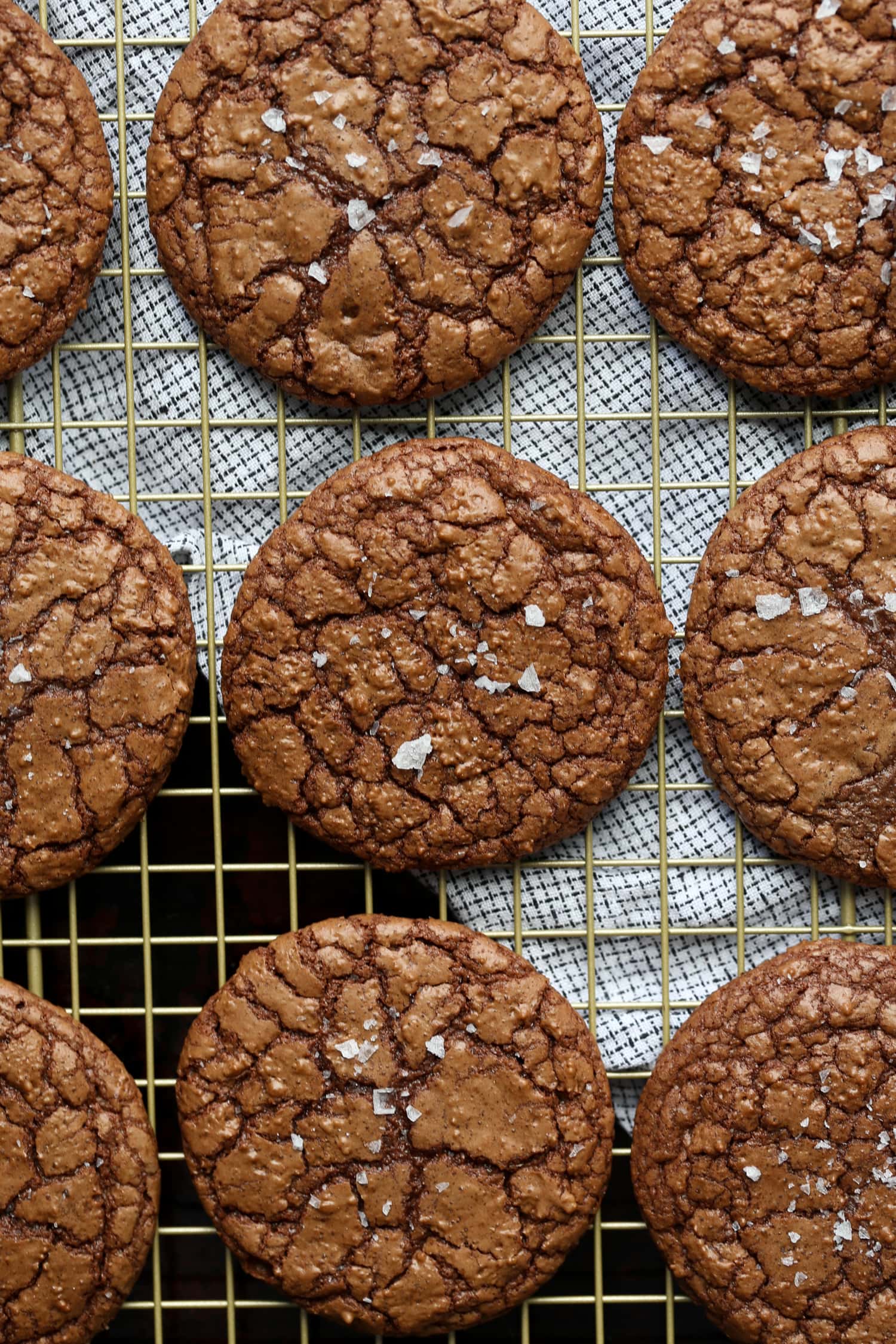 Tips for Success
How to Know When Chocolate Cookies Are Done: It's harder to notice the edges browning on dark chocolate cookies when compared to lighter cookies as a sign of doneness. One easy way to check is to gently put your finger to the edge of the cookie – if the edge is firm and stays intact, the cookies can come out. If your finger leaves an indent, the cookies should stay in the oven a little longer. It's fine if the centers are soft!
Use the Right Salt: When it comes to sprinkling sea salt over top of these cookies, make sure to use a quality flaked sea salt (as opposed to a regular table salt). The taste just won't be the same!
Add-In Ideas 
Like any respectable cookie recipe, this one leaves all kinds of room for add-ins! There are so many possibilities when it comes to the chocolate cookie dough:
Crushed peanuts, hazelnuts, walnuts, or pecans
Chocolate chips or chocolate chunks
Mint chocolate chips 
Caramel chips
Dried fruit like cherries, freeze-dried raspberries
Chopped candy bars (Rolo, Snickers, Reese's, etc.)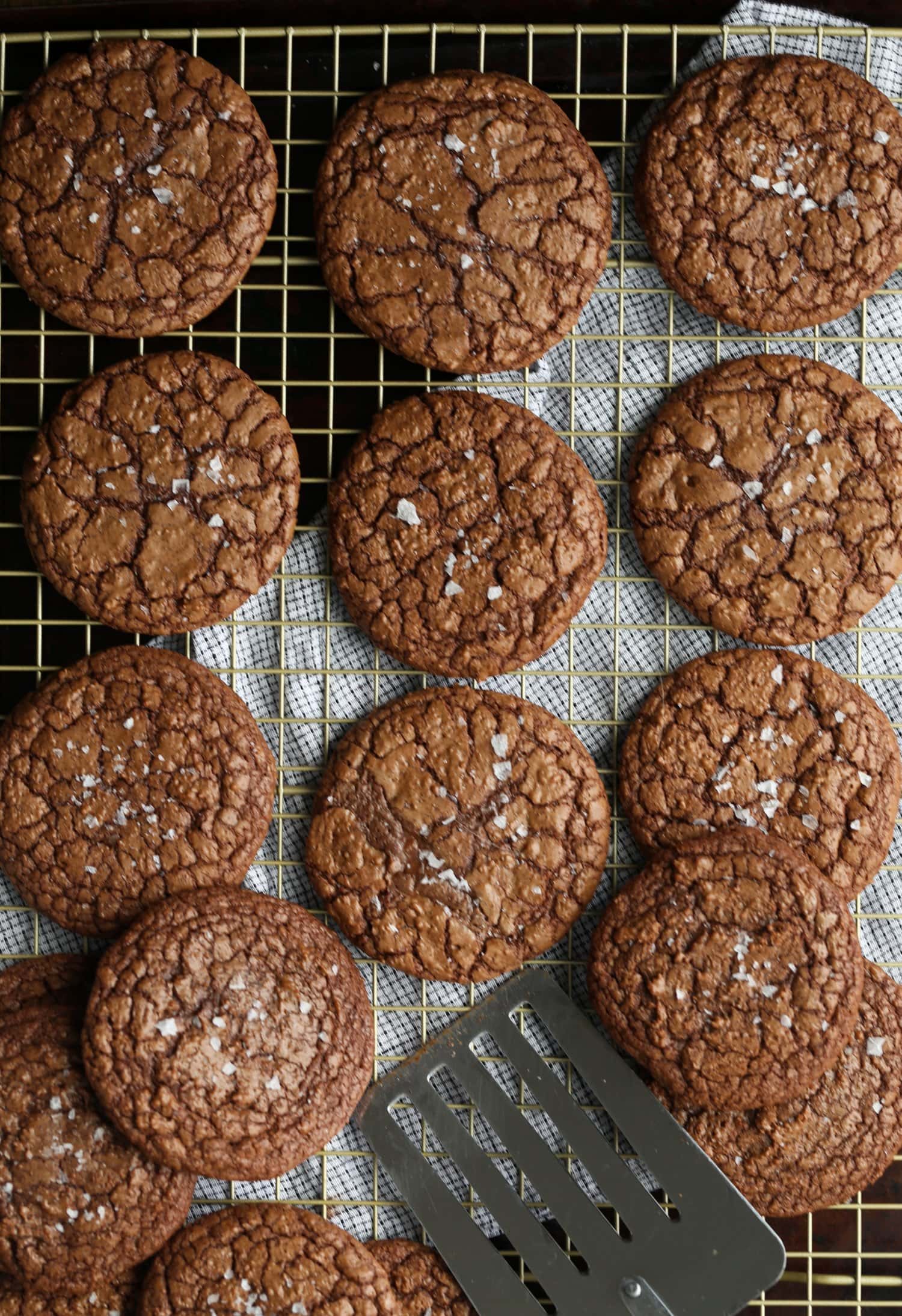 Storage Instructions
Store these chocolate cookies airtight at room temperature for up to 3 days, in a cool and dry location.
Do These Freeze Well?
You can easily freeze the baked cookies for a later date. Once the cookies have cooled completely, place the whole baking sheet into the freezer to pre-freeze. Transfer the cookies to a resealable freezer bag to keep them frozen for up to two months. Thaw cookies at room temperature outside of the bag.
Want to freeze the unbaked cookies? Check out this tutorial on how to freeze cookie dough.
More Chocolate Desserts to Try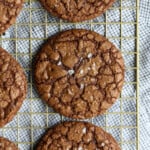 ---
Description:
These rich, chocolatey Salted Chocolate Cookies are so chewy and soft, topped with flakes of sea salt for the perfect subtle crunch!
---
Scale
Ingredients:
1 cup

all purpose flour

1/4 cup

unsweetened cocoa powder

1 teaspoon

baking powder

1/2 teaspoon

kosher salt

1/2 cup

butter, sliced

3/4 cup

semi-sweet chocolate chips 

2/3 cup

light brown sugar 

1/2 cup

granulated sugar

2

large eggs

1 teaspoon

vanilla extract

1 tablespoon

flaked sea salt
---
Instructions
Preheat the oven to 350°F. Line 2 baking sheets with parchment paper and set aside. 

In a medium bowl whisk together the flour, cocoa powder, baking powder, and salt. Set aside. 

Place butter and chocolate chips in a small saucepan. Remove from the heat.

In the bowl of your stand mixer fitted with the paddle attachment mix the brown sugar, granulated sugar, eggs, and vanilla together on medium speed until combined and creamy. Turn the mixer to low and slowly drizzle the warm chocolate mixture into the egg mixture. Once it's all added, turn the mixer up to medium and mix until evenly combined, scraping the sides of the bowl as necessary. Stir in the flour mixture until incorporated. 

Using a medium (2- tablespoon) cookie scoop, drop the cookie dough onto the prepared baking sheets 2- inches apart. Bake for 10 – 12 minutes until the tops are set, and crinkly.

While the cookies are still warm, sprinkle them with sea salt. Allow the cookies to cool on the baking sheet for 3 minutes and then transfer to a wire rack.
---
Notes:
The cookies will crinkle more, the warmer the dough is when baked. As the dough cools off the crinkle tops will be a little more subtle.
Store airtight for up to 3 days.
Freeze baked cookies for up to 30 days.
Keywords: easy cookie recipes, homemade cookies, salted chocolate cookies, cookies and cups,
Want To Save This Recipe?
PIN for later: