Weekend breakfasts are my most favorite. Weekday mornings are a blur of running out the door, making sure bags are packed, shoes are on, and teeth are brushed. But weekends are generally a little slower. We can take our time enjoying that second cup of coffee, and I am not constantly reminding everyone of the time.
And let's even one-up a weekend breakfast…how about a weekend HOLIDAY breakfast? There are so many memories that surround holiday breakfasts or brunches in my house. We always make sausage gravy and biscuits OR a breakfast casserole for holiday breakfasts…not only because they are delicious and cozy, but they feed a crowd. And that's why today's Sausage Gravy and Biscuit Bake recipe is PERFECT…it's all our favorites in one easy breakfast recipe!

MY OTHER RECIPES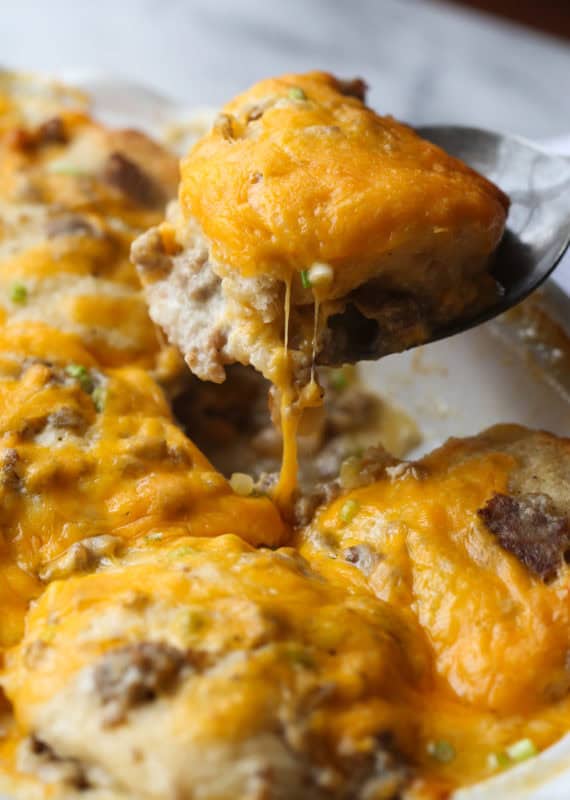 What is Sausage Gravy and Biscuit Bake?
This breakfast casserole is so great for feeding your family, but also special enough to serve for a holiday breakfast or brunch. Sausage Biscuit and Gravy Bake is layers of biscuits, covered in sausage gravy and cheese. It's a hearty, southern-inspired breakfast casserole recipe that will easily become a family favorite!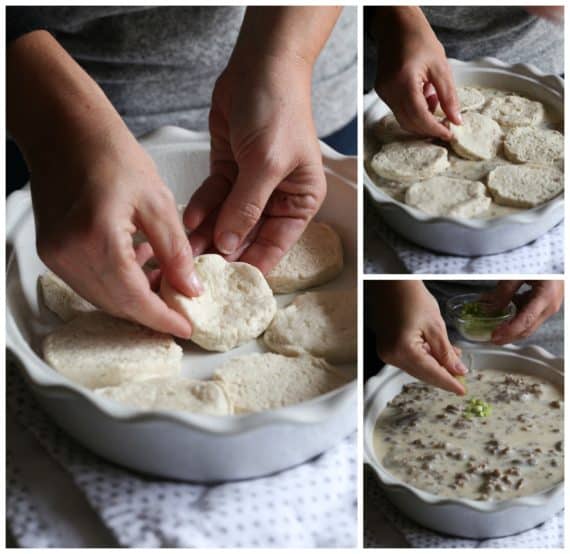 I like using Borden® Cheese Thick Cut Shreds when I make this Biscuit and Gravy Casserole. Borden® Cheese is crafted with high-quality, wholesome ingredients, and the wider shreds are ideal for melting, are extra creamy, and are really perfect on this sausage gravy and biscuit bake.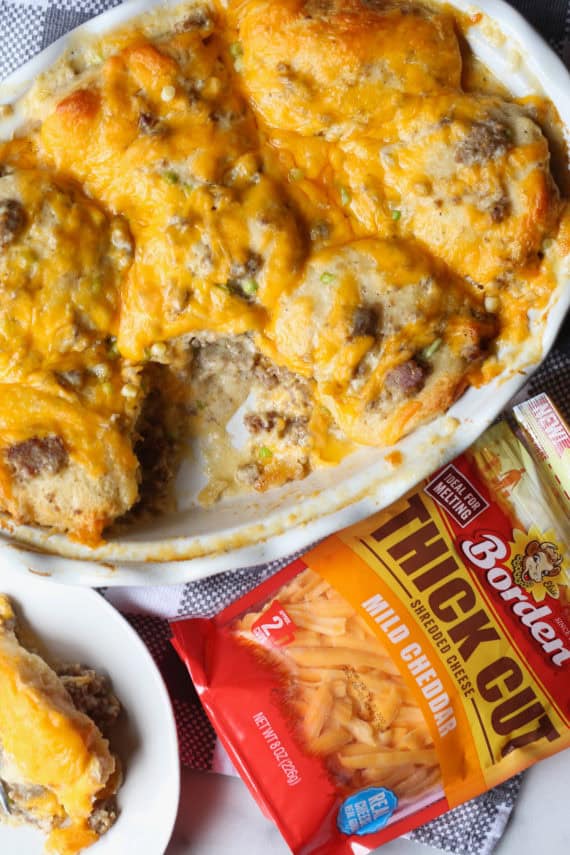 Can You Prep This Breakfast Casserole Ahead?
To make this ahead, prepare the casserole according to the directions, but let it cool to room temperature. Cover the casserole and store it in the refrigerator up to 24 hours before baking.
When you're ready to bake, allow the casserole to sit out for about an hour, to come back up to room temperature, and then bake. You might need to add an additional few minutes to the bake time, since it won't be warm when it goes in the oven.
How Long Do You Bake Breakfast Casseroles?
This Sausage Gravy and Biscuit Bake recipe takes 40 minutes in the oven! The Sausage and gravy are prepared ahead, which takes an extra 10-12 minutes.
Can You Swap Out or Leave Out the Sausage?
You can easily leave out the sausage in this recipe, or you could sub in bacon, or even ground beef if you prefer.
You could even use a vegetarian sausage substitute, if you don't eat meat!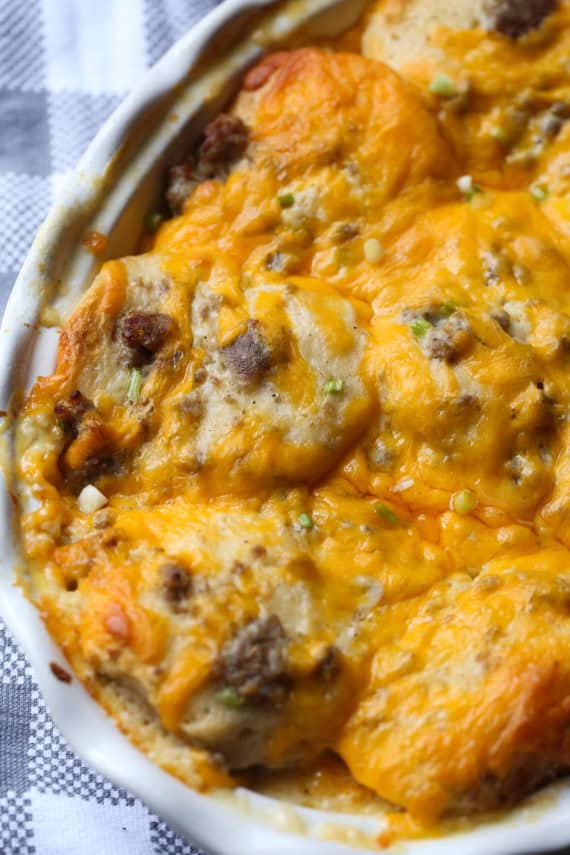 And Borden® Cheese knows the heart of the holidays is in the kitchen, so this season the brand is gifting $5,000 to five lucky winners through the Borden® Love Your Kitchen Sweepstakes to go towards a kitchen makeover just in time for the holidays!!
To enter, visit Southern Living for the opportunity to win! The sweepstakes runs November 1st – November 30th! Good Luck!
Enjoy This Easy Sausage Gravy and Biscuit Bake!