These Skinny Shoestring Fries are the perfect side for sandwiches to bbq to so much more! We love these fun potato fries that are super thin and deep fried. So delicious and fun.
Today's post is short and sweet perfection…SHOESTRING FRIES! These skinny fried potatoes are one of our favorite side dishes for almost any meal out there. With warmer weather coming to us sooner rather than later, my mind is already on BBQ and all things Summer. These Shoestring Fries are the ultimate complement to burgers, hot dogs, grilled cheese, sandwiches, and so much more! They're thin enough that they're great for leftovers or even grab and go snacking. You must try these!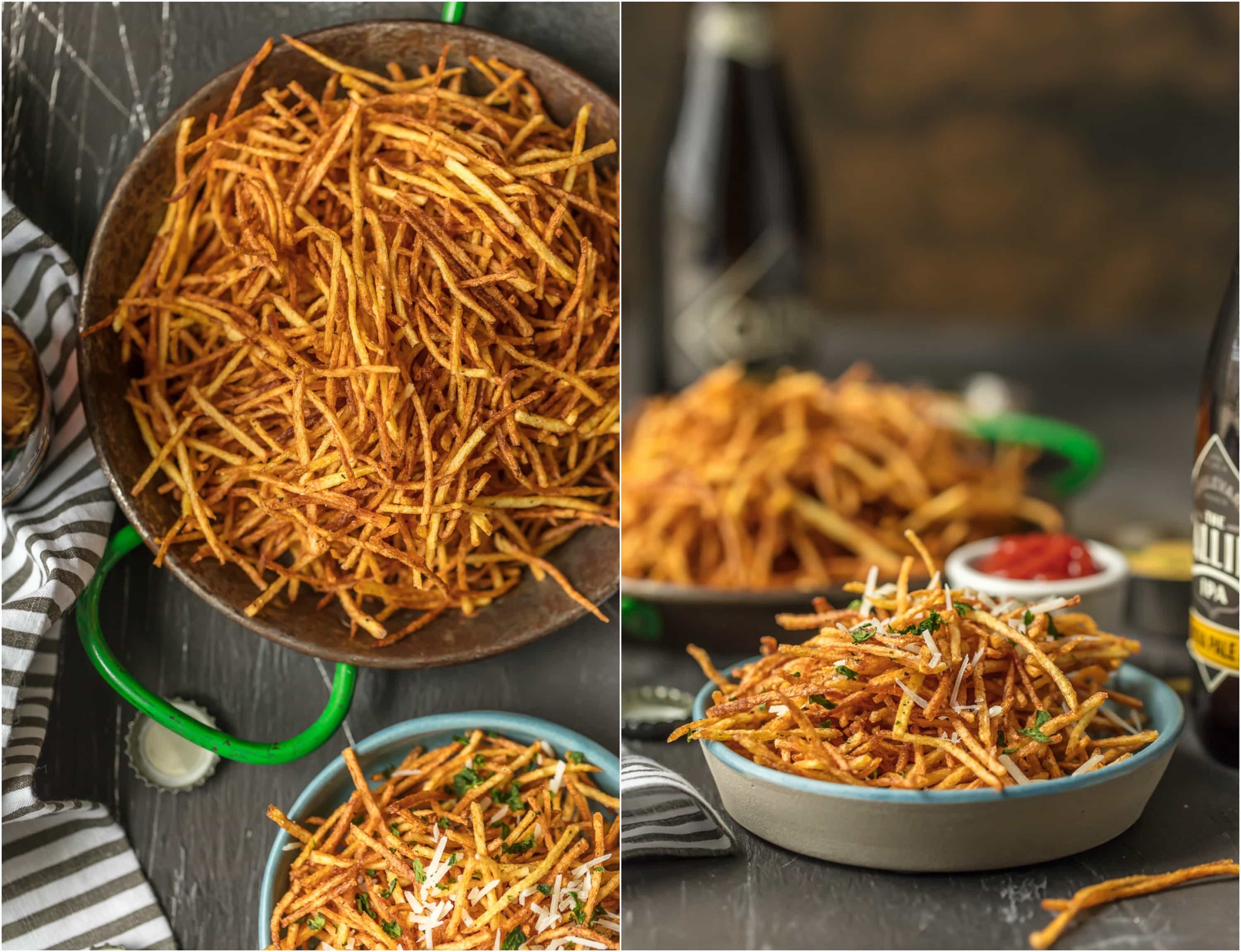 The first time Mom and I tried to make these potato fries was several years ago and we almost burned our faces off when oil splashed up as we dropped the fries in. BE CAREFUL anytime you're frying food. We just weren't paying attention and it was so scary. We ended up laughing about it after we were done screaming and then mopping up hot oil. Scary!
Be sure you use a deep enough pot and use extreme caution. Hot oil is no joke!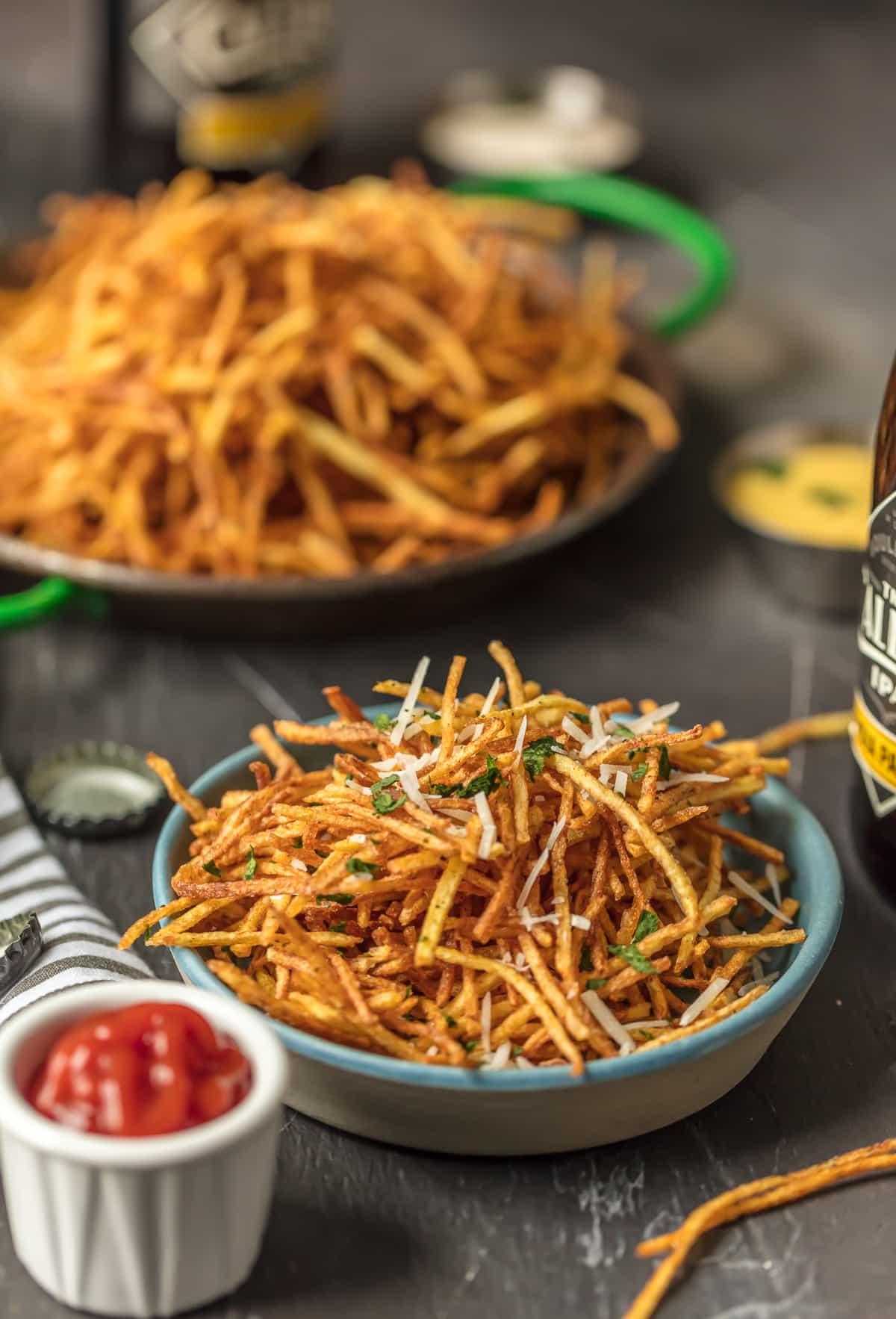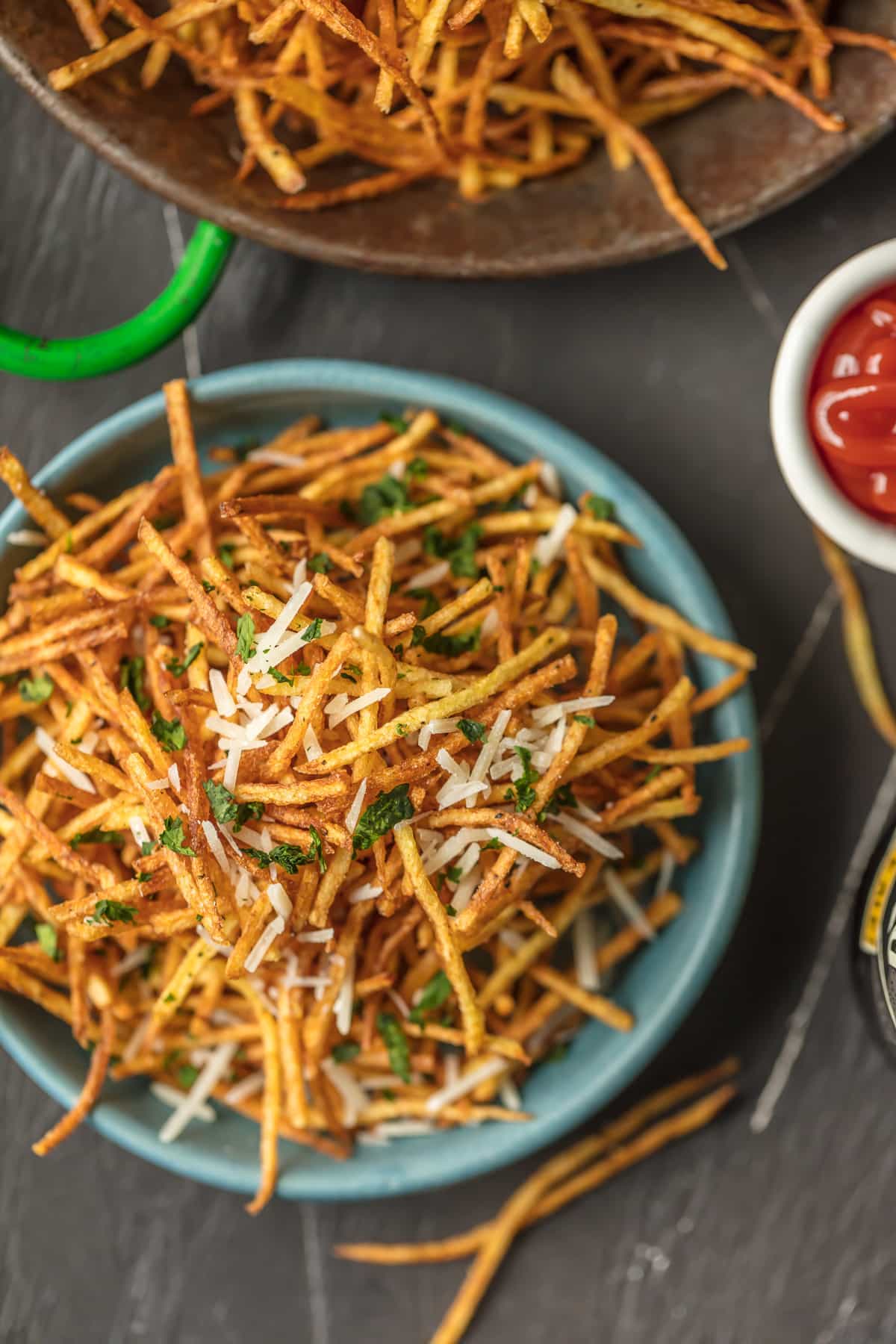 I love that these Shoestring Fries can be customized however you like them. I love to sprinkle on garlic salt and shredded parmesan for garlic parm fries, or rosemary and other herbs for classy dressy fries. They're awesome dipped in ketchup, honey mustard, ranch…the sky is the limit. I listed all of my favorite garnishes and different ways to season them in the recipe card, so be sure to check that out.
I love to eat them by the handful and even stack them on burgers as a garnish. I think you're gonna be a huge fan. And I'm always right.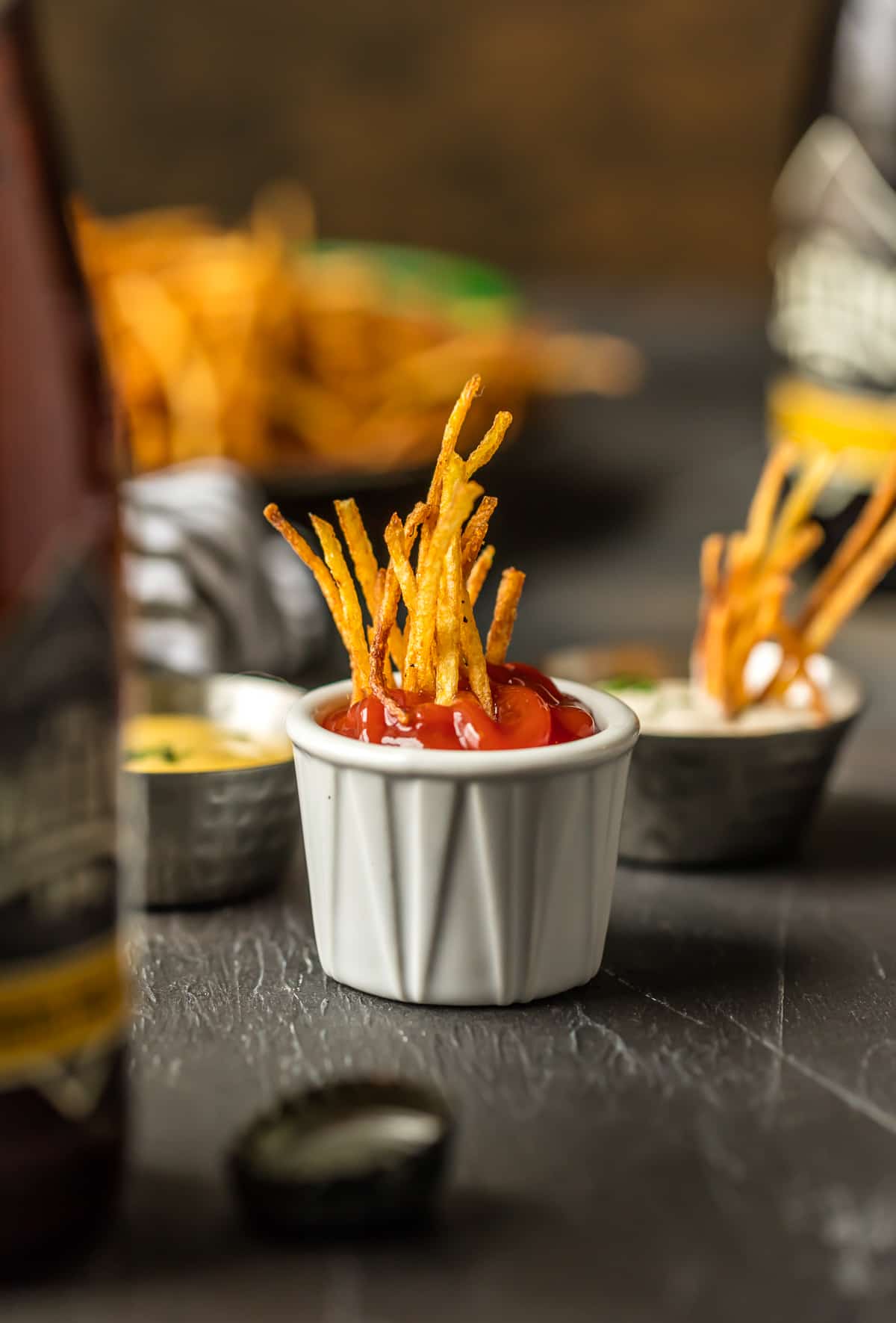 If you're looking for a fun, versatile, and easy side dish that both kids and adults will eat by the fistful, you've come to the right place!
Enjoy.
Shoestring Fries
Inspired and adapted from Simply Sated , my Mom's site! Thanks Mom!
Ingredients
Canola oil, for deep-frying (around 3-4 inches of oil)
4 Yukon Gold Potatoes
salt & ground black pepper
***Optional seasonings: garlic salt, chili powder, cumin, crushed dried rosemary, grated Parmesan, BBQ spices, seasoning salt, Cajun spices and smoky paprika. If you want to go extreme, make loaded shoestring potatoes by layering them with melted cheese, jalapenos, ground beef, onions.
Instructions
Place oil in a large, deep, pan, Dutch oven or deep-fryer. Attach a deep-fry thermometer to monitor the temperature and heat oil to 350F.
While oil is heating, wash and peel potatoes and remove any dark spots.
Using a mandoline slicer fitted with the julienne blade and slice potatoes into matchsticks.
Place sliced potatoes in a large bowl of ice water for 10 minutes.
Remove potatoes from water bath and place on paper towels or clean dish cloths to dry completely. Pat the potatoes dry or use a salad spinner, if available. The dryer the potatoes, the less excess splattering there will be.
The next step is crucial to not having a disaster (or fire) in your kitchen. Do NOT add too many potatoes at one time.
Once oil is 350F, place dried potatoes (1-cup at a time) in the oil and stir to separate them. Adjust temperature to keep it as close to 350F as possible.
Fry 2½ – 3½ minutes or until dark golden brown – watch closely and stir often..
Transfer cooked potatoes with a slotted spoon to a paper-towel covered surface and season with salt and black pepper. If desired, add other spices or seasonings at this time.
Repeat process until all potatoes are fried.
Allow potatoes to cool completely, then store in an airtight container. The potatoes will stay crispy and crunchy at least 3 days and probably more.
Serve as is or with a side of sweet, hot mustard, bbq sauce or dip of your choice.
Enjoy!
7.6.7
2422
Did you make this recipe?
Becky woke up on her 30th birthday and realized she didn't know how to cook, ANYTHING! She started The Cookie Rookie as a way to document her journey to learn how to cook, one recipe at a time! The Cookie Rookie is a place to find easy recipes that anyone can make, and everyone will love!