Shrimp and Asparagus oven baked on a sheet pan, covered in lemon juice, butter and garlic – what's not to love here! It's a super simple meal, you can serve as an appetizer or a main.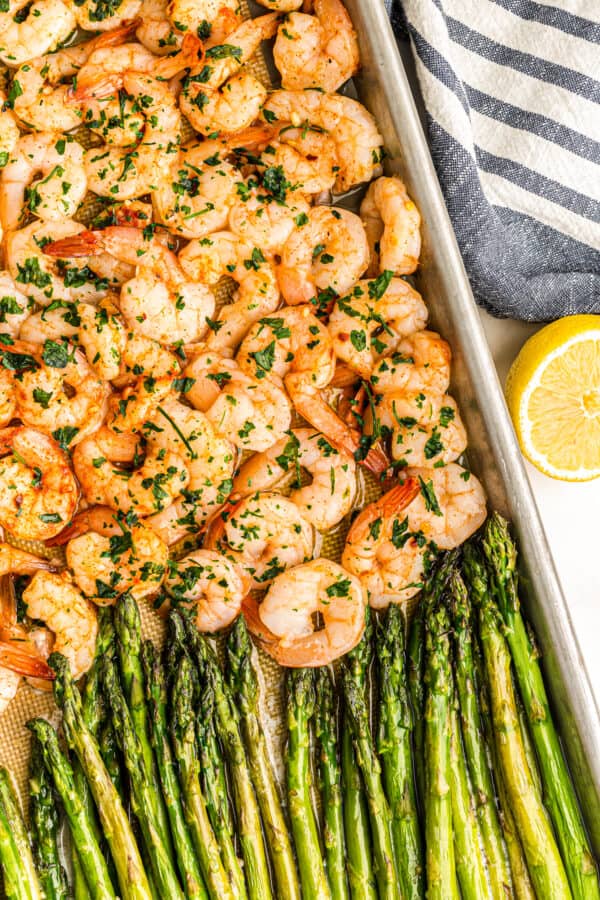 Shrimp and Asparagus is an easy, light and satisfying dinner that is cooked to perfection on one sheet. Utterly buttery shrimp and crunchy asparagus are flavored with lemon juice, garlic, paprika and chili flakes – simply delicious!
If you're looking for other delicious shrimp recipes, why not also try my Spicy Garlic Shrimp with Cream Sauce or my Easy Bacon Wrapped Shrimp Appetizer Recipe
Why you'll love this Shrimp and Asparagus Sheet Pan Meal
An easy sheet pan meal. Just season your ingredients then arrange on the sheet pan – this goes from pantry to table in 30 mins.
Buttery garlic shrimp. The shrimp comes out with the most divine garlic butter coating!
Baked asparagus. The flavor and texture as it comes out of the oven! Crispy topped with a slight crunch – so good.
How to make this Shrimp and Asparagus recipe
Be sure to scroll to the bottom for the full recipe
Cook the asparagus – Drizzle with olive oil and season, place on a sheet pan and bake for 10 mins.
Cook the shrimp – as the asparagus is baking, season the shrimp and add it one side of the sheet pan, with the asparagus. Roast for 10 mins.
Remove from the oven, serve and enjoy!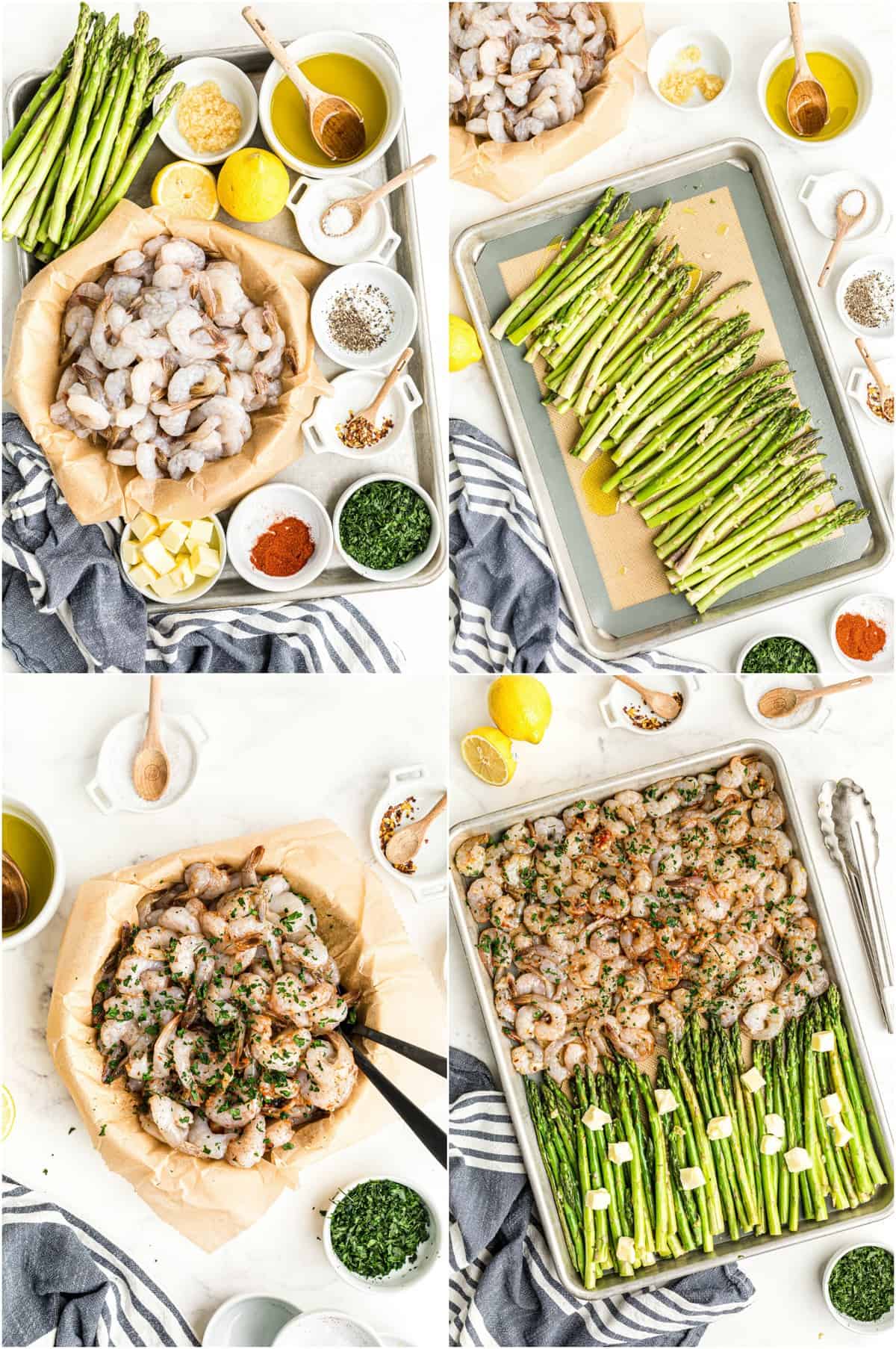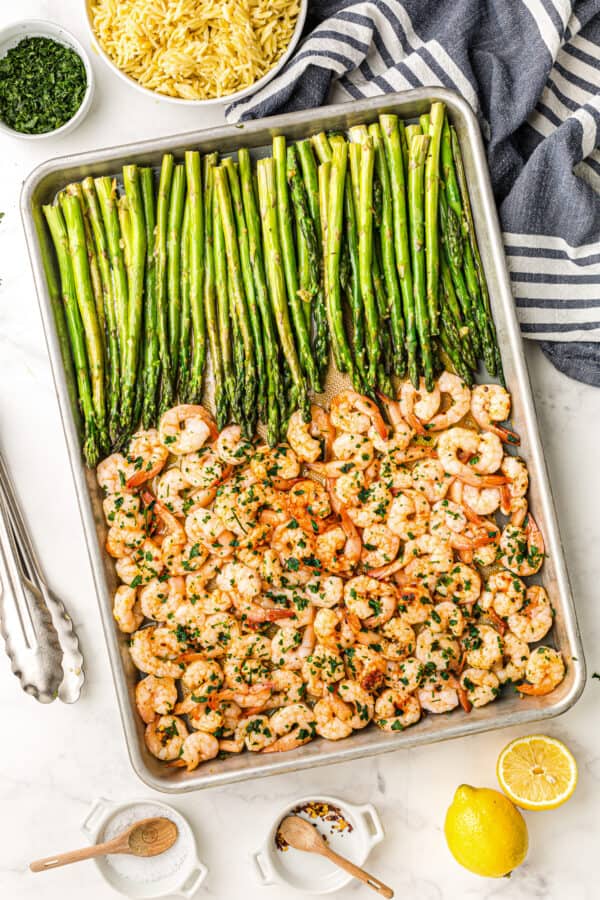 What's the best shrimp to use?
Ideally go for wild caught shrimp, as opposed to farm raised, much more flavor. Aim for the medium to large-sized shrimp, as well.
For ease, buy shrimp that has been deveined, shelled and cleaned. You can leave the tail-on or take the tail-off, it's up to you. Tail on makes for a nice presentation but won't affect the flavor.
Can I use frozen shrimp?
You can, but you'll to defrost them first. There are a couple of options for defrosting your shrimp. To quickly defrost, place the frozen shrimp in a fine-mesh sieve, then put the sieve in a large bowl of tap water for 10 minutes.   After 10 minutes, refresh the water in the bowl with new cold tap water and cover the shrimp with it. Allow the shrimp to sit for an additional 10- 20 minutes, then the shrimp should be defrosted.
If you have time, the easiest and best way to defrost your shrimp is to place your shrimp in a sieve in a bowl, cover it and allow to defrost in the fridge overnight.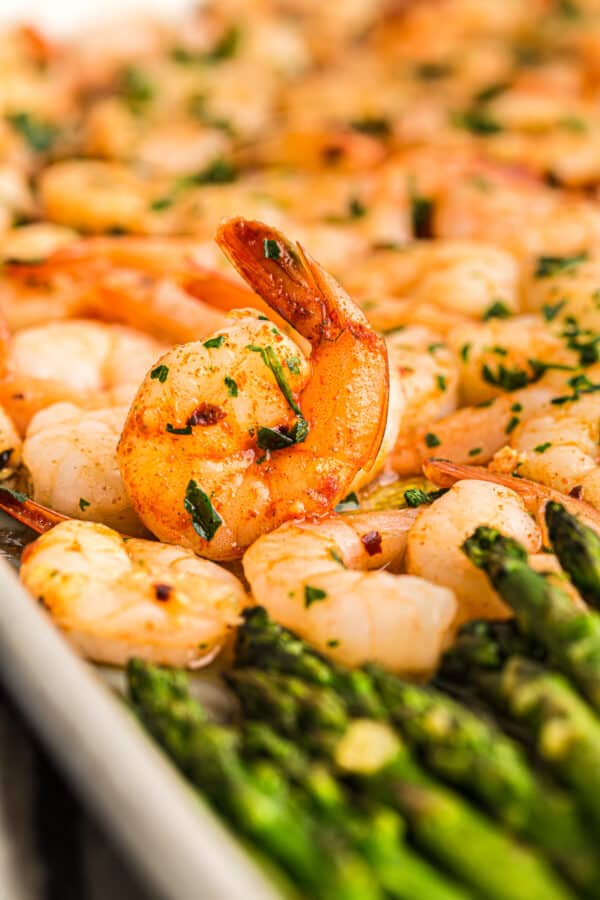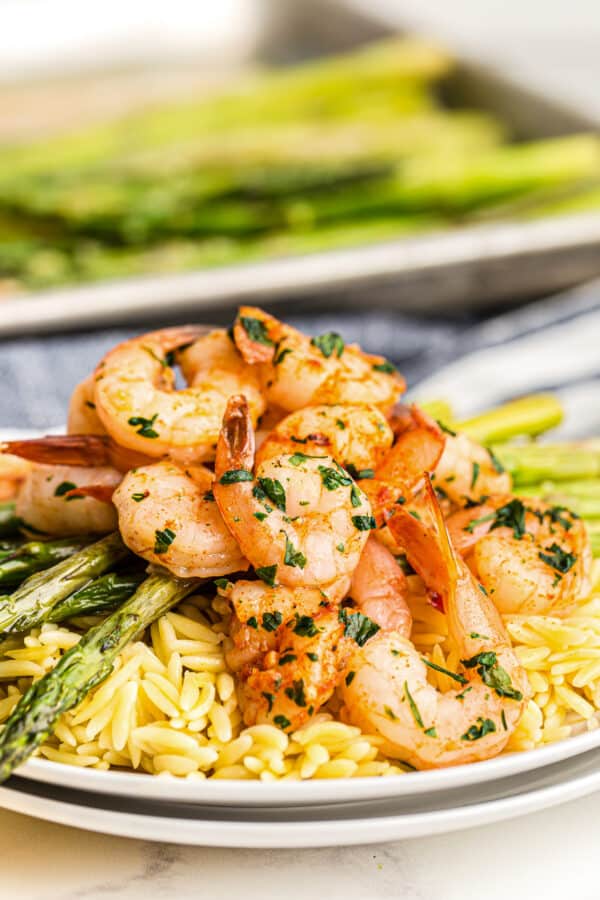 What to serve with this shrimp and Asparagus
This dish goes great with a number of sides. You can amp this up with some Cilantro Lime Rice or cauliflower rice. You could also serve with Feathery Soft Naan Rolls or go with a side salad like a Confetti Corn Salad or my 3 Bean Salad Recipe. Of course some pasta would work great with this too!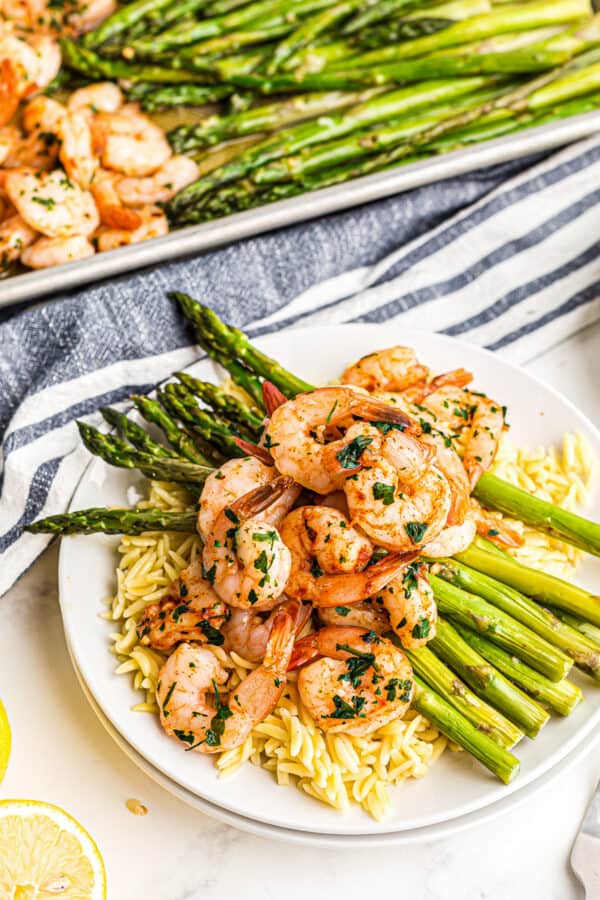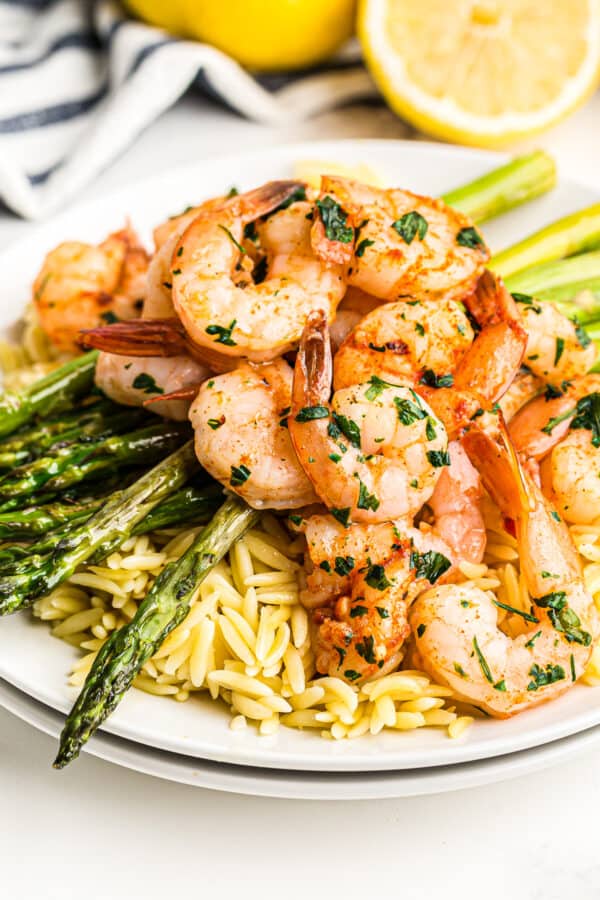 Recipe notes and tips
Buy deveined and peeled shrimp to make this recipe even easier.
You can leave the tails on or take them off.
Use a preheated oven.
You can use a sheet pan with silicone baking mat or foil – make sure to spray with cooking spray.
If defrosting shrimp, do not use warm water, this will make the shrimp cook unevenly.
Your shrimp are done when they turn an opaque pink color and are 'c' shaped.
Use fresh ingredients where possible, like fresh lemon juice and fresh herbs.
Garnish with parsley or cilantro.
Other delicious sheet pan recipes